Looking for clean, good Netflix shows for teens? I've gathered a list of series of all types that are suitable for teenagers.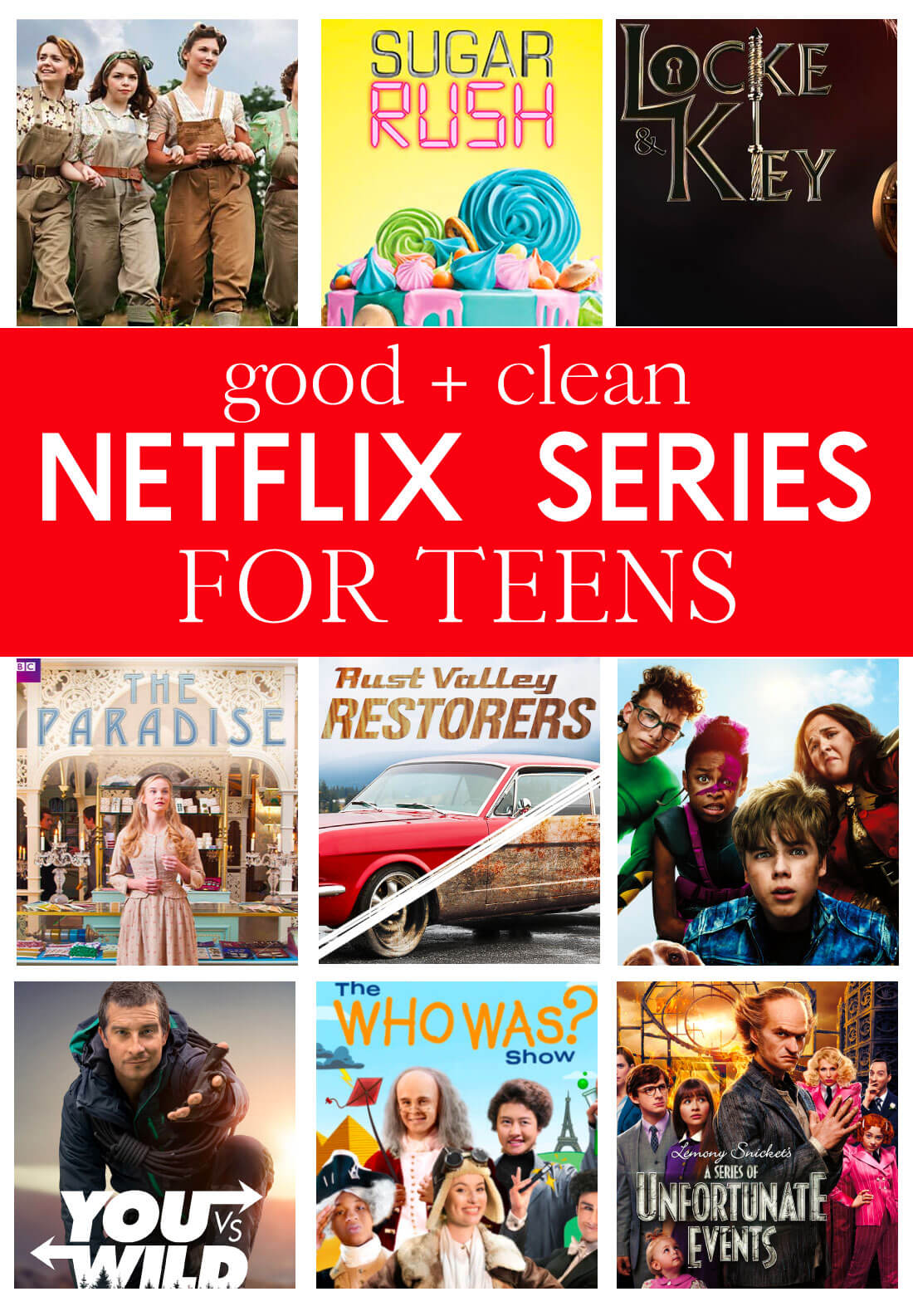 Netflix Shows for Teens
As much as we don't want our teens to be on their phones and computers too much, there are times that they need a break! I've researched Netflix shows for the cleanest shows (nothing is over TV-14) that I'd feel comfortable with my teenagers watching. This is the list for good Netflix shows for teens I've come up with:
DRAMA/ENTERTAINING
Shows that make you think, feel and entertained:
The Good Place
Best Worst Weekend Ever
No Good Nick
Fuller House
Gilmore Girls
White Collar
Friday Night Lights
Parenthood
Longmire
PERIOD PIECES
Some of the best shows (in my opinion), with beautiful scenery, costumes and acting:
Land Girls
The Paradise
When Calls the Heart
Make sure to check out my favorite British Shows – these are all good for teens too!
MYSTERY
The best of the best with this bunch of mystery shows:
Locke and Key
Stranger Things
Greenhouse Academy
Merlin
A Series of Unfortunate Events
COOKING
Not only informative but entertaining as well, you'll love these:
Sugar Rush
The Great British Baking Show
The Chef Show
Nailed It
Zumbos Just Desserts
Do your teens love cooking? Check out this Family Favorites Recipe Book.
NATURE
What a beautiful world we live in! There are a ton of good series that help show it off:
Planet Earth
You vs. Wild
Our Planet
Chasing Monsters
72 Dangerous Animals
COMEDY/CARTOON/QUIRKY
Not much more to say than these are weird, and silly but also clean:
The Who Was Show
Pinky Malinky
Dawn of the Croods
Spiderman: Into the Spiderverse
GAMES
Some make your brain hurt, some are inspiring, you'll be impressed by them all:
Minute to Win It
Magic for Humans
Braingames
Ultimate Beastmaster
MISC.
Not really a great category to put these ones into so they go into the miscellaneous group but they are all awesome:
Blown Away
The World's Most Extraordinary Homes
Rust Valley Restorers
The Repair Shop
Hyperdrive
Other Entertainment Posts
Looking for other entertainment post?