The perfect thing to do over the summer, a long weekend or just because, play these fun family games and make all kinds of memories!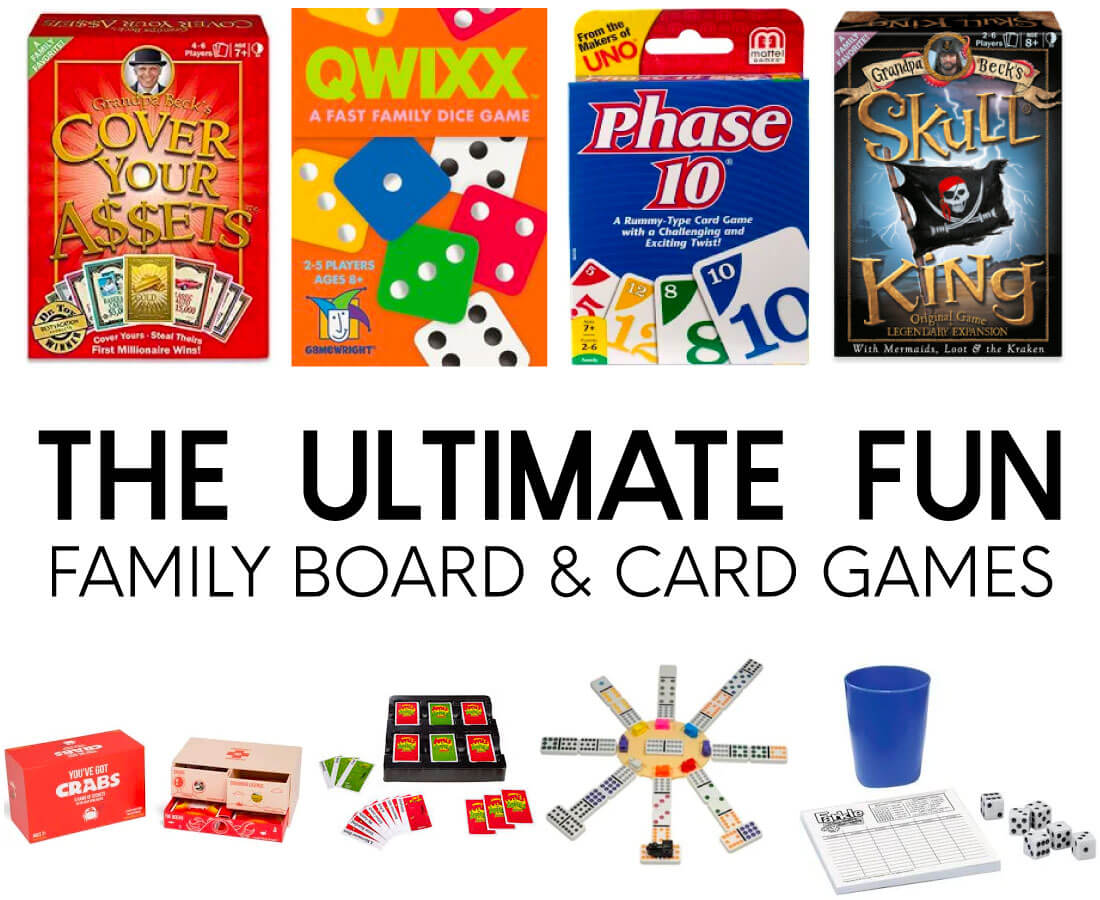 Fun Family Games
This post could be broken up into several different ones since our family is all about games. My husband's family grew up playing every game you can think of and had a huge game closet. My side of the family played some as well but not nearly as much. When I married into Josh's family, it was clear that I needed to learn card games. Quickly. We have now passed on our love of games to our kids.
Check out these fun family games that we've taught how to play:
---
Some of favorites include:
Qwixx

: we got this game as a Christmas present and loved it right away. It takes a few times through to really get it, but once everyone knows the rules it goes really fast. We love it so much that recently we purchased the deluxe version which contains dry erase boards.
This quick-playing dice game will have you on the edge of your seat from beginning to end! Qwixx is simple to play but each decision is crucial – the more numbers you cross off, the more points you score. With no downtime between turns you'll have a chance to gain from each and every roll.
2. You've Got Crabs: brought on our All Inclusive Trip by my sister's family, this funny game was a hit. The names are clever, illustrations cute and all around fun!
You've got crabs is a team-based party game. Try to collect four of the same card before any of the other teams, then pass a secret signal to your teammate. If your partner sees your signal and yells, "you've got crabs," you gain a point. If an opponent sees your signal and yells, "you've got crabs," you lose a point.
3. Mexican Train: one of the first games I played with Josh's family, Mexican Train lasts a long time. It's fun on a Sunday afternoon and a good way to have all kinds of conversations.
The Mexican Train Domino Game is a timeless classic that has entertained kids and adults for generations.
4. Apples to Apples Junior: a great way to get to know your family better! Sense of humor usually comes through strongly with this game.
APPLES TO APPLES Junior-The Game of Crazy Comparisons!: The card and party game for ages nine and up. Players will delight in the crazy comparisons while expanding their vocabulary and thinking skills.
5. Yahtzee: the ultimate game of luck and a little strategy mixed in. You can't go wrong with Yahtzee!
Roll it to the limit for the ultimate win with the Yahtzee Classic game. Take turns rolling dice to try to score combos. You get a total of 13 turns and may roll up to three times on a turn.
6.. Code Names: knowing that we like games, my Mom got us this one for Christmas. We have played it nonstop! It's so much fun and takes some brain work to really be good at.
Codenames is a social word game with a simple premise and challenging game play. Two rival spymasters know the secret identities of 25 agents. Their teammates know the agents only by their codenames. The teams compete to see who can make contact with all of their agents first.
7. Taboo: an oldie but a goodie – this one has gotten harder! The words are challenging but it's so much fun to play.
Players try to get teammates to say the Guess word on the card without using any of the Taboo words in the clues. If the describer says a Taboo word listed on the card while giving the clues, they'll get interrupted with the electronic buzzer and lose a turn.
8. Scattergories : this game was my favorite growing up. It was the one that I wanted to play (or Life!) and I still love it. It's challenging and fun to think of as many things as you can using only one letter.
In the Scattergories game, teams come up with answers that fit the categories listed on their card. Sounds easy, but the answers need to start with the letter rolled on the die! Come up with as many answers as you can before time runs out, but be creative – you only gets point if nobody has the same answer.
Family Card Games
With family gatherings, cards are always played. Things like Hearts, Golf, Hand and Foot, and more, there's never a dull moment or lack of competition. Over the years we've gotten several other fun family card games. Here are some of our newer favorites:
---
Cover Your Assets

: another Christmas gift, this game is so much fun! It's easy to play for people of all ages. We're huge fans of all of Grandpa Beck's games.
In Cover Your Assets you amass a fortune by collecting and building an alternating tower of matching pairs of asset cards. You've got to be careful though, because the top set of assets on your stack can be stolen by other players if they hold a matching asset or a gold or silver wild card.
2. Skull King: chalk another one up to Grandpa Beck – this one is a little more confusing, takes some getting used to but
n Skull King, yer objective is to win the number of tricks that ye bid each round. A trick is when every player lays down one card, with the highest card taking them all. Thar be cards high, low, and many in between, and yer task each round is to figure how many tricks ye reckon ye'll win with the cards ye've been dealt.
3. Phase 10: this game is a long one with lots of rounds. One of my favorite memories is playing it in Tahiti with my family.
From the makers of UNO comes a rummy-type card game with a challenging and exciting twist! The object of the game is to be the first player to complete 10 varied Phases-two sets of three, one run of seven, seven cards of one color and more.
4. SkipBo: one of the games I learned when I was growing up, this one brings back all kinds of memories.
Skip-Bo is the ultimate sequencing card game. Players use skill and strategy to create stacks of sequentially numbered, ascending cards (2,3,4…) until they have no more left to play.
5. Taco Cat Goat Cheese Pizza : this is a recent one that I got during a flash sale. I kept seeing people talk about it and thought it was worth a try. It's fun, simple and good for kids of all ages.
This is the social card game that is going to change your game night forever… This addictive game is as unique as its name. It's a power packed quick and simple party game. Race against each other to SLAP a match between a card and spoken word. But – watch out! – your mind will play tricks on you. This game was engineered for maximum fun. Enjoy!
Other Family Activities
Looking for other ideas to do as a family? Check out these posts: