One of the things I look forward most to on March 17th is St Patrick's Day food! This snack mix will make your holiday a little brighter.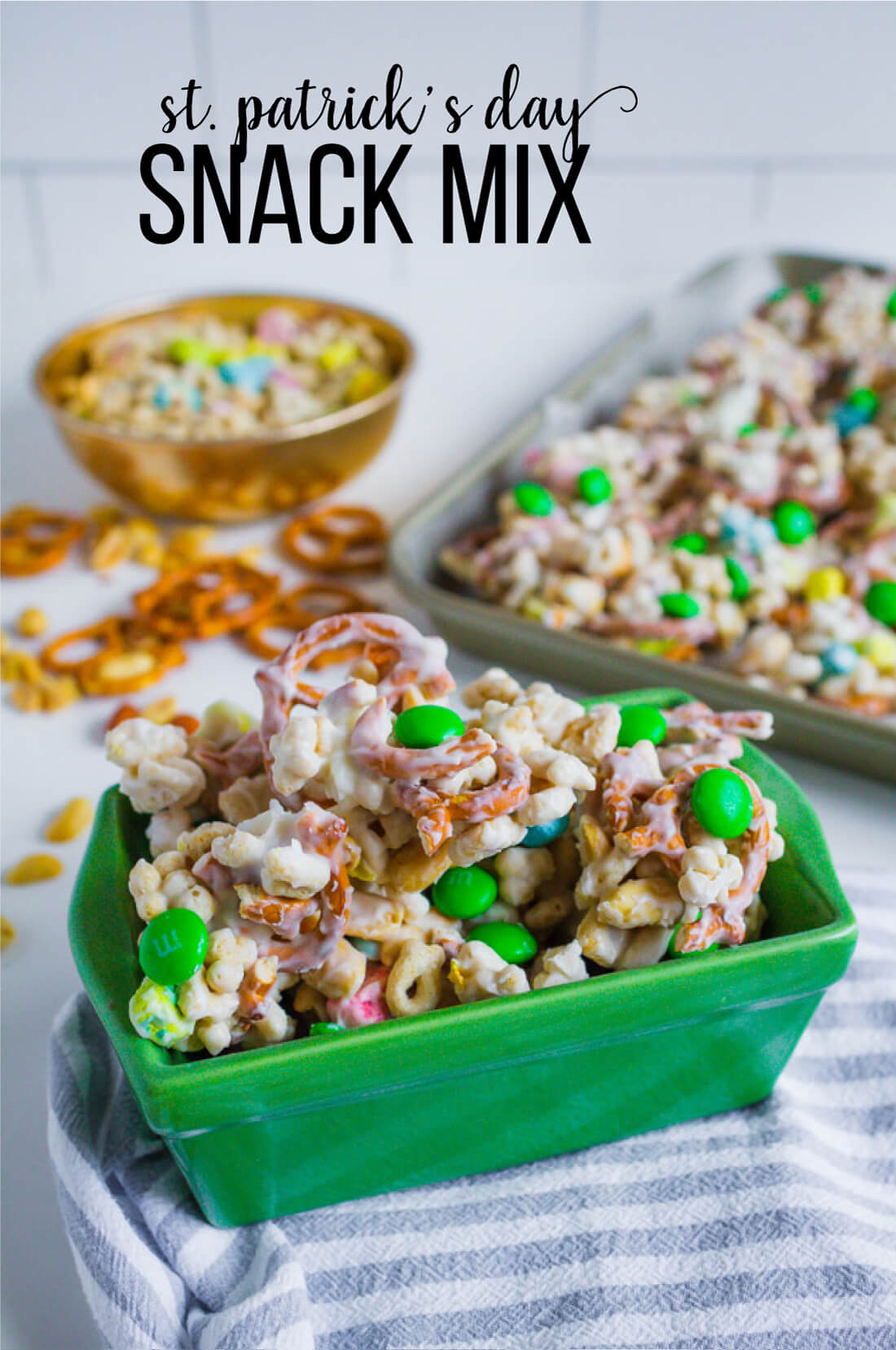 St. Patrick's Day Food
Because I'm not Irish, I haven't gotten into this holiday all that much. Edited to add: I just found out I'm Irish from my Ancestry.com DNA results!!  Except I do make sure that my kids wear green (no pinching please!) and I try to make a "green dinner."  I know that most St Patrick's day food consists of corn beef and cabbage or stew.  I like to make quick and easy things like this St. Patrick's Day Snack Mix.
When is St. Patrick's Day?
St. Patrick's Day is is a cultural and religious celebration that is always held on March 17th every year. That is the day that St. Patrick, the patron saint of Ireland, passed away in  AD 385–461.  It was made official in the early 17th century to commemorate the arrival of Christianity in Ireland.  In fact, St. Patrick used a shamrock to explain the trinity to pagan Irish and that's how it came to be used for celebrating.
Why do we celebrate St. Patrick's Day?
While it is a huge holiday in Ireland, here in the United States, we use this day for a reason to celebrate, party and wear green.  Part of the festivities include food.  This recipe definitely isn't a traditional one but more for fun, a tasty treat that your kids will love.
It's a "4, 3, 2, 1" kind of recipe, with 4 cups of this, 3 cups of that and so on. Not only is it a quick and easy, kid-friendly recipe, but it's also very adaptable.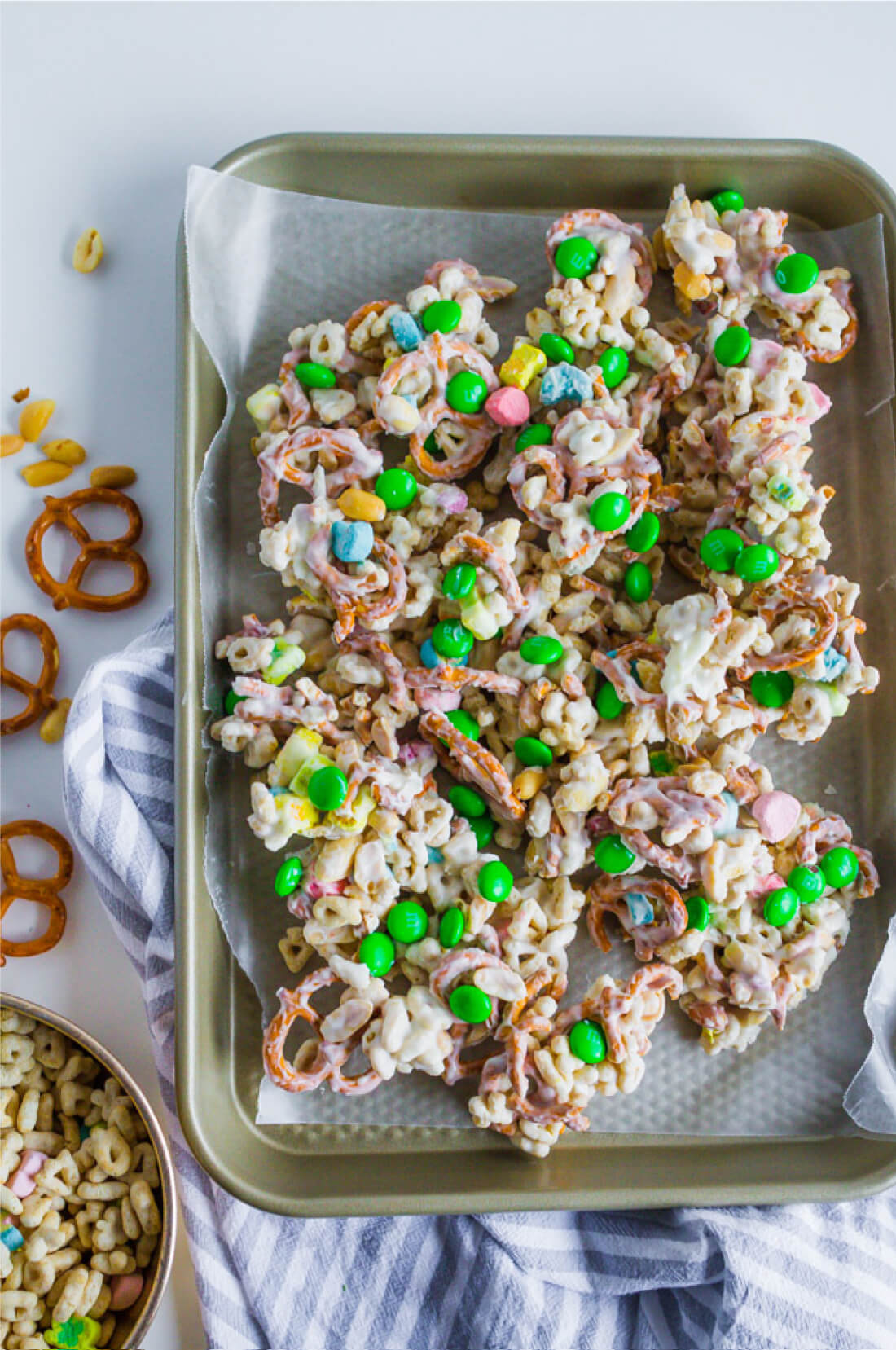 I've shared several snack mix recipes here on 30days — Mint Chocolate Snack Mix (another good one for St. Patrick's Day), Kettle Corn Snack Mix, and Zesty Ranch Goldfish Mix.  You can gather your favorite ingredients and mix them up for a simple treat.  My kids love stuff like this as an after school snack too.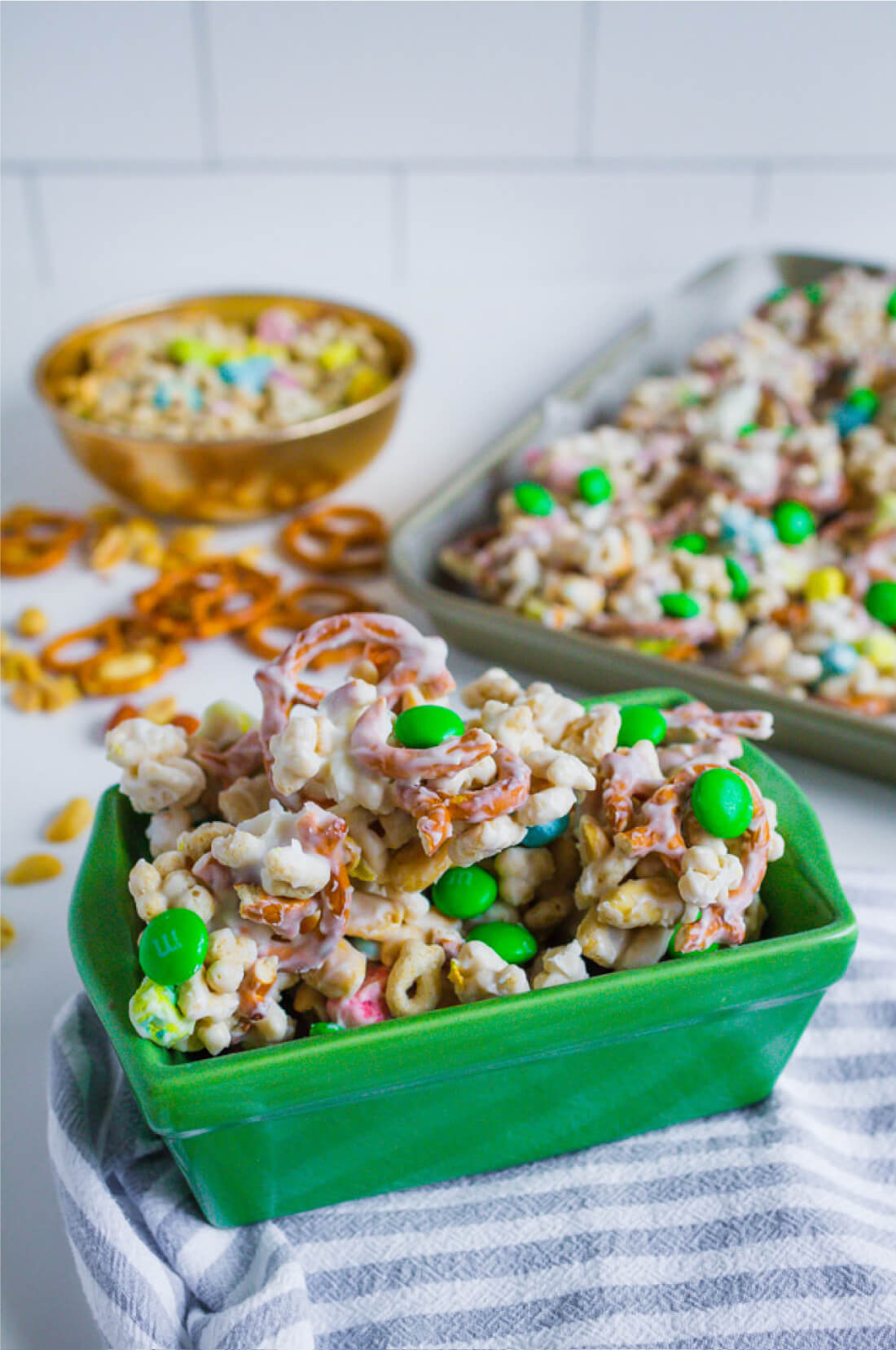 St. Patricks' Day Party Food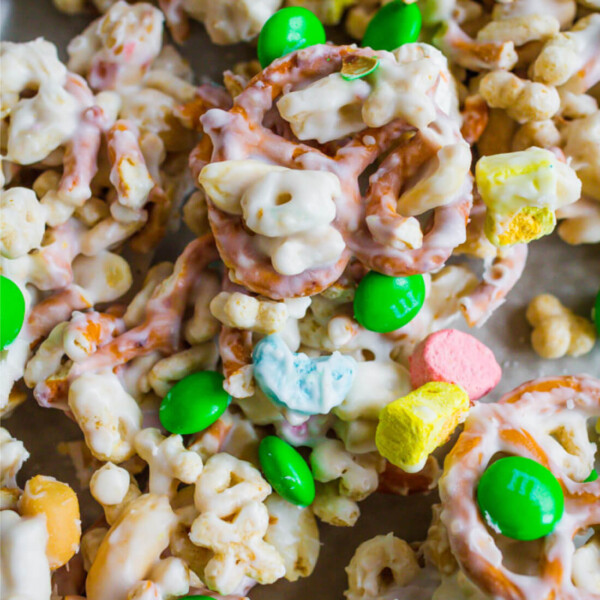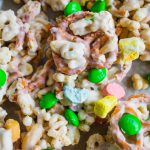 Print Recipe
St. Patrick's Day Snack Mix
St. Patrick's Day Snack Mix is super duper easy and tasty and will make your holiday a little brighter.
Ingredients
4

c

Lucky Charms cereal

3

c

pretzels

2

c

peanuts

1

c

green M&M's

½

lb

almond bark

(6 cubes)
Instructions
Line a baking sheet with a silpat or waxed paper.

Layer cereal, pretzels & peanuts.

Gently toss so that the ingredients get well mixed together.

In a microwave-safe bowl, place almond bark and heat, according to package directions, until melted.

Pour melted bark over the cereal mixture and gently toss until well coated.

Immediately sprinkle M&M's over the top and lightly toss.

Let the snack mix sit for 20-25 minutes or until the bark has set and is completely firm.
Nutrition
Calories:
546
kcal
|
Carbohydrates:
65
g
|
Protein:
12
g
|
Fat:
27
g
|
Saturated Fat:
11
g
|
Cholesterol:
3
mg
|
Sodium:
424
mg
|
Potassium:
281
mg
|
Fiber:
4
g
|
Sugar:
35
g
|
Vitamin A:
455
IU
|
Vitamin C:
4
mg
|
Calcium:
122
mg
|
Iron:
5.9
mg
Isn't it so pretty and colorful?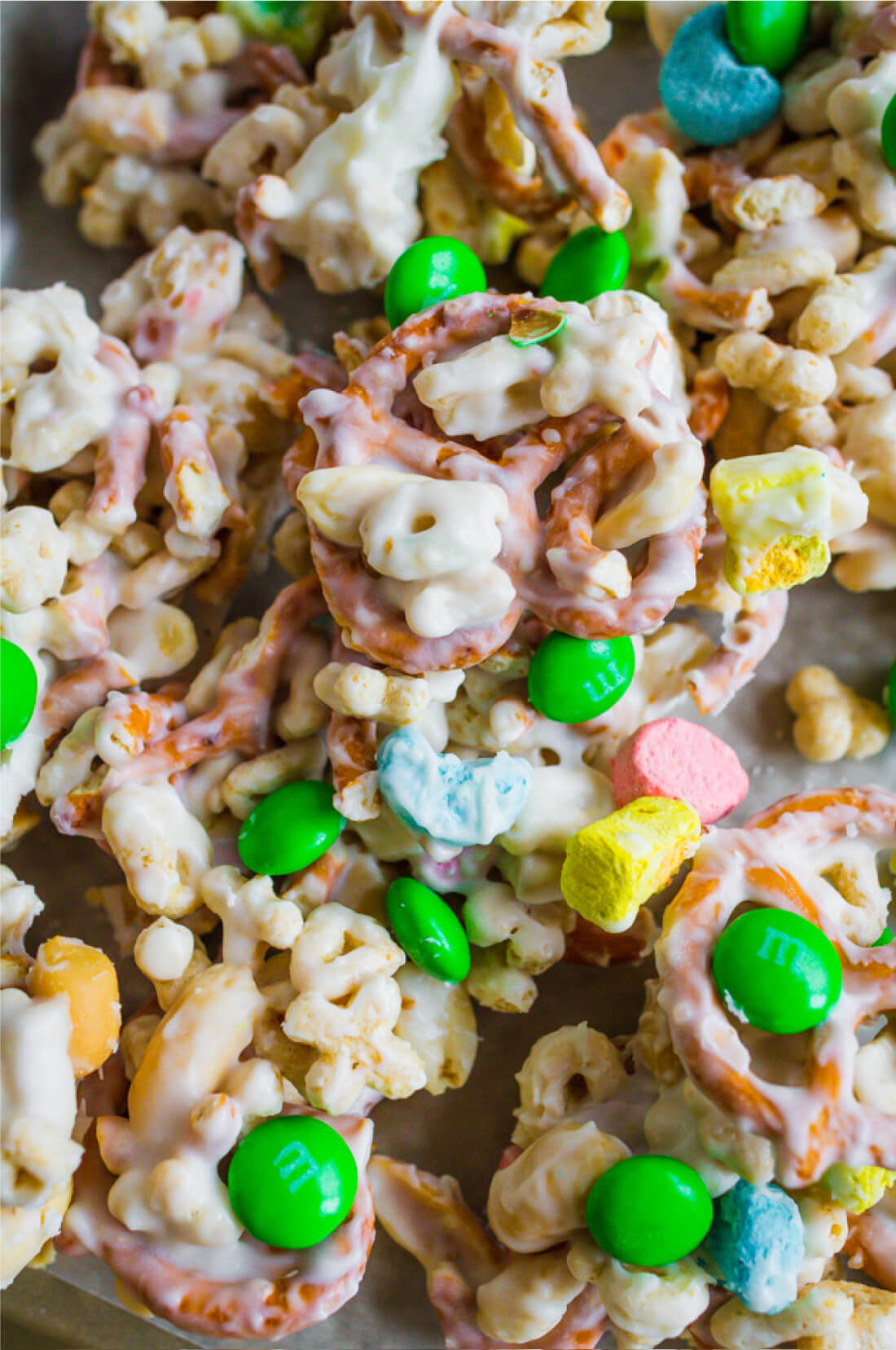 Other St. Patrick's Day Recipes
You might like these St. Patrick's Day recipes too: