Classic Lemon Chicken with crispy battered chicken thighs in a sweet and tangy sauce makes this Chinese Lemon Chicken Recipe a treat. You can skip the delivery and the wait and make it at home!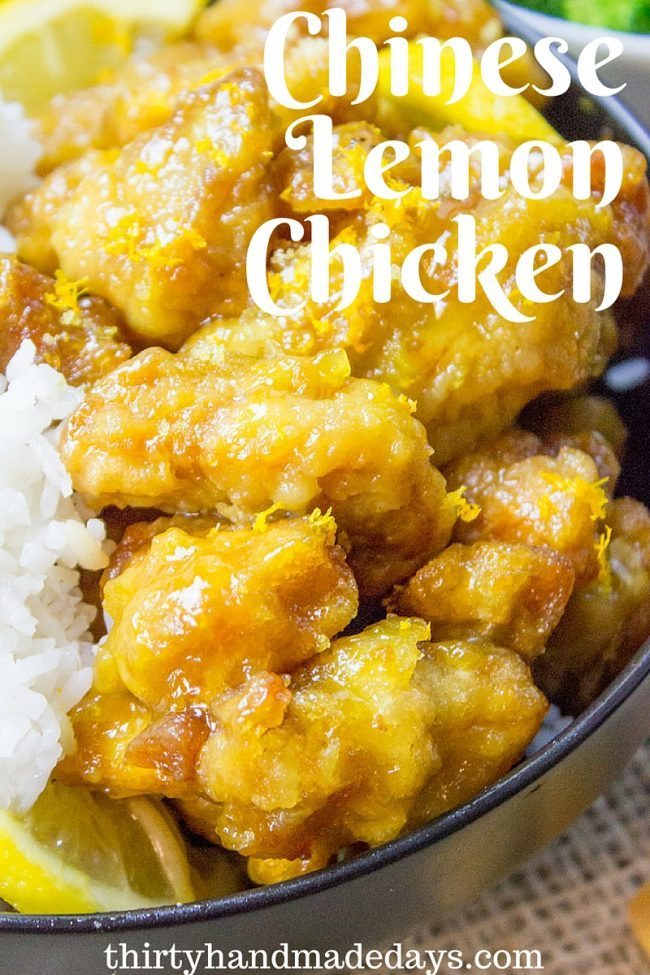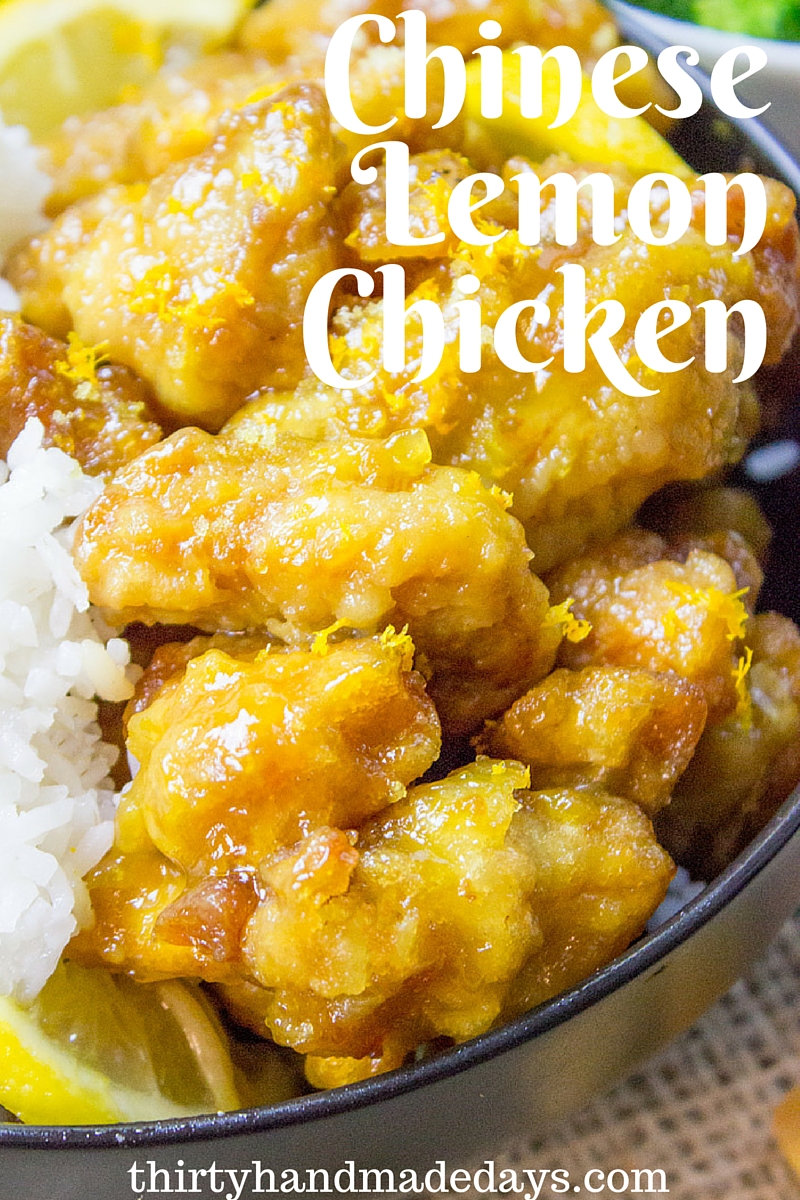 Hey guys its Sabrina again from Dinner, then Dessert and I am here today sharing one of my favorite Chinese takeout recipes. One of the most popular posts on my blog is for Orange Chicken, but this recipe is a huge hit in our house because it take half the ingredients and still delivers all that crispy, sticky chicken we all love!
Lemon Chicken
Chinese Lemon Chicken is a Chinese food favorite and one of my favorites to make because the sauce is so easy to make and has such a great sweet and sour flavor without needing all the red food coloring. Just a few ingredients and you'll be glad you didn't pick up the phone and call your favorite delivery spot.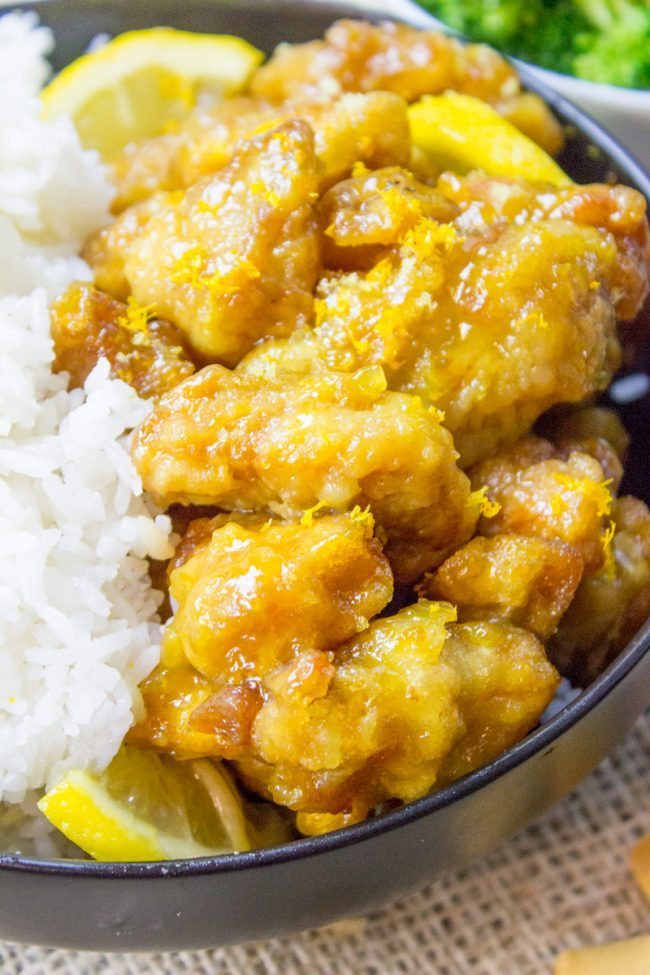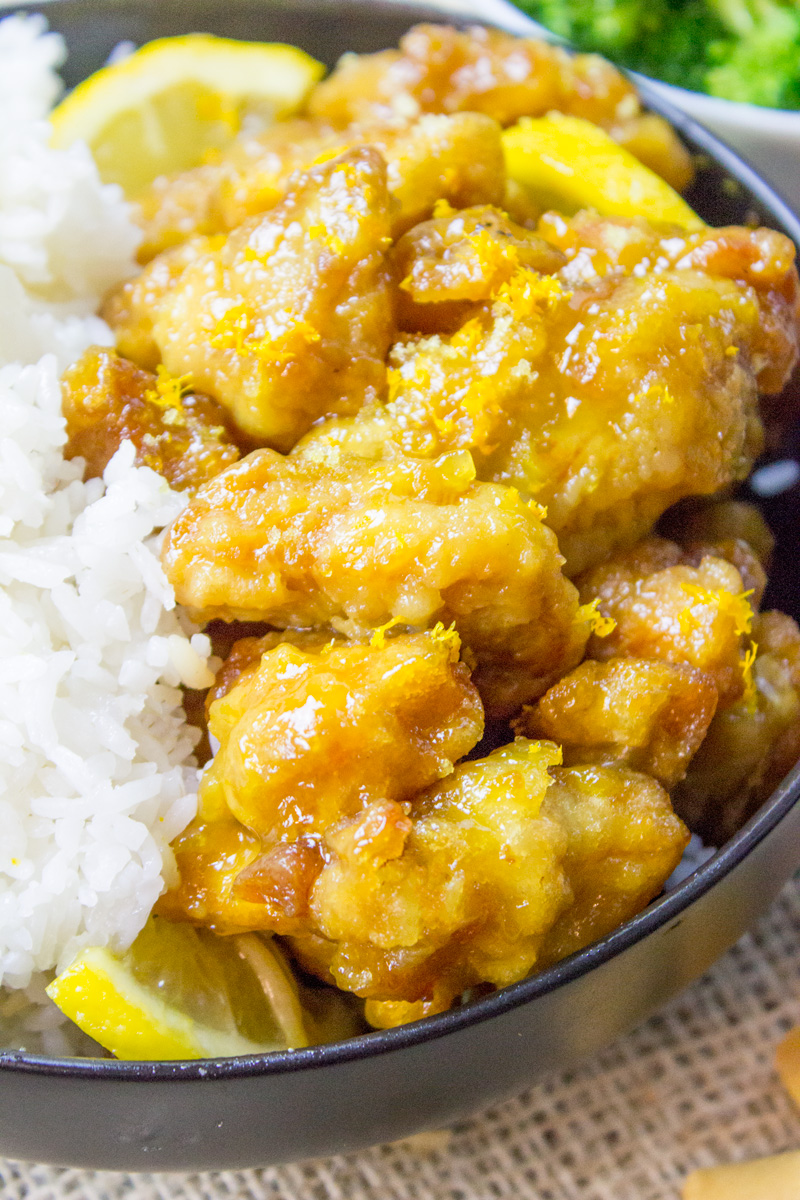 Most of the cooking time for the recipe is made of leaving the chicken in the marinade. I've made the dish several times, both with the time as written and with just tossing the ingredients and not waiting. The soy sauce having the time to mix with the marinade does help because it gives a deeper flavor, but if you're in a time crunch? Toss and keep going! Don't skip the delicious recipe because you're low on time, just let the chicken sit a couple of minutes while you put together the sauce ingredients and get the oil ready.
If you like this recipe, you'll like these too:
Lemon Chicken Recipe
Chinese Lemon Chicken
Author:
Sabrina from Dinner, then Dessert
Ingredients
1 pound chicken thighs, cut into cubes
1 tablespoon soy sauce
2 tablespoons corn starch
⅓ cup lemon juice
3 tablespoons sugar
½ cup water
2 teaspoons cornstarch
1 teaspoon lemon zest
¼ cup flour
½ cup cornstarch
oil for frying
Instructions
Add soy sauce, and corn starch to your chicken in a bowl and cover with plastic wrap.
Let marinate for 30 minutes.
While the chicken is marinating add the lemon juice, sugar, water, cornstarch and lemon zest to a small bowl and mix.
Add the flour and cornstarch to the bowl of chicken and toss to coat.
In a pot with oil about three inches deep, heat on medium high to 350 degrees.
Add the chicken in batches so you don't crowd the pot or the chicken will stick together and it will lower the temperature significantly causing your chicken to be oily.
Cook chicken until golden brown and when cooked transfer the pieces to a skillet (this is where we will be tossing with the sauce).
When you finish all the chicken, turn off the oil, turn on the skillet onto medium high heat and add the sauce.
Coat the chicken pieces in the sauce and cook for just a few seconds until thickened.
Serve immediately with steamed rice and vegetables.