Monster Fruit Dip with Mouthy Apples are the perfect snack for your kids or a little side dish for a party.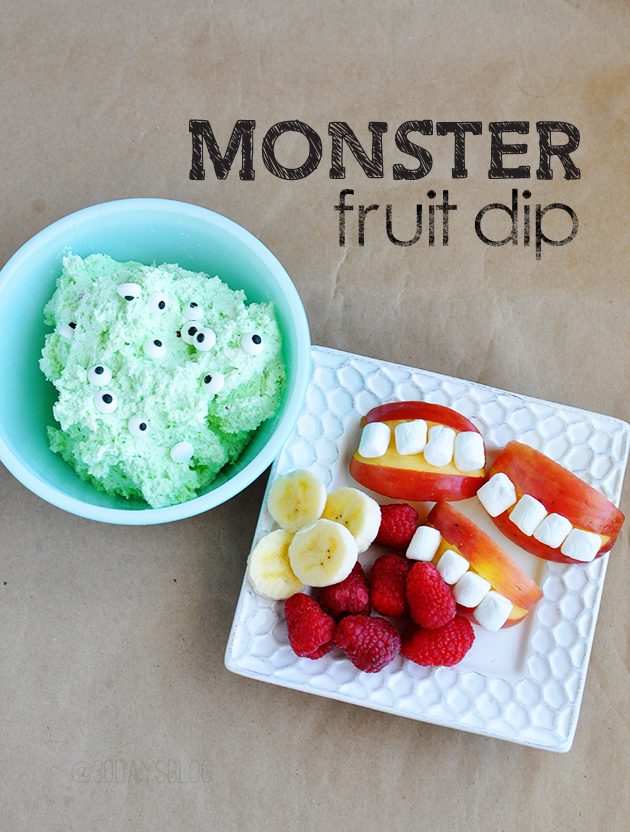 My kids got a kick out of the eyes in this easy to make dip.  Over the next few weeks you'll see several posts geared towards the cute/fun ideas for Halloween rather than the spooky/scary ones.
Fruit Dip
Is there anything better?  It is so dang good! There are so many great recipes out there but there are a few of my favorites:
Fruit Dip Recipe
Gather a few ingredients and you are all set.  Little effort with maximum affect- win/win for everyone! I love pistachio flavored things – this dip has a different taste than your average dip.  I found the edible eyes (Wilton brand) at Joann's but you can get them here too.

Fruit Dip
Ingredients
(1) 8 oz. container Cool Whip
(1) small package pistachio instant pudding mix
(1) 8 oz. cream cheese, softened
(1) package edible eyes
Fruit - bananas, apples, raspberries, etc, cut up mouthy apples
Mini marshmallows for apples
Instructions
Monster Fruit Dip
Soften cream cheese.
Fold in Cool Whip and pistachio pudding mix.
Chill.
Add edible eyes for decoration.
Mouthy apples
Cut red apples into quarters.
Slice a triangle shape on the top of the skin of each slice and scoop out "meat" of the apple the leaving an open spot for marshmallows.
Stuff marshmallows into the empty space.
*Can use peanut butter to secure marshmallows onto the apples.
If you're not a pistachio fan, you could use vanilla pudding mix and add food coloring.