Make puppy chow with a twist! You can use Halloween leftover candy too.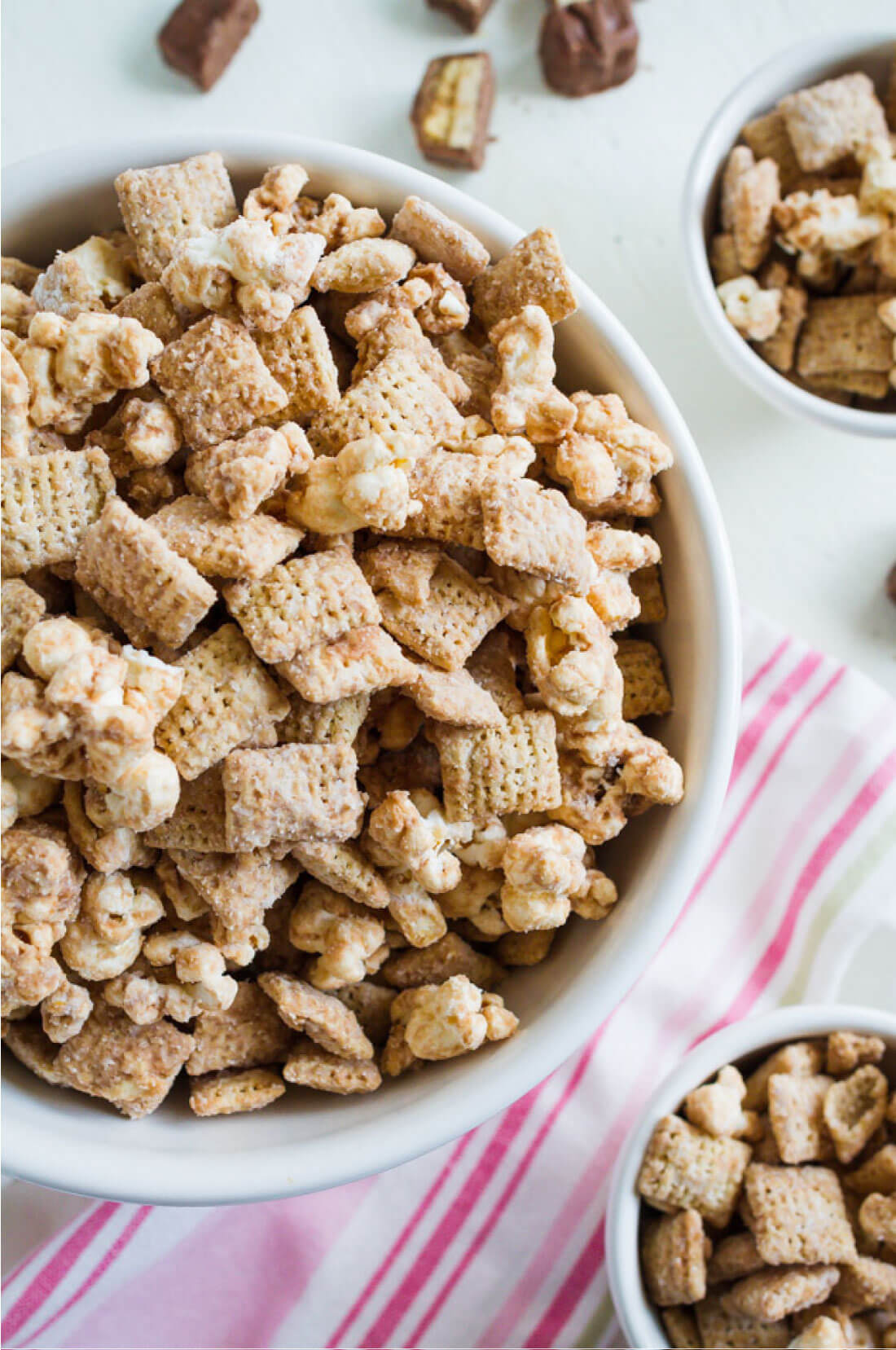 We like baking together as a family. Sometimes it's just me and one of my kids, other times it's me and all three. And on Sundays, Josh usually cooks dinner with a "secret ingredient." Not only do I hope my kids learn how to cook and bake, but I hope they look back on our times spent together in the kitchen with fond memories.
Recently I told my kids that they were getting a two-fer: making a recipe together plus they got to watch the new Disney Super Buddies.  They were ecstatic to watch the movie and to make a treat so we got busy in the kitchen.  This time we created a puppy chow recipe.  A little twist on the traditional puppy chow that made it the perfect treat to eat while watching the movie.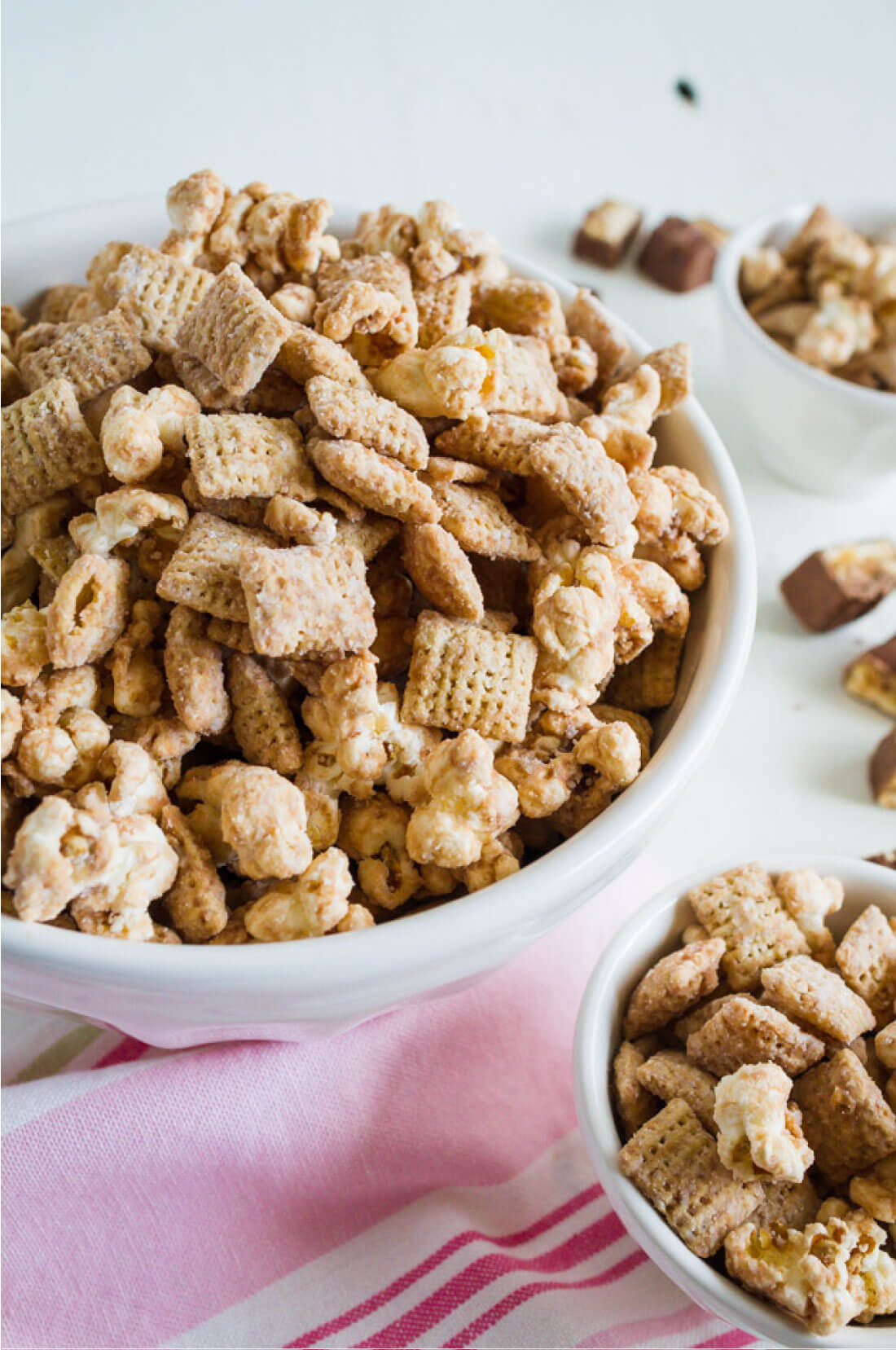 I saw Vanilla Chex at the store and wanted to give it a try.  You could use just regular Rice Chex cereal for all 8 cups of the cereal in this recipe.
Drew especially loves being in the kitchen.  He uses his math and reading skills and has become good at measuring and stirring.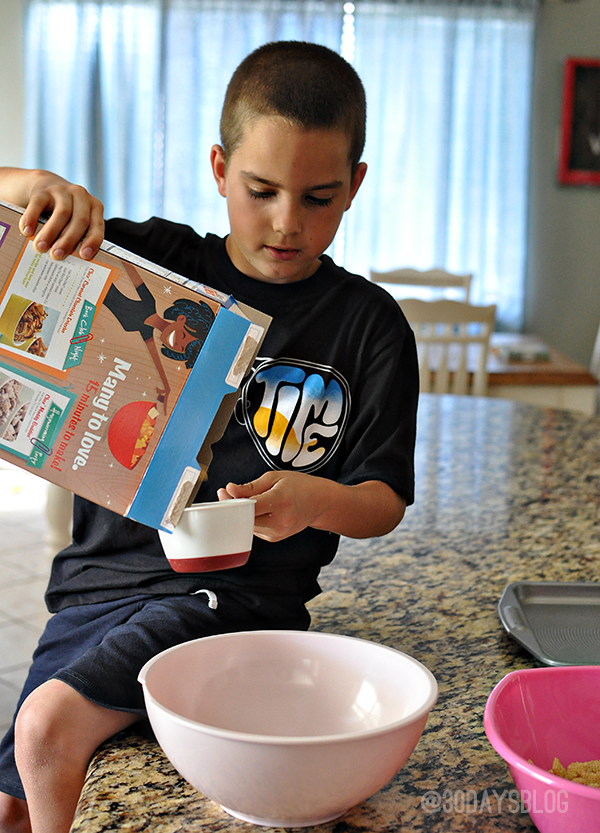 At first I was worried that the Snickers bars wouldn't melt completely.  It took approximately 7 minutes for my bars to melt.  Your cooking time could be shorter or longer depending on your stove and what pan you use.  Make sure to watch and stir constantly as the chocolate can burn and nobody likes burnt chocolate! It will be chunky because of the nuts and nougat but trust me, it tastes good when you are all done!  This is how mine looked when I was ready to pour it over the other ingredients: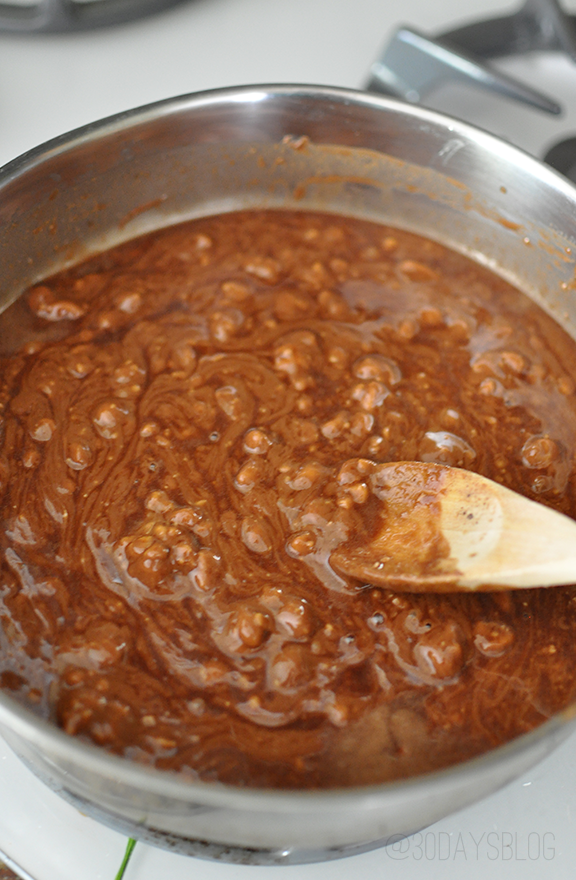 Once our puppy chow as ready, my trusty assistant Drew made lunch bags with their names on them and filled them full of the mix.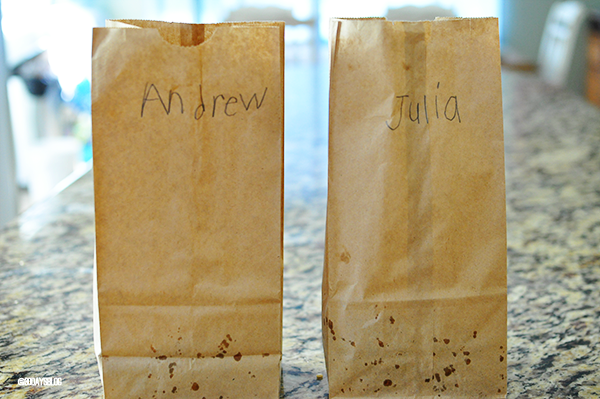 <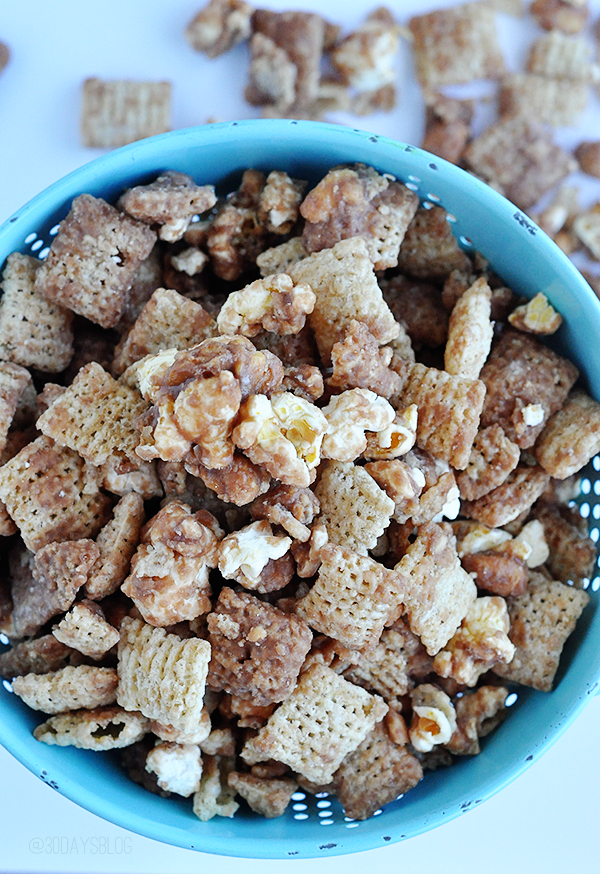 Puppy Chow Recipe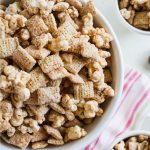 Print Recipe
Movie Theater Puppy Chow Recipe
This Movie Theater Puppy Chow Recipe is a totally yummy twist on the classic puppy chow recipe!
Ingredients
6

c

Regular Rice Chex Cereal

2

c

Vanilla Chex Cereal

6 1.86

oz

Snickers Candy Bars

(regular sized candy bars)

½

c

butter

1

c

powdered sugar

3

oz

bag of popcorn

(regular sized bag)
Instructions
Measure cereals and set aside in a large bowl.

Pop the popcorn and add to the large bowl with cereals.

In a large saucepan, melt butter and Snickers candy bars over low heat while stirring constantly.

When the Snickers bars are melted (approx 5-7 mins), pour over Chex cereal and popcorn.

Stir until completely mixed in.

Sprinkle powdered sugar over the bowl and fold in.

You can add more powdered sugar to your liking.
Nutrition
Calories:
625
kcal
|
Carbohydrates:
84
g
|
Protein:
6
g
|
Fat:
29
g
|
Saturated Fat:
15
g
|
Polyunsaturated Fat:
0
g
|
Monounsaturated Fat:
0
g
|
Trans Fat:
0
g
|
Cholesterol:
45
mg
|
Sodium:
652
mg
|
Potassium:
225
mg
|
Fiber:
3
g
|
Sugar:
44
g
|
Vitamin A:
1280
IU
|
Vitamin C:
9.8
mg
|
Calcium:
177
mg
|
Iron:
13.5
mg
In the movie there are several "super hero rules."  One of my favorites is- " A super hero does good for good, not for glory."  Taking treats to friends just because is one of our absolute favorite things to do. So I made a little tag to go along with the Puppy Chow to be used to share with friends and neighbors.  Who doesn't love cute little puppy tags?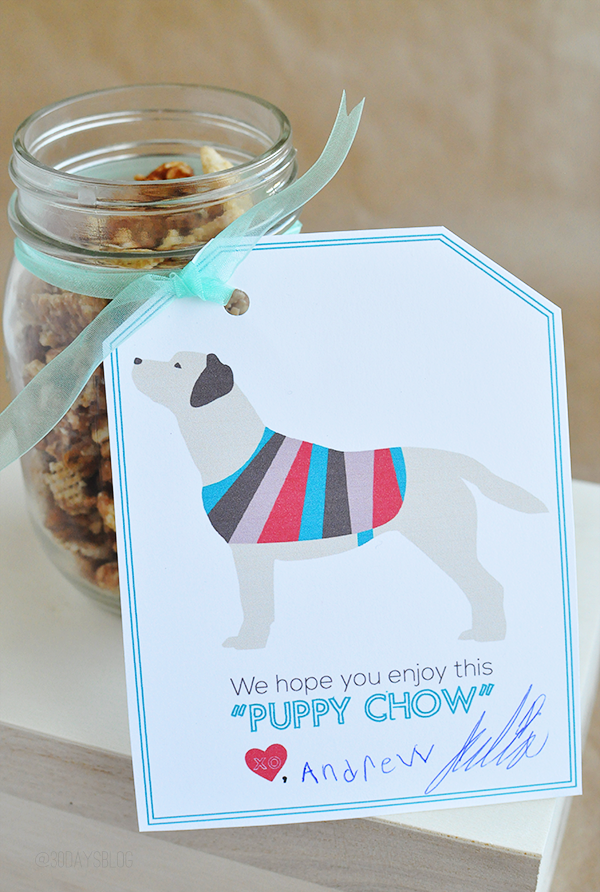 Download a Puppy Chow tag and deliver some treats to your friends. For personal use only. Thanks!
If you like this recipe, you'll love these ones too: