If you love pumpkin pie but don't want to put in all the work, this is the pumpkin pie recipe for you! You'll love this no bake version.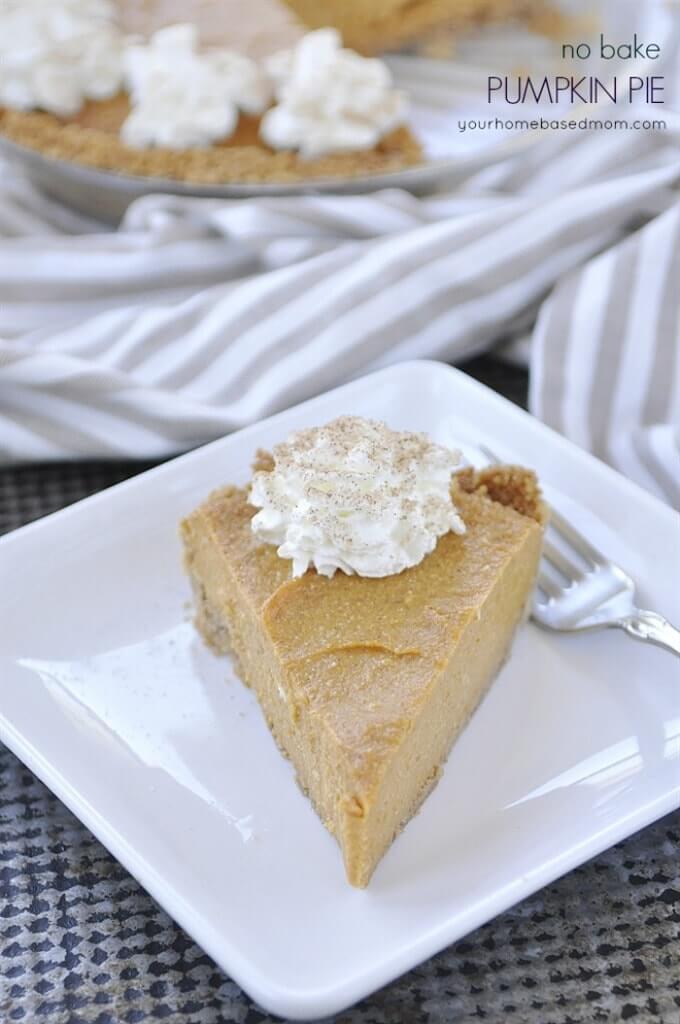 When does your pumpkin season start and end?  At our house it usually starts about September.  I try to wait until Labor Day is over and then it pretty much extends until Easter when lemon season is in full force.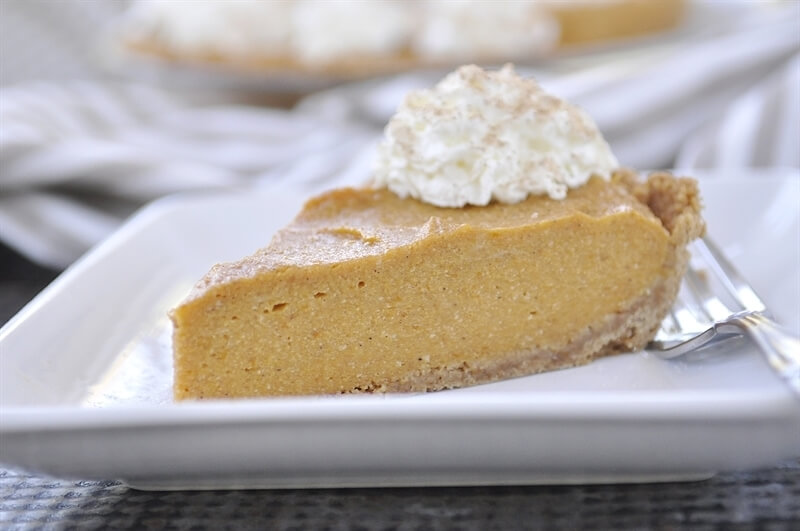 Do you reserve pumpkin pie just for Thanksgiving and Christmas or do you enjoy it whenever you want?  Maybe you love a good slice of pumpkin pie but pie is too much work and and takes too much time.  Well,  I'm about to rock your world.  This  pie is no bake and comes together in under 30 minutes.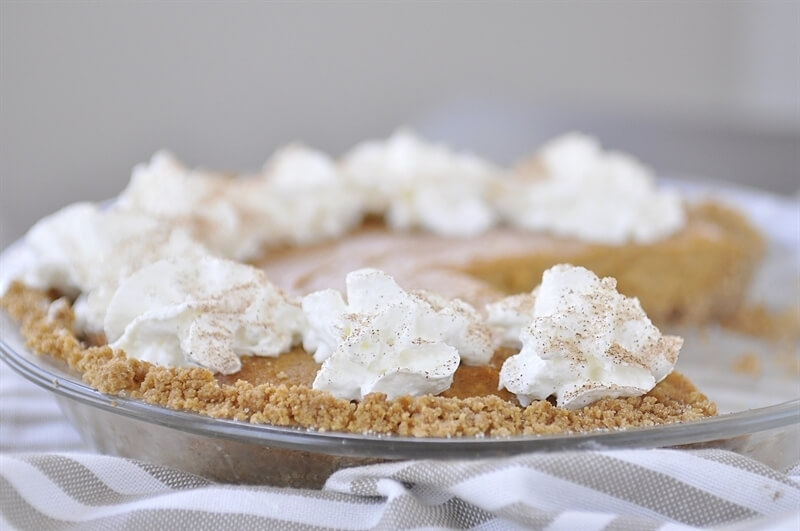 Now I have to confess,  I did bake the graham cracker crust because it was easier for me to make one at home than run to the store and buy one.   If you really want to make it totally no bake just buy yourself a pre-made graham cracker crust and you'll be good to go – no bake!  This pie is so easy to make you may just find yourself making it a lot more often than just Thanksgiving and Christmas. I shared this pie with my neighbors and a few minutes after my husband delivered it I got a text with a picture of them eating it, telling me how wonderful it was and they couldn't believe it was no bake!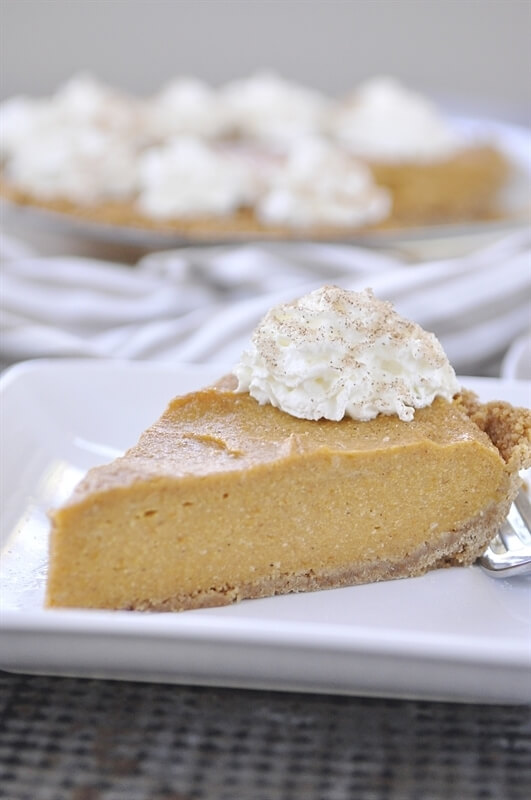 There is a little cooking involved with this recipe, on the stove top but no baking.  The pie filling uses unflavored gelatin to help thicken it.  The addition of some pumpkin pie spice, orange juice and vanilla give it a great flavor.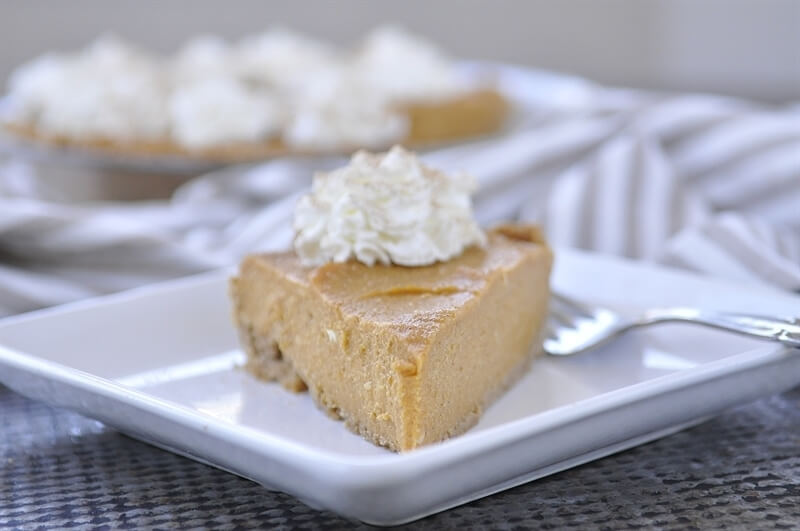 I bet you can't  eat just one piece!  Here's to pumpkin season!
No Bake Pumpkin Pie
Author:
Leigh Anne Wilkes
Ingredients
1 9 inch prepared or homemade graham cracker crust
1 (.25 oz) package of plain, unflavored gelatin
1 Tbsp pumpkin pie spice
3 Tbsp fresh orange juice
2 tsp vanilla
½ tsp salt
1 (14 oz.) can sweetened condensed milk
2 eggs, beaten
1 (15 oz.) can pumpkin puree
Homemade Graham Cracker Crust
9 whole graham crackers, approx. 1¼ cups of crumbs
3 Tbsp sugar
⅓ C butter, melted
Instructions
In a heavy pan combine gelatin, spice and salt.
Stir in condensed milk and eggs, mix well.
Let stand for one minute and then place over low heat, stirring constantly until it thickens (5-7 mins)
Remove from heat and stir in vanilla.
Stir in pumpkin. Mix well.
Pour into crust.
Chill 4 hours before serving
Homemade Graham Cracker Crust
Combine crumbs and sugar
Add in melted butter and stir to combine.
Press mixture into a 9 inch pie pan and press firmly to sides and bottom
Bake at 350 for 8 minutes.
Cool
If you love pumpkin recipes, try these: