One of the most asked questions about our trip has been about what to pack for a cruise to Alaska! It was one of my questions too before we went.  So I'm going to tell you all about it..
This post is in partnership with Princess Cruises. I am beyond thrilled to work with a company I absolutely love!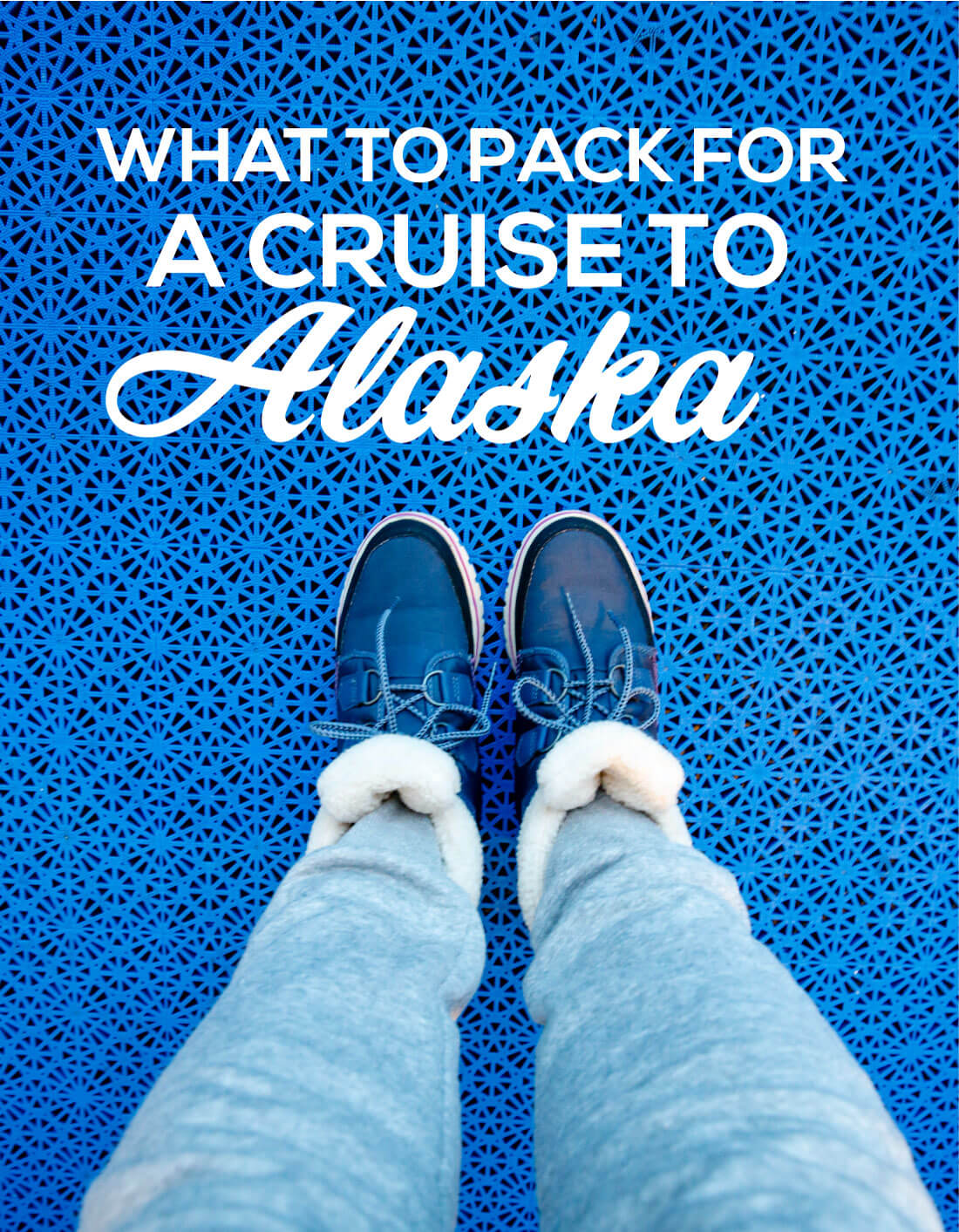 If you're just tuning in, Josh and I recently went on a Princess Cruises Alaskan Cruise.  It was everything we hoped it would be and more.  You can get the basics about the trip, learn more about cruise food, and see our favorite Alaska shore excursion – Taku Glacier.   But today let's talk specifics about what you should pack for a cruise.  An Alaska Cruise checklist looks very different from a Caribbean Cruise checklist.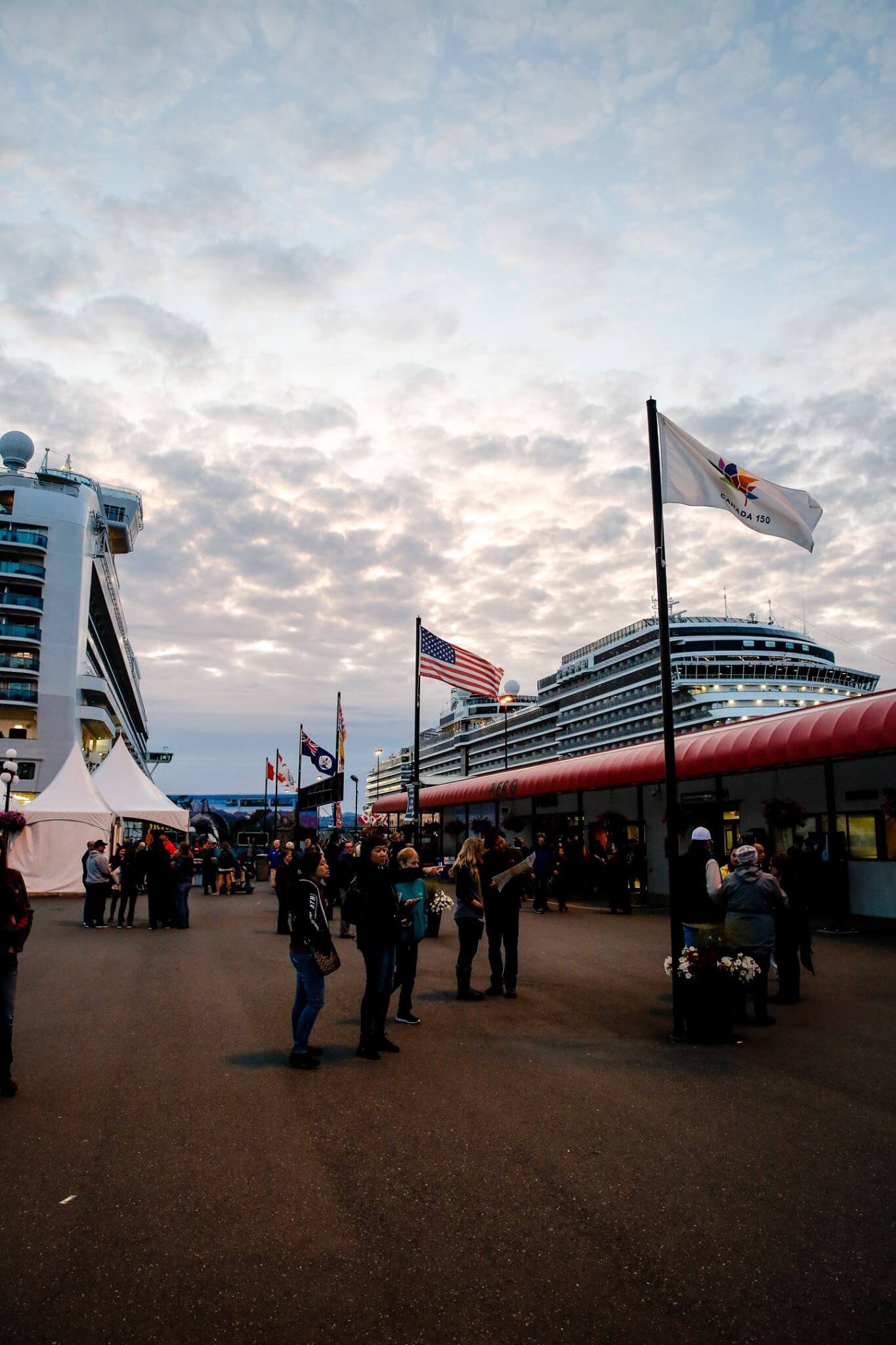 As I mentioned before, we lucked out with the weather on the week that we went to Alaska.  We had been told over and over to expect the worst because it can be really unpredictable and this year in particular the weather has been bad.  For some reason, luck was on our side and we experienced a lot of sun, some wind and a little bit of rain.  But nothing that was too bad for this California girl.  (ahem…yes, I can be sort of a wuss when it comes to cold temps) 
People told me about a hundred times to bring layers.  So that's what we did.  We brought A LOT of layers.  For another week we might've needed those layers but for our time there, we overpacked.
Here is my must haves list that I bought and used throughout our cruise:
Sorel Boots – I cannot sing the praises of these boots enough.  They were SO comfy and kept me extremely warm.
Workout shoes – if you plan on going on active excursions or working out
Some cute beanies
Warm socks – several pair
Long underwear – for me and Josh
Fleece lined jeans – I got these for my Iceland trip and they are AMAZING!
Long sleeved shirts
Sweat pants
Work out clothes – again for excursions or if you plan to work out
Warm pajamas
Nice clothes for dress up nights – (2) – mix and match if you can!
1 pair of nice shoes to wear for the dress up nights
Magnetic clips to hang stuff on the walls
And while these aren't mandatory, my Bose noise cancelling headphones are my new favorite travel item.  I'm obsessed!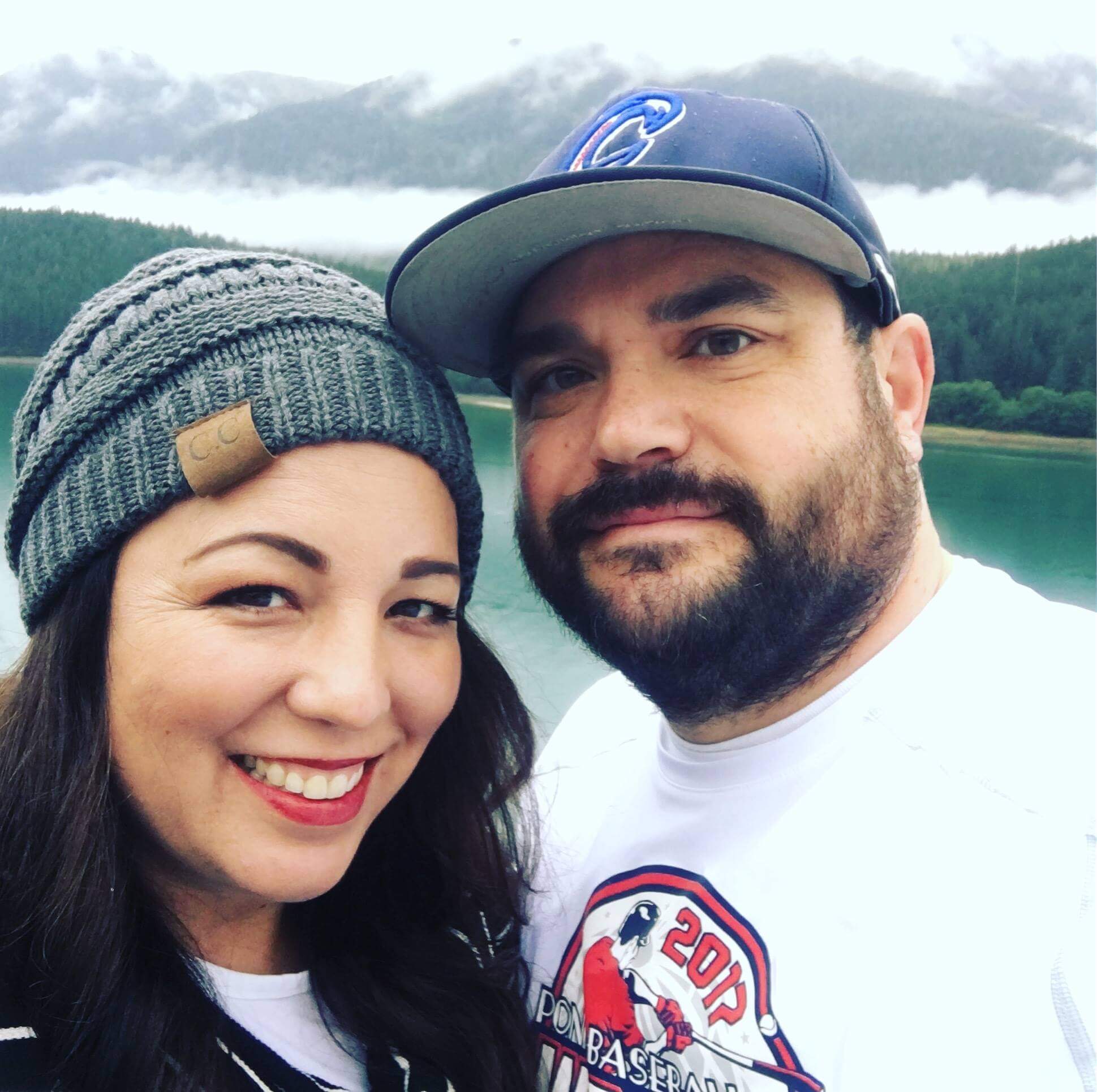 One of the things that people love about Alaska cruises is that they are beautiful but you don't have to leave the ship if you don't want to.  There were several stops that people stayed on the ship.  You can eat, hang out, read, sleep, engage in ship activities (and there are TONS).
BUT if you do want to, there are plenty of excursions and tons of beauty all around you.  Besides Taku Glacier, we also did a kayaking trip in Canada after riding the Klondike trail.  It was incredible.  More on that soon! The reason why I bring it up here is because I wasn't quite sure what to wear on this one.  Here's what we ended up with: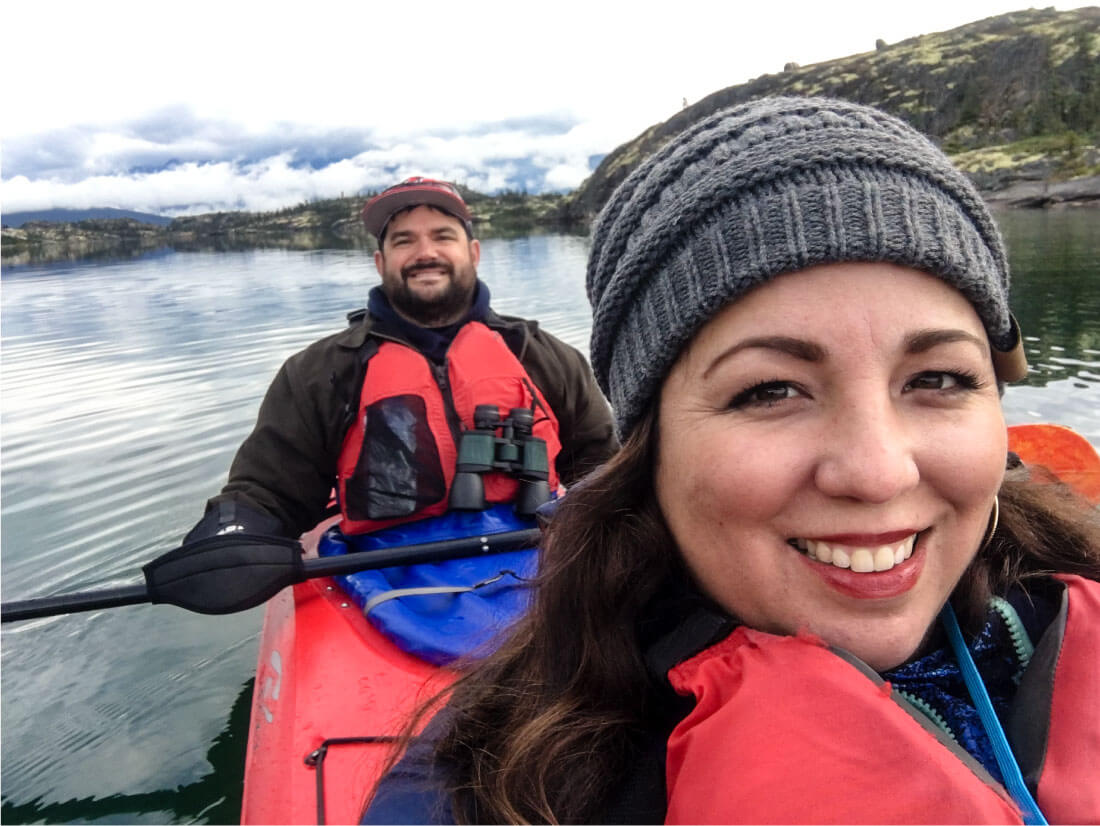 Josh and I both wore our light jackets, sweats, hats (beanie for me) and brought binoculars and waterproof pouches for our phones- just in case.  There was no need for gloves because your hands fit nicely into these oars that have hand covers on them.
One other thing that I wasn't sure about was the dress up nights.  I knew that there were a few on our cruise but didn't know how dressed up to get.  We had one night that was really fancy and this is what we ended up wearing: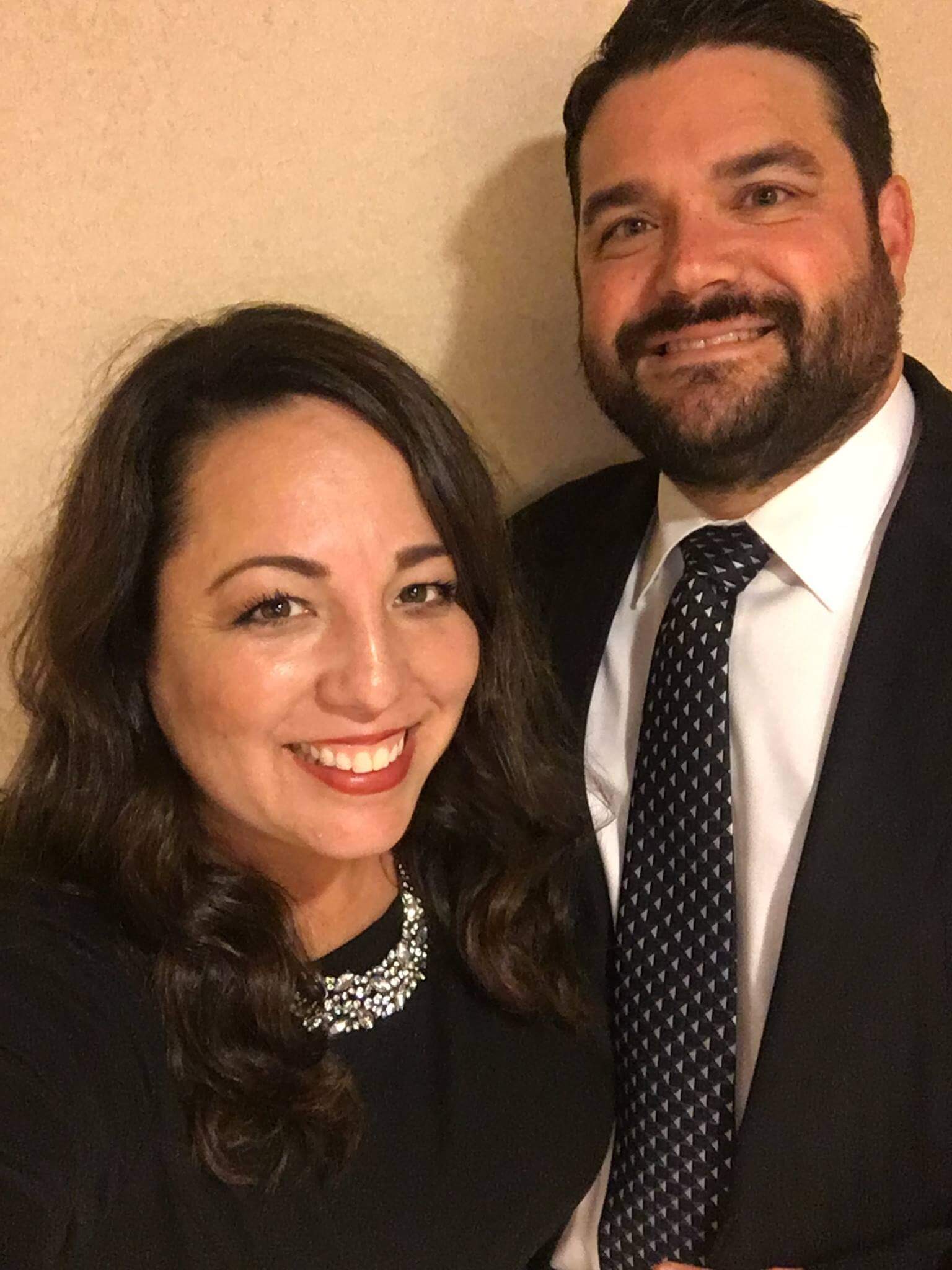 Remember in my original Alaska cruise post I talked about how you can send your clothes to be pressed? This is what it was for.  Josh sent them on the first day we were there and his suit was hung and ready to go in our closet with plenty of time.  Best thing ever!! I wore a simple black dress but then kicked it up a notch with a cute pair of shoes and this necklace.  I had read the reviews and thought it was worth a shot for $10 and free shipping.  It was seriously great!! Love this necklace and it folds up easily for travel.  Total win with that one.
Ready to book your Alaska Cruise trip yet?!
Other posts to check out: