Take a walk with me to see all of the many food options aboard a Princess Cruise.  This post might make you hungry .. consider yourself warned!
This post is in partnership with Princess Cruises. I am beyond thrilled to work with a company I absolutely love!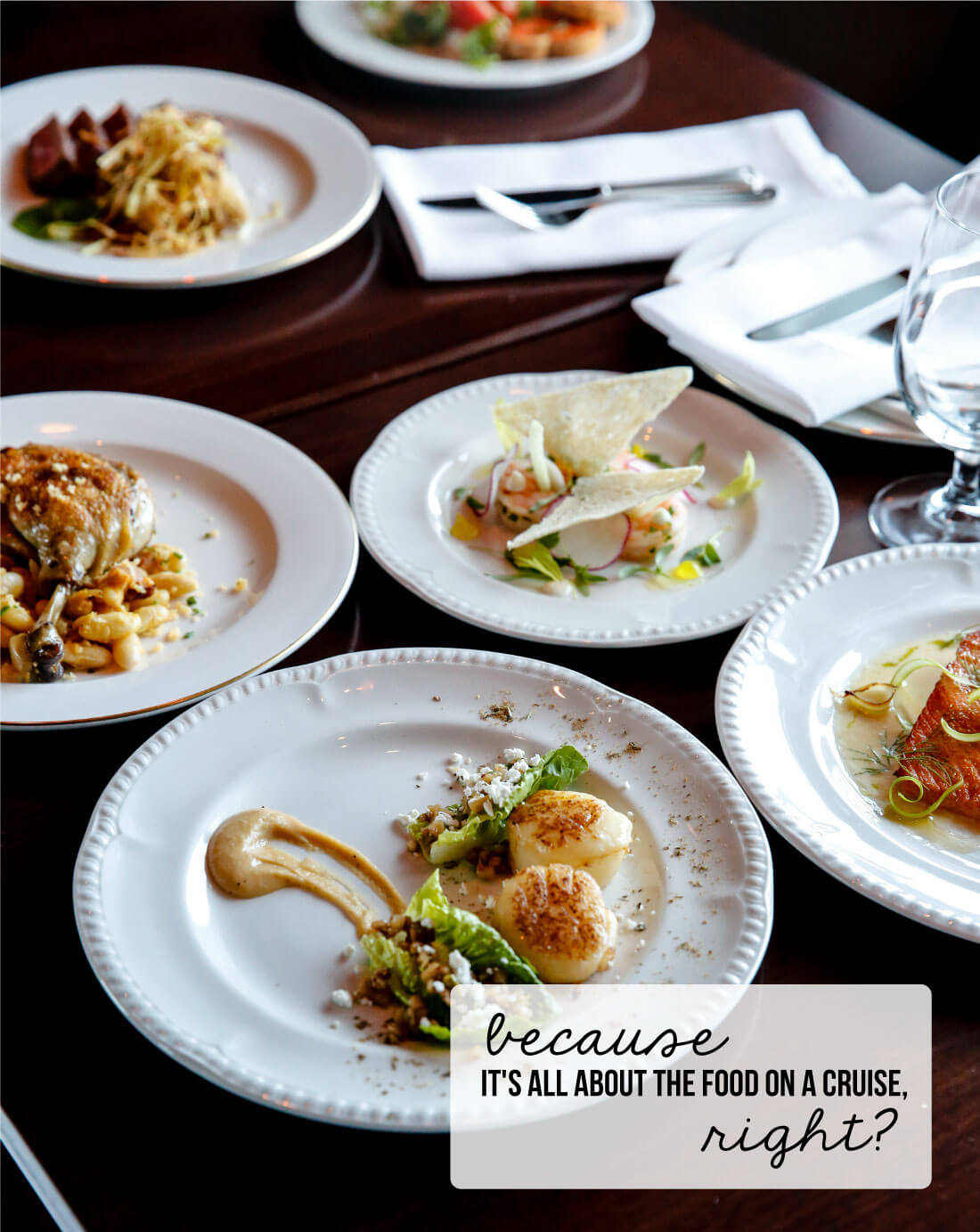 When talking to friends and family about going on a cruise, inevitably everyone talks about the food.  Because it's all about the food, right?  I mean, I'm always about the food .. but especially on a cruise.  It's one of the many perks of taking a Princess Cruise.  Buckle in because this post is full of pictures of the amazing food and tips, tricks and things that I think are important to highlight.  After sharing the overall view of what it's like to take an Alaskan Cruise, I couldn't help but share the food next!  When you book a cruise there are a few options relating to food and there are then more when you get on board.  One of the things you choose ahead of time is if you'd like to eat anytime or have a scheduled meal.  This is definitely a preference thing – some people don't want to be tied down to a time, others like having the consistency.  One thing to keep in mind is that if you choose the "anytime" option, you might be waiting for a bit to have a table available while if you have a set time, your table is ready for you at the time every night.  You also don't get the experience of sitting with the same people and getting to know your fellow table mates if you choose the "anytime" option.
After you get on the cruise, there are several more options of places to eat- room service, cafes, pizza spots, buffets and specialty dining.  I wanted to share a little of each option.
First, let's start with specialty dining.  It was my favorite thing on our cruise.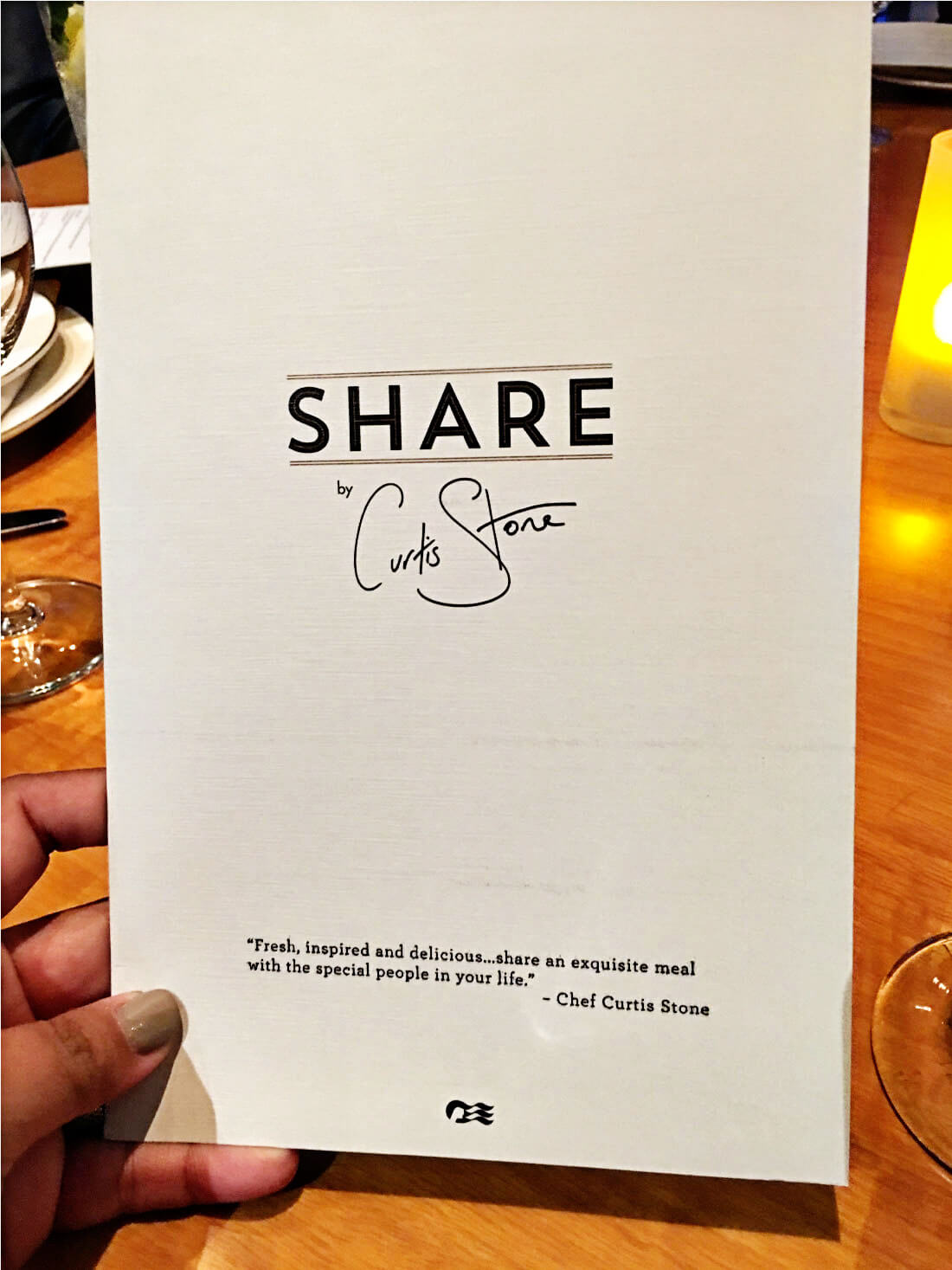 On our first night we experienced SHARE by Curtis Stone restaurant.  We had a meal with many courses, all amazing.  I've always been a fan of Curtis Stone so I was excited to eat in this restaurant.  It only would've been better if he was there himself.  ;)  Maybe next time!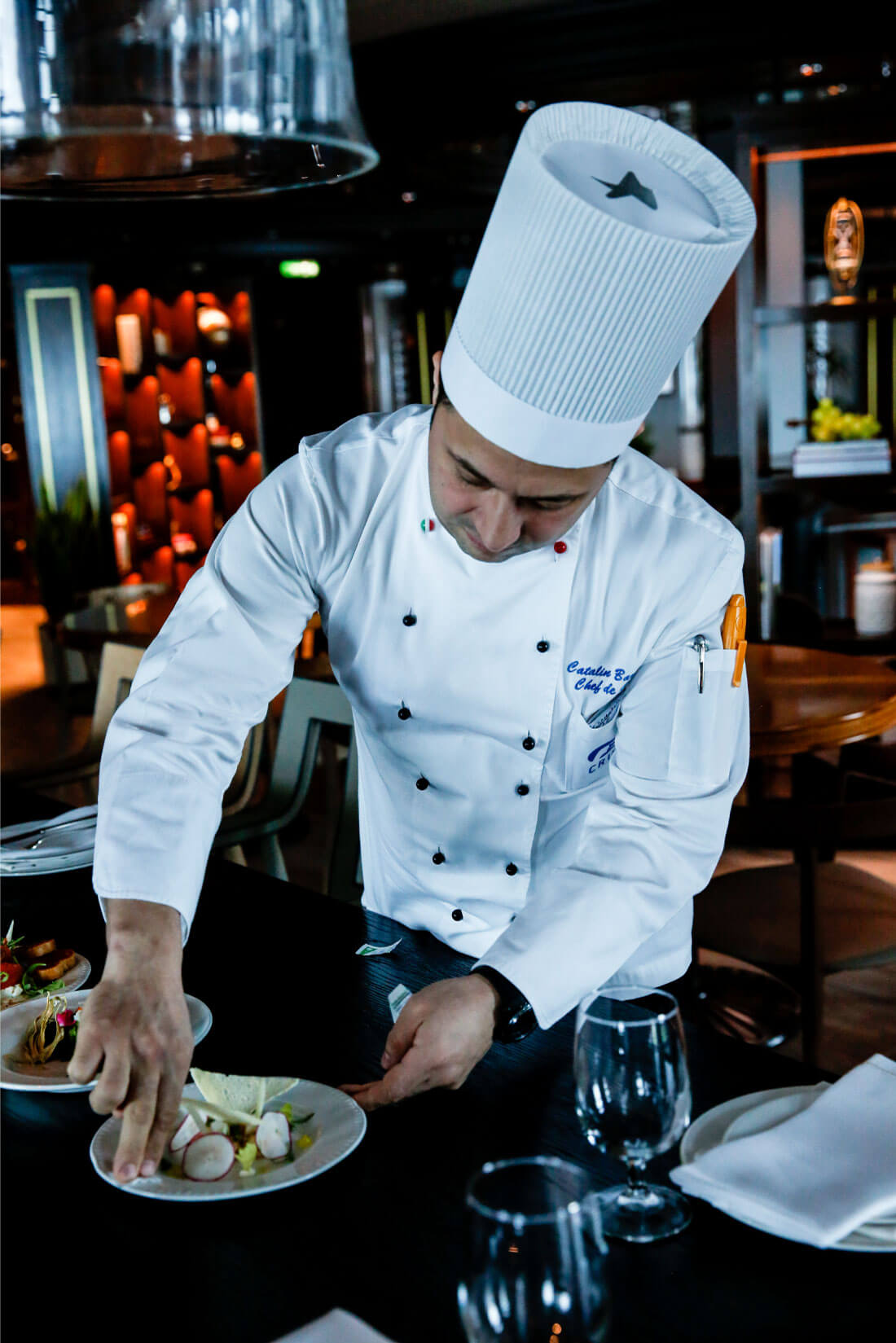 The chefs on board are incredible.  They prepare the most delicious meals and their attention to detail is on point.  I loved having the opportunity to chat with a couple of them throughout our trip.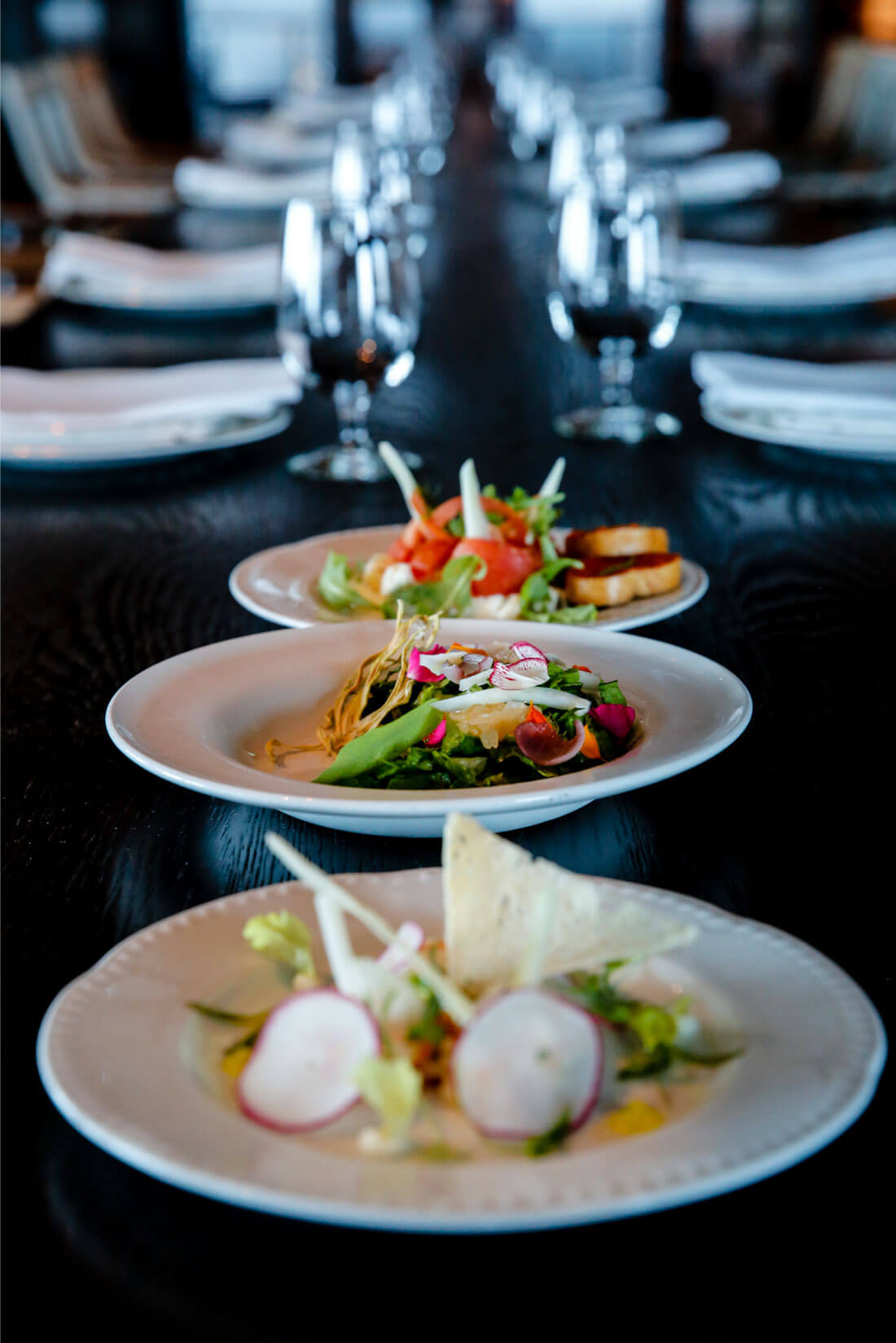 Each course that we had built upon the last.  I normally don't get the chance to eat such beautiful meals – usually we're on the go and in a hurry to stuff our faces.  We sat, ate, talked with friends and it was fantastic.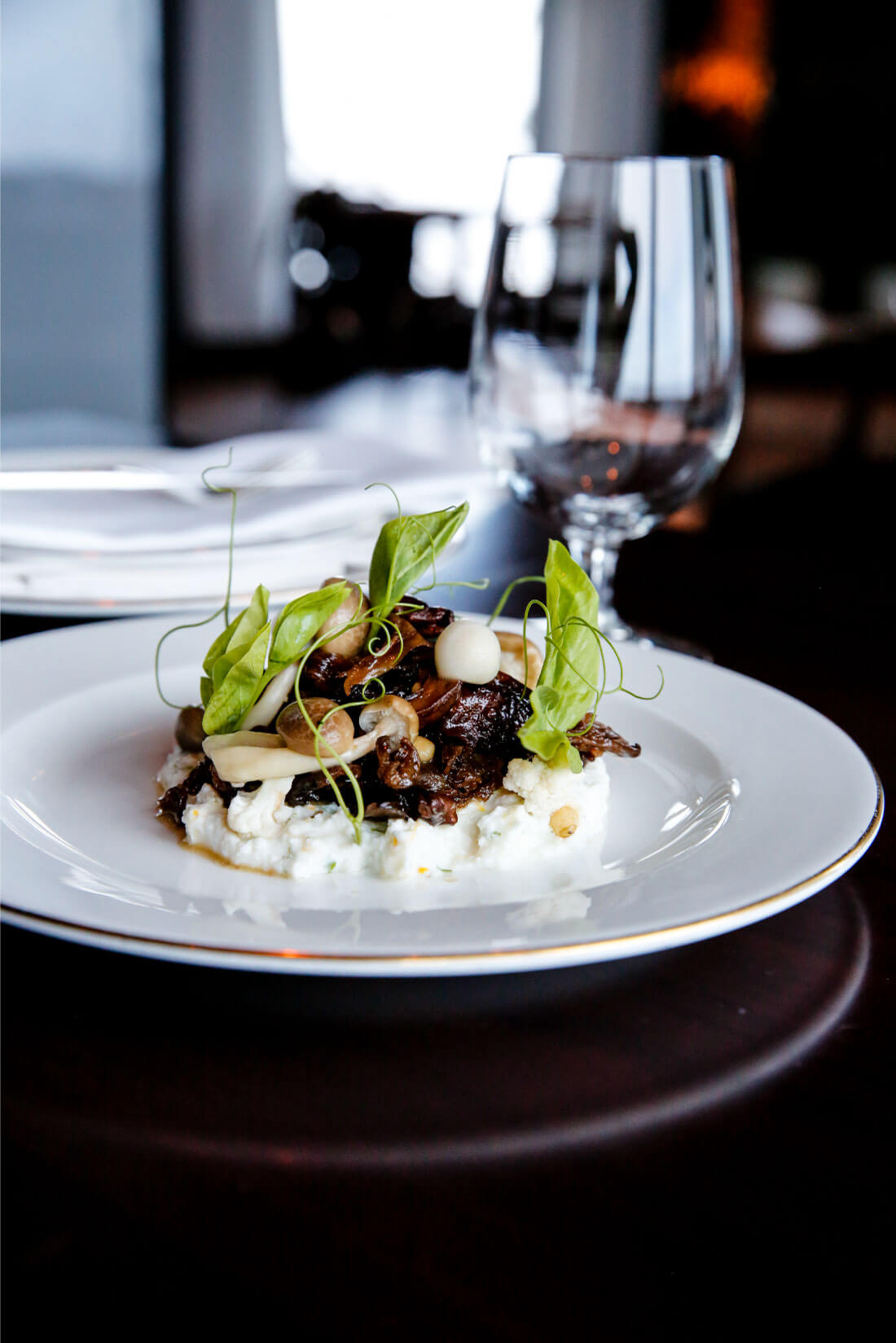 We got to choose a between several options.  Josh and I ate off of each others plate.  While it might not have been the best manners, we couldn't help it!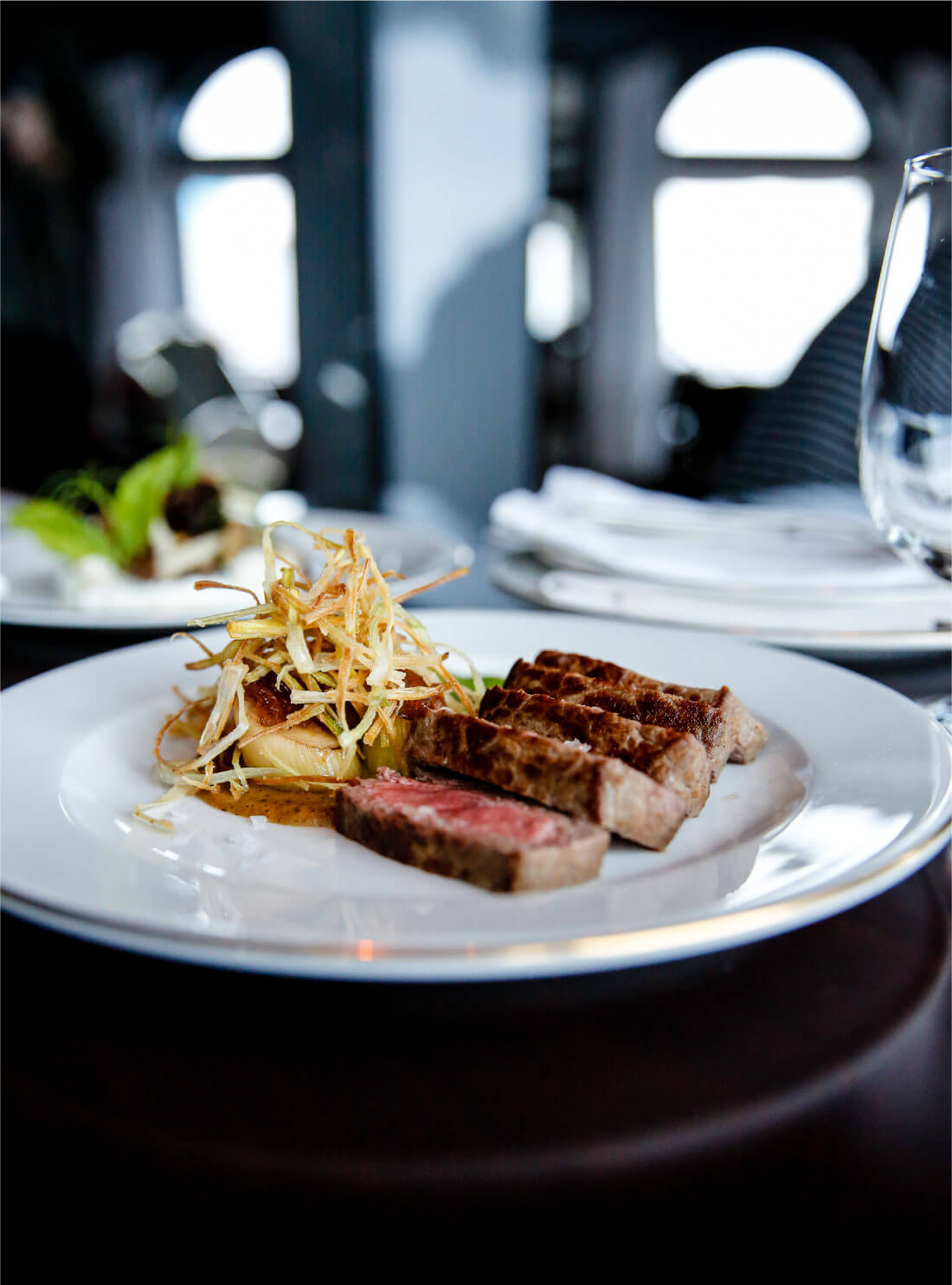 There were seafood, beef and vegetarian choices.  All delicious!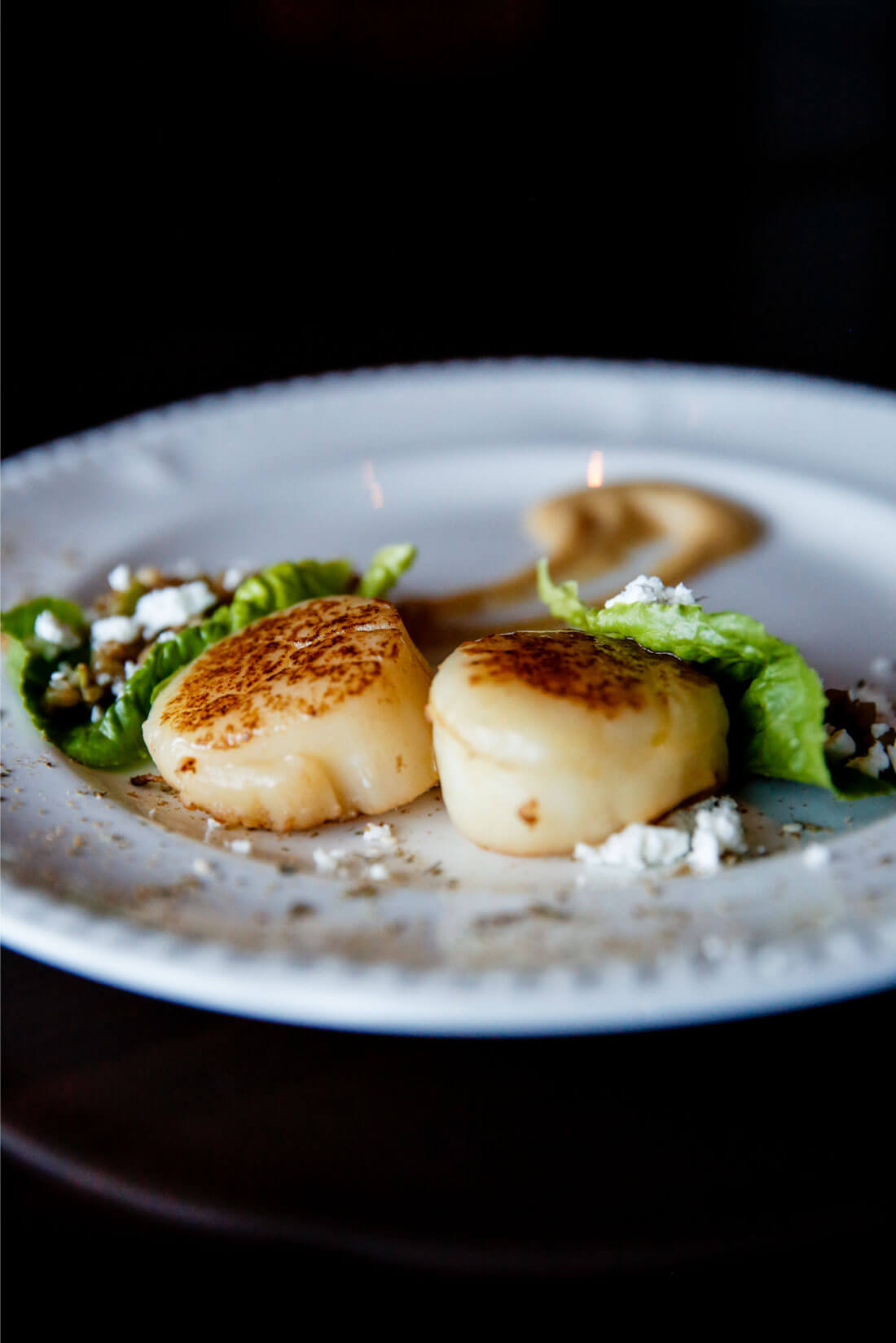 Here's a sampling of the menu: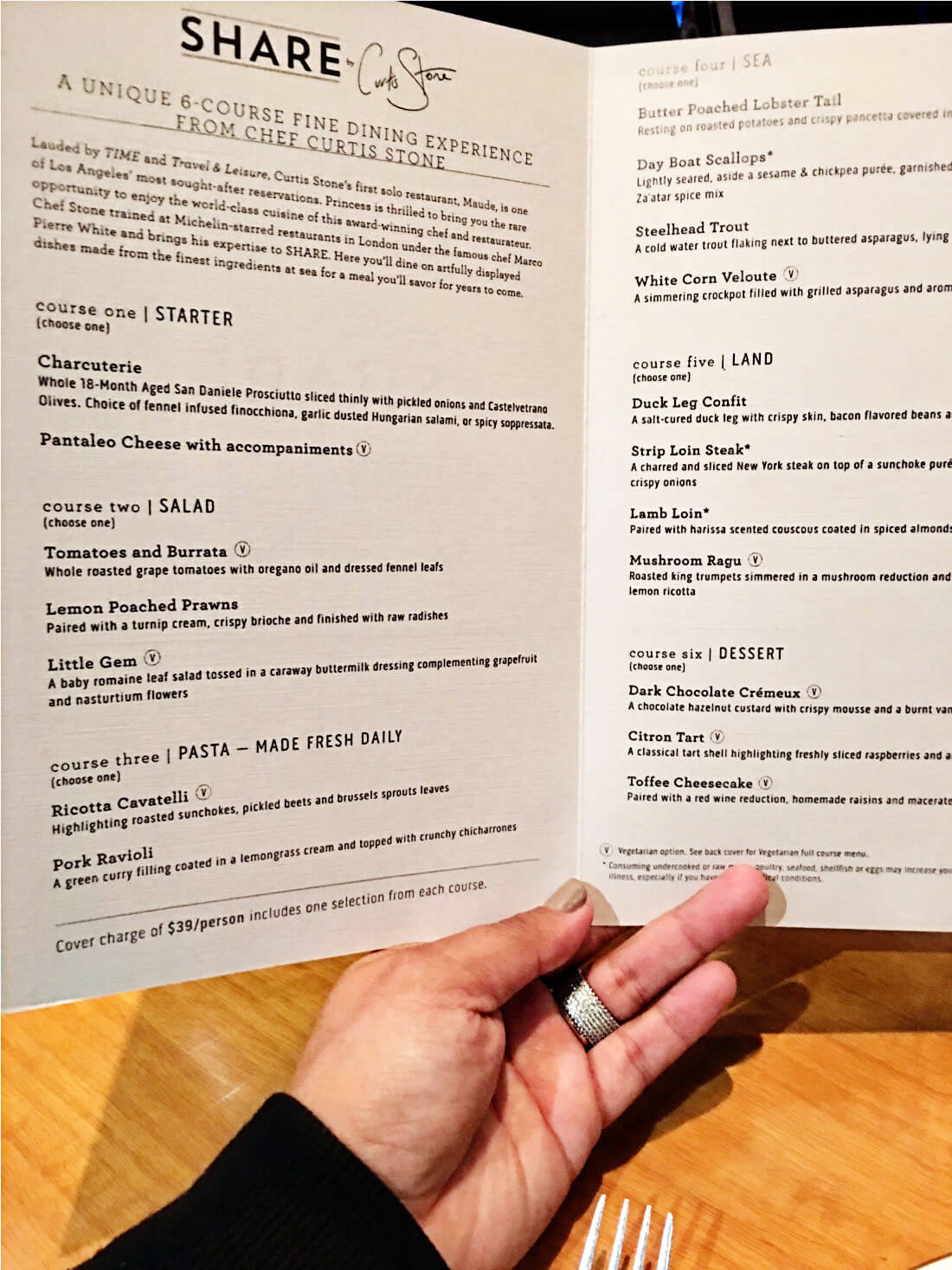 And oh the desserts … need I say more?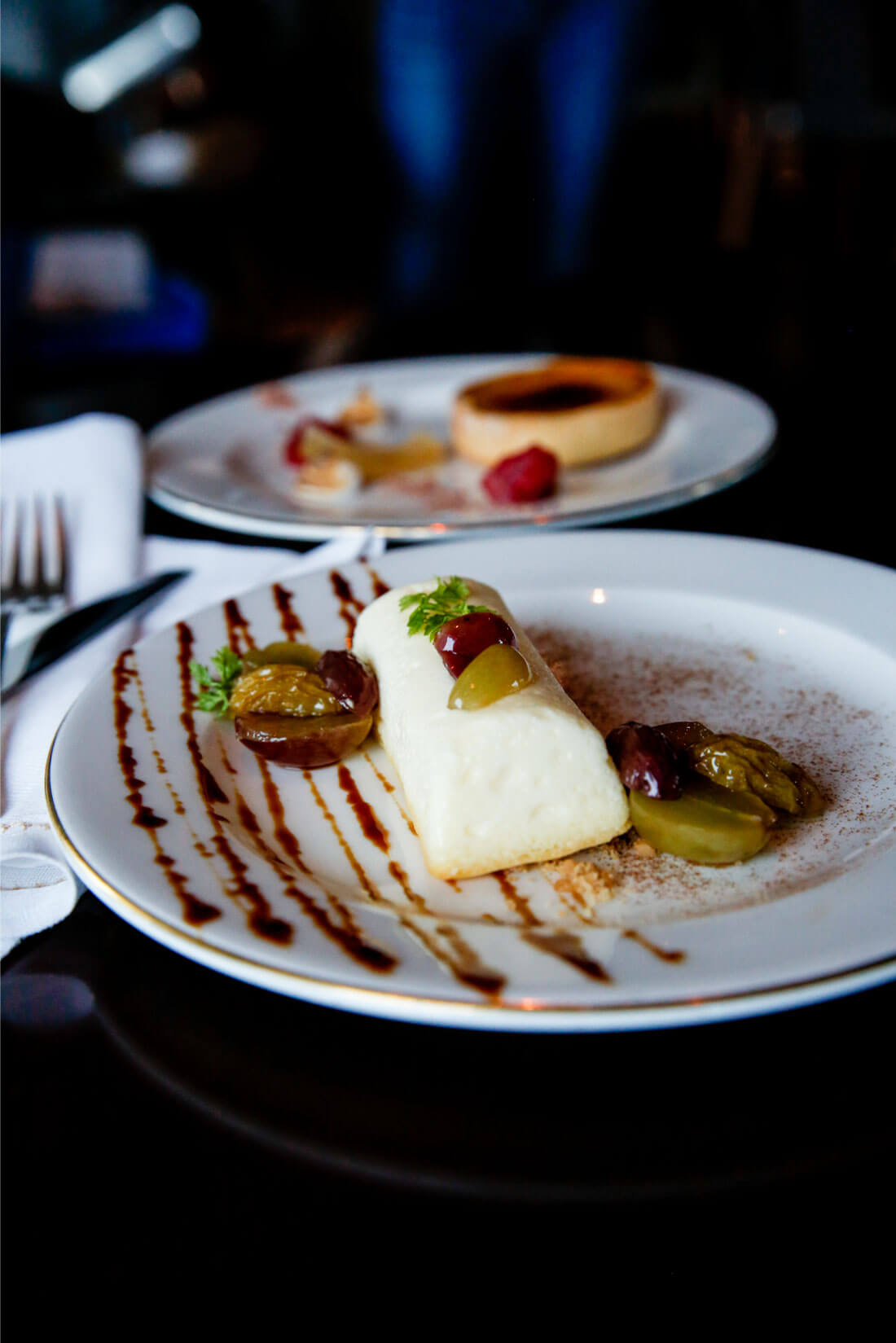 I also loved the decor in SHARE.  I would design our whole house around it if possible!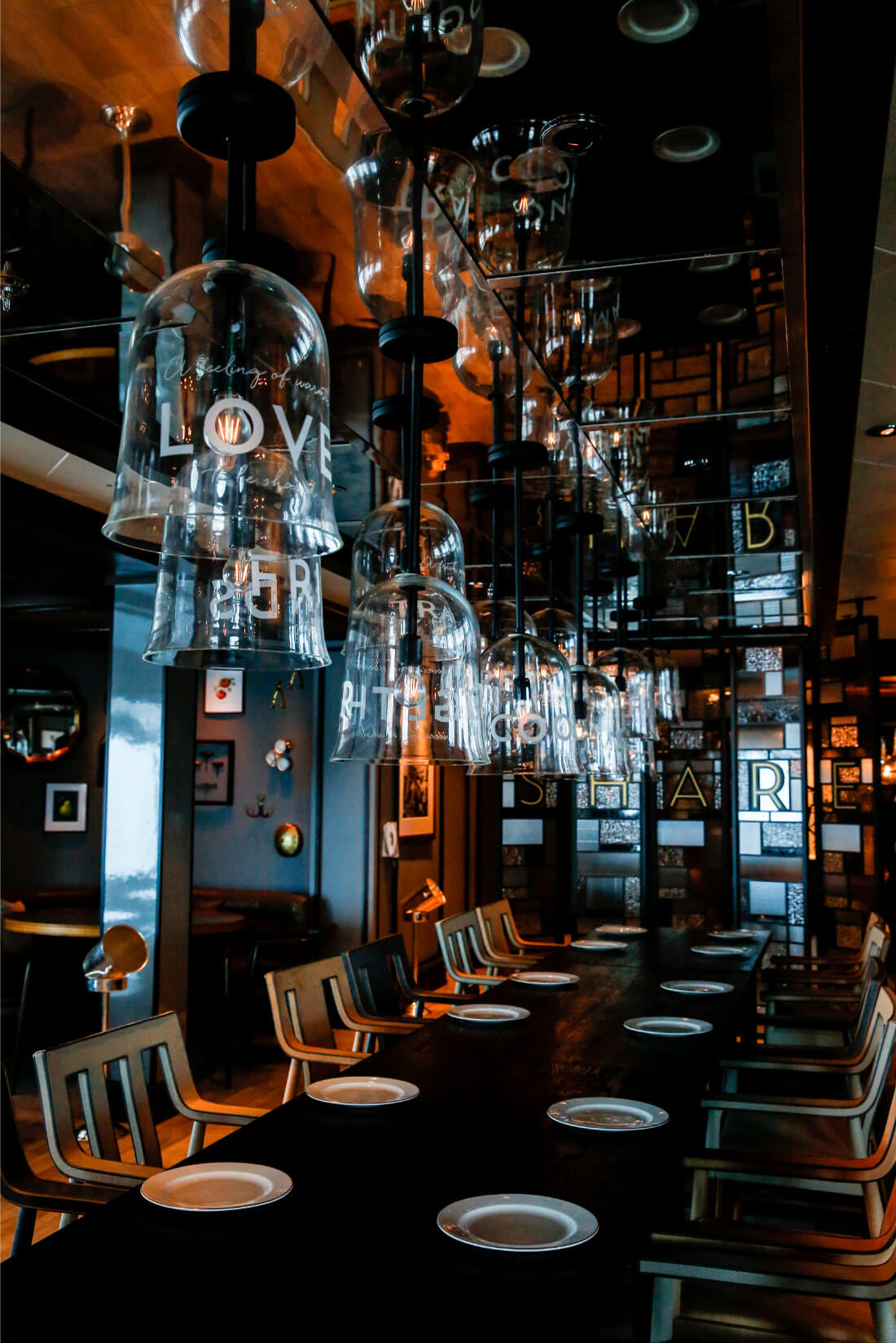 Isn't it amazing?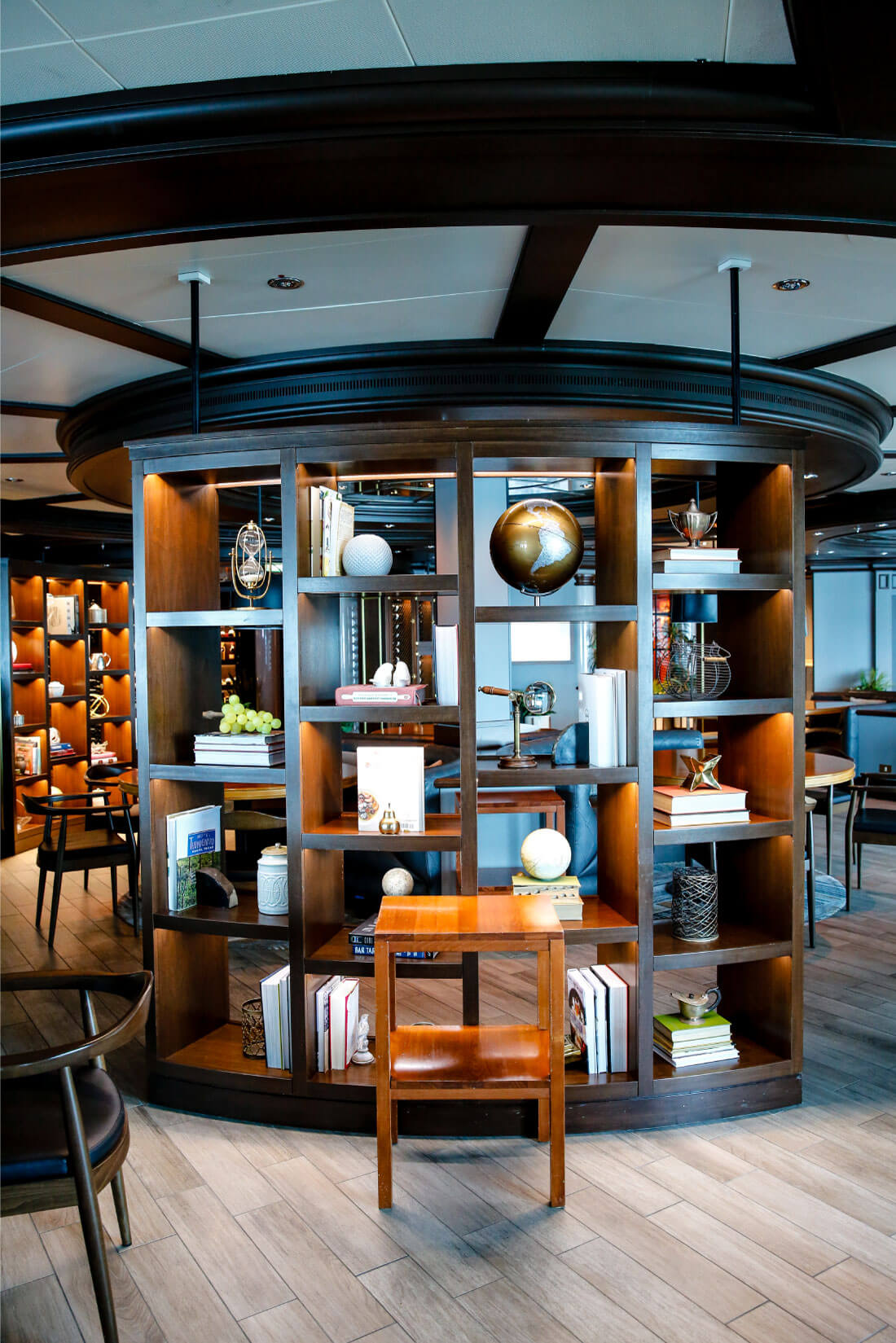 My very favorite restaurant on the cruise was the Salty Dog Gastropub.  We ended up going there more than once.  And while this picture doesn't look all that exciting, this was hands down my favorite meal: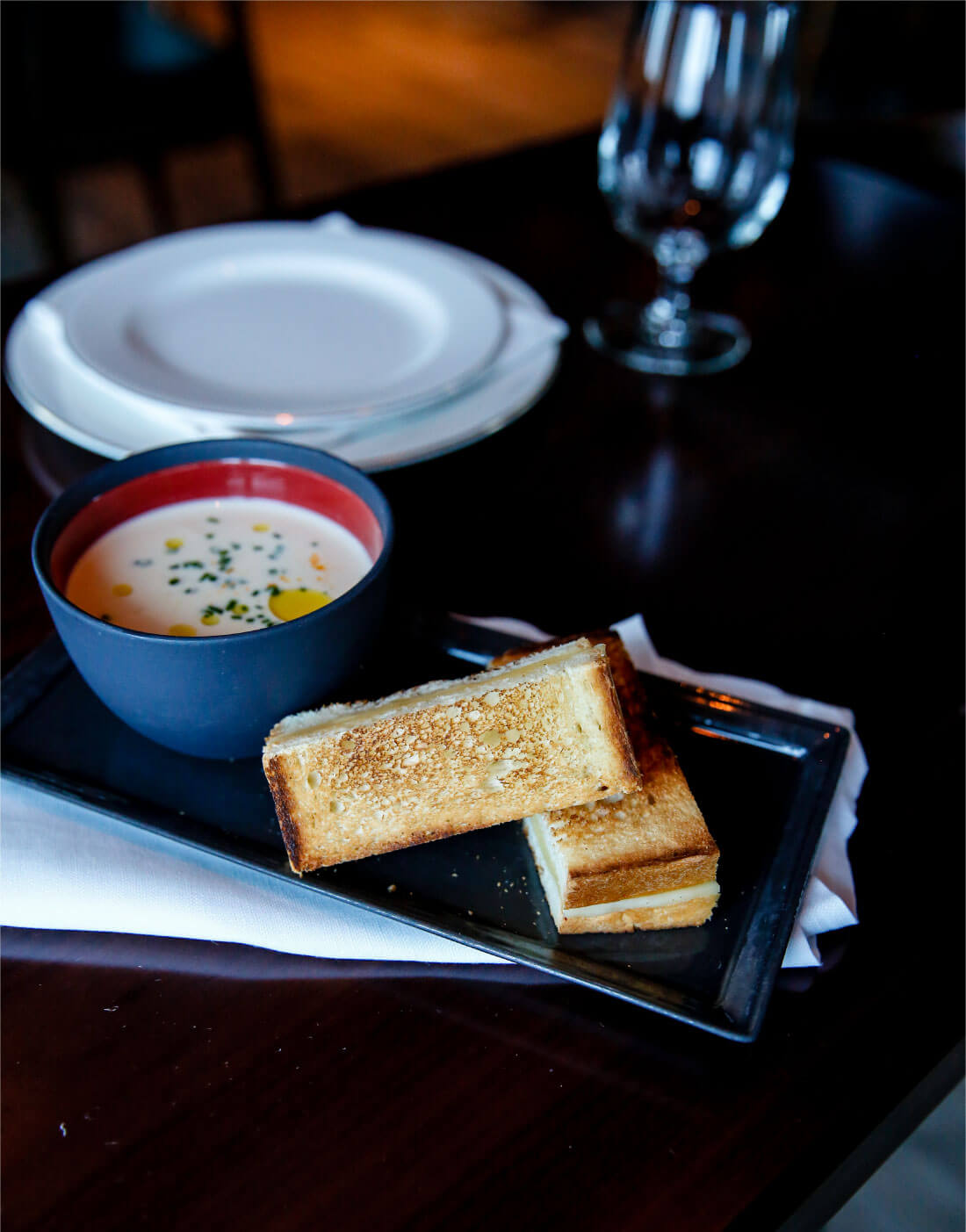 White Tomato Soup and Grilled Cheese – DIVINE.  I've never had white tomato soup before but now I'm determined to make it at home.
The Salty Dog Gastropub has a more relaxed feel and I felt right at home.  They also had people playing music who were so so so great.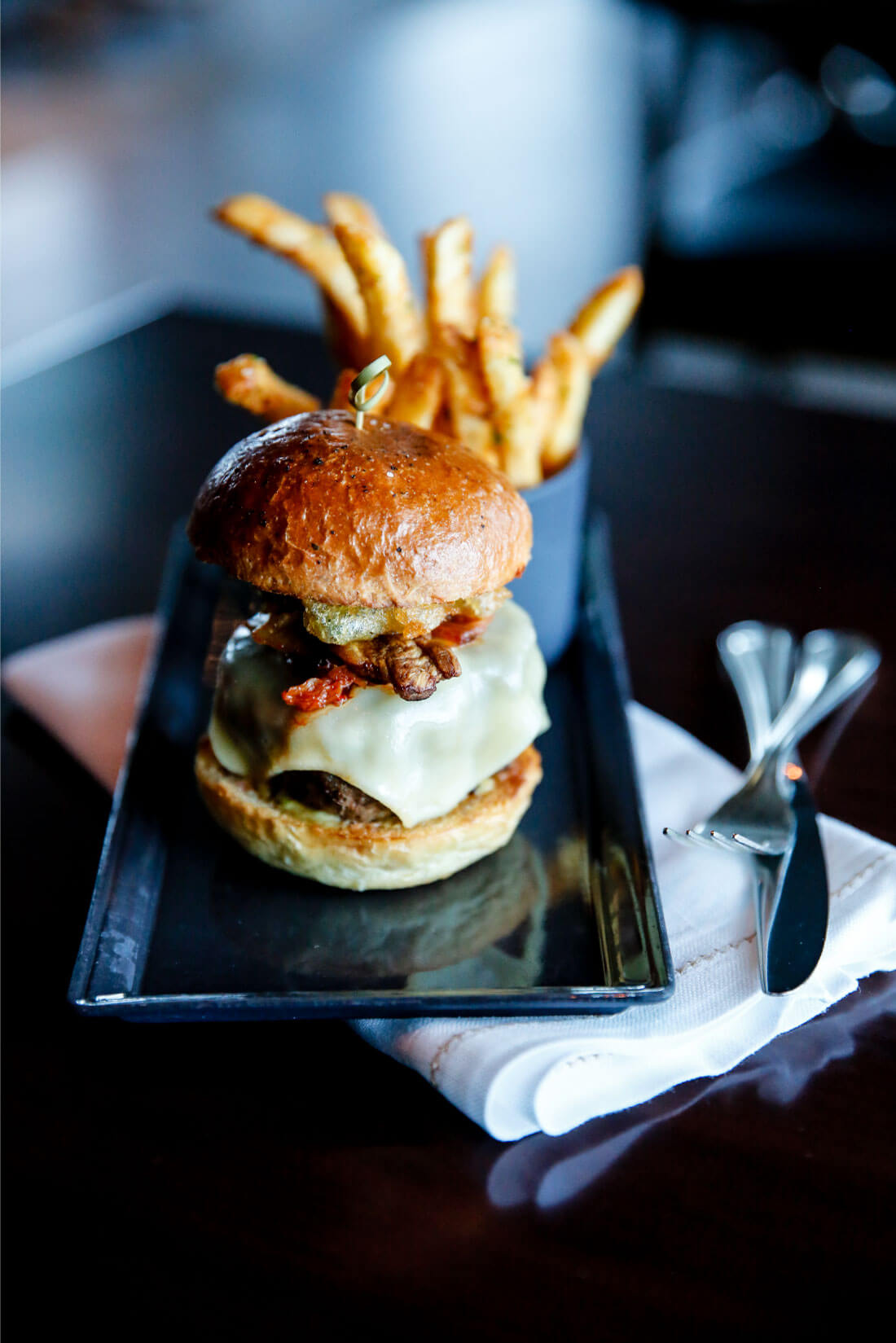 All of the dinner and desserts that we tried in this specialty restaurant were incredible.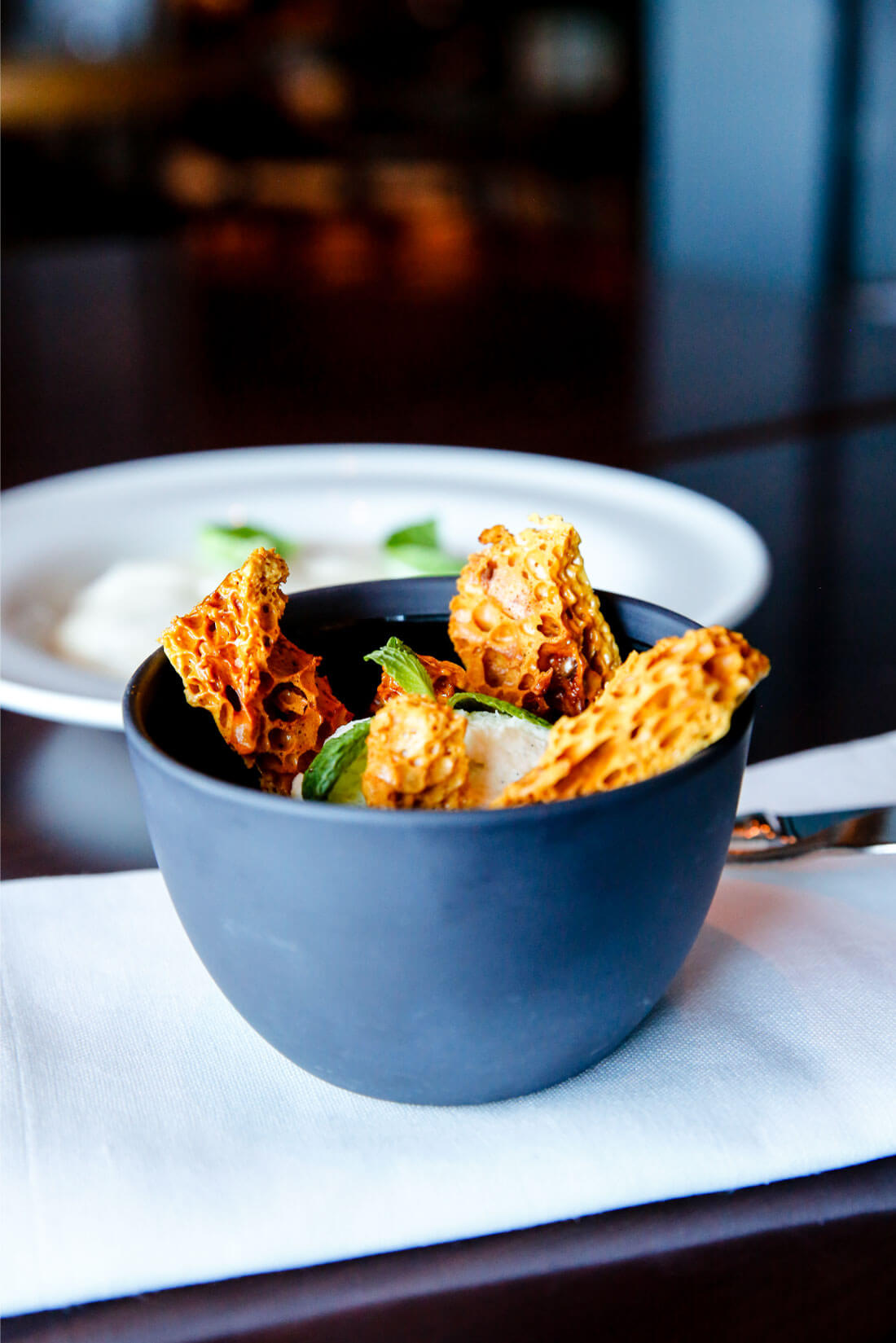 For specialty restaurants on a Princess Cruise, there is an additional fee.  It's important that you plan on this if you want to enjoy the.  You don't HAVE to do anything in additional to the traditional meals, buffets, or room service but they are absolutely worth it in my opinion.  You can stop by each restaurant or call ahead to make reservations too.  This also means each specialty restaurant is smaller and more intimate feel.
Let's talk about room service, shall we?
It's available 24 hours a day, the entire trip.  Hello! Heaven.
On our cruise specifically, we had a day at sea that was through Glacier Bay.  They had room service brought to us to enjoy the views out of our balcony (did I mention you need to get a balcony room for an Alaskan Cruise?  Worth it!).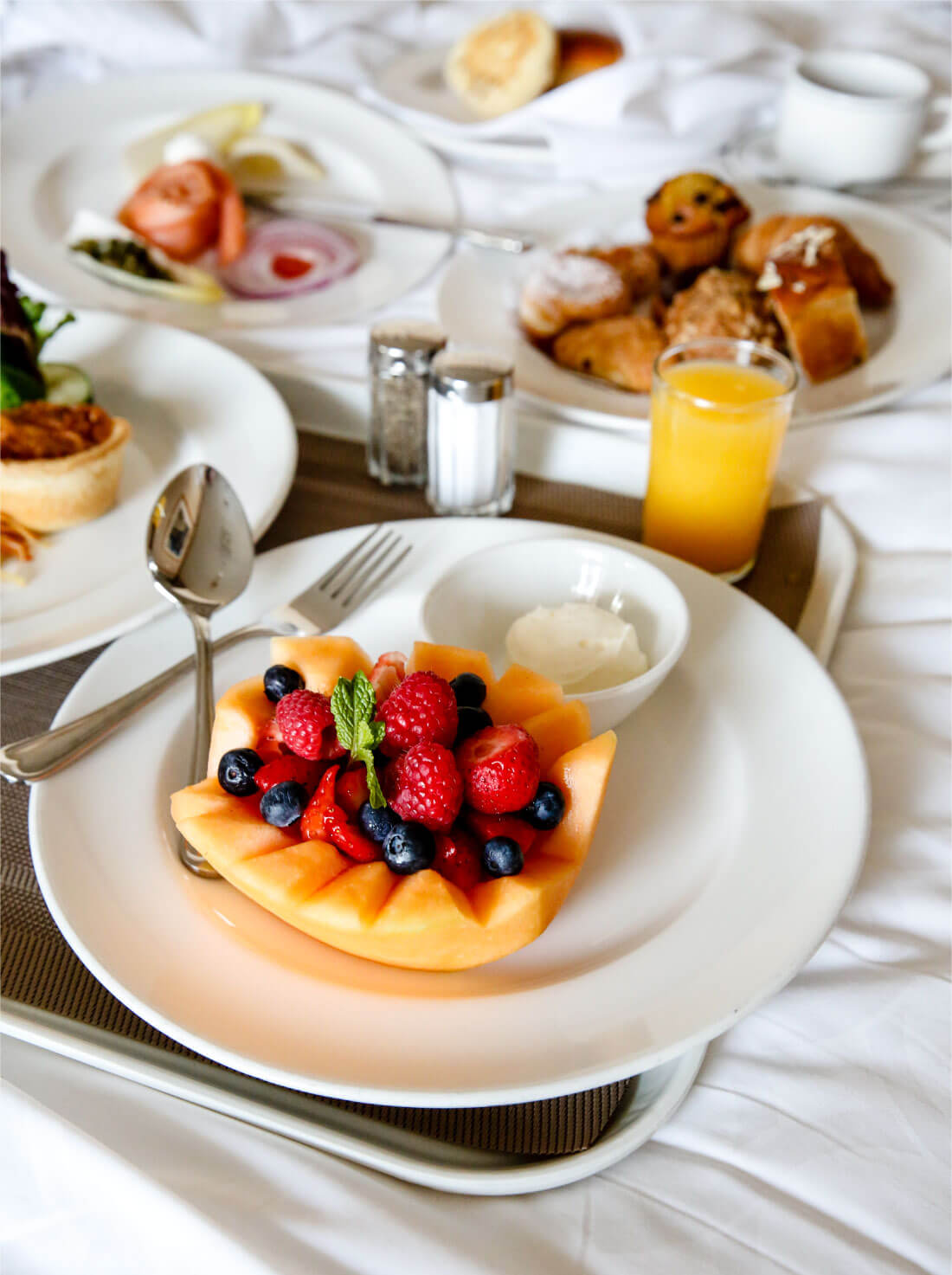 This is what we received on that day at Glacier Bay —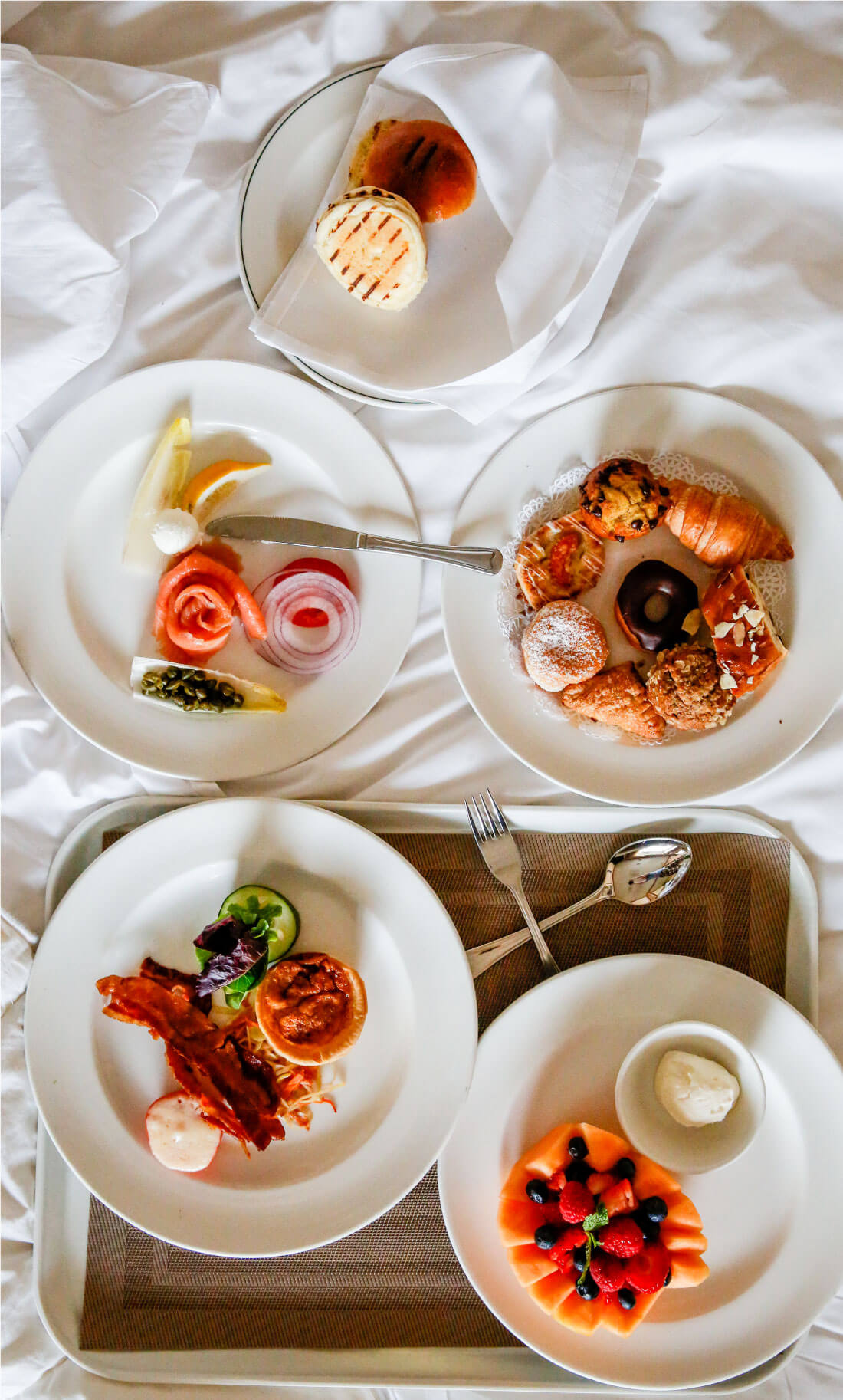 Not only did it taste great but the presentation was beautiful.  I couldn't believe how many plates and trays were brought into our room.
I've heard that the peanut butter and jelly sandwiches on Princess are fantastic.  I missed out on this and am majorly bummed but will take advantage next time.  Supposedly they are triple layer and toasted.  Mmmm…
All you have to do is pick up the phone in your room at any time and they'll bring it right away.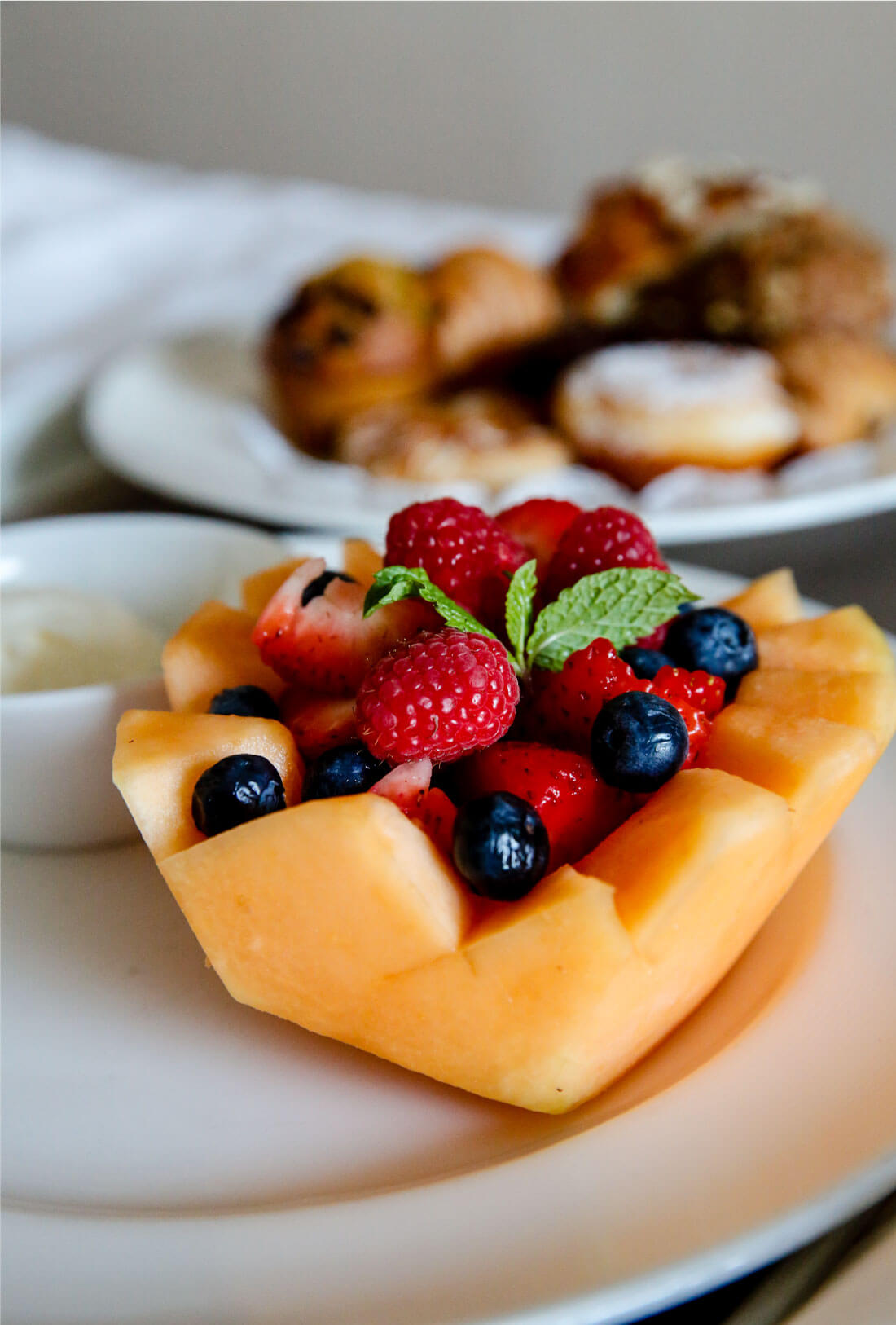 One of the days for lunch Josh and I grabbed burgers, hot dogs and fries from the Burger and Hot Dog Grill.  We brought our food into a room to play cards.  It was easy and fun.
Something to think about regarding drinks:  on Princess Cruises you can purchase drink packages.  I was able to get sodas, mocktails (I don't drink alcohol) and more by using my room key.  While basic drinks are provided, it's worth it to get a drink package.  They have lots of different options depending on your needs.
In addition to the burger places, the buffets and pizzeria, there is the International Cafe.  This is an easy place to stop for breakfast or a quick lunch.  Every day the items change.  But they are all good!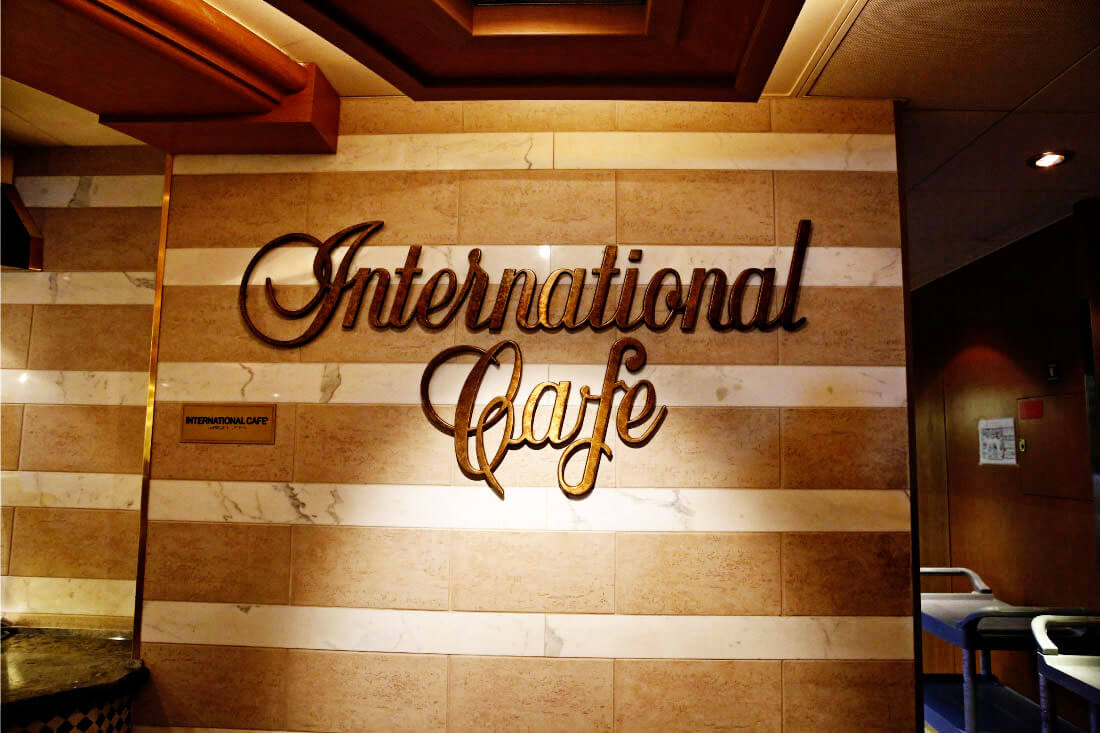 There is always some kind of muffin, donuts, parfaits, etc for breakfast.  During lunch hours there are sandwiches.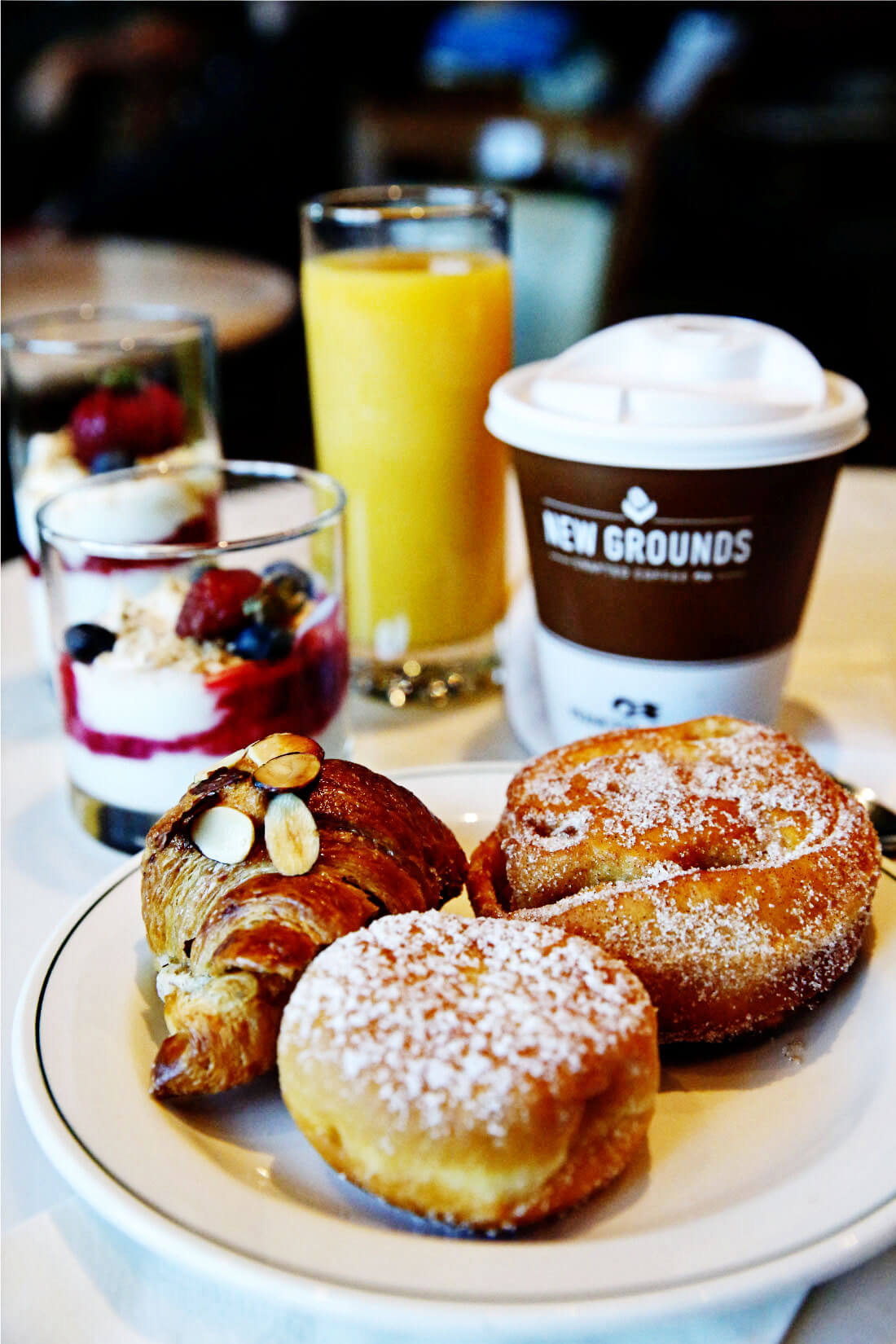 It was fun to visit every day and see what was in the glass-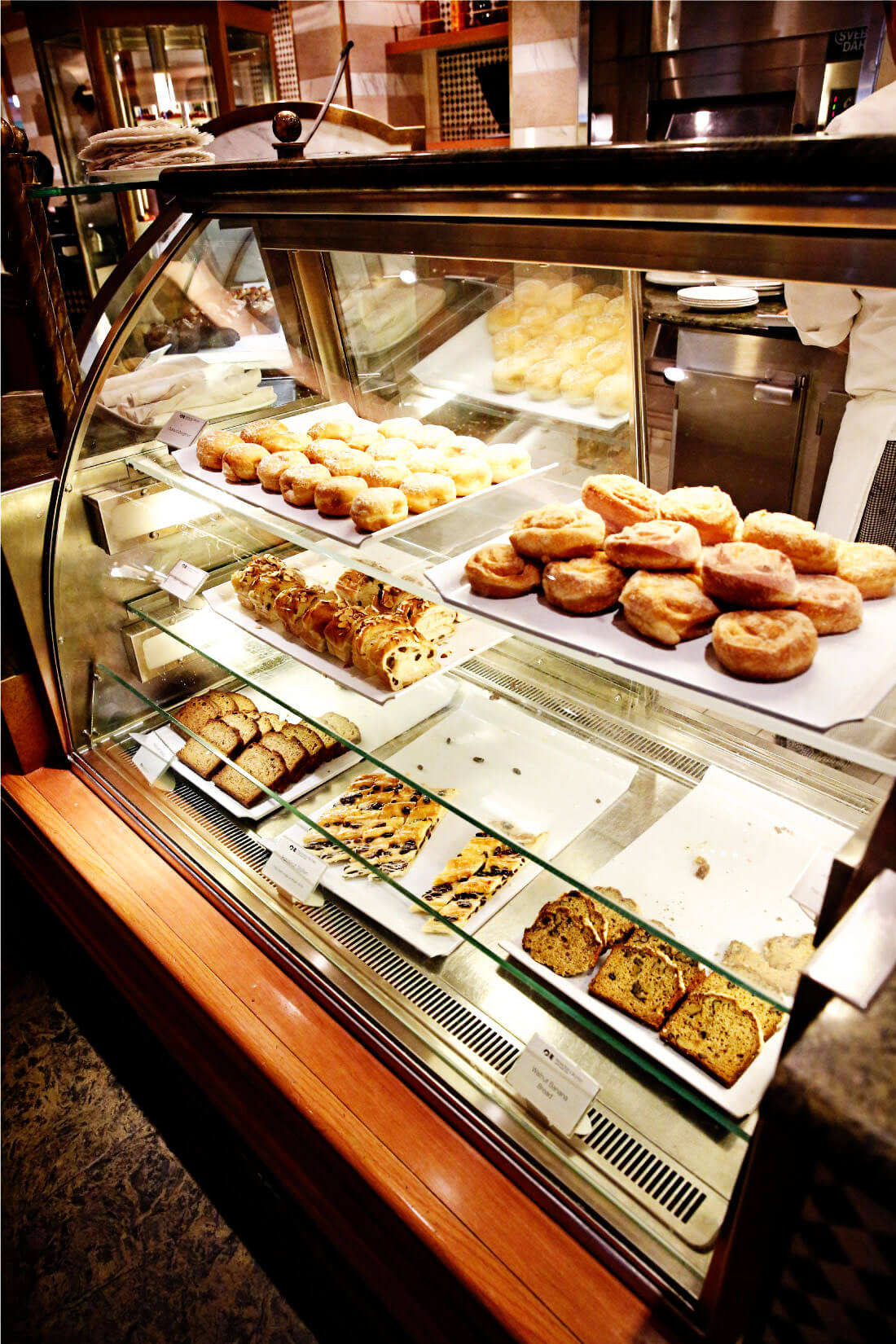 And remember how I talked about the gelato in my last post?  This is where you get it.  Do yourself a favor and get it more than once!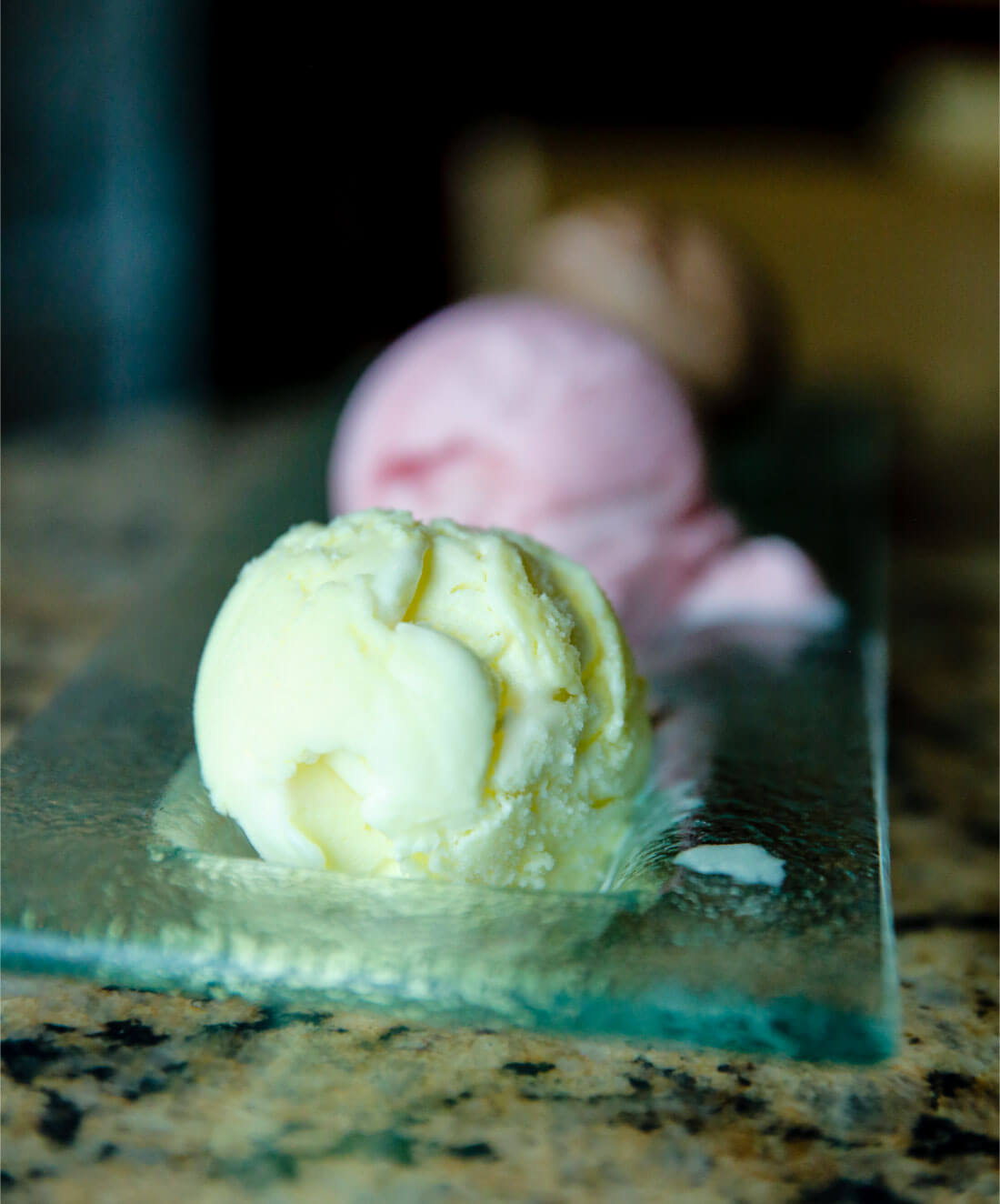 Have you been on a cruise? Did you get to experience all of the food?  I'm still dreaming about it…
I will talk more about some of the spots we ate at our ports on additional posts.
Check out these other travel posts: