So what's it really like to go an Alaskan Cruise?  I'm here to tell you alllllll about it!

This post is in partnership with Princess Cruises. I am beyond thrilled to work with a company I absolutely love!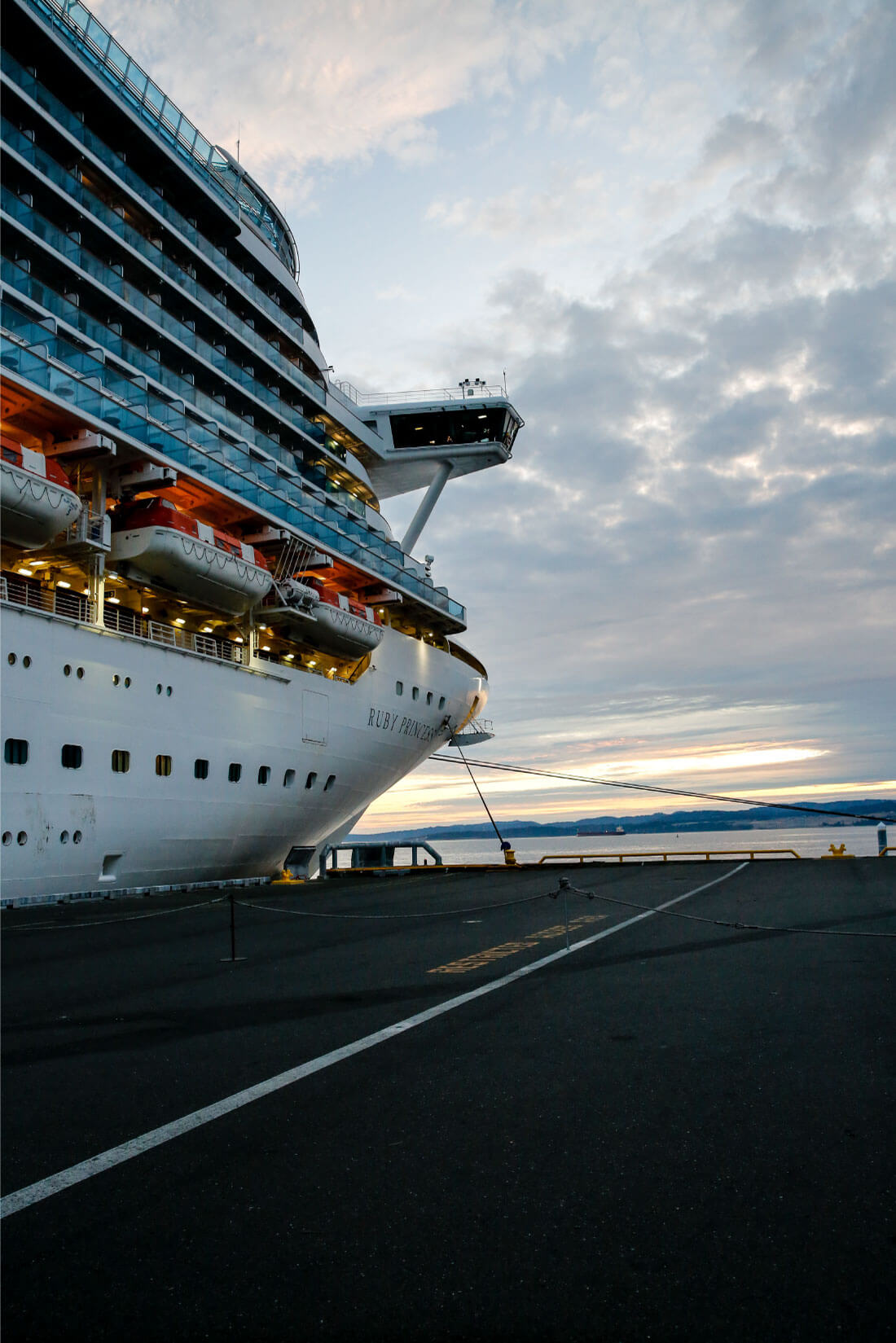 Josh and I recently went on an Alaskan Cruise with Princess Cruises
 aboard the Ruby Princess.  We had heard about cruises to Alaska from everrrrrryyyyone.  It seemed like a bucket list cruise but honestly it wasn't on my radar all that much.  I'm more of a flip flop and beach kind of a girl and Alaska?  Well… it's the opposite of that.  But here's where I tell you that I'm a total convert to the idea and now I completely get why people say that it's the best cruise ever.
To give you some reference, Josh and I have been on two cruises before – both to the Caribbean.  But it's been over 10 years since our last cruise.  We have traveled a lot but just not by way of cruising.  I was looking for something to do to celebrate his graduation from law school (yay!! 4 long years!) and knew that this type of cruise was made for people like Josh.  When I say that I'm a beach and flip flop kinda girl, he is the opposite of me.  He is a mountain man, outdoorsy kinda guy.  We are like yin and yang.  I thought – 'Ok I'll go and have fun but it will be more for Josh.'  And while Josh absolutely loved it, I did too.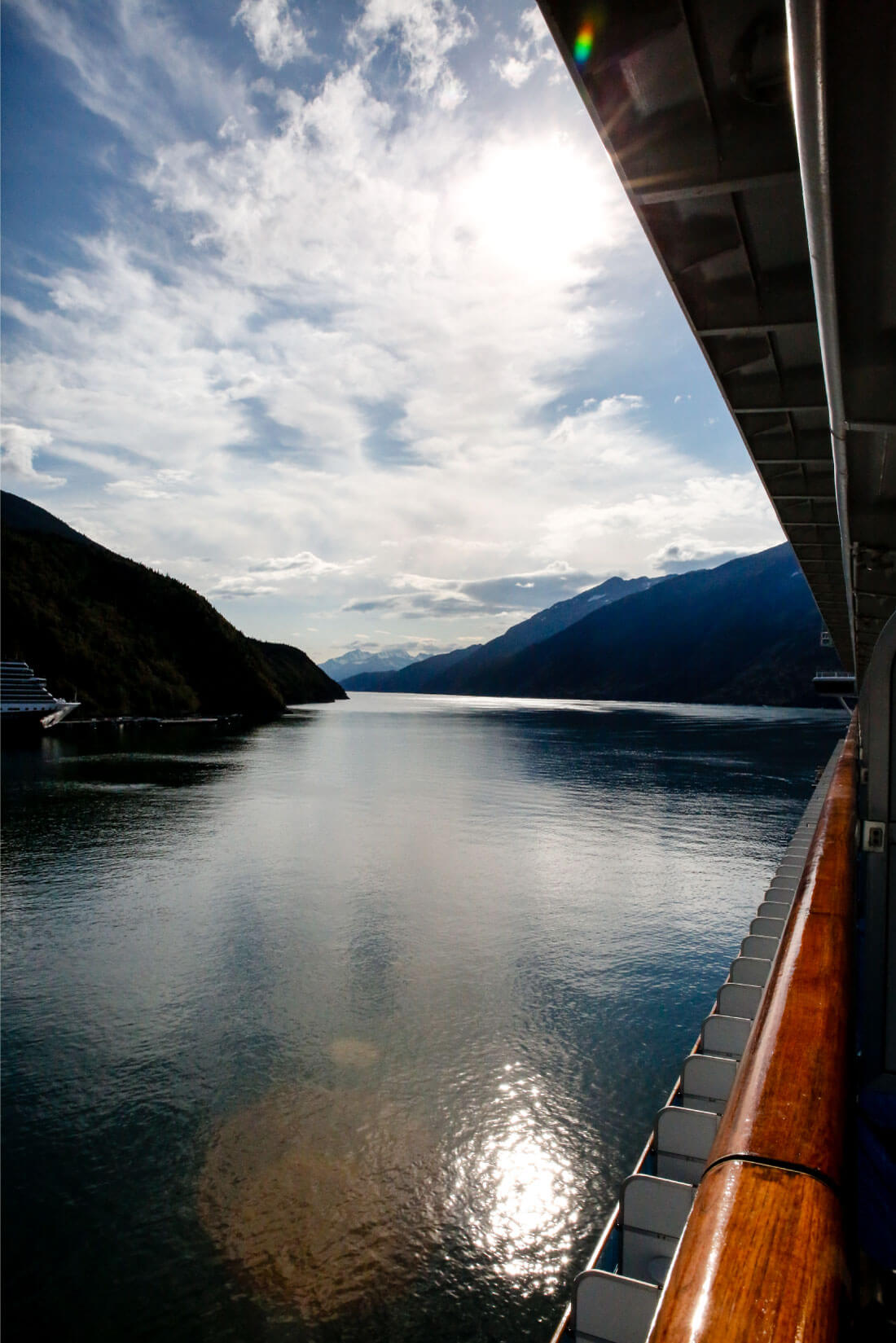 Over the next couple months I'll post more specifics about our cruise but I wanted to give kind of an overview first.  I shared a lot on Instagram (especially in my stories) while I was there and got some good questions that might help if you are debating on going on an Alaskan cruise.  Or maybe you weren't planning on it before, this might convince you. :)  Because if this beach loving girl can fall in love with a cruise this quickly, I'm pretty sure you can too.
Here's what our 7 day itinerary included:
Departed from Seattle
Day at sea
Juneau, Alaska
Skagway, Alaska
Glacier Bay National Park (this was a day at sea where we saw the glaciers)
Ketchikan, Alaska
Victoria, British Columbia Canada
Arrived back in Seattle
I felt like 7 days was the perfect amount for this cruise.  It gave us just the right amount of time to see and do all of the things.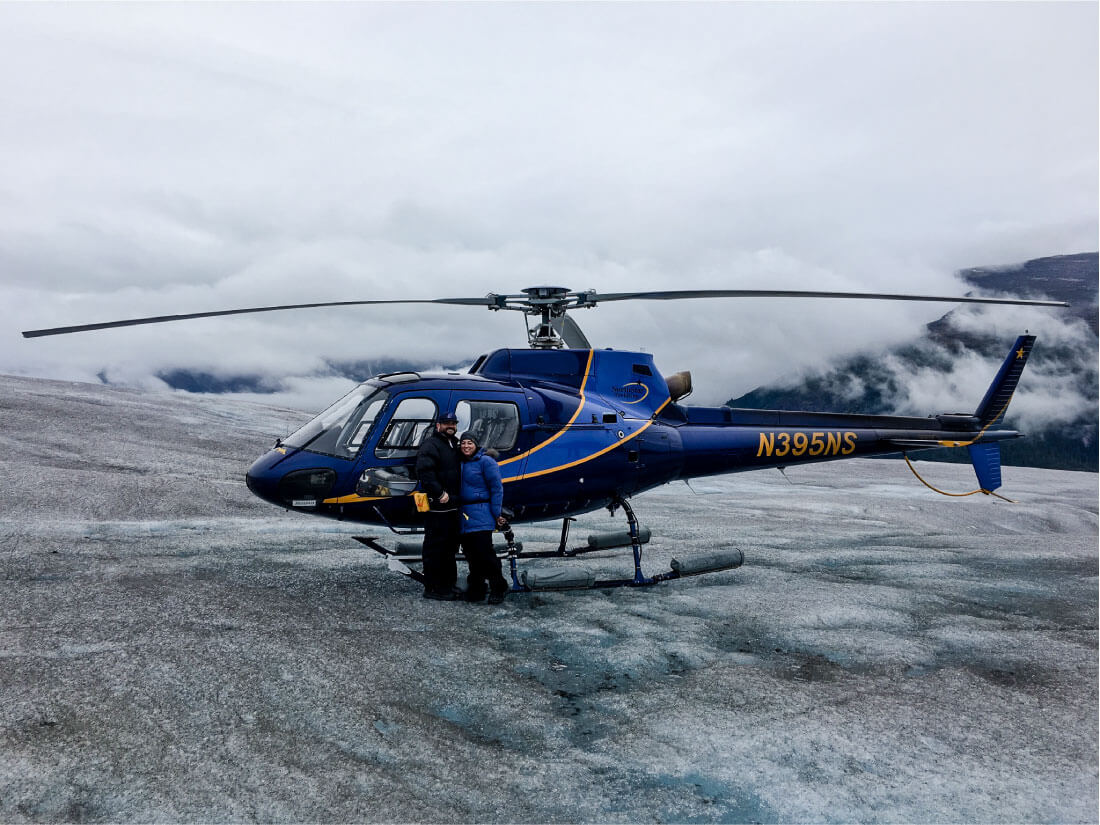 So… what is there to do in Alaska?
Ummm what isn't there to do in Alaska?….is a better question.  We went on a different excursion at each port that were booked through Princess.  I feel like we got a really good idea of what each city was about by way of these excursions.  Our favorite of them all – the Taku Glacier Helicopter Landing and Airboat Tour.   One of the locals said that it was instead of it being called the "Earth, Wind and Fire tour" it was the "Air, Wind and Sea."  That sums it up really well.  The picture above is us standing on top of the Taku Glacier.  It was AMAZING.  I will definitely fill you in more on this one soon.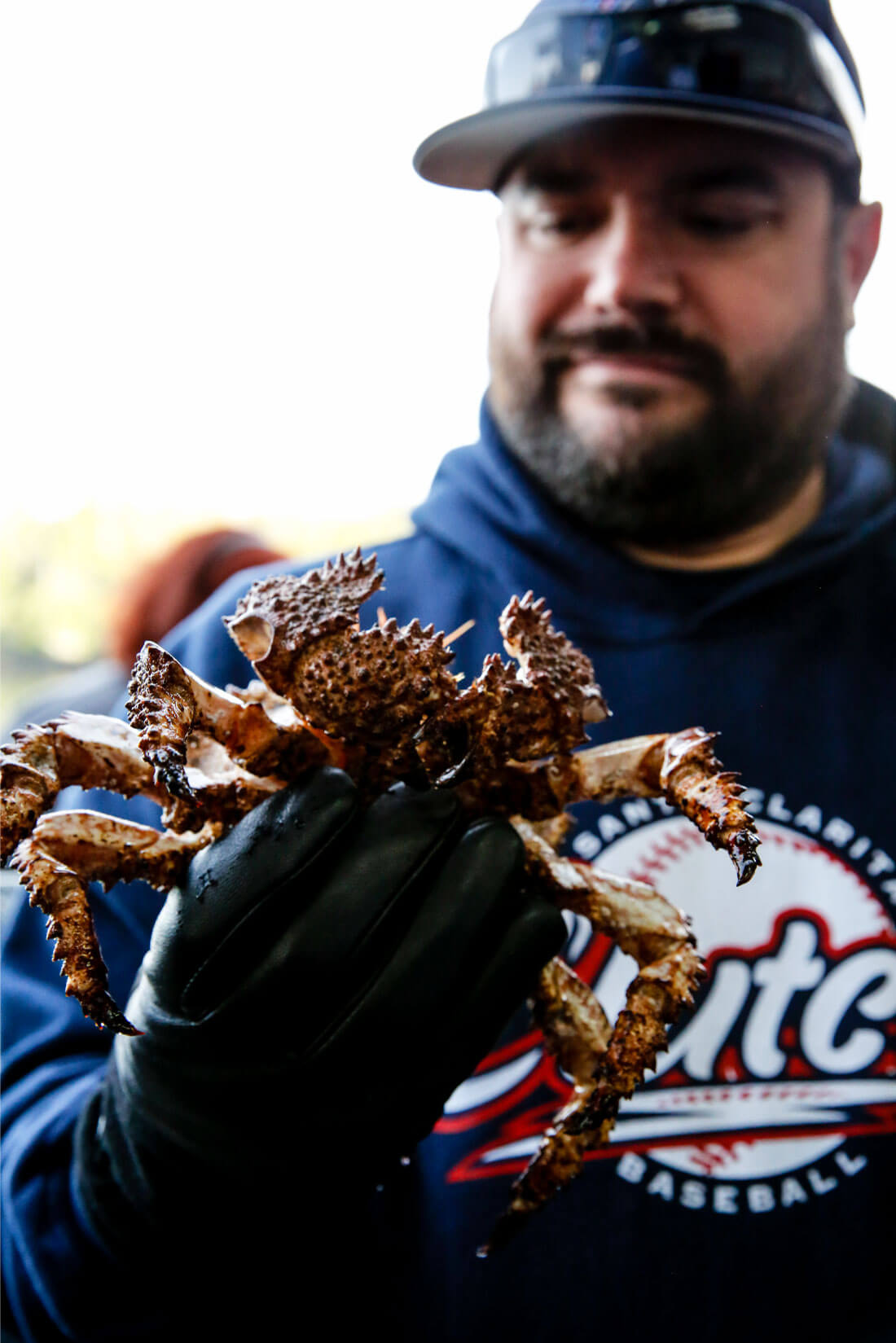 One of Josh's "must do" excursions was the "Deadliest Catch Tour."  He's been a fan of the show from the beginning and really wanted to experience it.   We got to hold all kinds of creatures while on that stop in Ketchikan, Alaska.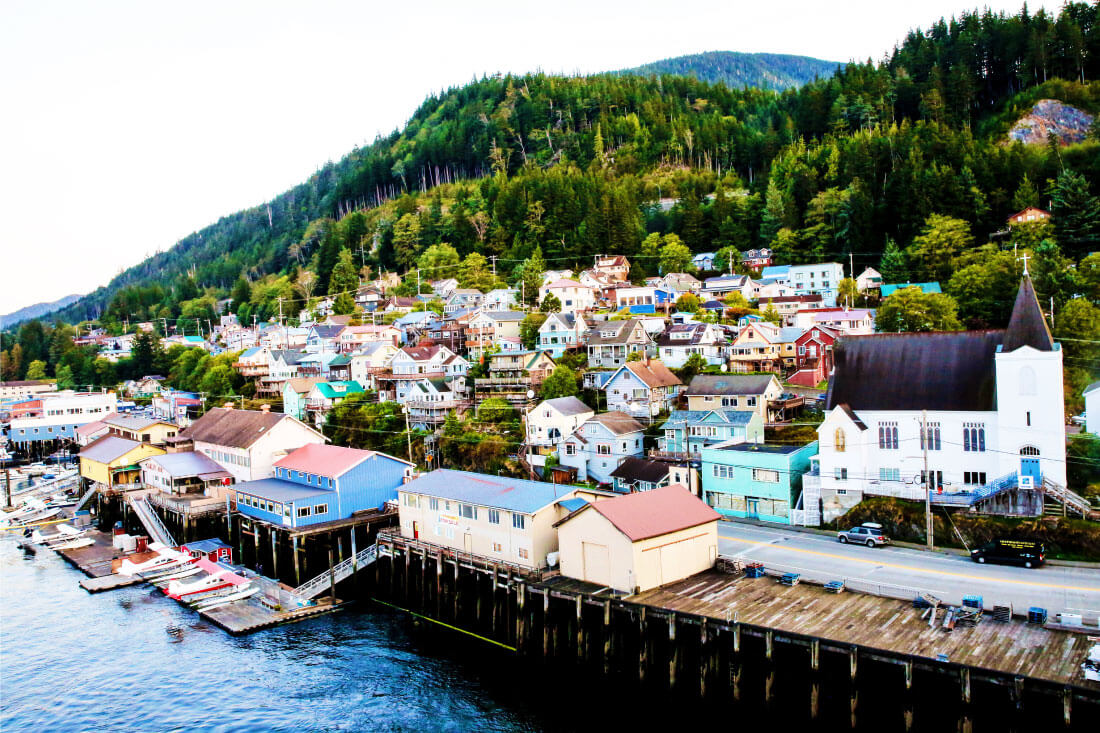 In addition to the excursions, we also did some shopping, eating and exploring on our own.  Some ports had more time at them than others.  I was blown away at each stop by the colorful buildings, cute towns, awesome people, great restaurants, and more.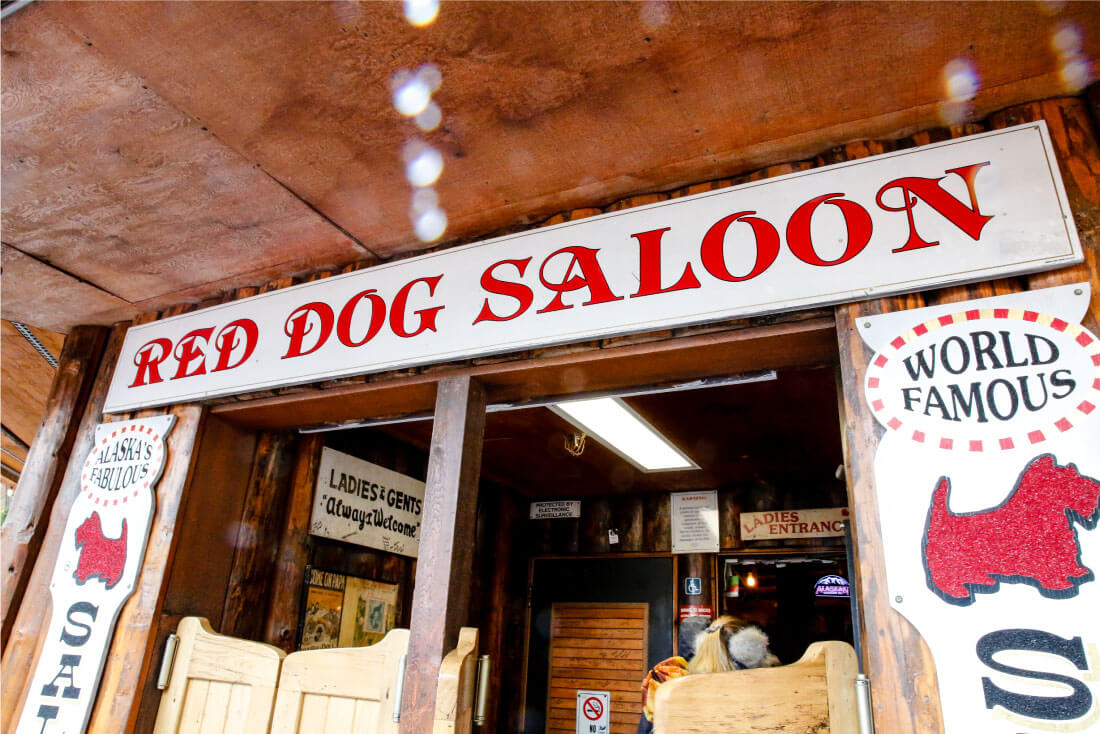 On our first stop in Juneau, before our excursion we headed to this fun spot – Red Dog Saloon.  It screamed "Welcome to Alaska!" with the decor and the food.  I went for it with my order of reindeer sausage.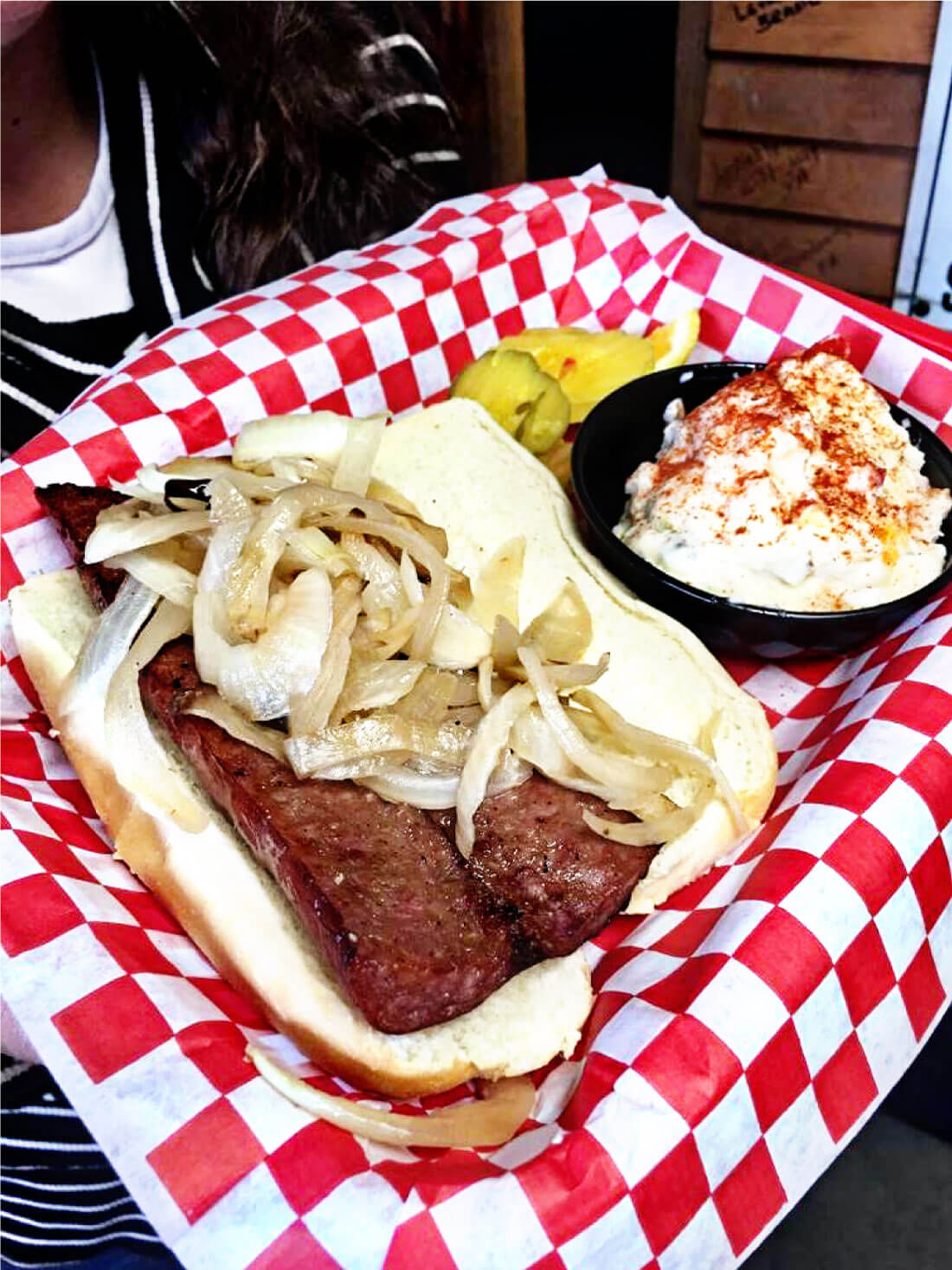 It was actually really good. I'm all about trying things that I don't think I'll have the opportunity to again and reindeer sausage seemed like one of those things.  Everyone had a taste and agreed that it was good.
How was the food on the cruise? 
I can't wait to share a post all about the food! I could probably write several.  But I really enjoyed it.  It's the one thing that people talk about all the time when you hear about cruises.  What I didn't experience on the other cruises we've been on was the option to eat at speciality restaurants.  On the Ruby Princess, there are several restaurants that you can pay an additional rate to dine there.  And in my opinion, it is definitely worth it.  While the cruise has plenty to offer throughout the boat with buffets, dining rooms for dinner, a pizza place and ice cream spot, the best food we had was at the specialty restaurants.  There is a restaurant by Curtis Stone called SHARE that we first ate a six course meal.  My personal favorite was the Salty Dog Gastropub.  We liked it so much that we ate there a couple of times.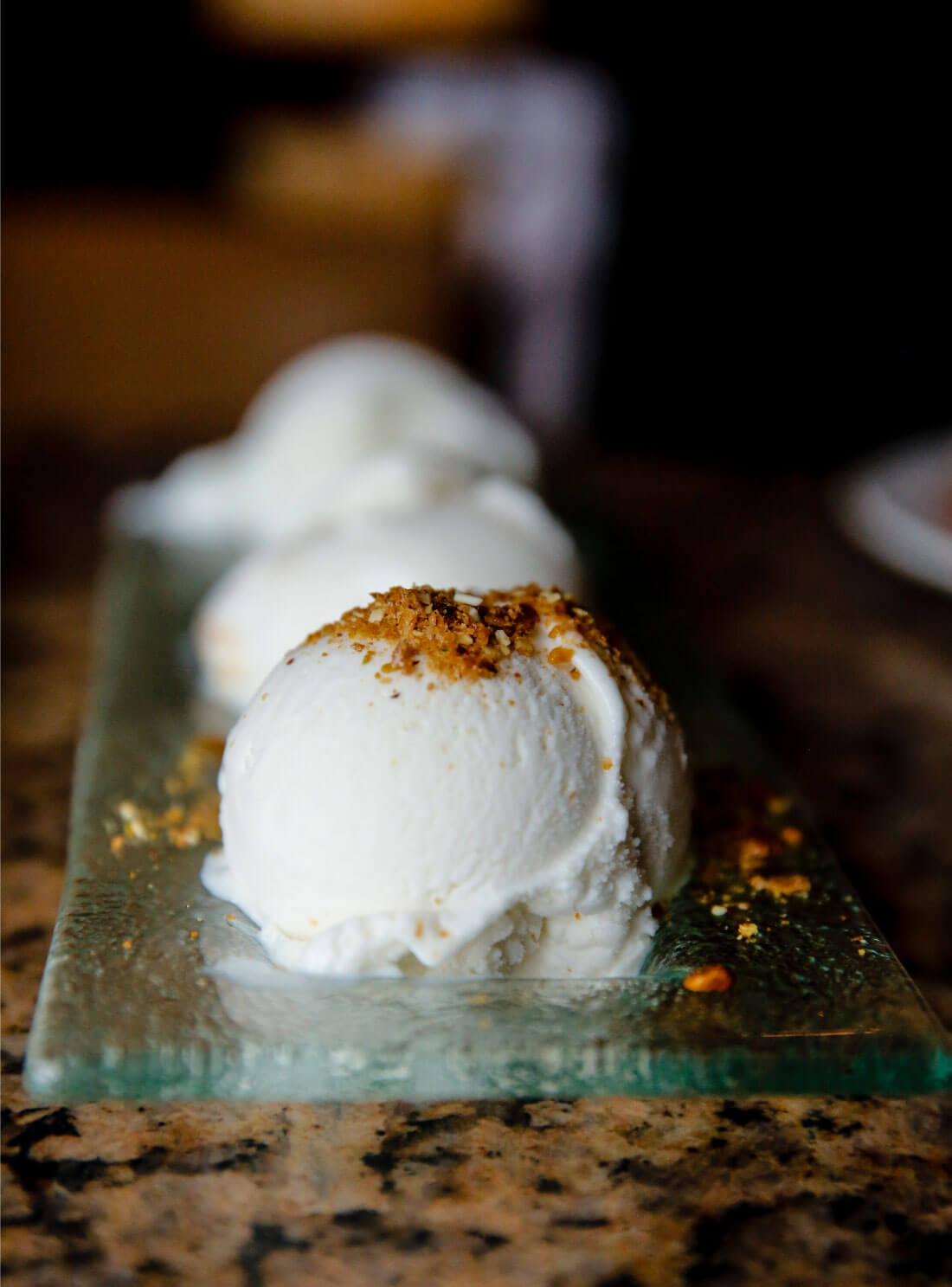 You can also get room service any time and we enjoyed breakfast at the International Cafe each morning.  It's there that I found this amazing gelato.  Yum!!
What was the weather like?
We absolutely lucked out weather wise.  My family went on a similar cruise in July where the weather was cold and it rained.  They were told that it was the worst summer they'd had weather wise in a long time.  I was prepared in my mind for the worst and was pleasantly surprised.  The first day in Juneau it drizzled and rained a bit but the rest of the entire trip was beautiful.  Everywhere we went, guides told us that it was the best weather they'd had in forever.  It was sunny and remained in the 50's and 60's for the whole time.  It was a great break for the 100+ degrees we have been experiencing in California.
Having said that, we lucked out.  If you plan a cruise in September, it might not be the case.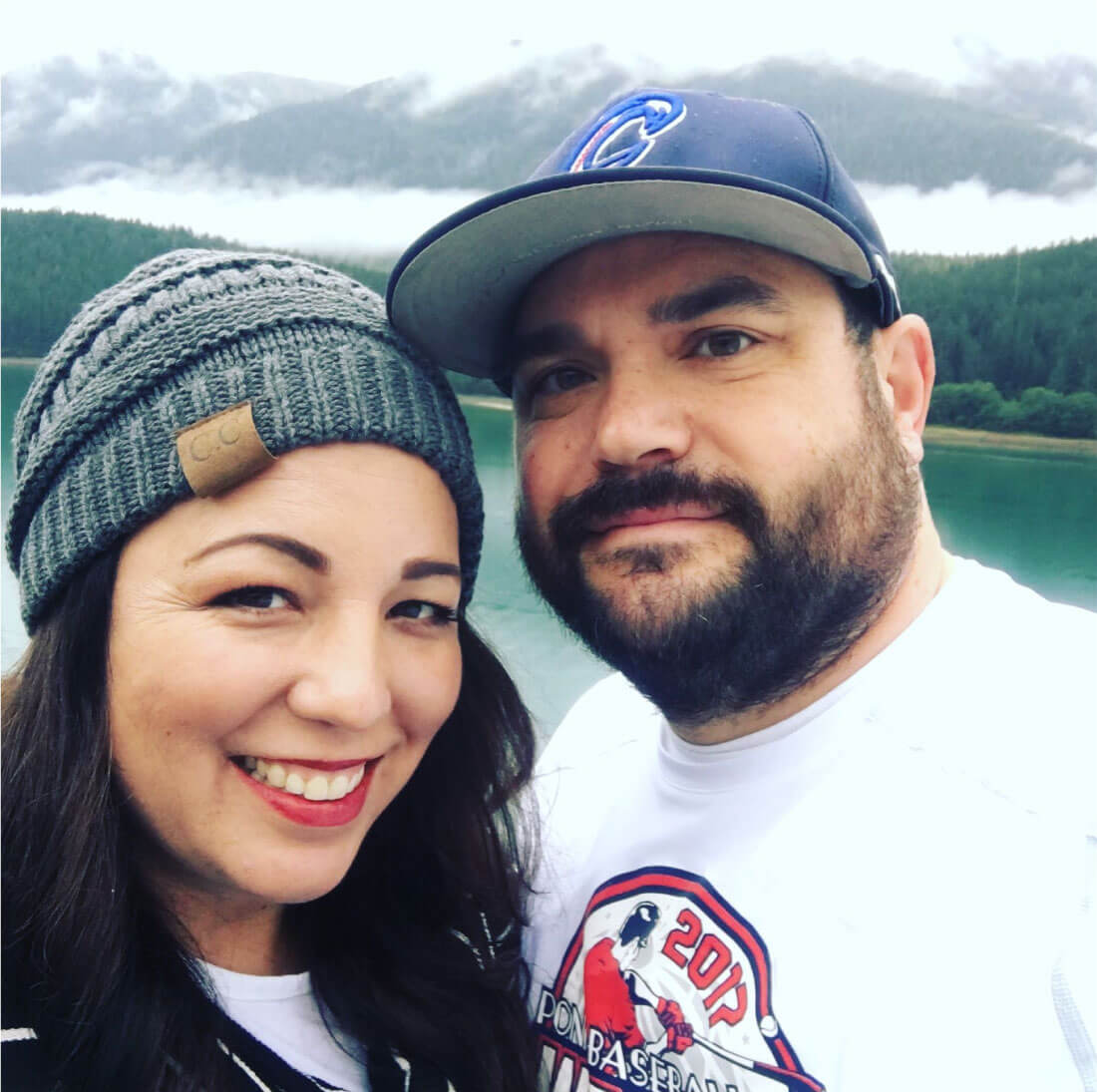 What did you wear?
I was warned that it would be cold, especially by my sunny Los Angeles standards, and to bring lots and lots of layers.  So that's what we did.  We brought two huge suitcases full of clothes.  I felt like there were some things that we didn't need and others I wish I had more of (more on this in another post) but the biggest deal is to bring a nice big jacket, a lighter jacket, beanies, gloves, formal wear for dinners, comfy clothes and socks.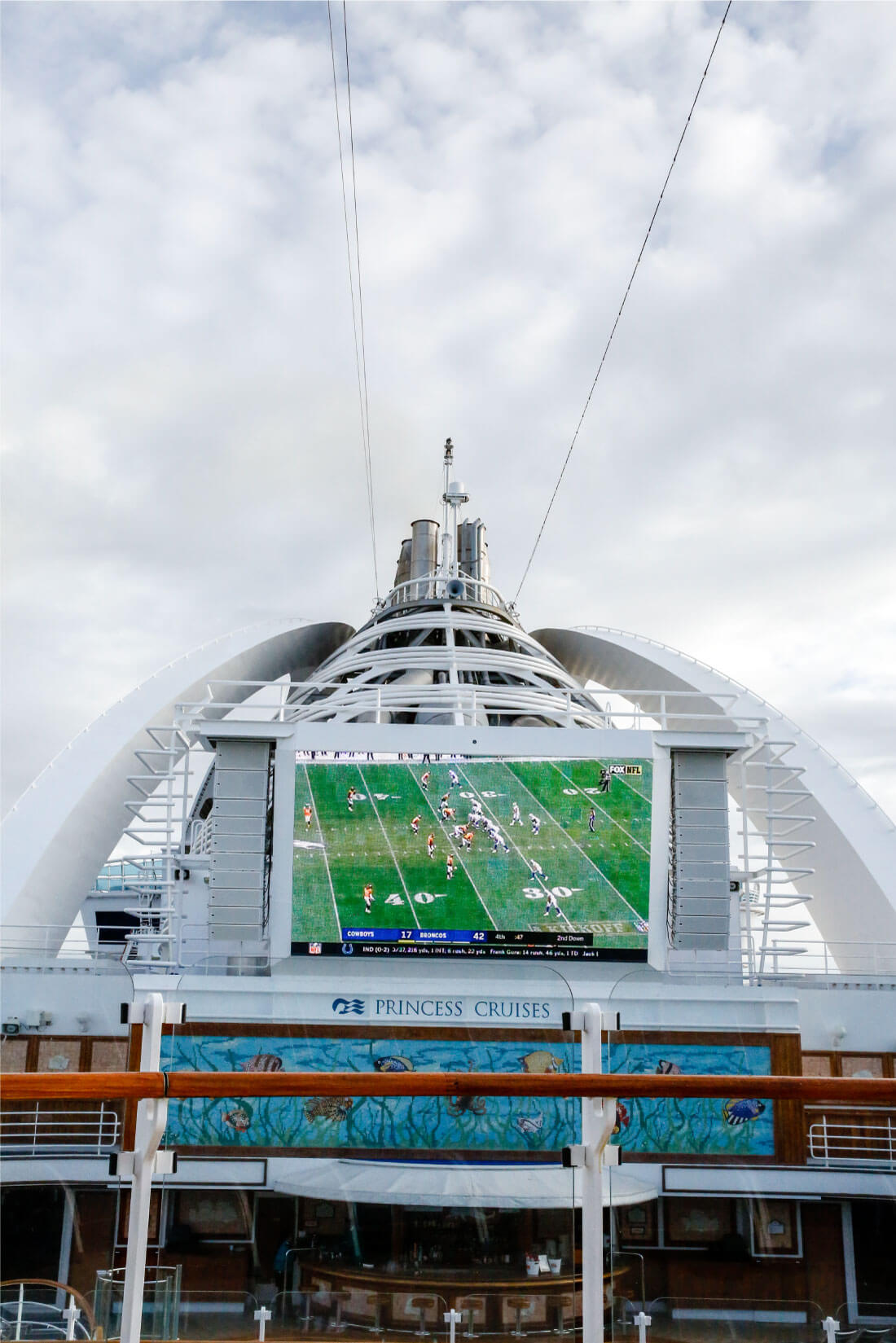 Were you ever bored? 
Nope.  Not at all.  I know some people worry about not having enough to do or being stuck on a ship.  Between the food, the entertainment, the spa, the beauty, everything, we had plenty to do.  There were times that we kicked back but we never had time to be bored.  Josh especially loved the gigantic screen that they played football games on.   They also had movies play at night and you could lounge on comfy chairs to watch.  The air was crisp but they had blankets to pass out which was really nice.
We also brought cards because we love playing games and played a few times.  They have a library on board where you can read and check out games.  There's a casino, a deck with mini golf, basketball court, and more.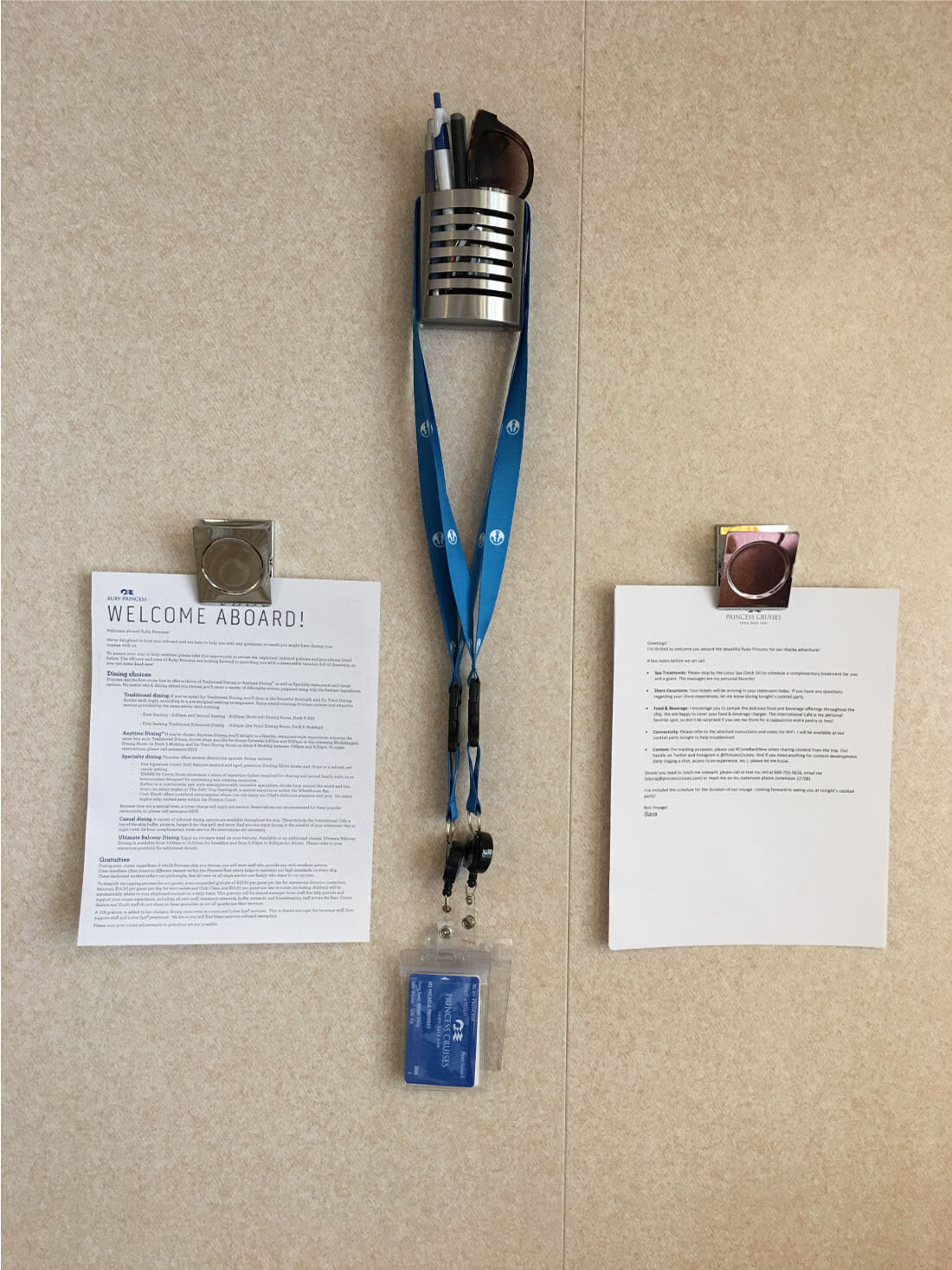 What tips do you have for me? 
Bring magnetic clips.  These are the clips I bought to bring along and they were perfect.  The ships walls are magnetic so you can hang anything that's magnetic up on it.  Every day you get a lot of paperwork so it's nice to have a spot to put everything!
We also bought these cruise luggage tags which made it really easy to identify our bags.
The ship doesn't allow irons (safety hazard) to iron your clothes but we brought this mini handheld steamer and it was great.  You can also bring laundry detergent (or buy it there) and do laundry on board.  And we paid to have Josh's suit pressed for formal night as soon as we got there.  You give your clothes to your steward and then they deliver it to your room on whatever day you say you need it by.  So worth it!
Bring a surge protector.  Something like this would be perfect.  I meant to bring one but forgot.  There are only a couple outlets and with all our electronic stuff for phones, watches, camera, etc – it was tough to charge everything!
Save extra money for things like awesome excursions, specialty restaurants, a treatment from the spa.  While you can definitely go on the cruise and not pay a single extra thing, I think it's worth it to pay the extra.  Prepare and plan accordingly!
On this cruise in particular is it worth the extra money for a balcony.  It was amazing to wake up to the view each morning.  It gave a little extra space to hang out on.  And we were even able to see the Northern Lights (!!!) from our balcony.
This Alaskan Cruise was definitely a trip of a lifetime but I hope we have the chance to go again!  Have you been on an Alaskan cruise?  Do you have any questions for me?
Check out these other travel posts: