With fall comes all things pumpkin and I'm happy to jump on that bandwagon.  This pumpkin cheesecake screams fall with a few different ingredients.  You have to try it!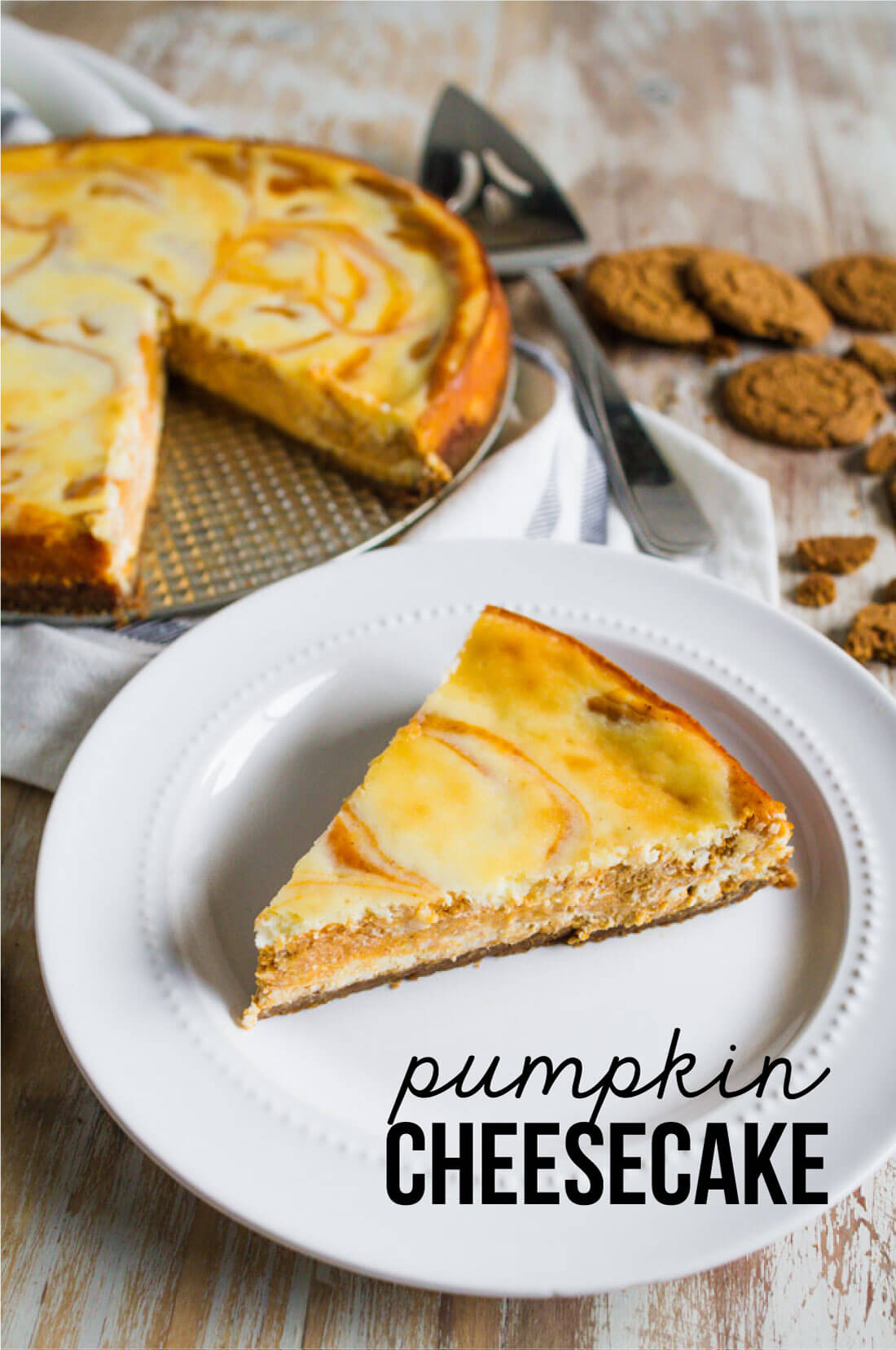 I may have mentioned my slight obsession with pumpkin.  I know it's kind of a love/hate kind of thing.  When I was a kid, I was not a fan.  But as I grew older, I grew to love it more and more.  Kind of like zucchini.  I hated that as a kid but now love it too.  I guess you could say I matured.  Ahem.  
This pumpkin cheesecake recipe is a little different from the standard.  It includes gingersnaps and pecans.  Both things you might not normally see in a cheesecake recipe.  But oh my – it's so good!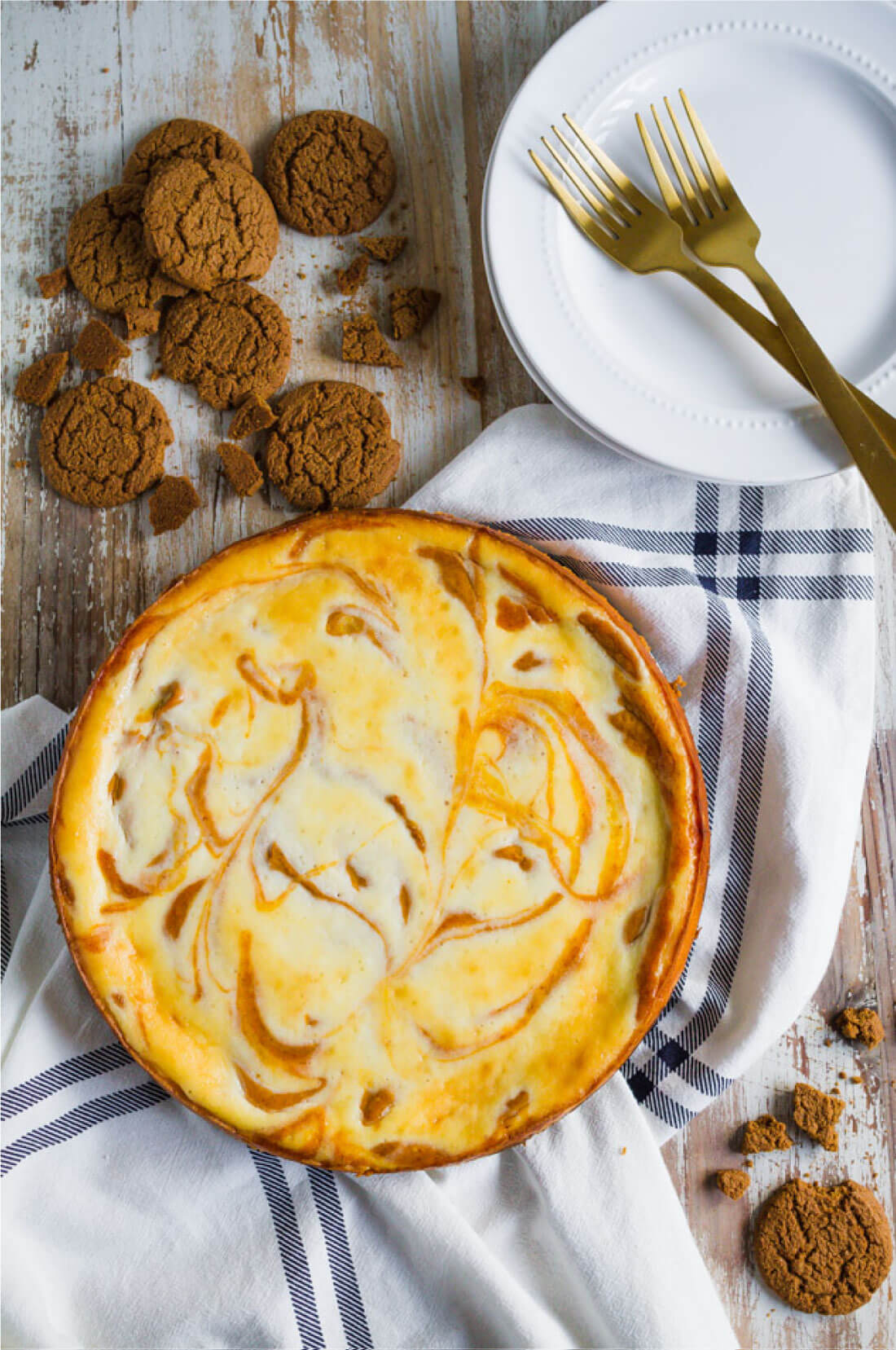 I have a feeling once you try it, this will be your go to pumpkin cheesecake recipe.

Pumpkin Cheesecake
Ingredients
½ c. finely crushed graham crackers
12/ c. finely crushed gingersnaps
2 T. finely chopped pecans
1 T. flour
1 T. powdered sugar
2 T. butter, melted
(2) 8 oz. packages cream cheese, softened
1 c. granulated sugar
3 eggs
1 (15 oz) can pumpkin
1 egg
¼ c. milk
½ tsp ground cinnamon
¼ tsp ground ginger
¼ tsp ground nutmeg
Instructions
For crust:
Combine graham crackers, gingersnaps, 2 T. pecans, flour, powdered sugar and melted butter into a medium bowl. Press evenly into bottom of 9 inch springform pan. Set aside.
For filling:
Beat cream cheese and sugar in a large mixing bowl with an electric mixer on medium speed until fluffy. Add eggs all at once, beating on low speed just until combined. Place 1 c. of cream cheese mix in medium bowl. Add pumpkin, 1 egg, milk, cinnamon, ginger and nutmeg. Beat on low speed just until combined. Pour pumpkin mixture into prepared springform pan. Top with cream cheese mixture. With a knife, gently swirl through orange and white layers to marble.
Place pan in shallow baking pan. Bake at 350 degrees for 40-45 mins until center appears set when shaken. Cool on wire rack for 15 mins. Loosen crust from sides of pan. Cool 30 mins more. Remove sides of pan. Cool completely. Cover, chill at least 4 hours (can refrigerate for up to 1 week). Garnish with whipping cream and tasted pecans if desired. Serves 12-16.
Don't let the longer recipe fool you – it's not as hard as it might look at first glance.  And it's worth the extra effort!

Isn't it so beautiful? It is the epitome of fall on a plate to me.  All the pretty colors of fall and the smell of it too.  Mmmmmmm……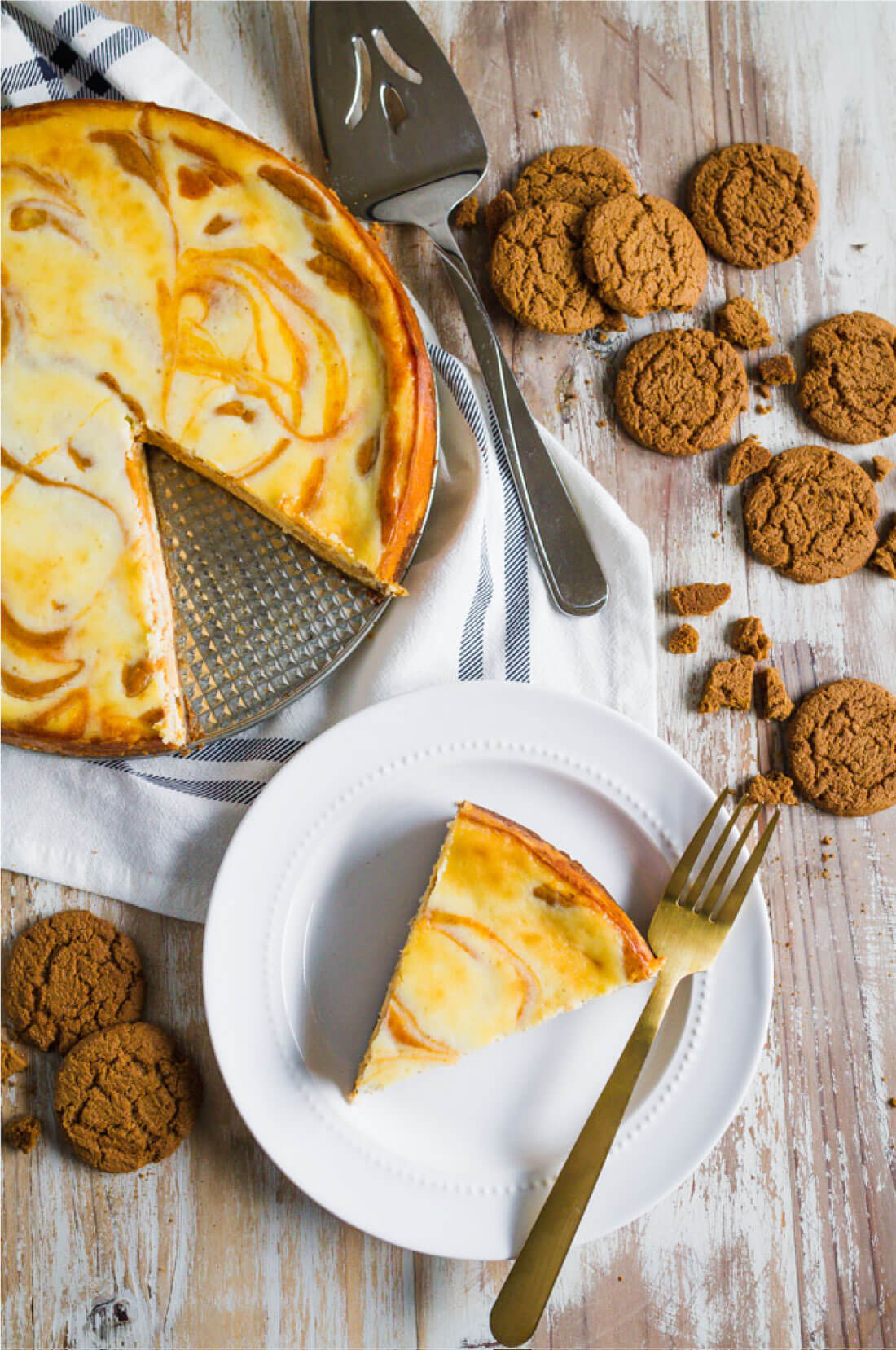 Food photography and styling courtesy of My Name is Snickerdoodle.
If you like this recipe, you'll like these too: