This Slow Cooker White Bean Chicken Chili recipe is sure to hit the spot on a cold day!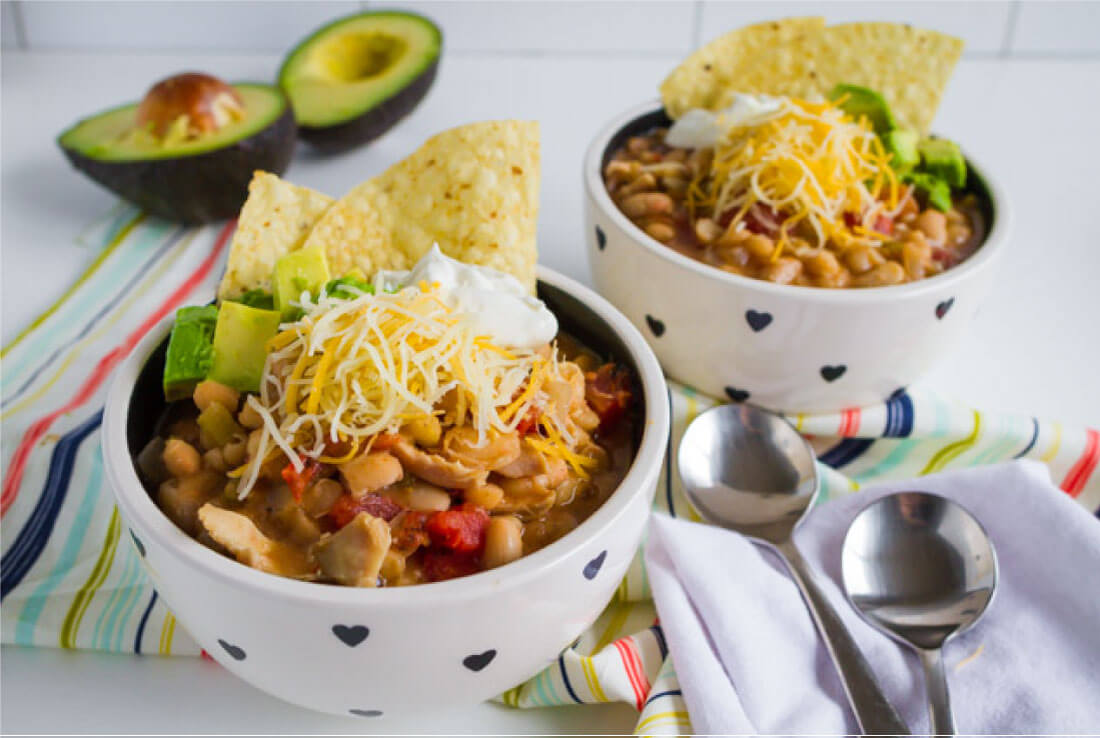 The last few weeks here have been super cold.  I mean — in the 30's cold.  I know people in snowstorms or in Canada are laughing right now but for Southern CA, that's freezing!  I actually love the cold because it's sweater and boot weather.  Oh and soup weather too.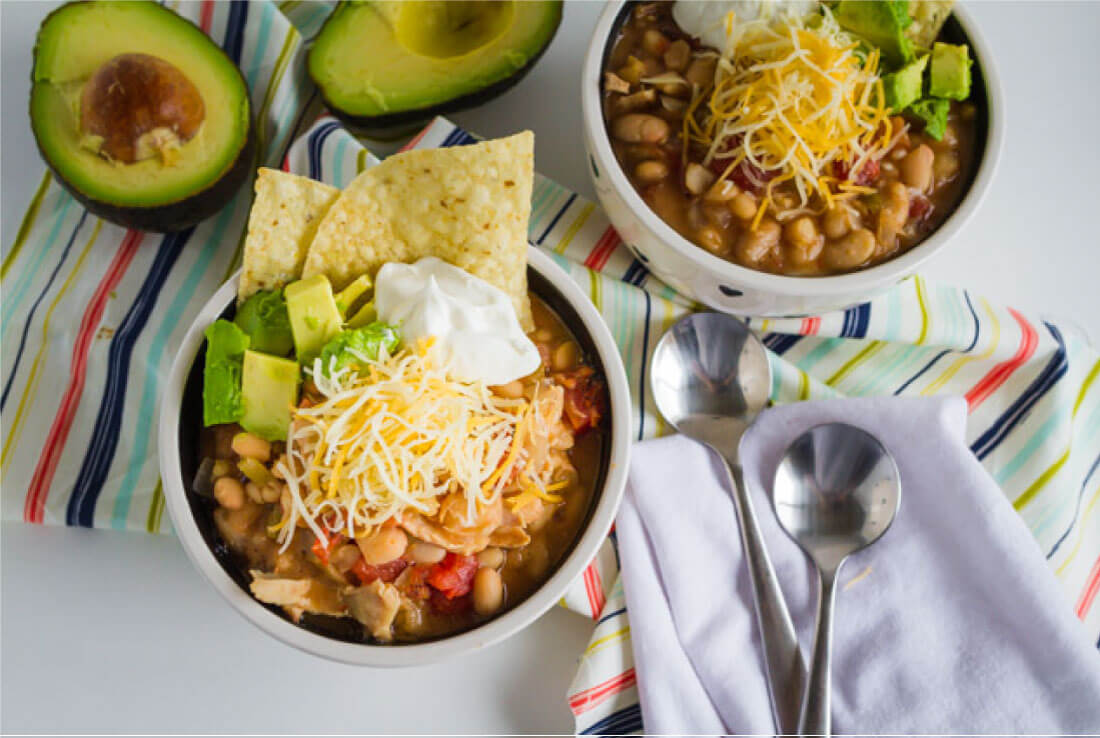 It doesn't take much to make this one and it's the perfect chili for a chilly day.  (see what I did there?)  In the last couple of weeks I revamped my eating habits and this one made the list.  I didn't add the extras – tortilla strips, sour cream or extra cheese.  Of course the rest of my family loves those so I gave that as an option to them.  A better idea to add in some extra stuff than to make 2 different meals, right?
If you like this recipe, you'll like these too:
White Chicken Chili Recipe
White Bean Chicken Chili
Ingredients
1 lb boneless, skinless chicken breast (uncooked)
1 (16 oz) can diced no salt added tomatoes, fire roasted or regular
(fresh can be used instead)
4 (16 oz) cans Great Northern beans, drained
1 (4 oz) can fire roasted green chiles
1 cup diced white onions (approx 2)
6 cloves of garlic, minced
1 tablespoon EVOO (extra virgin olive oil)
¼ cup chili powder
2 teaspoons cumin
1 ½ c. low sodium chicken stock
1 cup cheddar cheese (Mexican can be used), grated
Instructions
In a small saucepan, saute onions and garlic in EVOO on medium heat until the onions are translucent.
Place chicken in slow cooker and pour tomatoes, beans, chiles and spices over the top.
Add garlic and onion to slow cooker with 1½ c. chicken stock.
Stir.
Cook on high for 4-5 hours or low for 6-8 hours.
hour before serving adding cheese and stir.
Topping options:
tortlilla strips
sour cream or plain greek yogurt
avocado
additional cheese
I bought most of the ingredients at Trader Joe's and they were the most stripped down versions I could find- whole tomatoes without added extras, low sodium, organic chicken broth, good chicken, etc.  While you don't have to go that route, there is that option if you want to make it as healthy as possible.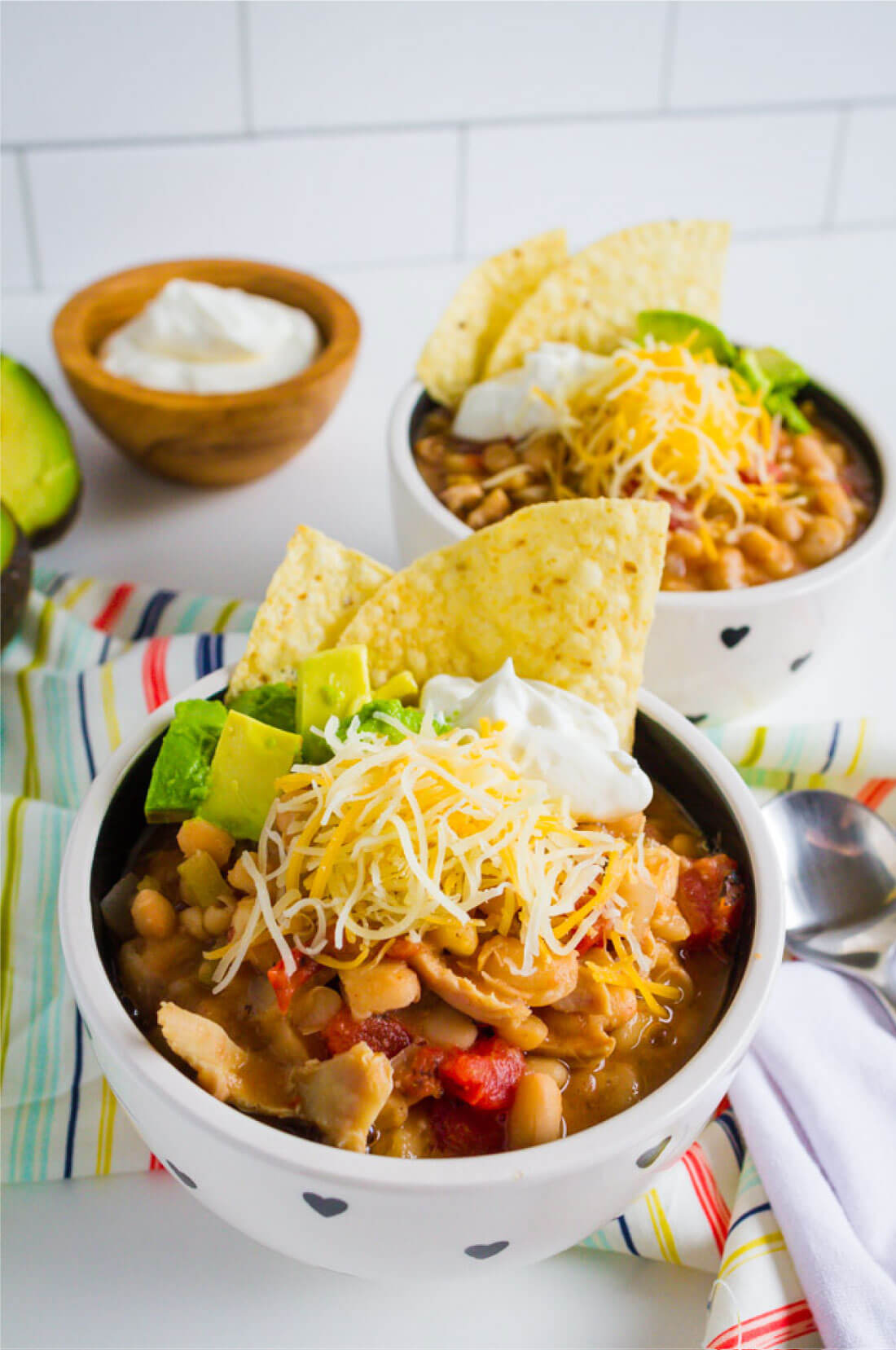 Weight Watchers Chili
The awesome thing about this recipe is that it can be used as a Weight Watchers recipe (one of the things I love about Weight Watchers is that I can take any recipe that I love and use it while on the program!).  It is only 4 Smart Points per serving and if you didn't add the cheese, it'd be zero!! This recipe definitely fills you up but is low in points.