I've been doing Stitch Fix for awhile now.  But I get asked all the time – How does Stitch Fix work? So I'm here to tell you all about it.  The nitty gritty.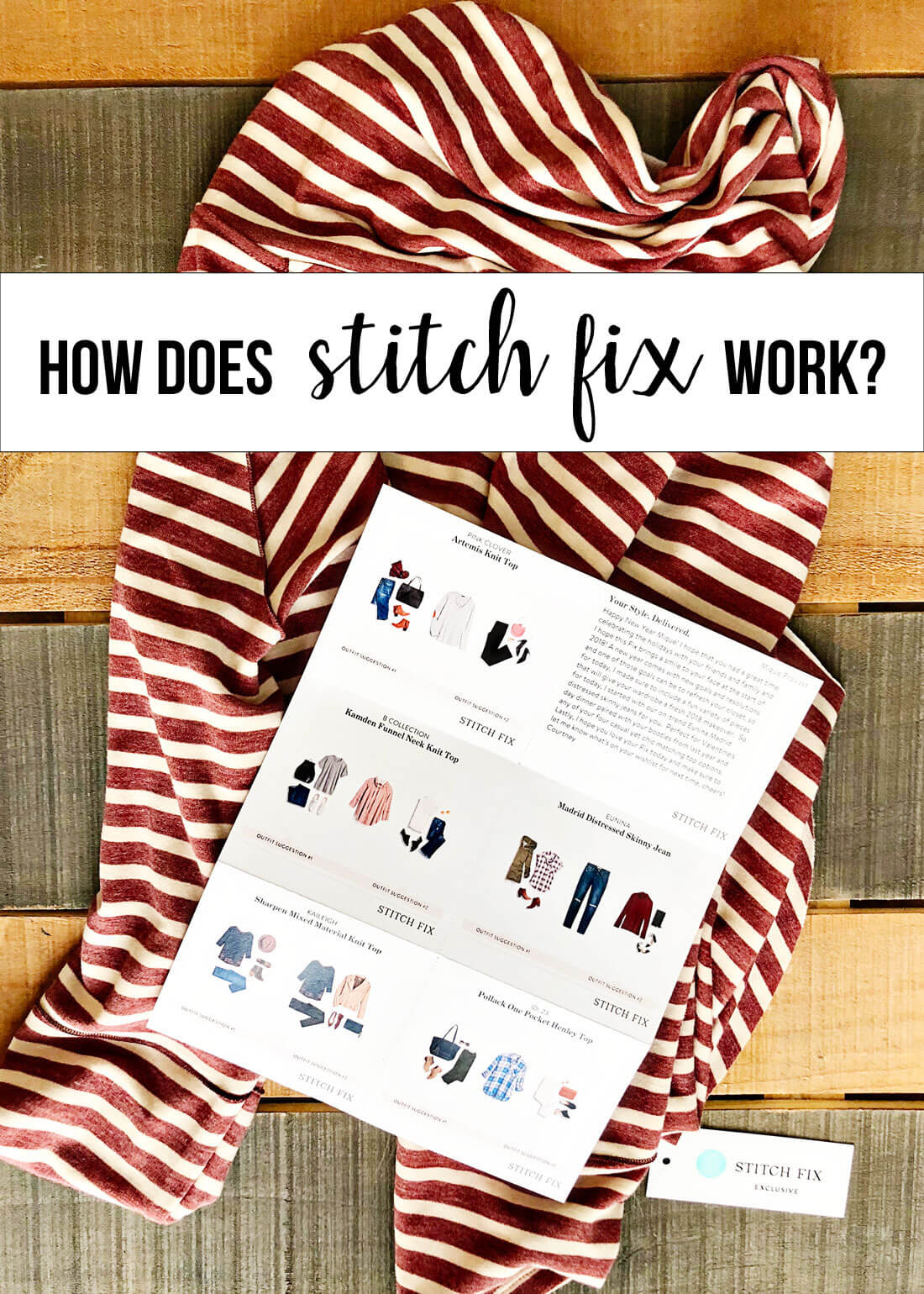 Stitch Fix
I had heard a lot about Stitch Fix a few years ago.  I decided to give it a go because I like the concept of it.  I know what I like when it comes to clothes but I wouldn't call myself stylish or put together all of the time.  I have unique measurements that make it hard to fit clothes right on me.  I used to love shopping for myself but the older I get, the more I'd prefer shopping for shoes.  They always fit! 
Most often you'll find me shopping at places like Marshalls, TJMaxx or Target.  I like to get a few pieces from Nordstrom and mainly buy bras at Soma because they are worth the price (they are expensive).  The number one thing I get asked about with Stitch Fix is the cost involved in it.  And since I'd say that I don't love spending a lot of money on clothes, I want to let you know why I think it's worth it.  But not for everyone.
This post contains affiliate links, which means that if you schedule through my link I'll earn a small commission at no cost to you.

Stitch Fix Reviews
Check out a couple of my previous Stitch Fix boxes:
HOW DOES STITCH FIX WORK?
You fill out your information on the site – measurements, take a style quiz and answer questions so that your future stylist gets a feel for what you are looking for and what your shape is like.  You can sign up to do an automatic fix (come at the same time every couple weeks, month, etc) but I normally just order a fix when I have something coming up.  I've received some super cute clothes for blog conferences, travel and holidays, that I end up wearing all throughout the year.
Once you fill out your information, you schedule your fix.  You are charged a $20 styling fee.  Think of it as the fee for someone being your personal shopper.  To me, it's worth it to pay someone $20 to find stuff are cute, go together, and will fit me well.  The awesome thing is that the $20 goes towards anything you decide to keep.  (more on that in a second) You receive FIVE items in each box.  That can include accessories, shoes, outwear, anything…
You are notified when your fix has shipped.  And your box arrives and looks like this –
—–>> You can catch my reaction as I unboxed it on Facebook Live.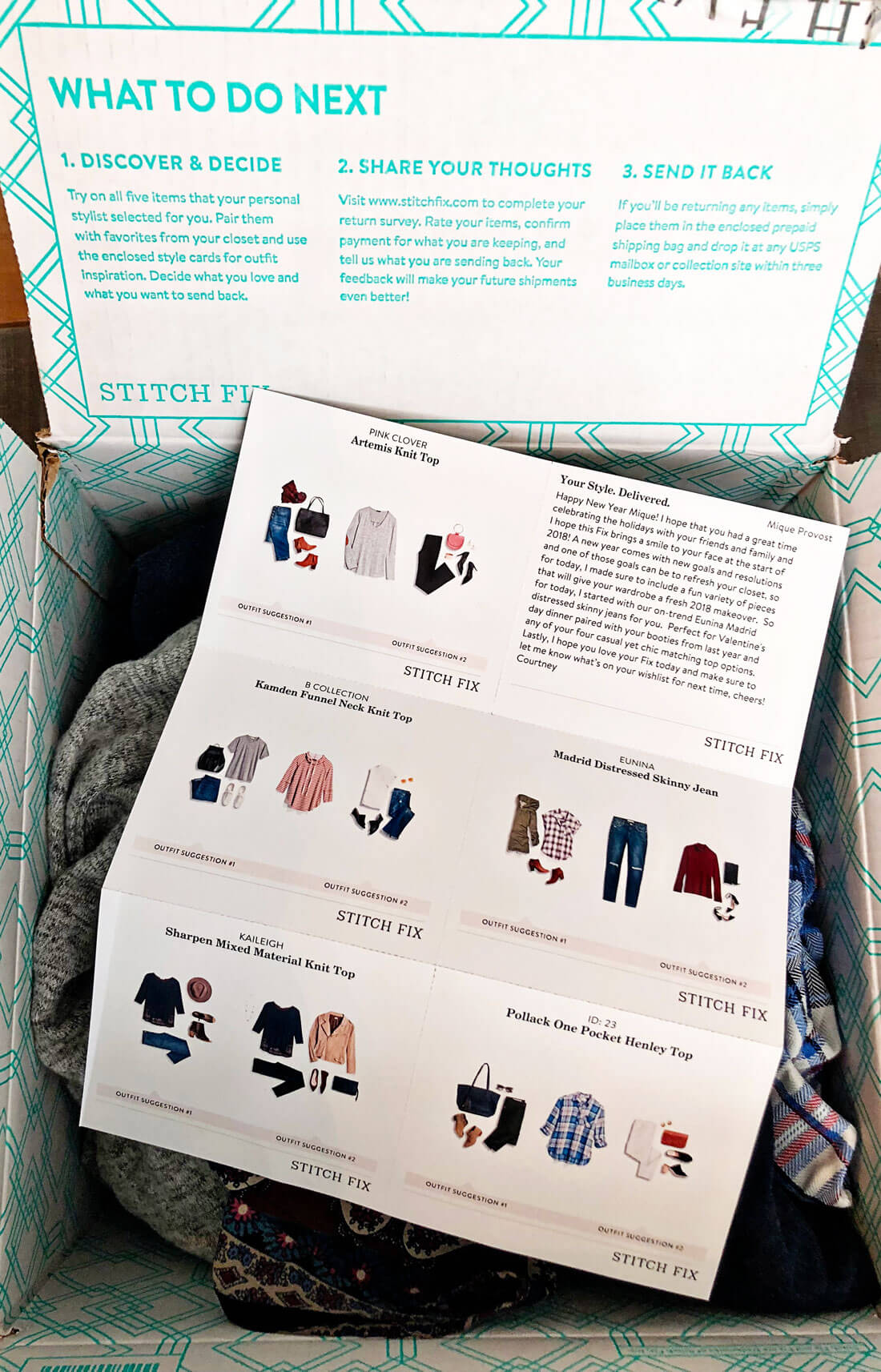 Cute package with a styling card, note from your stylist, a breakdown of each item and the cost.  Plus you receive an already addressed return envelope.
Anything that you don't want to keep, you will stick into that envelope and send it back to Stitch Fix.  The shipping isn't extra on either end.  You only get 3 days to decide what to keep and what to send back.  If you don't respond or send back the package, your card on file will be charged.
The information that you fill out when you're making your profile and when you order a fix is vital.  That is what your stylist goes off of! I have some specific clothing requirements so I let my stylist know from the very beginning – I have to have knee length everything and at least short sleeves or things that can be layered.  If I didn't tell her that, I might receive shorter skirts, tank tops and thinks I just can't wear.
I also include WHY I want the fix when I fill it out.  I let my girl know – I need this for a conference.  Or I want to look cute on Valentine's Day.
In my most recent fix that I ordered I let my stylist know that I wasn't loving the current trend of cut off jeans with frayed edges.  I know it's "stylish" but I just can't get into it.  By letting her know that up front, I knew she wouldn't send me something like that.  This is what I received: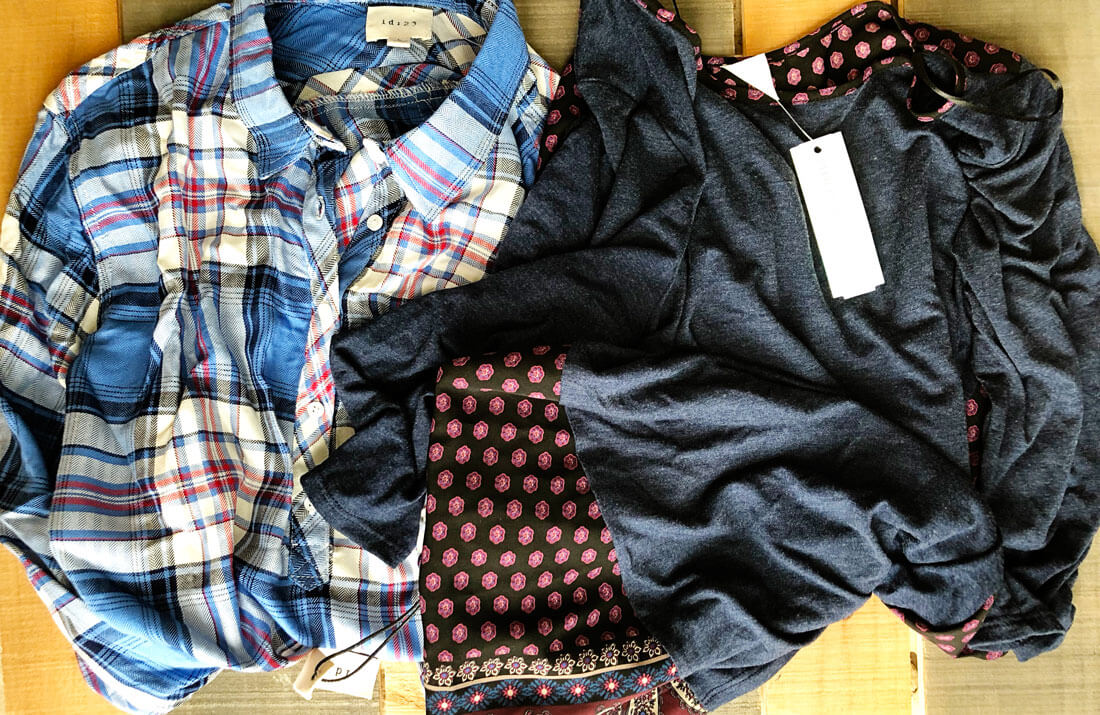 In total I received four tops.  I have a thing for cute tops so that didn't bother me at all.  The items that Courtney picked out are definitely me.  I would've picked them out myself at the store but didn't have to!
I'm a sucker for plaid button ups and this blue one was so cute out of the package. I also love mixed media tops so the blue front with mixed pattern on the back looked so cute too.  Unfortunately neither one was flattering on me.  I thought about keeping both of them until I lose more weight but decided that wasn't the best idea.  I sent these two back.
I also was sent the striped top seen at the beginning of the post.  It was soft and looked good out of the package.  But again, not flattering on me.  That one was sent back as well.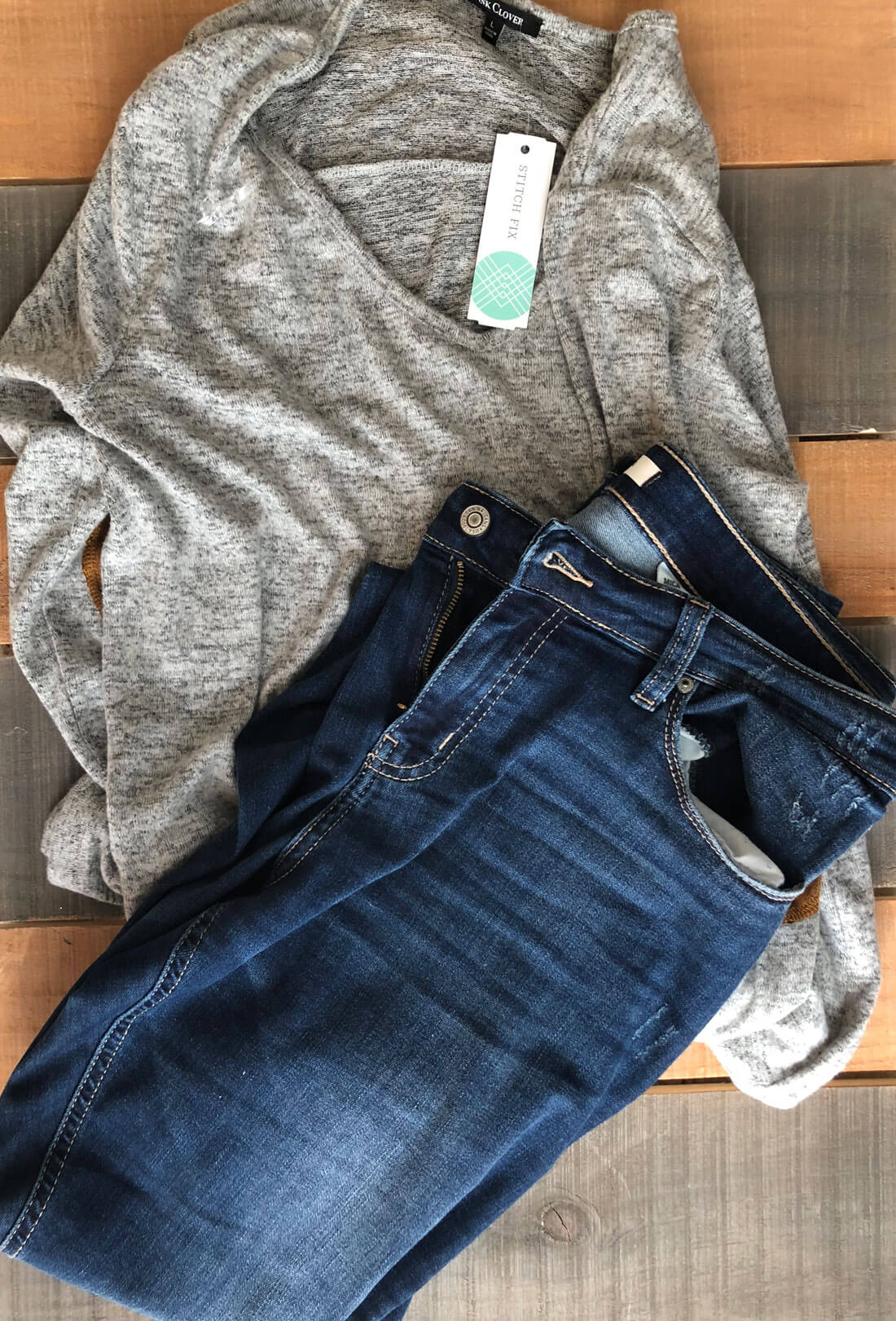 I ended up keeping this gray lightweight sweater and the jeans.  The sweater was insanely soft and cute and comfy.  I love the detail of the buttons on the back.
And the jeans- they fit me like a dream.  So far every pair of pants that I've received have been spot on.  They are like pant magicians over at Stitch Fix somehow because normally I have the hardest time with pants.  I'm short waisted but have long chicken legs and now wider hips.  Kind a hot mess over here.  But somehow, every pair of pants I have received have been amazing.  And that seems to be common – when I mention their pants, everyone talks about how they fit them too.  It's awesome!
If I decided to keep all five items, I would've gotten a 25% discount.  That's a pretty big chunk.  But I didn't want to do that this time.  3 of the pieces just weren't right.  So my $20 went towards the other 2 remaining items.  I ended up paying $84.50 for the sweater and jeans.  I have worn the jeans almost every day since.
I think it's imperative to give each box feedback.  When you go to check out it asks you for feedback.  FILL THIS OUT.  Give them reasons why or why not you liked something.  Don't be afraid to tell them that it's too expensive.  They need to know why you want to send something back.  They also need to know why you loved something so that they can continue to send things that you love.  This is how they will get to know your style better and better each time.
Ok so here's the truth:
I am at a stage in my life that I don't have the time (or desire really) to go out and shop for myself.  It is worth every penny to me to have someone shop for me and send it to my home.  There was a time when I searched and scoured for the good deals and spent a lot more time, then I did on money.
If you are in a position where you don't have the money, don't do it! I would never suggest anyone to go outside their budget. It is not worth it to stretch your spending for a service like this.
BUT – I think Stitch Fix is an awesome service and recommend it. I've also convinced Josh to try Stitch Fix for Men.  So I'll report on that soon! Woot woot.
You can also earn $25 credit when you have friends who sign up and order from Stitch Fix.  Those credits go towards future fixes.  And anyone can refer anybody.
Have you done Stitch Fix yet?