There's been a lot of talk about Stitch Fix but are you wondering if it's a good fit for you?  I don't think it's a good option for everyone! Let me tell you why…
A couple of years ago I decided to try Stitch Fix.  I had heard lots of people talking about it and was curious.  The honest truth is that the first time I got a box, I probably shouldn't have ordered it.  Our income was a little different then and I had too many clothes already.  I didn't mind shopping all that much.  I think Stitch Fix is a great service for some people, but not the right fit for everyone.
What is Stitch Fix?
Stitch Fix is a styling service.  You fill out a style profile and someone hand picks five pieces and send them to you.  It can be clothing, accessories, or shoes.
Here's the run down of how it works:
This post contains affiliate links, which means that if you schedule through my link I'll earn a small commission at no cost to you.
Sign up for Stitch Fix
You'll be charged $20 for your styling because they do the shopping for you.
Your box will come when you schedule it – you choose the day!
If you keep ANY items in your box, the $20 you spend for the styling will be put towards your purchase
If you keep your entire box you'll save 25% off the entire purchase, which if you love the whole box, adds up to a nice discount.
If you like it, tell your friends and family about it.  And if they sign up through you and you'll get $25 in free referral credit.
Some of my other Stitch Fix Reviews:
As a side note – I know lots of people are weary of reading reviews because they don't think it's honest or genuine.  I just want to be clear that I purchase anything that is sent to me.  Everything that I have kept from Stitch Fix has come out of my own pocket.  I do make a small commission if people sign up … but anyone who signs up for this service and refers others to it can make the same thing.
Stitch Fix Cost
The costs vary for each item.  But with each box, if you order all 5 items, you get a 25% discount.  One of the things that I like is that I am able to give feedback with each "fix" and tell my stylist if I think an item is too high.  You also fill out information at the beginning when you sign up and it asks you about your preferences (including pricing).
I have had items as low as in the $25 range (usually jewelry) and as high as $98 for boots and some jeans.  There is a big range of pricing and the more fixes you do, the more your stylist figures out what you're willing to spend.  I prefer things on the lower end.
So who do I think it's a good fit for?
The person who doesn't have a lot time (or desire) to shop but wants to look put together.
I used to shop a lot and would scour for good deals.  I still shop at Marshall's, TJMaxx and Target mainly.  I have some things in my closet that are from Nordstrom, Madewell and Anthropologie, but mostly it's places that have a lower price point.  I'm to the point now that I don't have time to go from store to store looking for the perfect thing and would rather pay to have it sent to me!
The person who is looking for quality over quantity.
The clothes and accessories that are sent are really good quality.  Of everything that I've received and kept, it has all worn well and lasted.  Most items are super soft and well made.  But they are on the higher end of price – it really is – you get what you pay for!
I don't think it's a good fit for someone on a really tight budget.  I also don't think it's a good fit if you have lots of time and love shopping.  Although it is fun getting a package of items picked just for you…
Here's what was sent to me in this "Fix:"
I told my stylist Courtney that I needed some clothes for an upcoming conference and longer shorts.  I mentioned that I've been traveling a lot and needed comfortable options.  One of the things that I love about this service is that I can let my stylist know why I'm ordering the fix and she will pick out specific things for the event or season or whatever.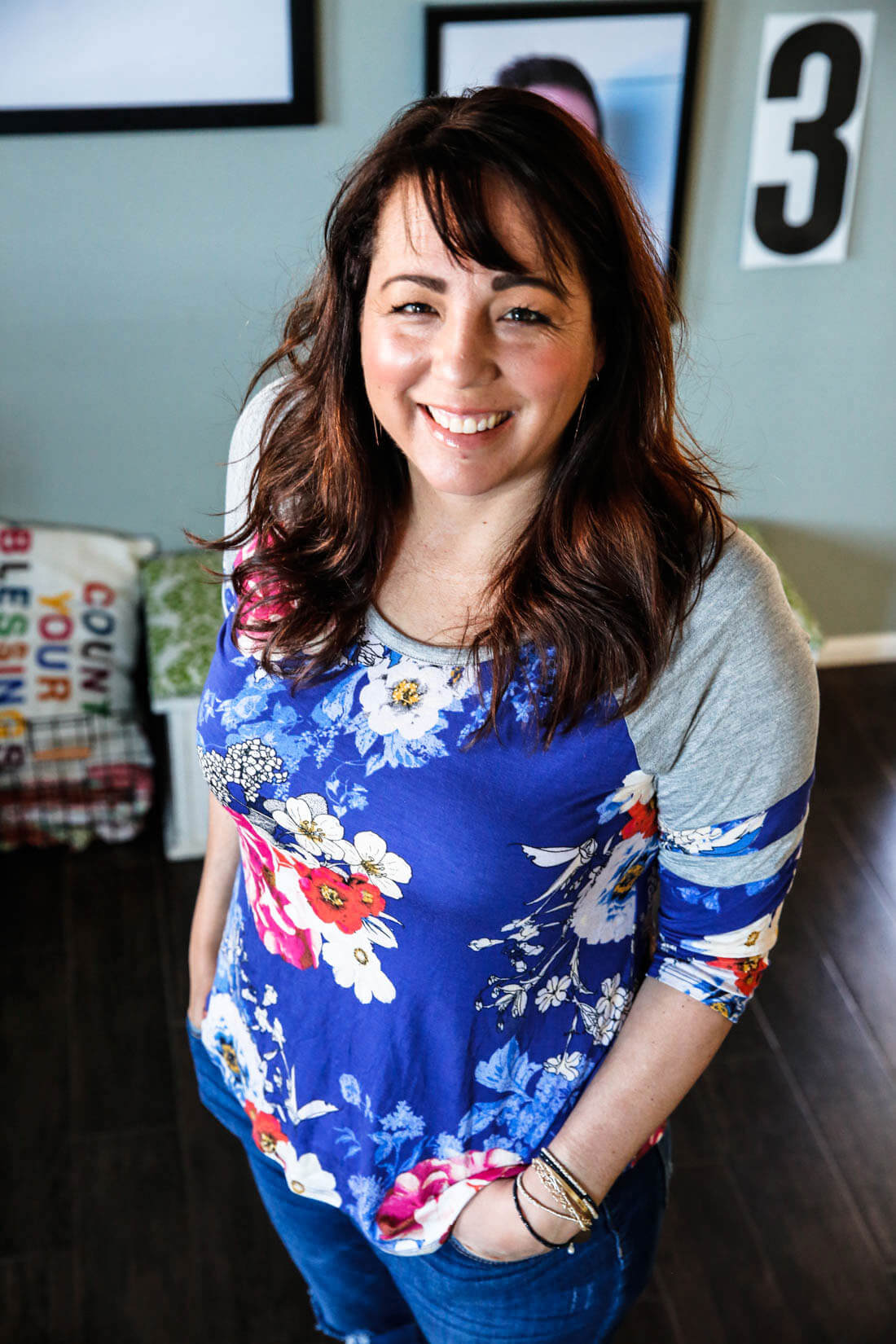 Another awesome shirt! I am loving all things floral and this top is no different.  It is so soft and flattering.  I've already worn it and gotten compliments on it.  It's tight where it needs to be and flowy in the right spots too.  I couldn't resist this one and know I'll wear it a ton.
LUQ Amadine Raglan Sleeve Knit Top – $34
VERDICT: KEEP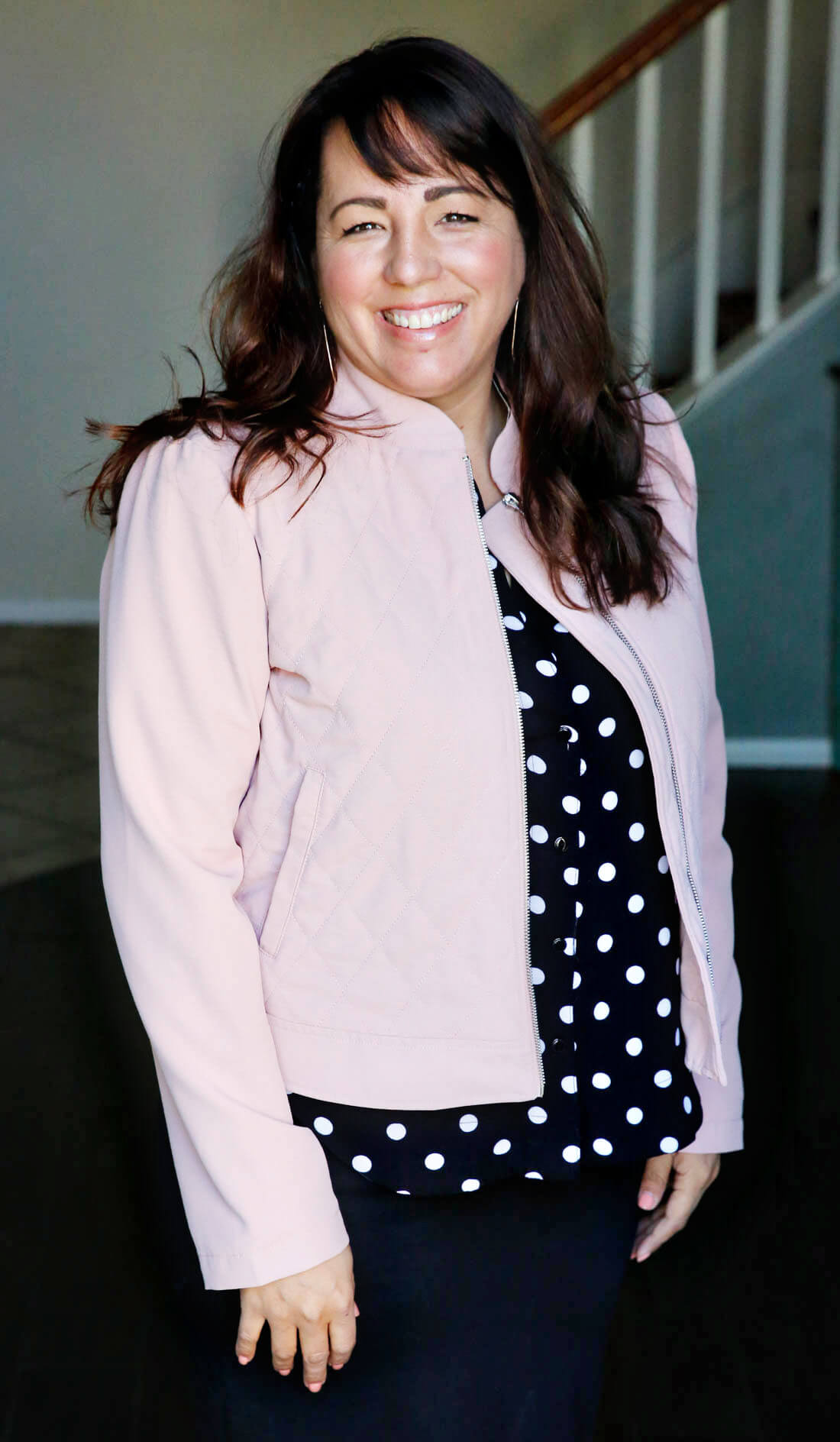 I was excited when I pulled out this cute pink quilted bomber jacket.  I think it's adorable but I put it on several times and the more I thought about it, the more I realized I probably wouldn't wear it all that much.  The sleeves were long too and that would bug me.
The polka dot shirt is pretty dressy (I know it's hard to tell in this picture).  I would've worn it to the conference I attended or to church had it fit right.  I'm in this weird in between sizes phase since I've been losing weight and it was too big.  Josh even mentioned it wasn't the most flattering thing he'd seen on me.  He doesn't voice his opinion much, if ever, (he has learned well over the years!) and if he said something about it.. I knew I wasn't going to keep it.
Velvet Heart – Kaimi Two Pocket Top – $54
Eden Society- Lauren Quilted Bomber Jacket in Blush – $78
VERDICT: RETURN BOTH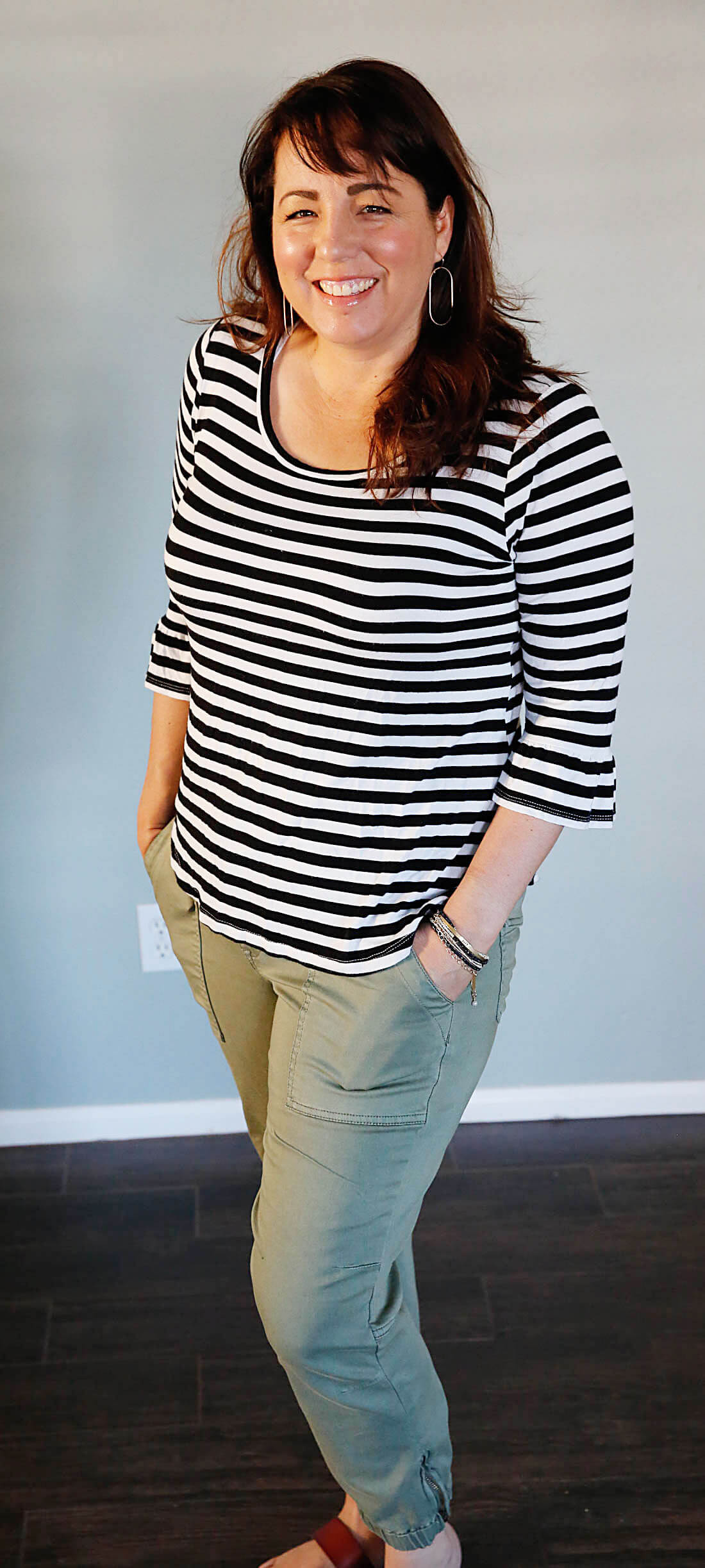 Like I mentioned, I asked my stylist Courtney for long shorts.  I wear clothes to my knees and with sleeves.  It can be really hard to find anything cute that covers enough.  And in the summer it is sooo hot here that I'm always on the hunt for long enough shorts.  In her note to me, Courtney said she wasn't able to find anything that would work (dang it!) but that she thought I might enjoy these pants.  She was right.
Boom Boom Jeans – Vancouver Twill Jogger – $48
VERDICT:  KEEP
Even though these weren't shorts like I wanted, they fit so well.  They are different than any other pants I have.  I'm loving everything olive right now.  And I know that I'll wear them a lot in the future.  Just like ALL of the pants that I've gotten in the past in a fix, they fit like a dream.  I know if I get pants in a box, it will be hard to turn them down!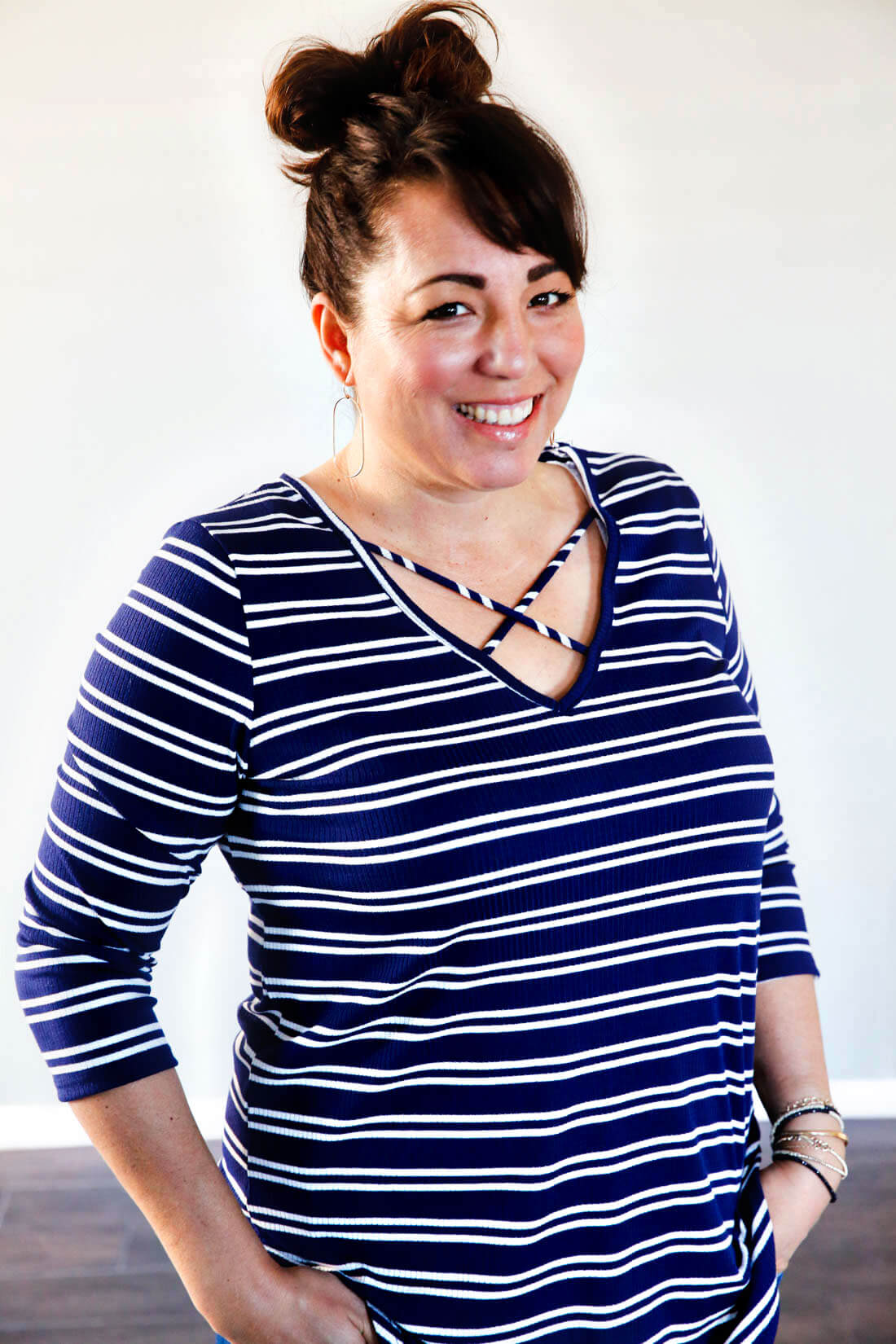 This shirt was the one thing that I wasn't sure about when I pulled it out of the box.  I am seeing these cross shirts everywhere but they aren't my favorite.  I'm not sure why.. I just don't love them.  I was willing to try it out because I know Courtney knows way more about what would work well than I do but in the end, I didn't love it.  My thoughts about the cross shirt were right on.  Maybe it's just this striped version.  I think she knows how much I love stripes and thought it was worth a shot.  I will say this top felt good.. but not good enough to keep.
Emory Park – Dulce Cross Front Knit Top – $38
VERDICT: RETURN
Had I kept all 5 items, I would've received that 25% discount.  I originally thought that I was going to keep it all.  I liked all items a lot (except for the striped cross shirt) and thought that I'd get a lot of use out of them.  But the more I thought about it and tried on a few times, the less I liked some of them.  The discount didn't seem worth it after all.
Have you tried this service yet?  Thoughts?