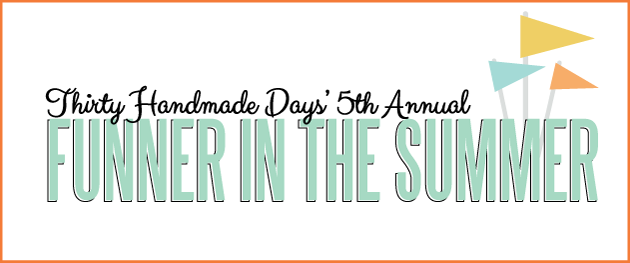 Next up for Funner in the Summer–   Melissa from No. 2 Pencil is here with the yummiest looking recipe!  I got to meet Melissa at SNAP this spring and hope to get to see her again soon.  Make sure to head over to No. 2 Pencil for delicious recipes, fun crafts and gorgeous photography.
 I'm really excited to be a part of Mique's Funner in the Summer series and today I'm sharing something that is perfect for summer – Strawberry Cheesecake Pudding Pops! Pudding pops are so easy to make, and they are always a huge hit with kids and grown-ups alike. Fresh, ripe strawberries frozen inside delicious cheesecake flavored pudding. These strawberry cheesecake pudding pops only take a few minutes to put together, and they are absolutely delicious!
Last year, I made 4th of July Pudding Pops and they were so fun to make and serve. This summer I thought we would try something with strawberries!
Strawberry Cheesecake Pudding Pops
Ingredients
1 3.4 oz box JELL-O instant pudding, cheesecake flavor
1½ cups of milk
Fresh strawberries, sliced
Instructions
Fill popsicle molds with sliced strawberries. I used one strawberry for each popsicle.
In a medium sized bowl, stir together milk and instant pudding.
Quickly fill popsicle molds with pudding mixture before it starts to set.
Add popsicle sticks and freeze for 2-3 hours, or overnight.
Notes
Use whole milk or 2% for the creamiest pudding pop texture.
I hope you try these pudding pops this summer. They are fun for kids and pretty enough to serve to grown-ups!