When anyone in my family talks about food for the holidays, there is one dish that is a MUST HAVE.  It is not considered Thanksgiving if we don't have Frosted Cranberry Salad (aka Frosted Cranberry Squares) on the table.   My mom has been making it for years and years and all of us look forward to it every year.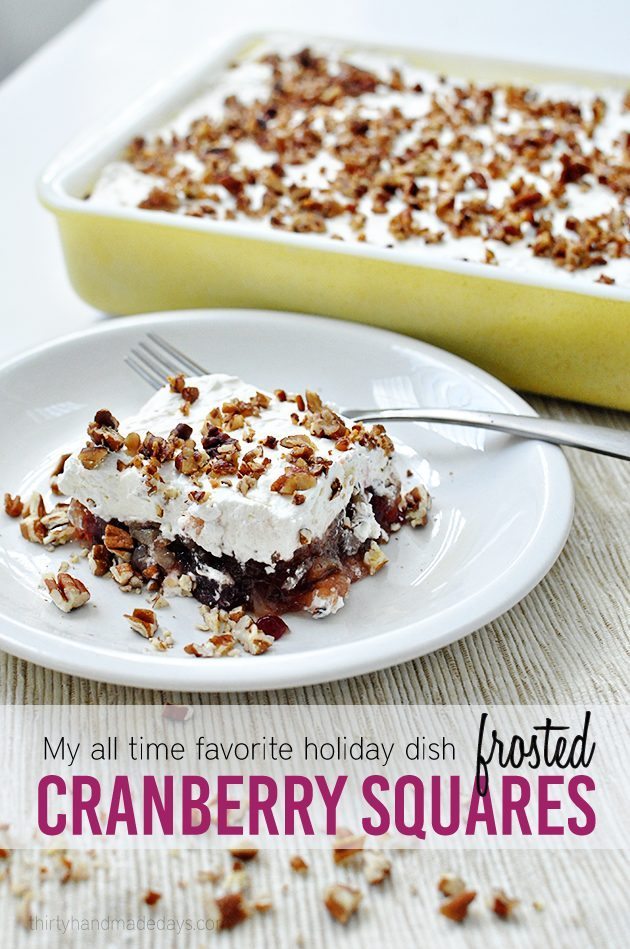 I started making it to bring when we spend the holidays with Josh's side of the family too.  I think I converted them but even if none of them ate it, I'd be happy to have the whole pan to myself.
I'm not sure if it's the whipped topping and cream cheese, the nuts or the bottom layer but something about all of these flavors just remind me of the holidays.  I drool just thinking about it.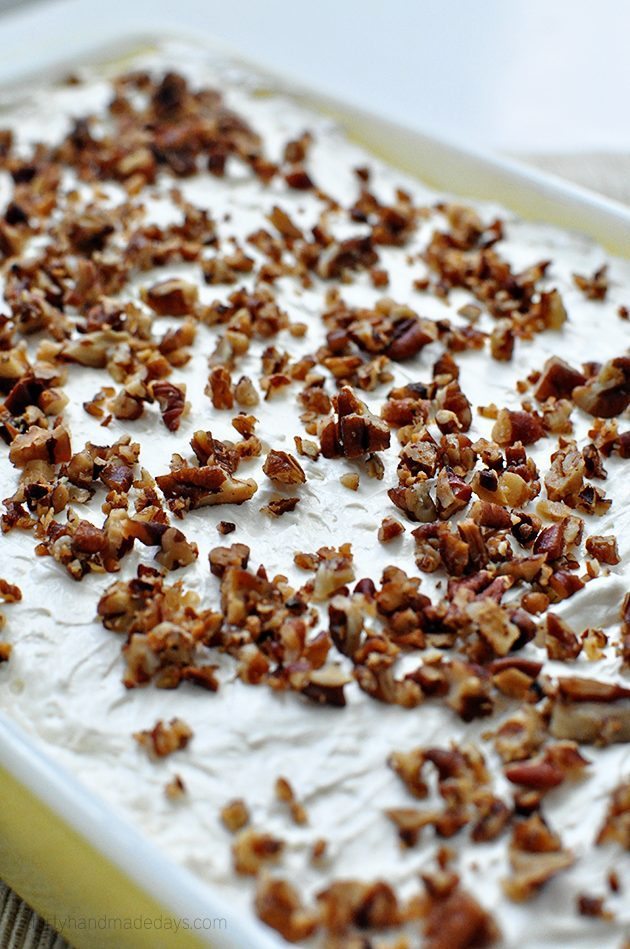 You can definitely make it without nuts if you'd prefer not to or have an allergy in your family.  I have a sister-in-law who is allergic to nuts so if I bring it for that side, I make it with 1/2 nuts on one side and no nuts on the other.  I prefer it with nuts because I like the crunch and I am a fan of nuts in my food but know that some people can't stand them.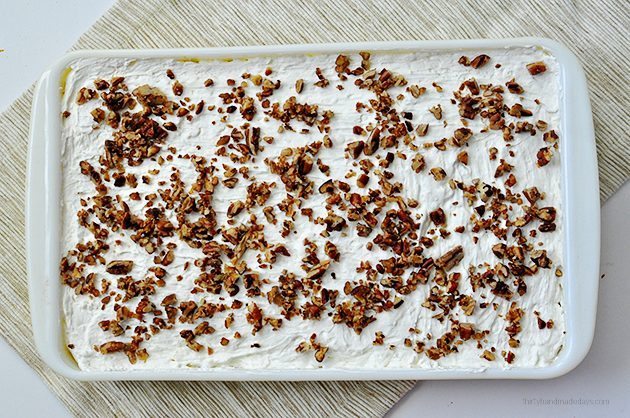 Frosted Cranberry Squares
Ingredients
1 (13 0z) can crushed pineapple
2 (3 oz) lemon jello
1 c. ginger ale
1 lb. jellied cranberry sauce
1 (8 oz) container whipped topping
1 (8 oz) cream cheese, softened
½ c. chopped pecans
1 Tbsp. butter
Instructions
Drain pineapple, reserving syrup.
Add water to make syrup 1 cup.
Heat syrup/water in a small pan to boil.
Dissolve jello in liquid and cool.
Pour liquid into mixing bowl and gently stir in ginger ale. If you pour too fast or before the liquid is cool, it will fizz and bubble.
Chill in the fridge until partially set.
Meanwhile combine pineapple and cranberry sauce together until mixed well.
Fold into jello mix and transfer to 9x9 dish. Chill in fridge until set.
Fold softened cream cheese into whipped topping.
Spread over firm jello.
Toast pecans in butter in the oven at 350 for 5-10 minutes (make sure not to burn).
Cool and sprinkle over the top of the whipped topping layer.
Chill until time to serve.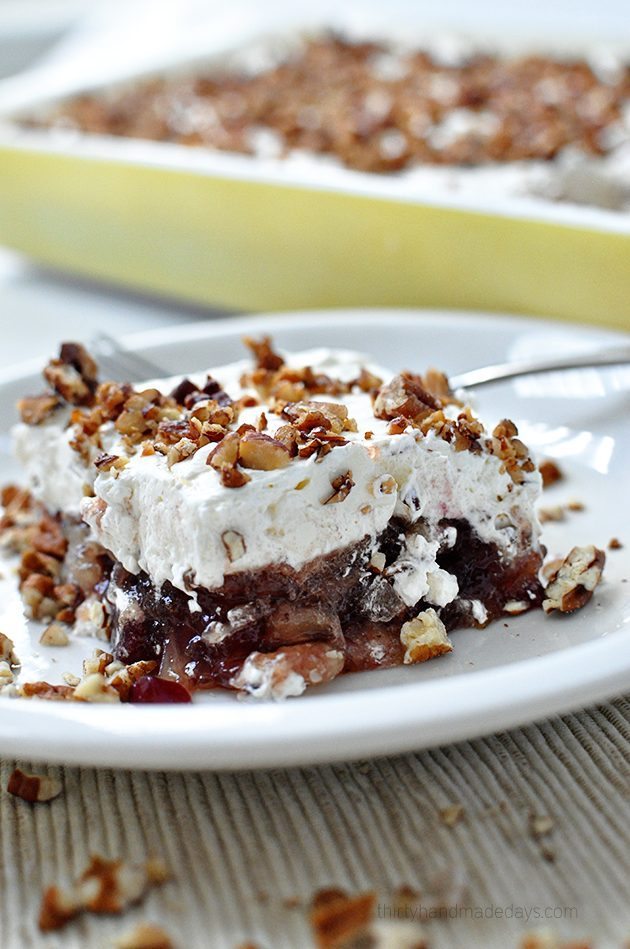 While this recipe won't last for days on end, we all fight over any leftovers the day after Thanksgiving or Christmas.  Usually there isn't a lot that everyone hasn't eaten anyway, but I totally look forward to it if there is any left.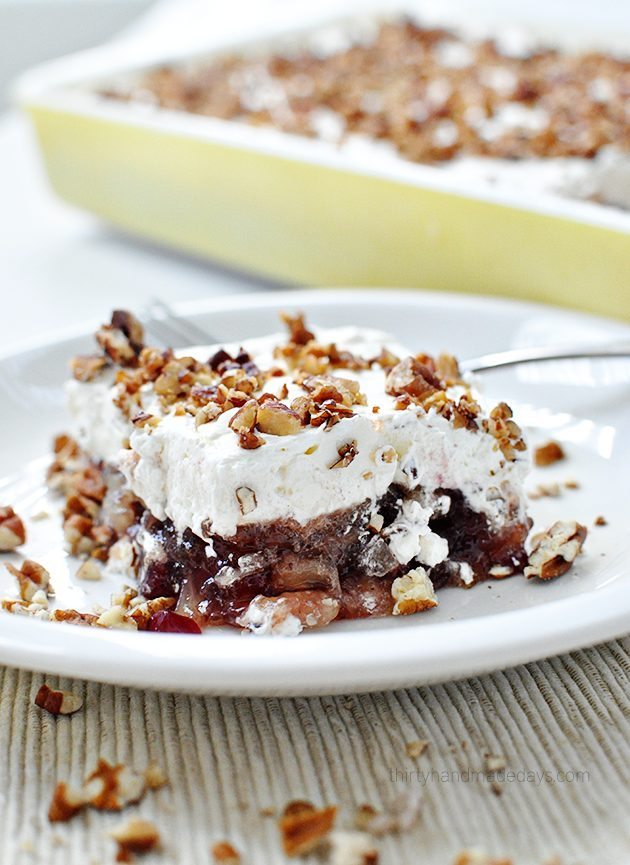 It's also the last thing I leave on my plate to eat for my meal.  Because I leave my favorites for last always.  What about you?  Do you eat your favorites first or last?  Or throw caution to the wind and enjoy a little of everything throughout your meal?  Decisions, decisions.
I don't normally take 5 million pictures of the food I make, but with my favorite I guess it called for more shots.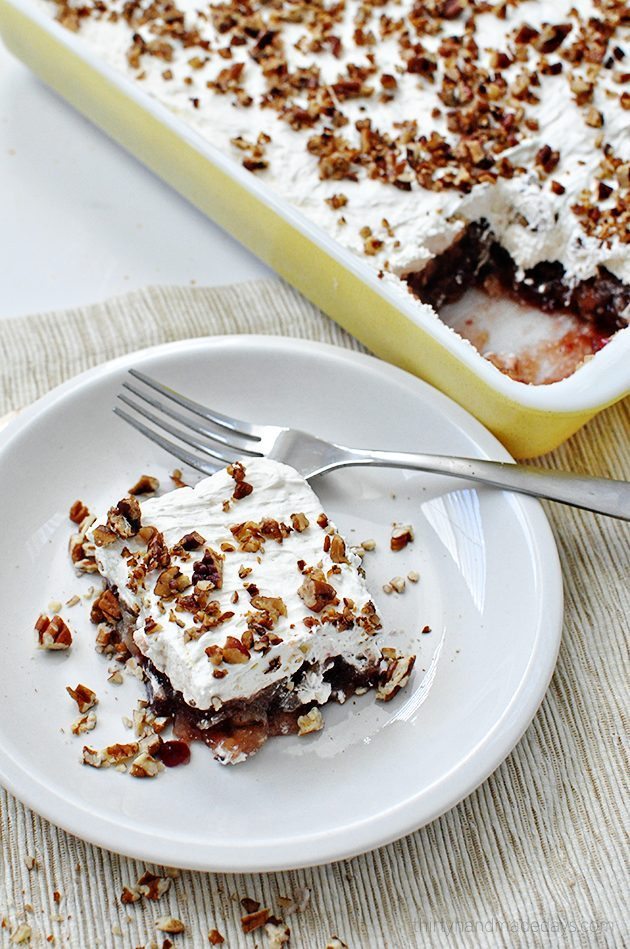 Do you have any family favorites?
Here are some more of my family favorites:
Stick of Butter Rice
Creamed Peas