Halloween is right around the corner and I have an awesome audiobook list for kids to share with you!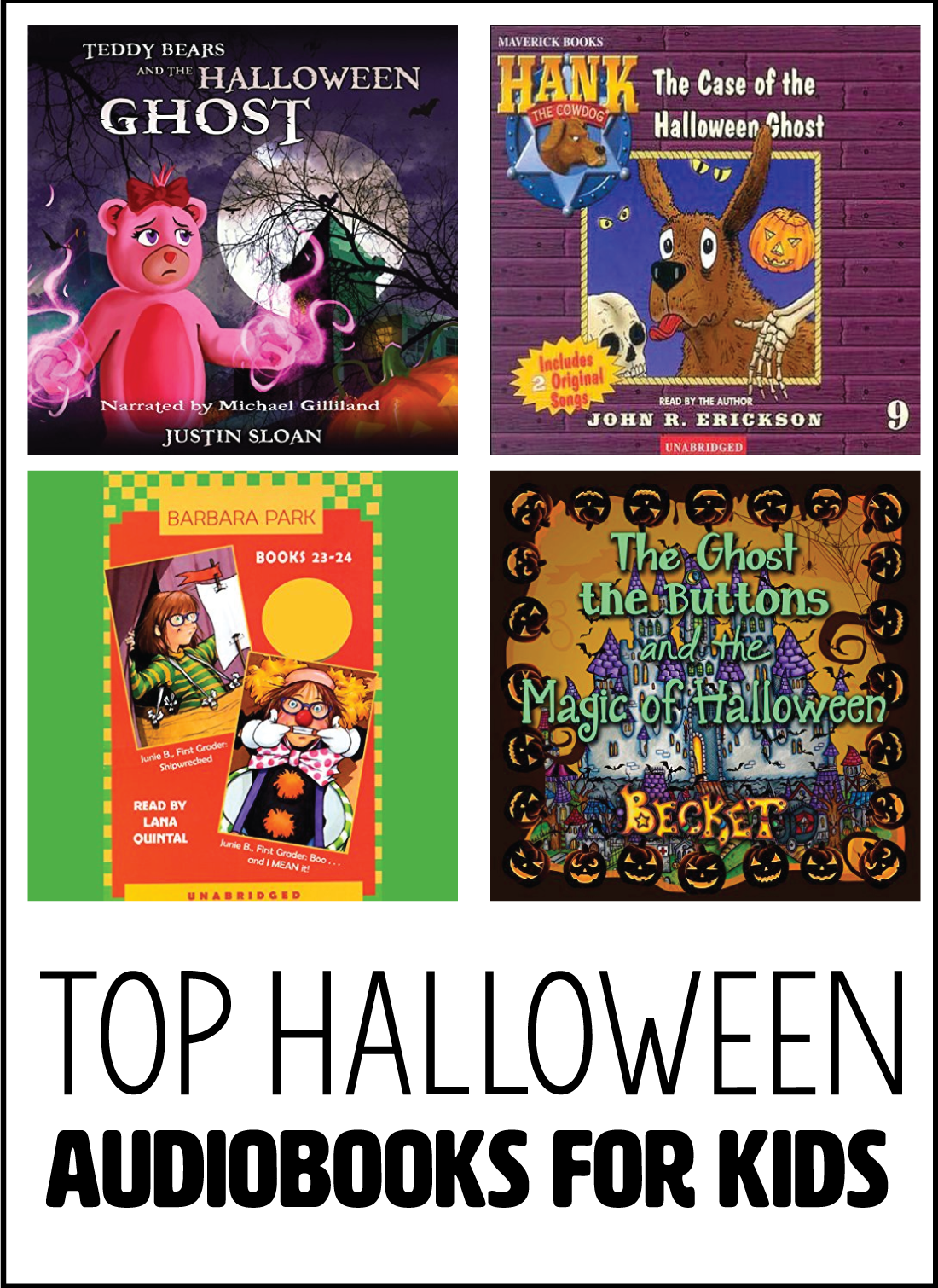 Throughout this year I've been posting about audiobooks that I think you should add to your collection.  If you haven't gotten an Audible account yet – what are you waiting for?!


The thing I love about Audible is that I can listen to all of the best books while I'm traveling, in the car, working out or just want something in the background at home.  It's a great way to be well read on the go.

The Case of the Halloween Ghost by John R. Erickson
When Halloween arrives, Hank – the self-appointed Head of Ranch Security – has got his hands full of adventure. First there's a problem with the Tricker Trees. Then the ranch is invaded by two skeletons, a witch, and a pirate. And when Hank goes to investigate a strange sound in the cake house, he's sure it can only be one thing…a ghost. Can Hank rid the ranch of this unwanted visitor? Or is he destined to be spooked for good?
Junie B Jones Shipwrecked & Boo…. and I Mean It by Barbara Park
For those who love the Junie B Jones series, these are perfect!
Junie B., First Grader: Shipwrecked
Ship Ahoy! Room One is putting on a play. And guess what? It's about explorers looking for the New World! And there's ships and sea captains and everything! Plus here's the bestest news of all, Junie B. Jones thinks she might be the star of the whole entire production! Only, sailing the ocean blue is not as easy as it looks, apparently. 'Cause problems keep on happening. Like the actors keep catching the flu. And bossy May keeps trying to take over the show. Can this play be saved? Will the ships ever get to land? Or is Room One in for a disaster at sea that they will never forget?
Junie B., First Grader: Boo…and I MEAN It!
It's Halloween! Only here's the trouble. Junie B. Jones is afraid to go trick-or-treating. 'Cause what if witches and monsters are really real? And what if pumpkins with sharp teeth can eat your feet? And don't even get her started on the candy corn problem. So how is Junie B. supposed to even enjoy this scary holiday? But then, with a little help from a friend, she gets an idea for a costume guaranteed to outscare even the creepiest competition. And so maybe Halloween will turn out to be a real scream after all!
Mouse & Mole – a Perfect Halloween by Wong Herbert Lee
Since creating the Mouse and Mole series, Theodor Seuss Geisel Honor Award-winner Wong Herbert Yee has become a favorite among young fans all over the world. In this delightful novel, Mole frets because Halloween will soon be here, and Halloween can be scary. But he perks up at the idea of a pumpkin-carving contest. This could be fun! As Mole cuts his design in the pumpkin, he begins to worry that Mouse might copy his idea. Fortunately, it's not long before Mole stops his worrying—for nothing can keep good friends apart.
The Ghost, the Buttons and the Magic of Halloween by Becket
Everyone in New Orleans thinks the Button family lives in a spooky old haunted house – except the three Button children. The bumps in the night are perfectly normal to them until one day when an elderly ghost appears to investigate this mystery with his mechanically enchanted umbrella. Soon he discovers a world behind their walls, a world that takes him and the three Button children down to a village far below their home, a village of jack-o-lantern houses, a village of scary creatures, a village called Halloween Hollow, where the streets are filled with magic and madness, especially Trick-or-Treat Street. Yet the hollow is being threatened by a monster called The Darkness. Now it is up to the ghost and the Button children to stop the monster and save Halloween.
Teddy Bears and the Halloween Ghost by Justin Sloan
In this short story, the Teddy Defenders return, now living with Rick's little sister, Tiffany. But when they prepare for their nightly fun, they discover that Tiffany and Rick are in trouble – a ghost has invaded their school.
Only the Teddy Defenders can hope to save the children from the ghost and save Halloween.
If you're looking for audiobooks for yourself for Halloween, these Best Audiobooks Involving Mystery are perfect: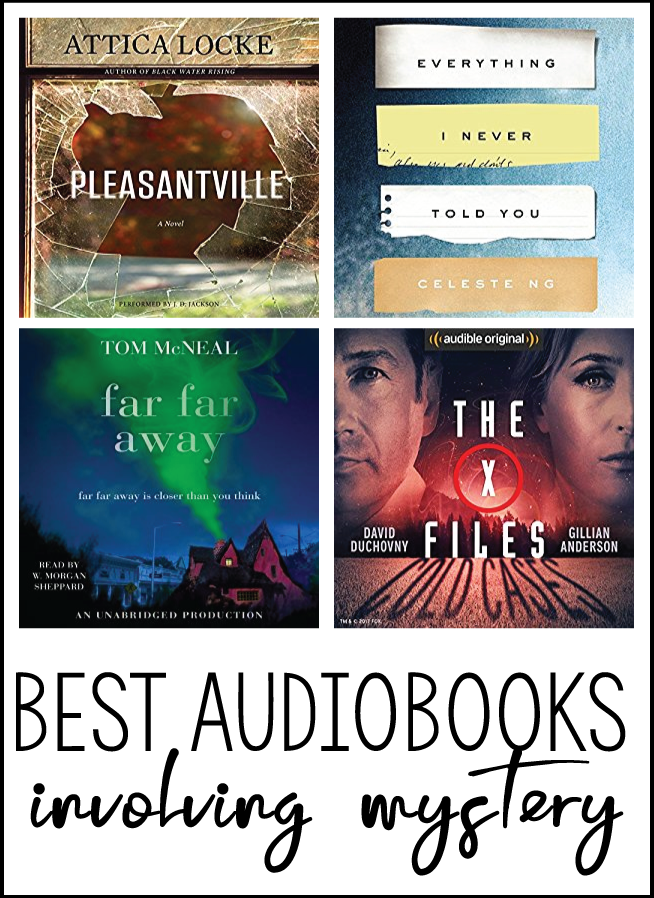 You'll find a whole list of awesome books to listen to!
You might also like these kids audibooks that I've shared:
This is a sponsored conversation written by me on behalf of Audible. The opinions and text are all mine.