It's as easy as 1-2-3 to make a tote bag using the Cricut Easy Press 2! Take advantage of the HSN mint bundle before it's gone.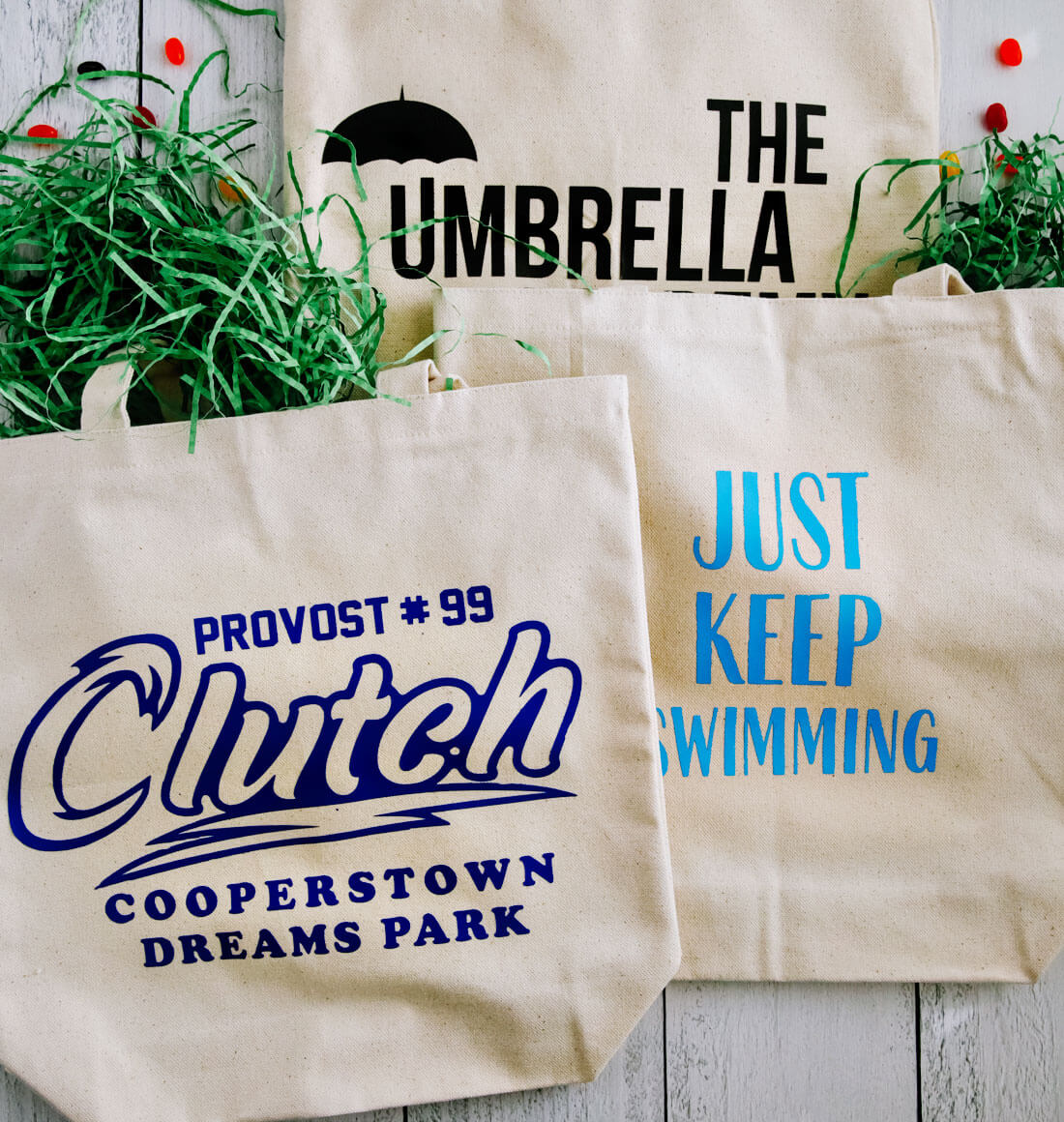 I have been compensated by HSN. I am beyond thrilled to work with a company I absolutely love!
It's true. I've become obsessed with my Cricut cutting machine. I have been vinyling everything I can get my hands on. To kick things up a notch, enter the Cricut Easy Press. Not only am I labeling all of my containers, but now I want to add heat transfer vinyl to everything I can get my hands on. It makes it so easy! Let's talk about how to use it, why to use it, and where to use it.
Cricut Easy Press
What is an Easy Press?
In basic terms, an EasyPress is a press that has an edge-to-edge heat plate. It is like the perfect iron that distributes heat up to 400 degrees F.
There are 3 different sizes of EasyPress that Cricut makes:
6″x7″ – petite
9″x9″ – medium
12″x10″ -XL
Why do you need an Easy Press?

If you want to make t-shirts, tote bags, hats, signs and more, the Easy Press makes it so incredibly simple. There is a temperature button, timer button, and a start button. You move the temperature up or down (depending on the type of material you will be transferring to), the timer button to set the time and after applying the heat press to the material, click the green "C" button. It will then count the timer down and beep when done. It really is that easy!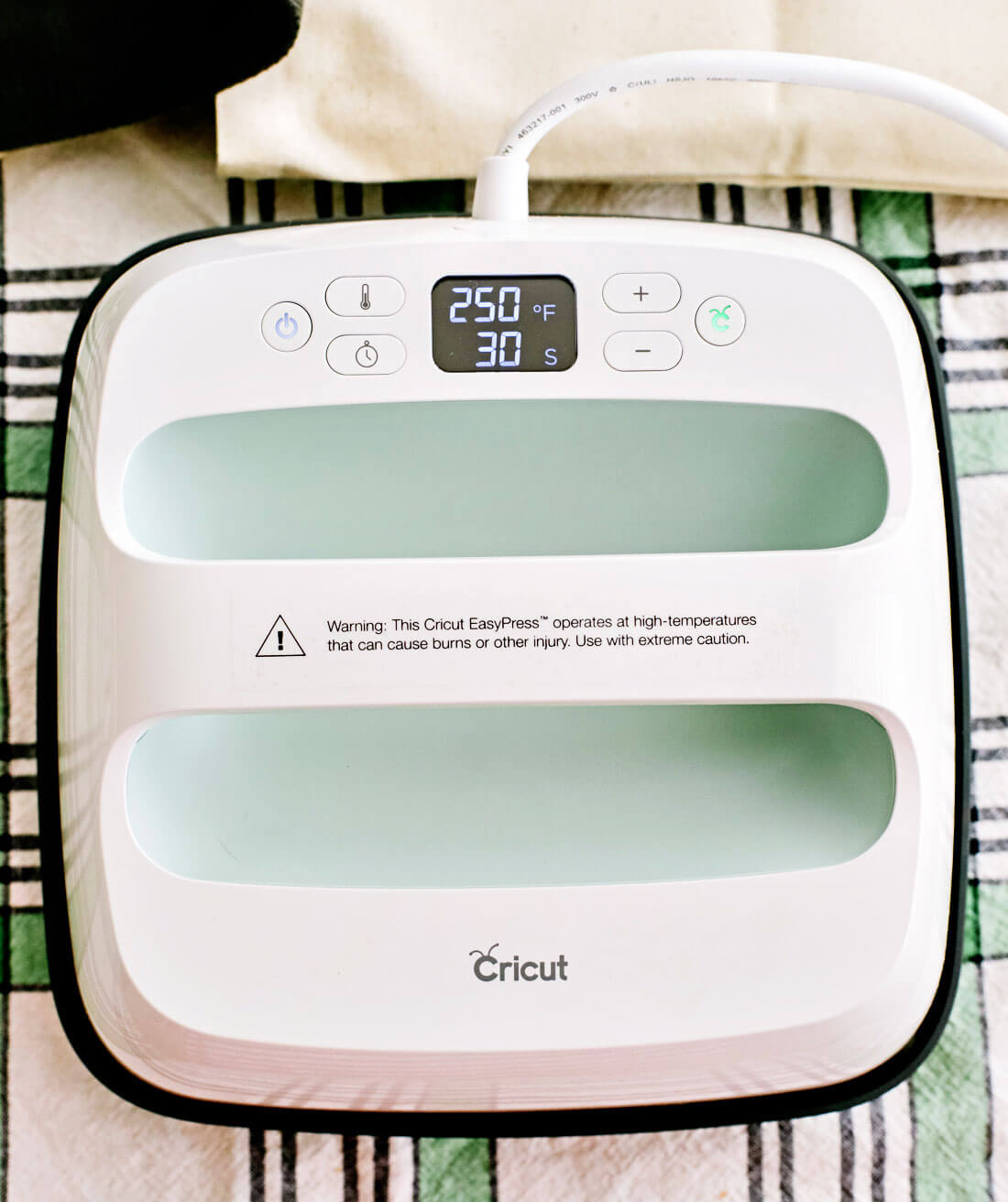 Cricut Easy Press 2 Bundle
For March, HSN is celebrating craft month and offering an awesome bundle. In this bundle, you'll get the following for a steal of a deal: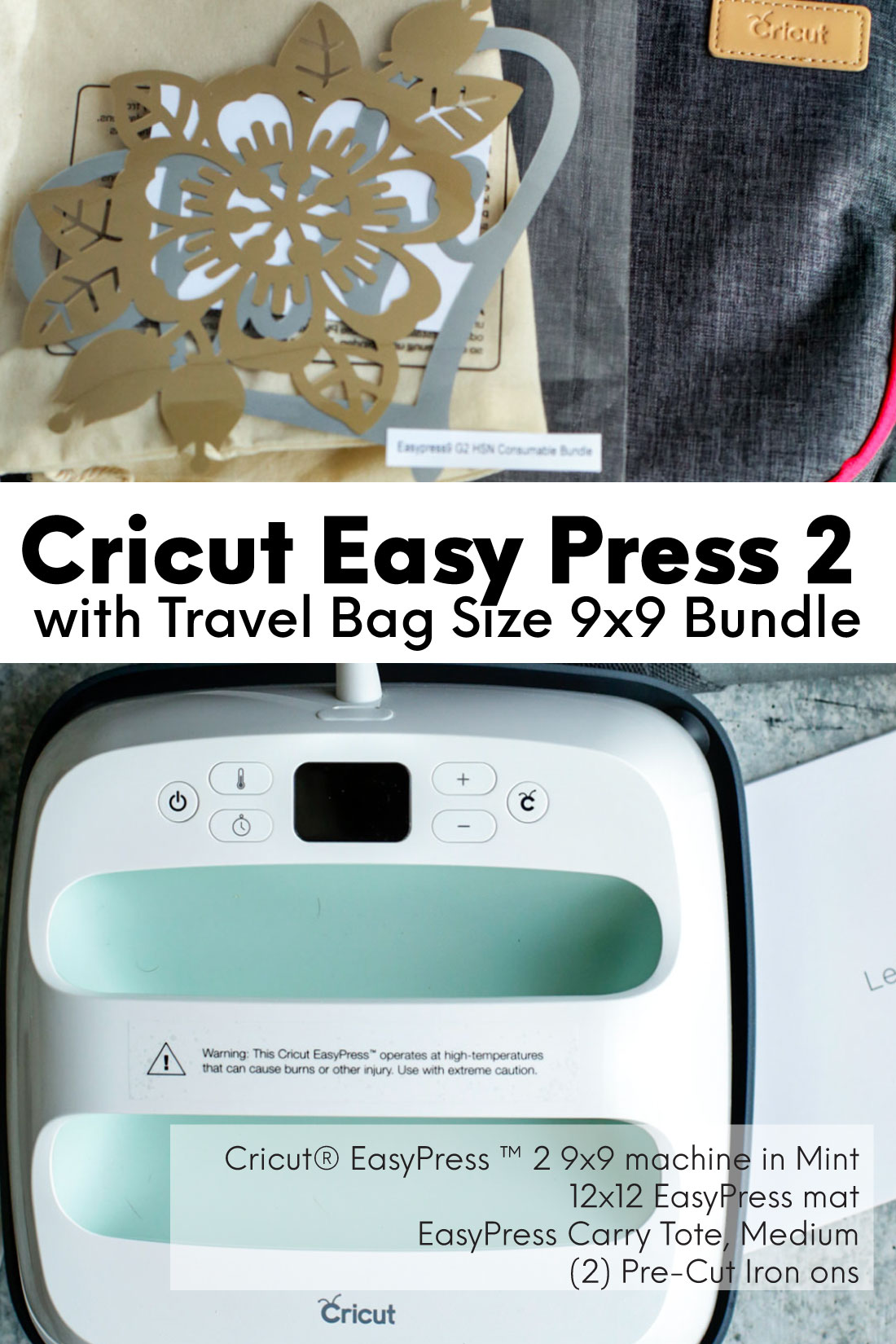 1 Cricut EasyPress 2 9×9 machine in Mint!
Safety Base
12×12 EasyPress mat –
EasyPress Carry Tote in medium size
(2) Pre-cut iron ons
The sale price for this bundle is $189.95 for the month of March. It's $30 off the HSN regular price of $219.95 (value of $277.96!).
Not only do I love the mint color but everything that comes with it. The carry tote is made of special material so that it can be taken on the go without having to cool all of the way down. The medium size Easy Press is ideal for all types of projects.
Other Cricut Projects
Here are some of the projects I've made using my Cricut:
Canvas Tote Bags
Speaking of projects… I couldn't help but dive in with a few to test the press out. I found some canvas tote bags that were on major sale and knew they would make the perfect Easter "baskets." Every year I put their treats and gifts in something unique that can be used over and over. Other Easter "basket" ideas from the past:
baseball hats
tool boxes
travel box
laundry baskets
Here's what I made with the Easy Press 2 on canvas tote bags: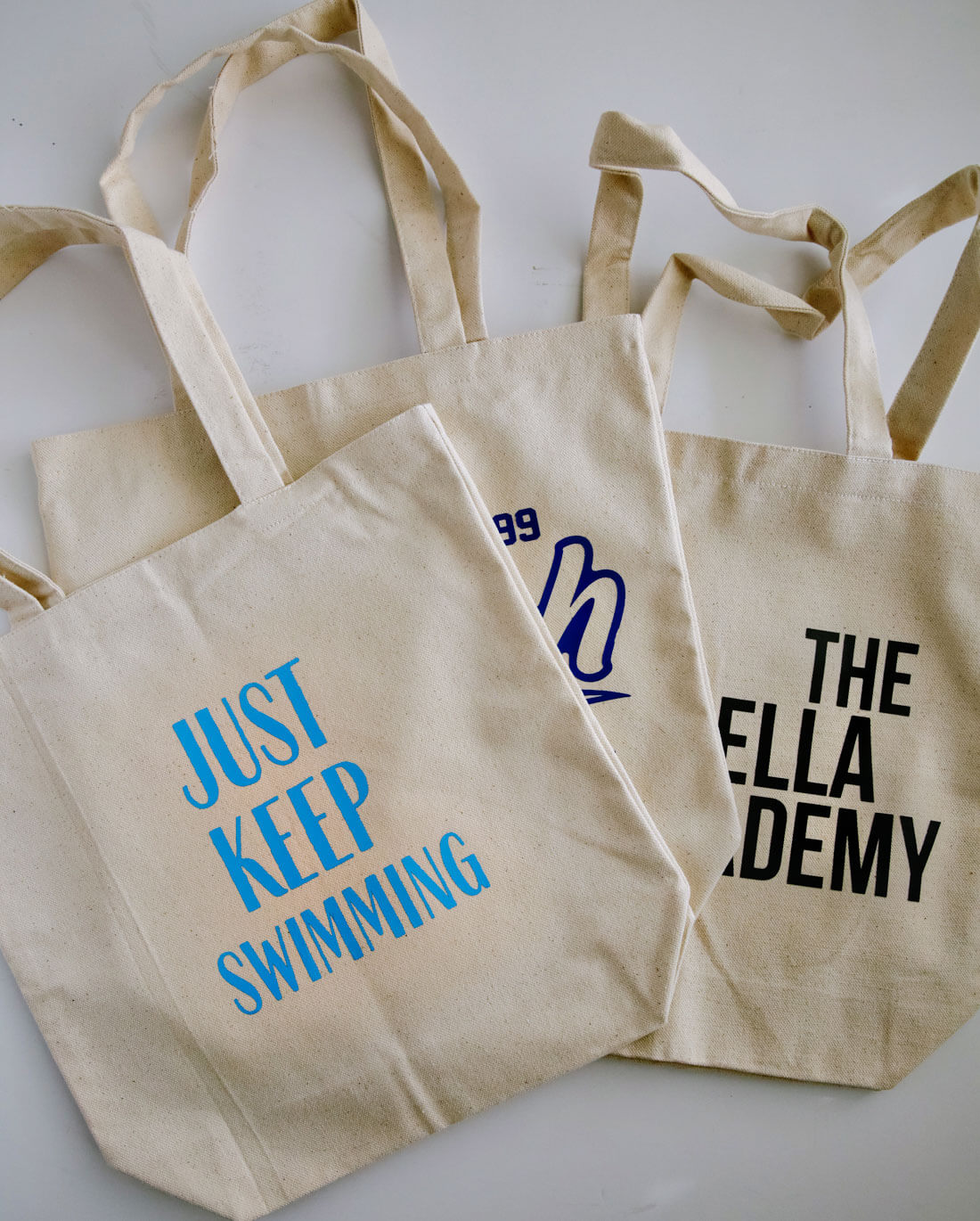 My oldest son loves Pixar and Disney. "Just keep swimming" will be perfect to throw a towel and swimming supplies in for the summer. My middle child is really into the Umbrella Academy and loves to read. Her tote can be used for books or whatever she likes. My youngest is our baseball player and is getting ready for a trip to Cooperstown this summer.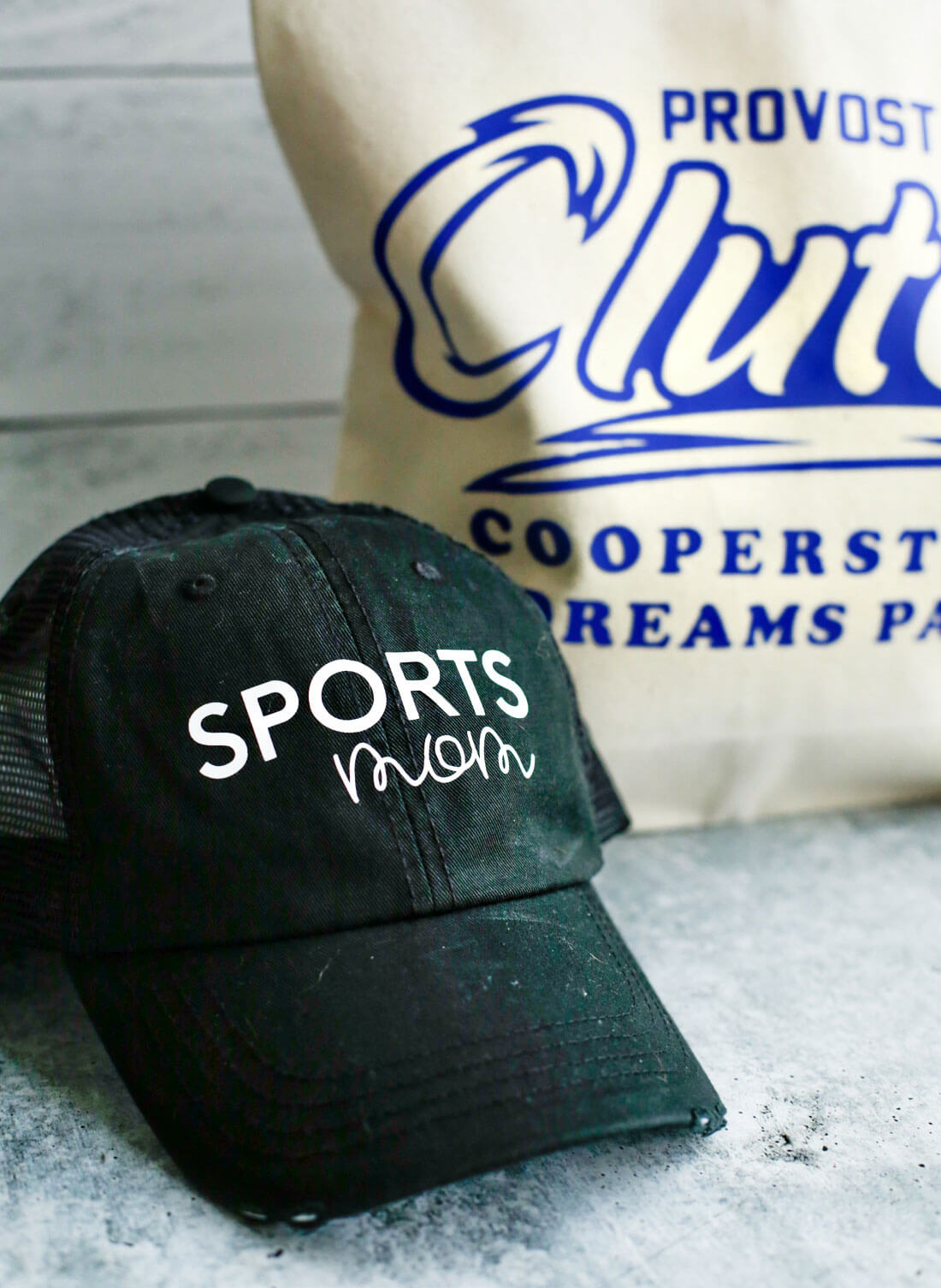 In addition to the tote bag, I made a "Sports Mom" hat. After creating my design, I rolled a towel on the inside of the hat and applied the design with the Easy Press 2. The possibilities really are endless!