This post is sponsored by Weight Watchers.  I am beyond thrilled to work with a company I absolutely love!
If you've followed along on my Weight Watchers journey, you know that I started after doing a lot of (failed) extreme diets.  I've spent most of my adult life yo-yo'ing.  It hasn't been fun.  Now it's been almost three months since I decided to join Weight Watchers and I am the happiest I've been in a long time.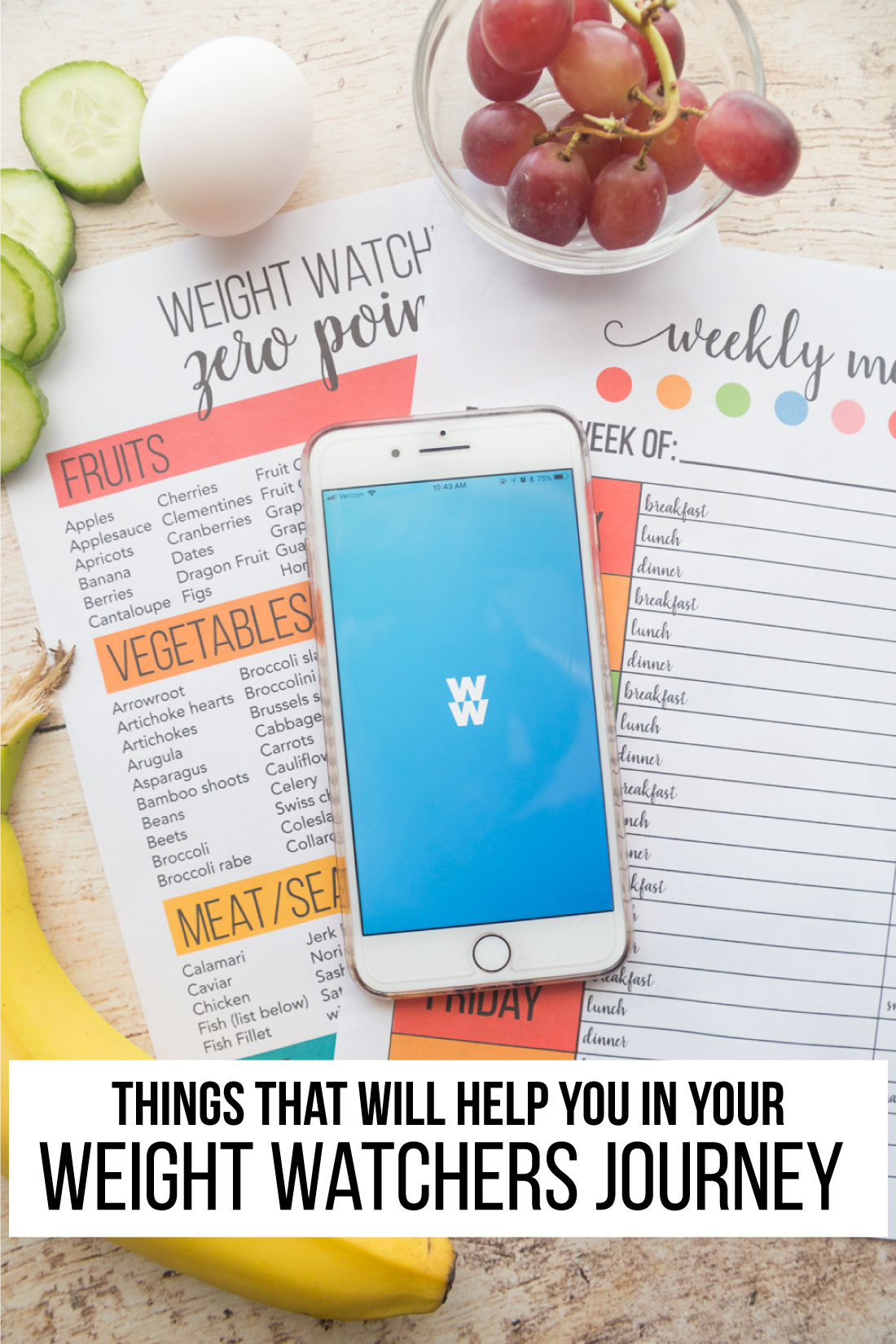 There are lots of things you can do to help you in your Weight Watchers journey.  I want to be here as your cheerleader and to encourage you! 
Weight Watchers Points
All I've heard over and over again is how the new Freestyle Program is so amazing.  Because I haven't ever done Weight Watchers until now, I don't have anything to compare it to.  I can tell you that I think it's fantastic!
You are given a set amount of points each day to work with.  This has majorly helped me with portion control.  I grew up where you ate everything on your plate (most of us probably did!).  Now I'm using smaller plates and not dishing out nearly as much.  It's easiest for me to cook and eat at home simply because I know exactly what is going into each recipe.  But there are tons of options for eating out as well.  I love that the Weight Watchers app has a restaurant feature.  I can type in any major restaurant and look for an option to fit within my Weight Watchers points for the day.  If I know that I'm going to a restaurant in advance and it's not in the app, I will look up the menu to find healthy choices.
I use the Weight Watchers app to track everything I eat.  This is one of the things that has majorly helped me so far.  Here's what a typical day looks like from me: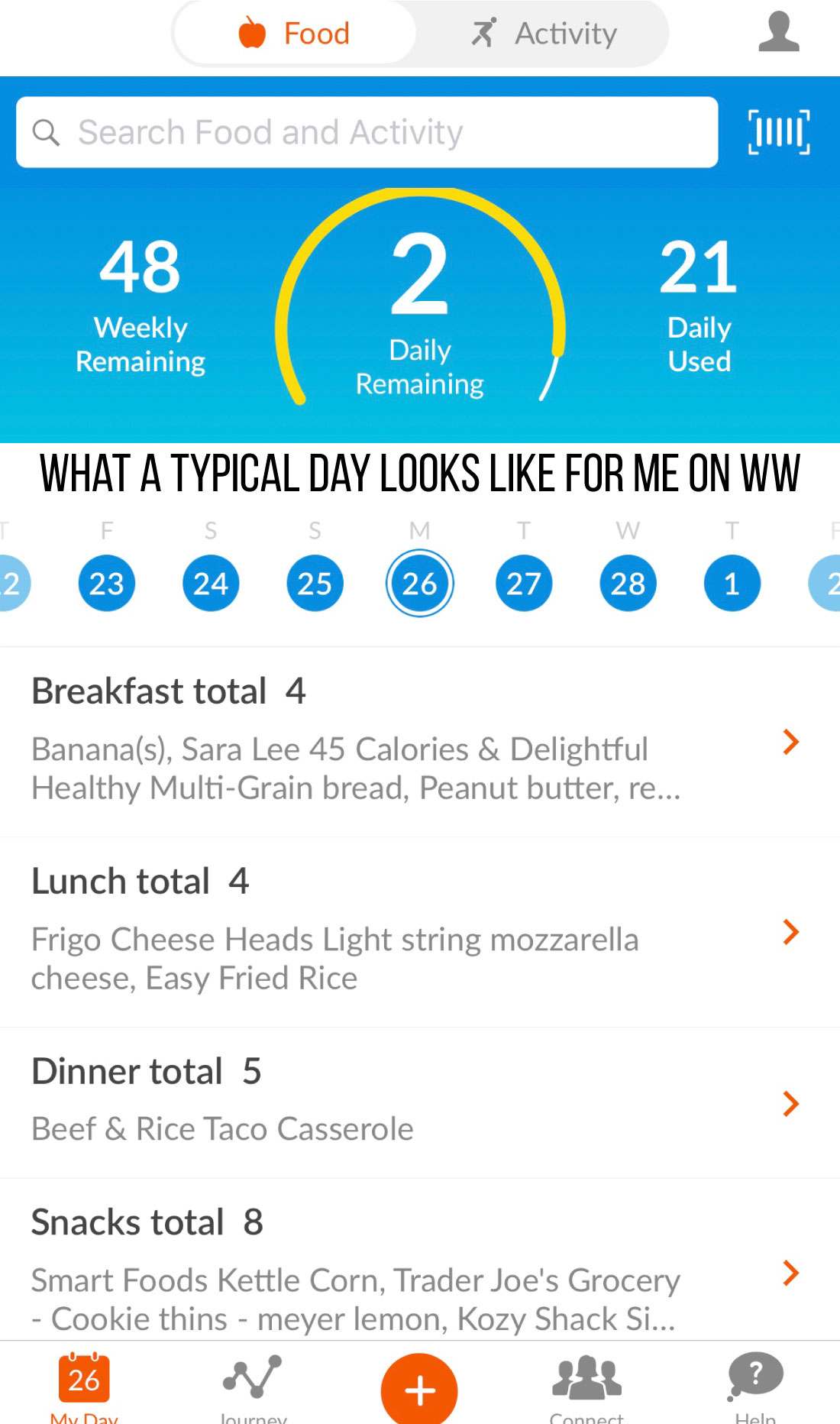 My go to breakfast is – a sunny side up egg and 1 piece of toast + a banana and/or a Cutie orange.
For lunch I often eat leftovers from the night before.  Weight Watchers Fried Rice is pretty common around here.  I add chicken to it and love it.
Dinner is where I get most creative usually.  I have tried LOTS of new Weight Watchers recipes.  I have also tweaked some old family favorites to make them a little healthier and keep my portions in check.
For snacks –  I tend to go towards something with crunch and more savory.  On this particular day I must've been feeling the need for something sweet as I had a rice pudding and kettle corn.
Have I mentioned that I am in heaven being able to eat what I LOVE, just in smaller portions?  I feel like that has been key to my success.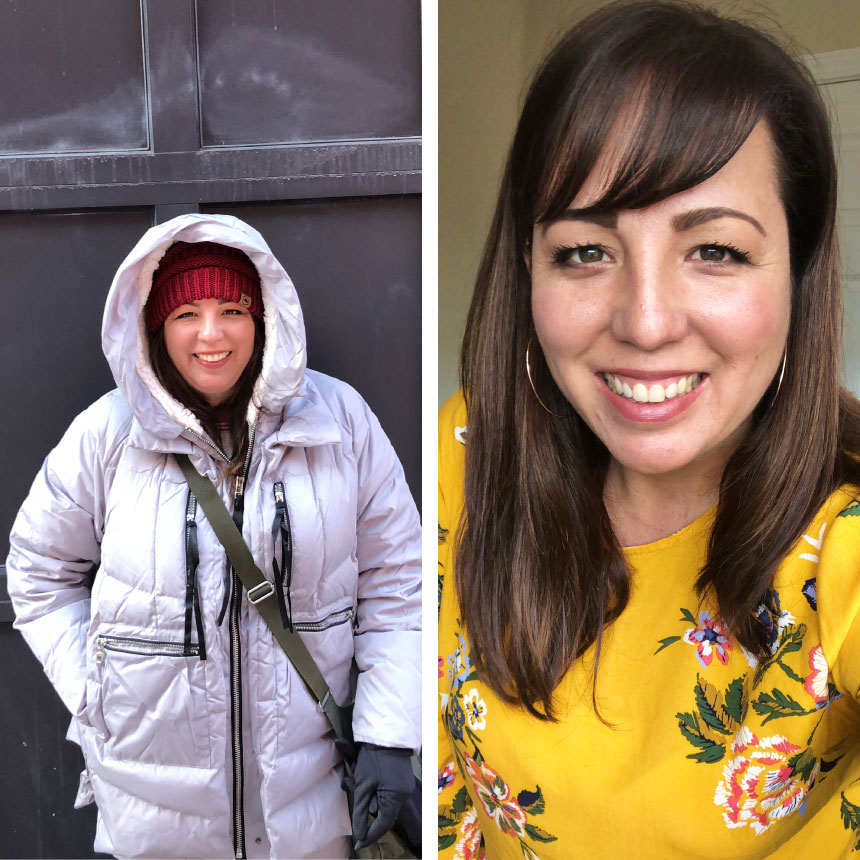 The girl on the left wasn't thrilled about having her picture taken.  I was chubby and feeling it.  I was having health issues.  I started to avoid going places or running into old friends because I was embarrassed.  And I hated that I was embarrassed.  At forty years old, I didn't want to feel shame about my appearance.  I also didn't want to deal with the health issues that were getting worse.  I needed to do something before my downward spiral got worse.
The girl on the right is feeling so much better.  I'm feeling more confident.  I'm not afraid to wear bold colors and have people see me like I was just a few short months ago.  It's incredible how making small changes can dramatically affect someone in just a couple months.  I'm a little over half way to my goal and I can't imagine how much better I'll feel when I get there.
Current stats:
Weight lost – 22 lbs.
Sizes – 2 sizes down
**People following the Weight Watchers plan can expect to lose 1-2 lbs/per wk.**
You can do this!! 
I think the hardest part is just taking that first step.  I have a pretty stubborn personality (or "determined" as my mom would say).  Once I set my mind to something, I will find a way to make it happen.  But getting to the starting line is sometimes really intimidating. I often feel nervous about where and how to start.  If you're wondering where to start, let me help you! Don't let fear hold you back.  The ONLY thing I regret about Weight Watchers is not doing it sooner.  Ready to get started?
Curious what other people are eating while doing Weight Watchers?  Here are 100 most tracked Weight Watcher foods!  I found this list interesting.  And have to say that I track a lot of bananas too.  But eggs might be at the top of my tracked list.