If you're wondering if Weight Watchers is for you, this post breaks down how it has been for me.  I've been using the Weight Watchers online program and here's how it has gone so far …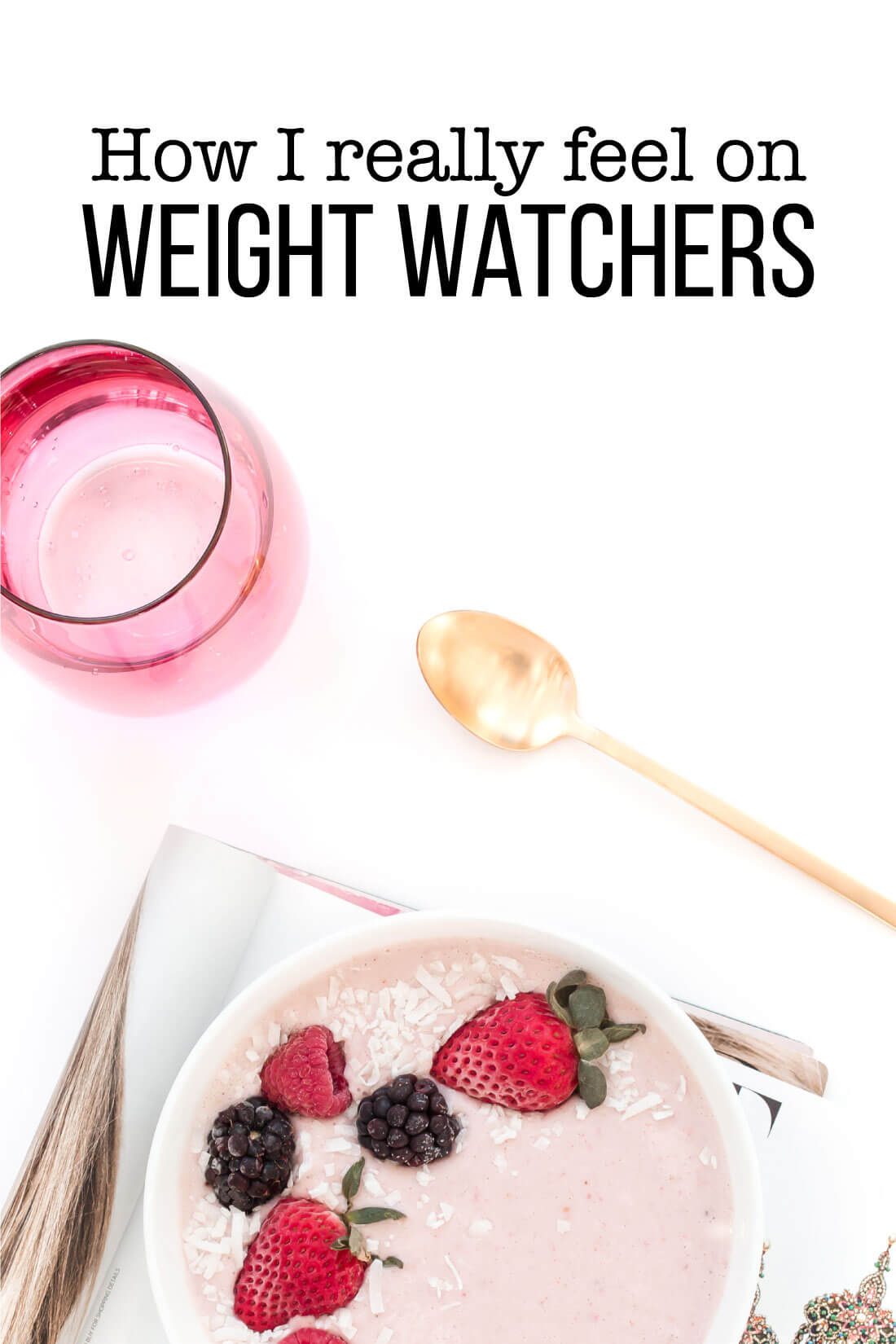 This post is sponsored by Weight Watchers.  I am beyond thrilled to work with a company I absolutely love!
I started my Weight Watchers journey on January 11th.  It was a Thursday.  I didn't want to "wait until Monday" again.  I've done that one too many times.  We had just returned from New York where I ate everything that I could get my hands on because.. well it was New York.  The food was amazing.  But fitting into jeans is also amazing.  It was time to get serious about my health and weight.
As I mentioned before, this was my first time joining Weight Watchers.  I am doing the Weight Watchers Online program.  Lots of people have asked me if I have attended meetings or if I'm doing it online.  I haven't gone to any meetings.  Everything I have done has been on the app and online.
Here I sit weeks later, kicking myself for not starting a long time ago.  I wasted so much time doing crazy, extreme diets.  I could've been learning how to portion things out and what foods feel good to my body.  But part of this journey is giving myself grace and moving forward.  Too many times in the past I have let my shame bring me down.  I'm not going to let that happen this time.
The truth is that I am 100% loving this Weight Watchers online program.  I have never felt better.  For a long time I felt sick.  I would eat a meal and have to run to the bathroom.  (TMI?) It was awful.  I haven't felt that way since I started Weight Watchers.  My body is happy that I'm eating well, in proportion and drinking lots of water.   I am trying new Weight Watcher recipes and loving them so much.  My family is loving them too.  They get excited about dinner and all of the meals that I've been making.  We are eating leftovers for the first time (we all used to hate them).
When I started Weight Watchers I decided that I wasn't going to start exercising for a while.  I wanted to get a real gauge on how it would affect my body.  If I went from eating terribly and not being active to eating well and really active, it'd be hard to tell what was making the difference. All of the weight that I have lost and the way that my clothes are fitting is due to the way I've been eating.  That old saying "Abs are made in the kitchen" is really true for me right now.  As time goes on, I will start walking and then running.  I want to get back to the gym.
Josh recently said "This is the best thing that you've done.  It feels easy."  The truth is – it's not easy.  But he's seen me eat weird foods, cry from headaches of no caffeine, lose my mind and be completely moody from some new fad diet.  He has seen me at my absolute worst and at my best.  He's said over and over that size and weight mean nothing to him (he likes curves anyway!) but my happiness is most important.  He likes seeing me confident.  And right now my confidence is growing again.
I'm not here to write all about unicorns and rainbows.  I don't want to give anyone the idea that changing your lifestyle is easy.  It's not.  But the trade off is one million percent worth it. I have lost weight, I feel good and I feel strong.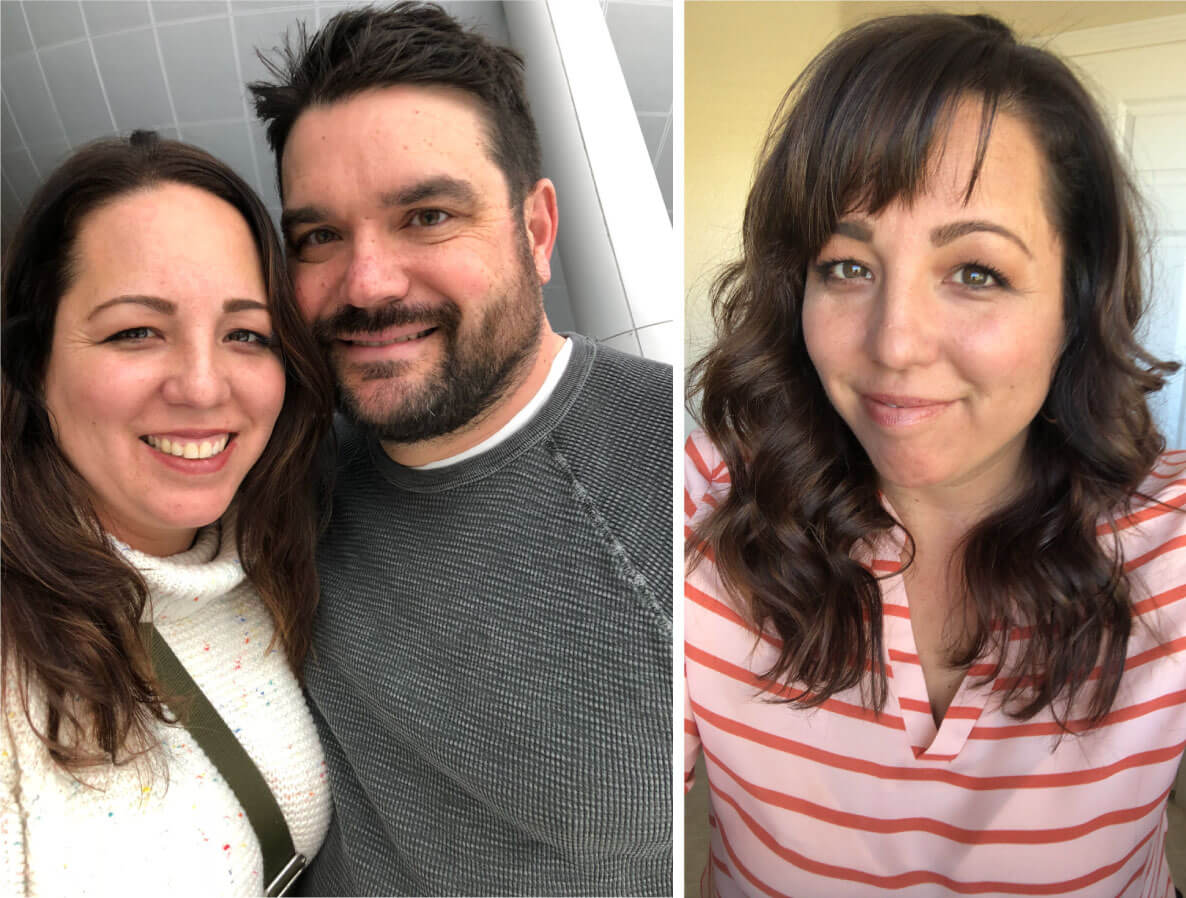 The picture on the left was taken in New York, a few days before I started Weight Watchers / picture on the right was recently after I got my hair done
Today's stats: 18 lbs. down, 2 sizes down
**People following the Weight Watchers plan can expect to lose 1-2 lbs/per wk.**
I'm wearing clothes that I haven't worn for a while.  I ordered a new bathing suit and work out shorts thinking they would eventually fit me and they already do! It's amazing.  I know that the more I lose, the more challenging it will be.
There are a few things that have been key in my success so far:
Weight Watchers App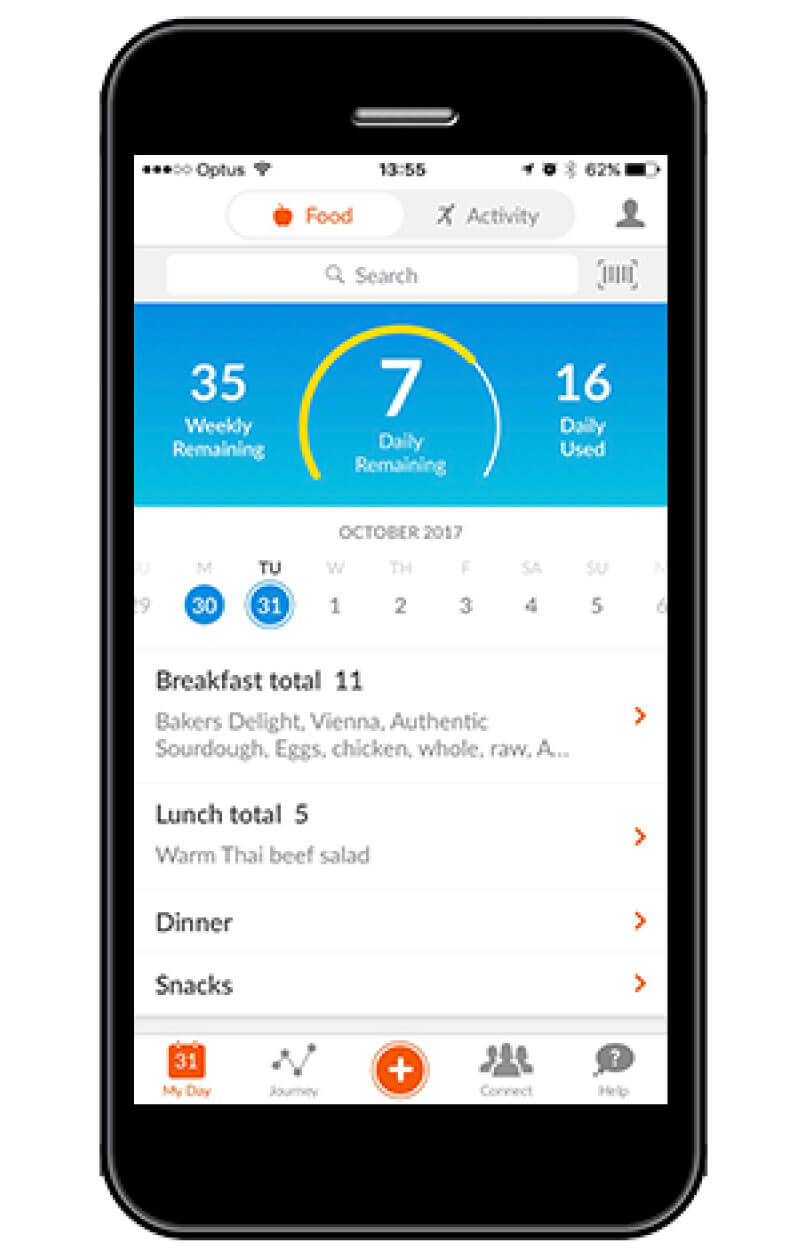 I have tracked everything since I started WW.  All of my meals.  All of my snacks.  To some people that might seem daunting but it is such a user friendly app that it takes seconds to do.  I can see my progress throughout the six weeks easily.
The Weight Watchers App
Tracks your food
Tracks your weight
You can get recipes
Build recipes
Has tips and messages for you
Weight Watchers Recipe Builder
I wasn't sure how easy it would be to input recipes that I make into the app.  But using the Weight Watchers Recipe Builder, it takes a couple minutes and then stores them in there for me.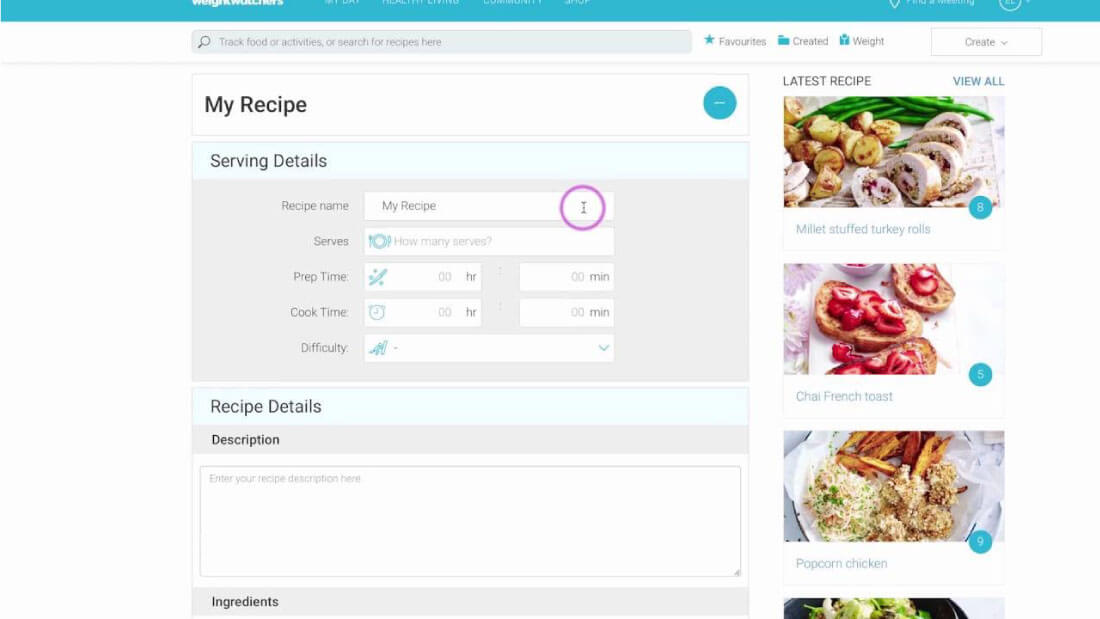 The recipe builder can be used within the system online from your computer or within the app.  You can take any recipe that you make and calculate all of the Smart Points.  I've used some old family favorite recipes, lightened them up a bit and added them to my points for the day using the recipe builder.   They are saved on my Weight Watchers app so when I want to make them again, I just type in the recipe name and it pops up with the Smart Points.
Meal Prep
Meal prep is something I've talked about a few times before.  It can seem overwhelming at first but when I'm planning ahead, it is so much easier to stay the course.  I have been making chicken ahead and using throughout the week.  My family LOVES the Weight Watchers Fried Rice recipe so I've been making that in bulk.  I've made some breakfast bowls and lots of Chicken Street Tacos.  Having things on hand, ready to go, has made a huge difference.
If you have thought about doing Weight Watchers before, consider this your sign that it's time.  I only wish I had started sooner.  This isn't something that I plan to do for a few months and stop.  This is something that has changed my lifestyle.
Other Weight Watcher Posts
If you love this Weight Watchers post, you're going to love these other Weight Watcher posts. Please click each link below to find the information: