Can healthy food actually taste delicious?  You betcha.  It can even be easy to make when you focus on freezer meals for the crockpot.After making over 300 crockpot meals last year I figured out how to make healthy AND delicious crockpot freezer meals with the right combination of simple ingredients, spices, and family-friendly vegetables.Here are 19 healthy chicken crock pot recipes that I know you're going to love.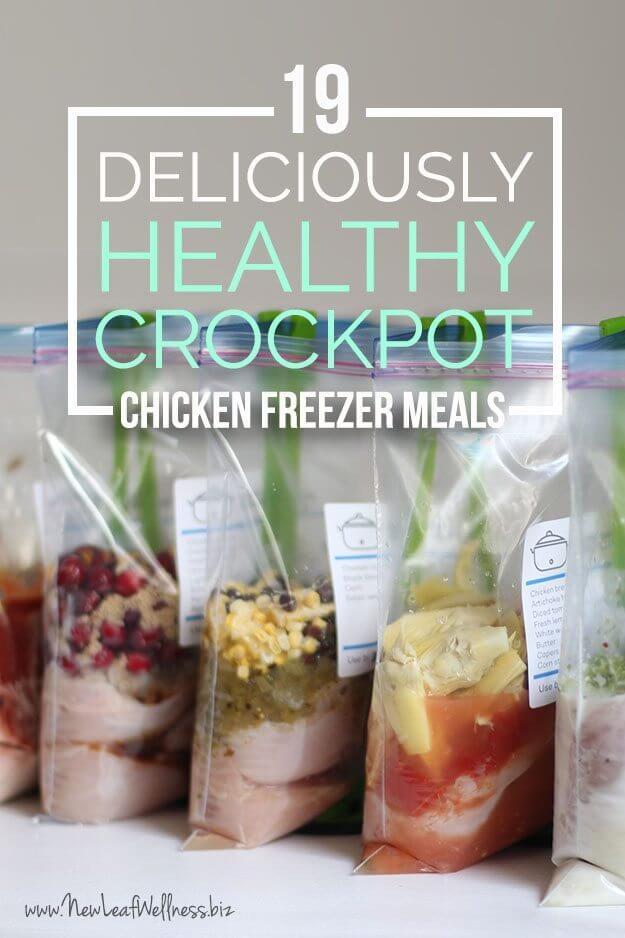 Why stock your freezer with these meals?
You can make them when chicken breasts are Buy One, Get One at the grocery store and save a lot of $$$.
None of the recipes require any cooking ahead of time so you can assemble all of them on a Sunday afternoon and be stocked with healthy meals for weeks to come.
When you're ready to eat all you have to do is dump a bag into the crockpot and dinner is done.
For me to consider these recipes "healthy," they need to include…
As few processed foods as possible
Vegetables
An absolutely amazing taste!  (Because who wants to eat healthy food that doesn't taste good?!)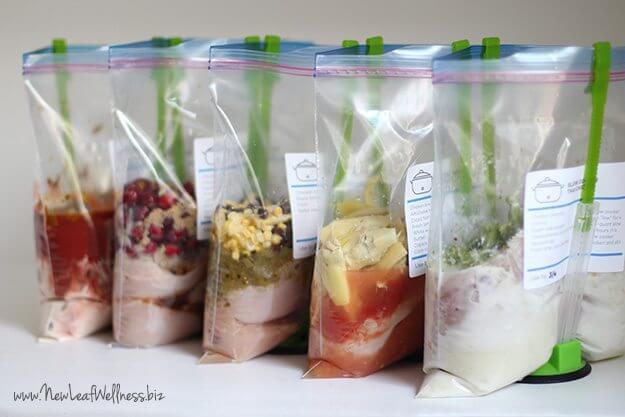 If you're nervous about mixing raw chicken and veggies, let me assure you that it's perfectly safe in the freezer. I did a lot of research when I was writing my No-Cook Freezer Meals eBook and the USDA Food Safety and Inspection Service explains that freezing food inactivates any microbes that are present (such as bacteria, yeasts, and molds).  Keep in mind that you're going to cook the meals before eating them and people cook chicken with vegetables all the time.
Dig in, Friends!
19 Deliciously Healthy Chicken Crockpot Freezer Meals
If you want to assemble and freeze all 19 at once, I typed up exactly how I prep and cook each recipe in this printable pdf (I even included a full grocery list!):
CLICK HERE FOR THE FREE RECIPES AND GROCERY LIST
Thoughts or questions?  Please leave a comment below and I'll respond as soon as I can.  I'd love to hear from you.