A different kind of advent to celebrate the season – make this Advent Blessings Jar with your family for an extra meaningful season!

Advent
Like most kids, mine start making next year's list for Santa on the 26th of December.  They spend hours looking through toy catalogs, circling items, and discussing all of the things they "need."   And, like most parents, what I really want my children to focus on during the holidays is something entirely different.   I'm realistic that "getting stuff" will always be a big part of Christmas, but I try my best to incorporate the concept of giving.
What is advent?
There is a long history of advent.  It is commonly known as the time of waiting of Jesus Christ at Christmas, as well as the second coming.  The word advent comes from the Latin word for "coming."
A lot of faiths use an advent calendar to mark this time – but the date varies each year.  While most people use an advent calendar from December 1 – 25th, the date of the first Sunday of Advent falls between November 27th and December 3rd.
Advent Calendar
This year I'm trying a new kind of advent "calendar"–an Advent Blessings Jar.   It's basically just popsicle sticks in a Mason Jar, but I'm hoping that by Christmas it will be much more.
Here's how it works:
Step One: Choose a charity that is deserving of a donation.  Pick something that is special to your family.  Something that your kids can get excited about.  Love dogs?  Choose to donate to a local animal shelter?  Have a friend or loved one on the autism spectrum?  Donate to Autism Speaks.  If there's a local food bank that you drive past frequently, donate to that.  The more meaningful, the better.  You can even choose to do this activity in November and then use your donations to buy toys for Toys for Tots!
Step Two: Write one different blessing  your family should be grateful for that may often get overlooked on twenty-four popsicle sticks.  Make it countable.  For example, ceiling fans.  Houston in August without ceiling fans would be miserable.  P.S. We have six.
Each day pull a popsicle stick, read the blessing, and count how many of that blessing you have in your home.   One of my sticks reads "ways to cook food".    We have a grill,  microwave, electric griddle, oven, stove, toaster, and fire pit in the backyard.  SEVEN!
Now put that many pennies (or nickels, dimes, etc) into your jar.  Every day it should be a different blessing and a different number.  Some days it will be less (how many cars do you have?) some days it will be more (how many books on the shelf in your bedroom?).  That money (and your family's gratitude for blessings) will add up quickly.
When the sticks are gone (should be Christmas Eve), count up your money as a family to see how much you get to donate to your chosen charity.  After going through all of the items in your home and seeing how blessed they are, your children may also decide to donate stuffed animals, blankets, shoes, or other things to a local shelter or family in need.
To make this advent you need:
popsicle sticks
Sharpie
mason jar
washi tape/decorations
You can definitely just grab some popsicle sticks and get going with a Sharpie, but I added one extra step to make my advent jar just a little more Christmas-like.  You can use ribbon, scrapbooking paper, etc to decorate your popsicle sticks and jar, but I went the easy route–washi tape.
So fabulous.
I picked up some Christmas colored washi tape at my local craft store.  They didn't have many choices at the time, so I just got two patterns.   I added tape to each stick and around the jar.
Then I walked through the house writing down overlooked blessings.  Things that we are extremely fortunate to have.  Like fifty pairs of shoes spilling out of the basket by the back door.  Some kids would love to have just ONE pair of shoes and we have so many that they are annoying at times.  Other items on written my sticks: places to get clean water (hose spigots, fridge, all the sinks, shower, bath–we are so lucky.  Seriously), electronic toys, cans of food, chairs, beds, bikes, light fixtures, rooms in the house, appliances in the kitchen (including things like waffle maker), dolls, bathrooms, stuffed animals (this number is ridiculous), blankets, doors in house, books, family members, windows, and clocks.
Add your sticks to the Mason jar and you're done.  Super simple, but effective way to teach kids about gratitude and giving.
**You may also want to consider the book Where Children Sleep as a resource when teaching your children about gratitude for the lives they lead.  It's a powerful compilation of children's rooms throughout the world.  Some are heartbreaking, many will give your kids a new perspective.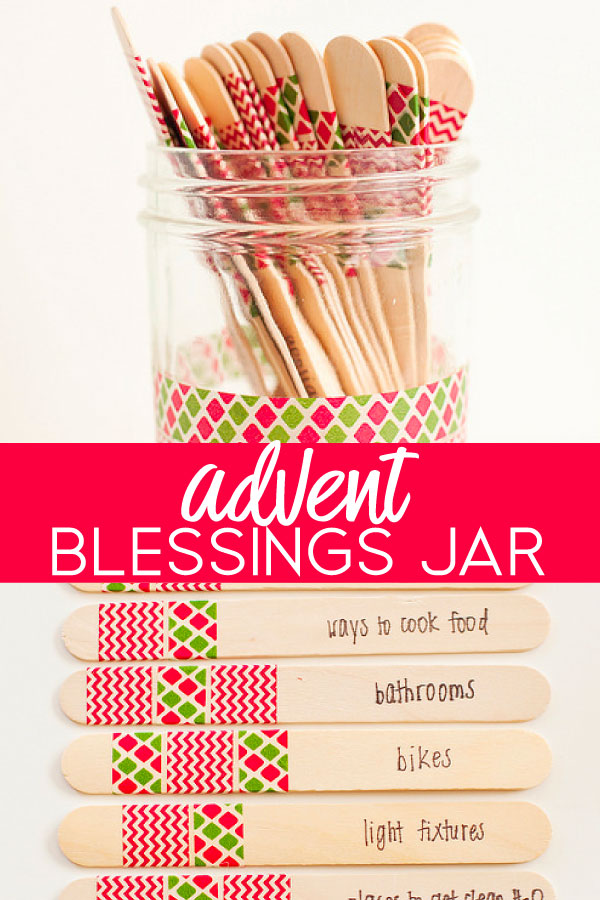 Other Meaningful Christmas Ideas
If you like this Advent idea, you're going to love these other meaningful Christmas ideas. Please click each link below to find the information: