Throwing a birthday party for teens can be tricky and stressful. Get some birthday party ideas for teens including details for this awesome Amazing Race Party!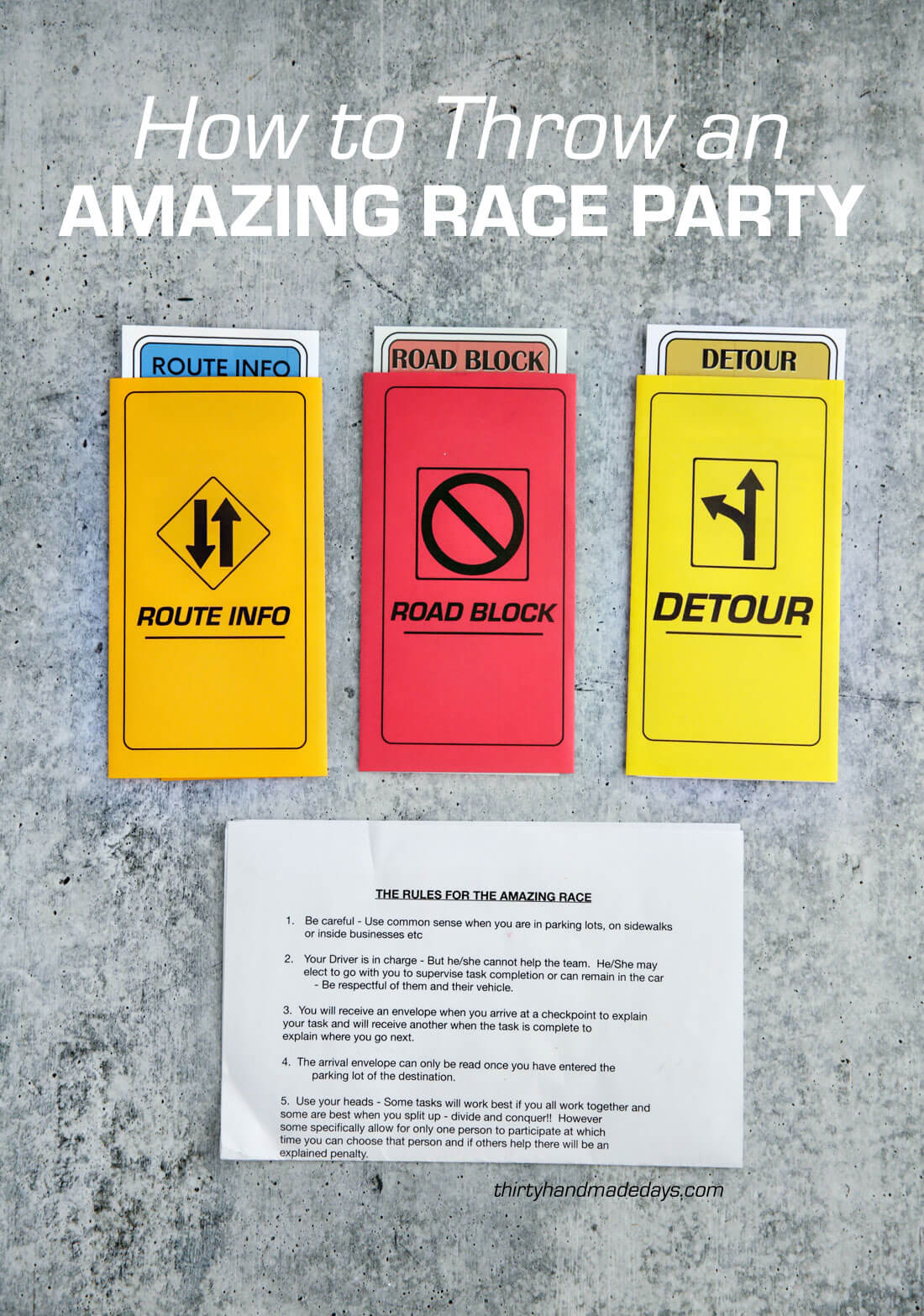 Birthdays in our family alternate a "friend party" and the following year a low key "family party." This year for youngest's 13th birthday it was his turn for a friend party. He went back and forth with different 13th birthday party ideas before deciding on an Amazing Race party. It was perfect for his group of competitive friends.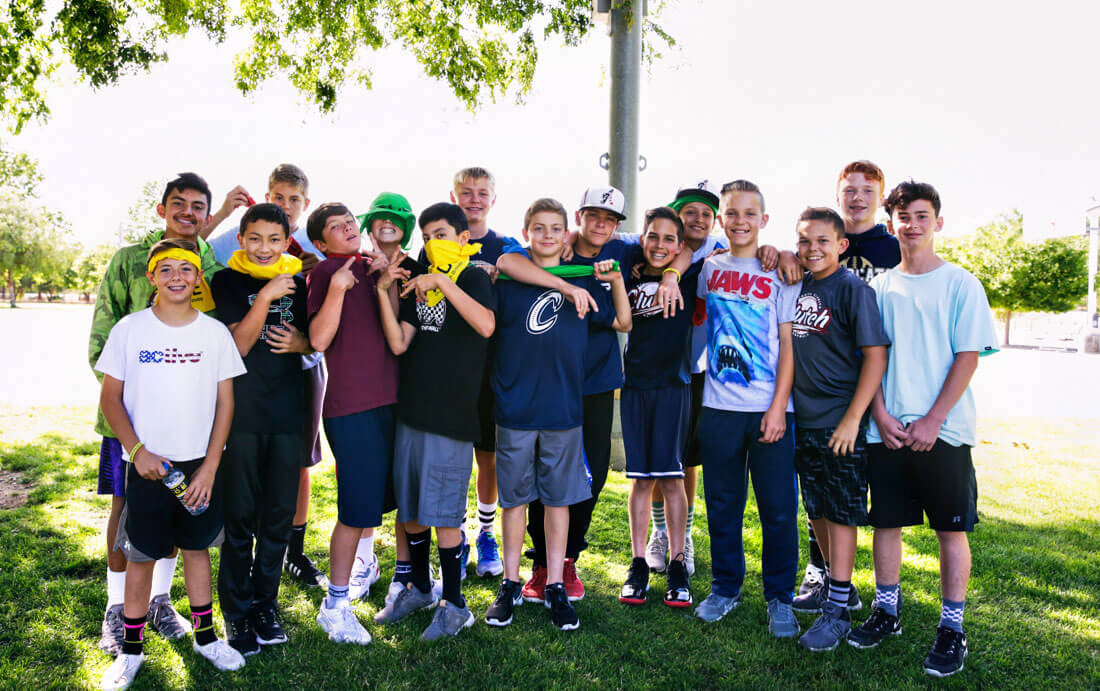 Birthday Party Ideas for Teens
The key to having a successful Amazing Race party is organization. The little details definitely add up, but if you are organized and have a plan, a party like this will be remembered forever! I'm going to show you, step by step, just how to put it all together. Do one thing at a time until you have everything ready to go. Let's do this! If you're interested in throwing this kind of party, you'll want to get the printables:

Party Supplies
There are tons of things you could use for this party, but I've gathered a list that include the necessities. For this party, you need:
Printables that are editable to fill in custom information for your party
Envelope mailers – I used this pack and created my own envelopes or you can buy Amazing Race ones but they are expensive.
Yellow envelopes could also be used.
Cardstock to print out all of the clues, etc
Red, yellow, orange paper for sleeves for route info, road blocks and detours
Buckets for all of the envelopes – optional but helped keep everything together
Bandanas – optional as well but made it fun! I got 4 yellow, 4 red, 4 green at Hobby Lobby and then 4 blue at Michaels.
Bakery boxes – makes it super easy to transport race snacks
Favors – after asking on Instagram, the overwhelming response was that 13 year old boys like food. (see what we did below)
Medals – went to our local awards and trophy shop to get medals made for the first place finishers. They turned out awesome!!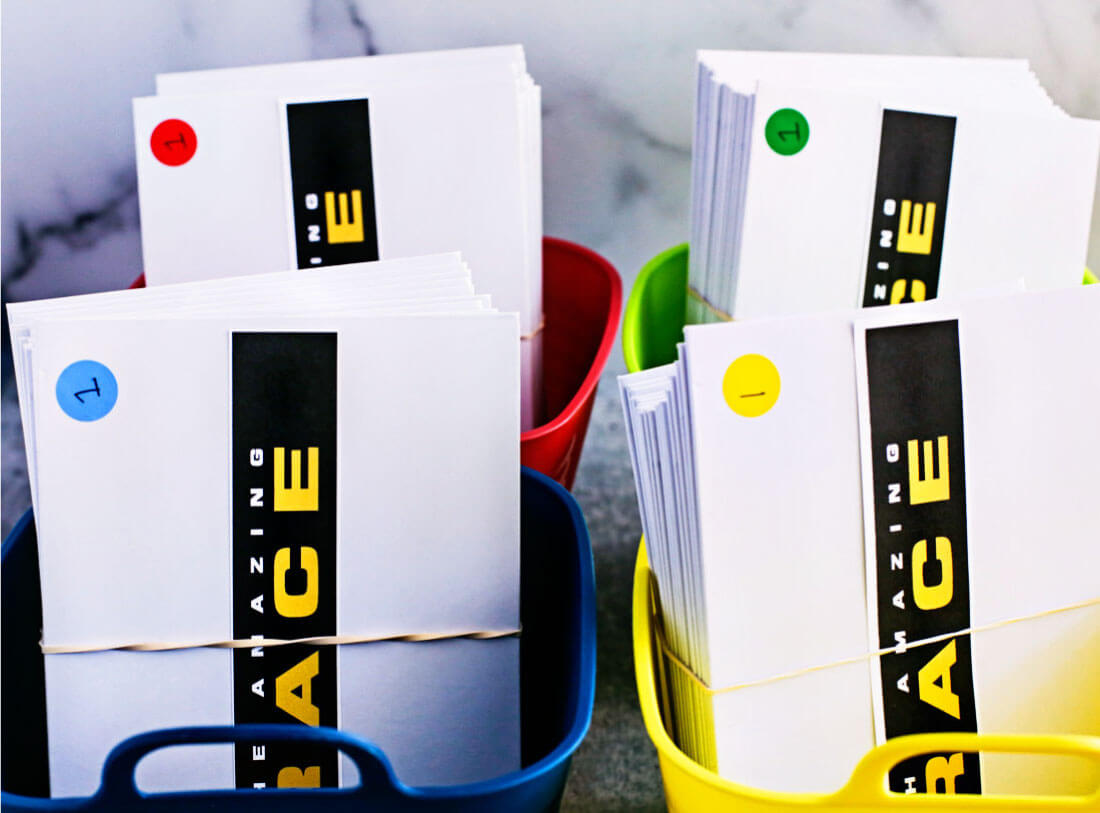 Setting up the Stops
Because I've made the printables available, setting up the stops will take the most work for this party. Figure out what would work best in your area but to give some ideas, this is what we ended up with:
The park: they did 3 different activities at the park – whiffle ball, basketball and frisbee golf
At each stop they had a list of things they had to do before they could move on.
A bookstore: a detour was given here. They could solve a riddle that was created by Josh and me in 3 tries or less. If they didn't get it, they had to go into the bookstore and answer a bunch of questions on a paper about different books in the store.
Poke place: one player had to eat the spiciest bowl in the restaurant
This ended up being the hardest challenge and the birthday boy wasn't super happy about it!
The mall: another detour – they could choose between having 5 strangers text Happy Birthday to Drew OR take a quarter and turn it into a penny with his birth year on it.
Rock climbing place: all boys had to climb up the rock wall two times before getting their next clue
Walmart (this could be Target, a grocery store, etc): there were 3 things they had to do that related to Drew –
Take a picture next of something from his favorite baseball team, take a picture of the cereal he craves, and take a picture by a big enough tv for the team to play FortNite on
Post office: at this stop they had to find the mailboxes for things that represent Drew too – his football number, his baseball number and his birthdate (0517)
Ended back at the park to cross the finish line. This is where we had dinner and treats too.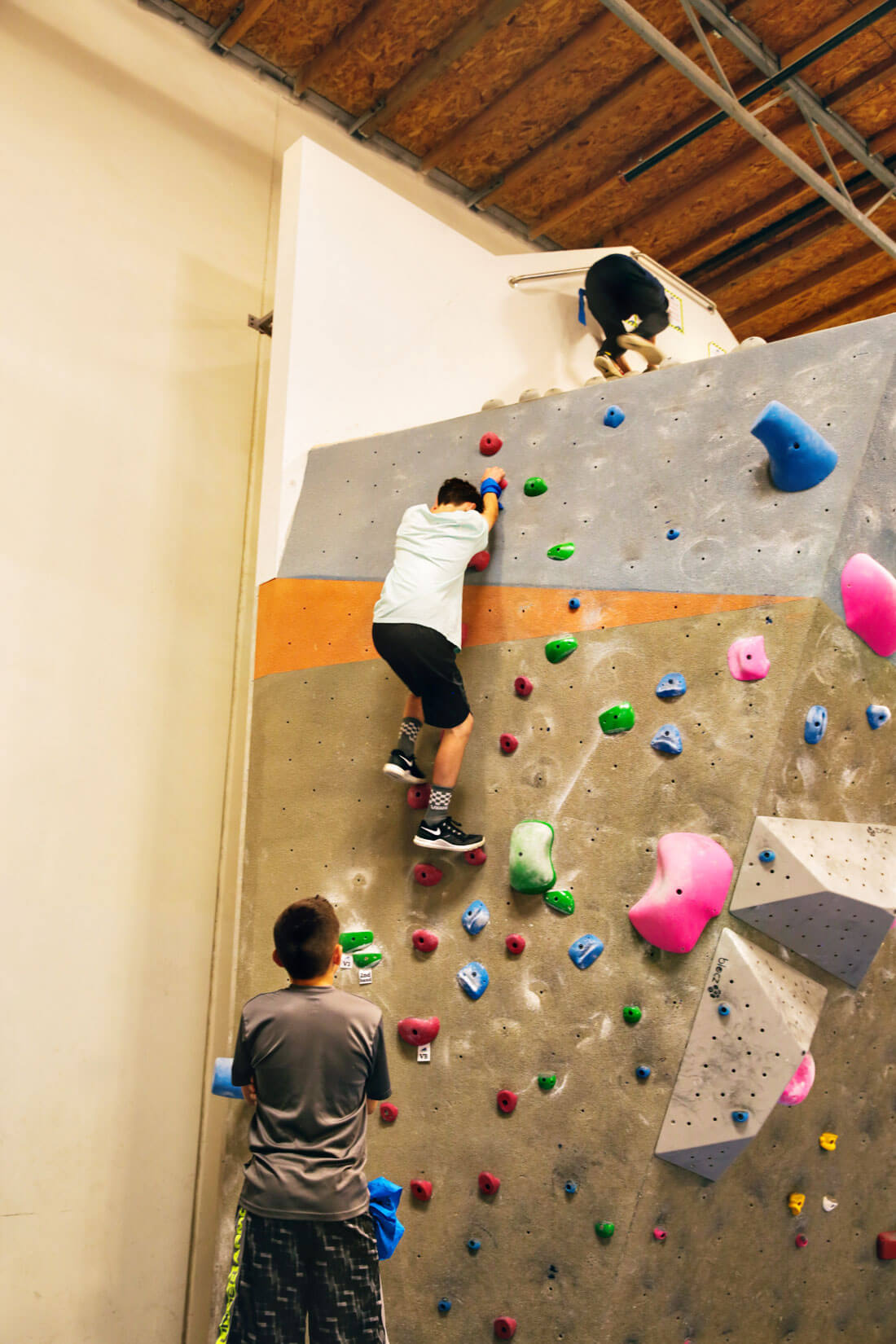 Places were chosen because they were all relatively close to each other and we could have the boys do challenges at each spot. No matter what you do or where you go, call ahead or go to the places before the big day to make sure that they will all work. We had originally chosen to do something at a bowling alley but they just weren't willing to work with us. Both the poke place and the rock climbing place got really into it and were great to work with.
At basketball the boys had to make a lay up, mid range, free throw and one team member had to make a half court shot.
Keep in mind: you'll want to vary the order in which the teams go to which place. Use Waze or Google Maps to calculate how long each drive should take to get from point A to point B for the entire race to make it even.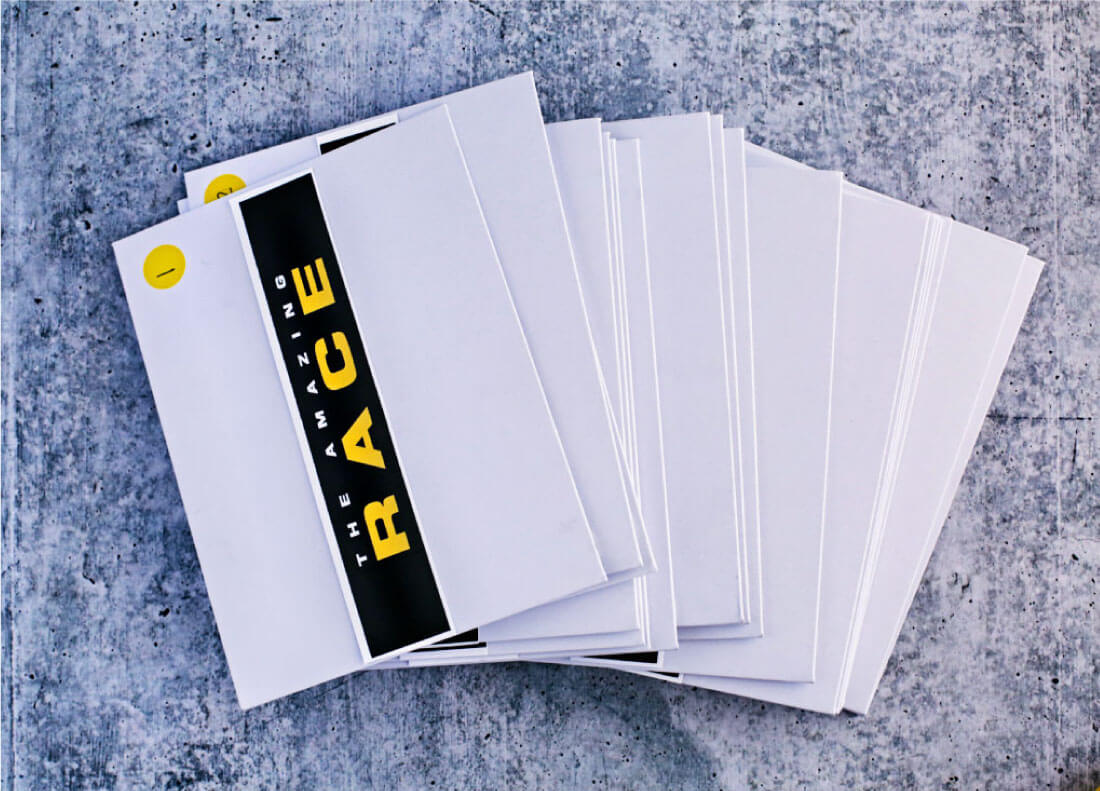 Our four teams each had a color. After figuring out all of the stops, creating the clues, we stuffed envelopes and added a sticker dot with the coordinating color in numerical order. There were 19 envelopes per team. 1 envelope for the route info, 1 envelope for the detour or road block (odds were routes, evens were what they had to do once they got there).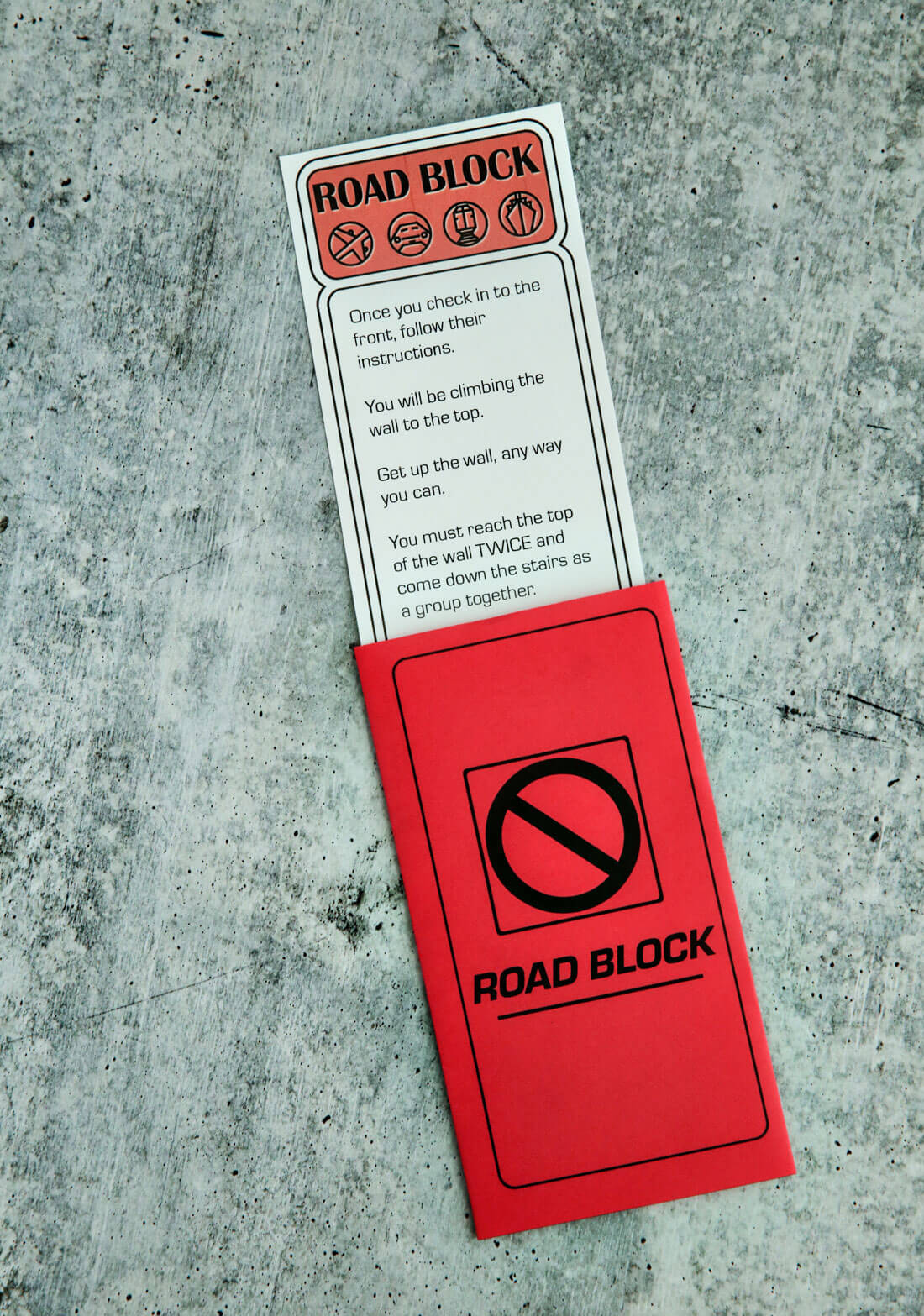 Drivers for the Party
Depending on the number of kids invited to the party, ask friends and family to be drivers for the race. We had 16 players all together, so it made it 4 teams of 4 with 4 drivers. Things that make the drive smoother:
Bucket for the envelopes: not 100% necessary but makes it easy to keep everything together. We also included a pen in the bucket.
Master list: we created a master list with the name and address of each stop for the driver (included in the printables packet)
This really helps them to be able to figure out what is coming next. But make sure to talk about not letting anyone see that master list.
Race snacks: make sure to have some kind of snack and water on hand because it's a physical party
Before the race starts
Once you arrive at the start of the race with all of the players, here are some suggestions:
Have your drivers meet a little bit early to go over everything with them. Give them the buckets with all of the info, let them know about the snacks, show them the master list, etc. This is a good time for questions or concerns.
Once the kids arrive, take a group picture before the race begins.
Go over all of the race rules with the kids (included in the printables pack). They need to know expectations and how the game works.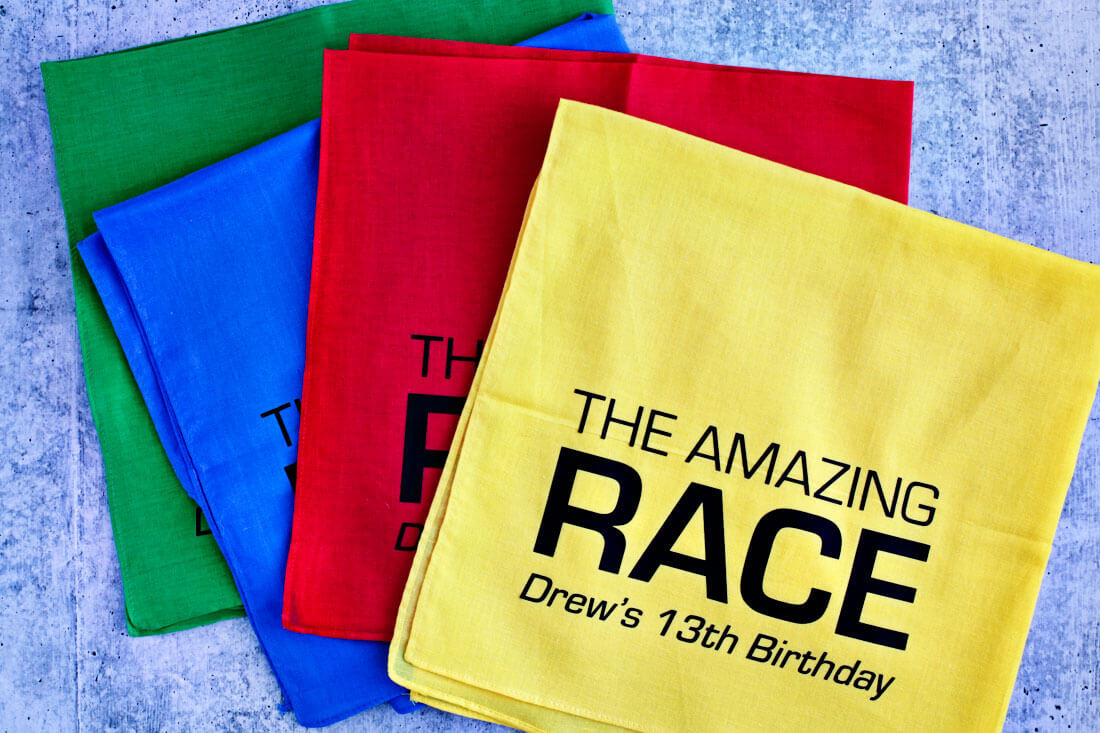 To make these bandanas, I used my Cricut machine and Easy Press 2. I included a generic design in the printables pack that can be imported.
Party Food
We knew they would need some snacks and water for the road. I made some of our favorite chocolate chip cookies and snickerdoodles ahead of time and sent each car off with a box.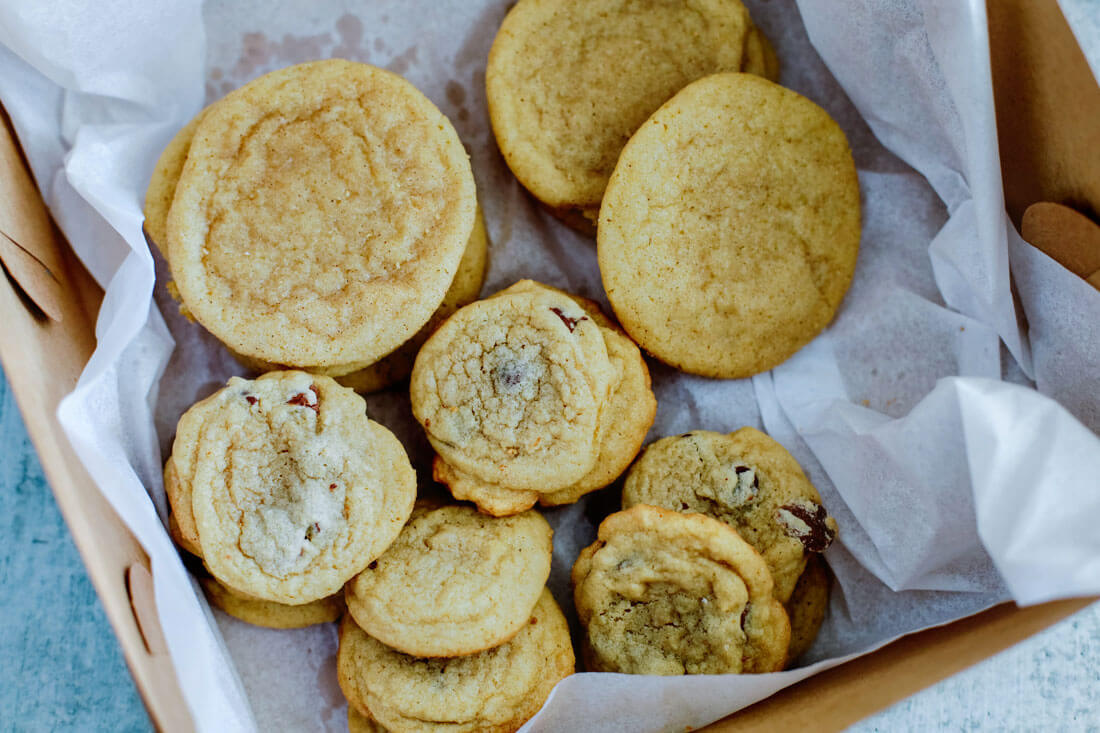 We thought of several different ideas but decided on In 'N Out Burger for dinner. Before the boys took off on the race, they gave an order for a hamburger/cheeseburger. We also provided Gatorades and chips.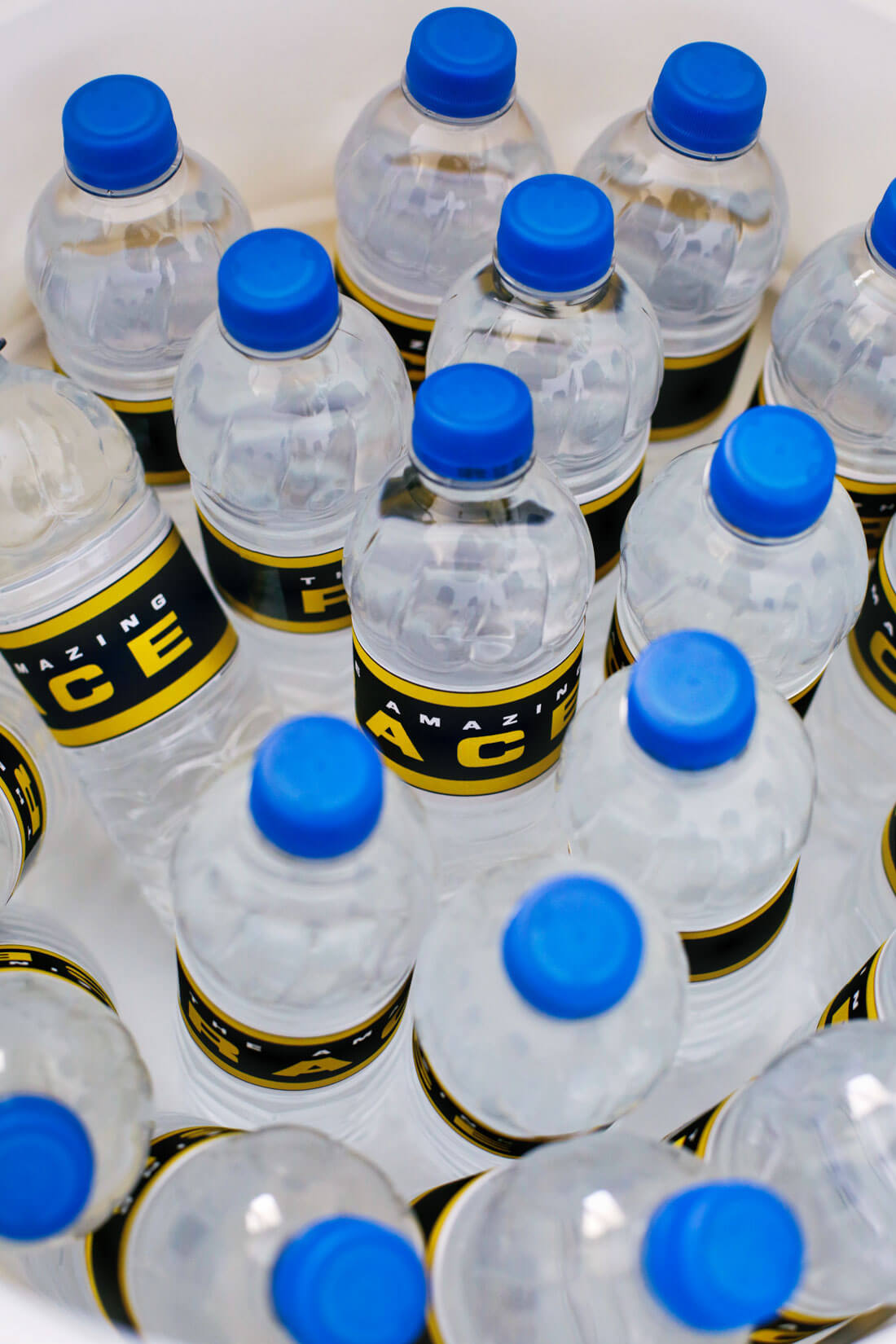 Whatever you do, make sure there is lots of water. Because the boys were running around, they were thirsty and we could've used more water bottles.
Party Favors for Amazing Race
As mentioned, when I asked for suggestions for party favors, 99% of people suggested FOOD. I discussed what to get with Drew and ended up with full candy bars, a box of Swedish Fish or Sour Patch Kids and a bag of sunflower seeds. In all of the commotion of everyone leaving, I forgot to hand them out until some had already left (!!).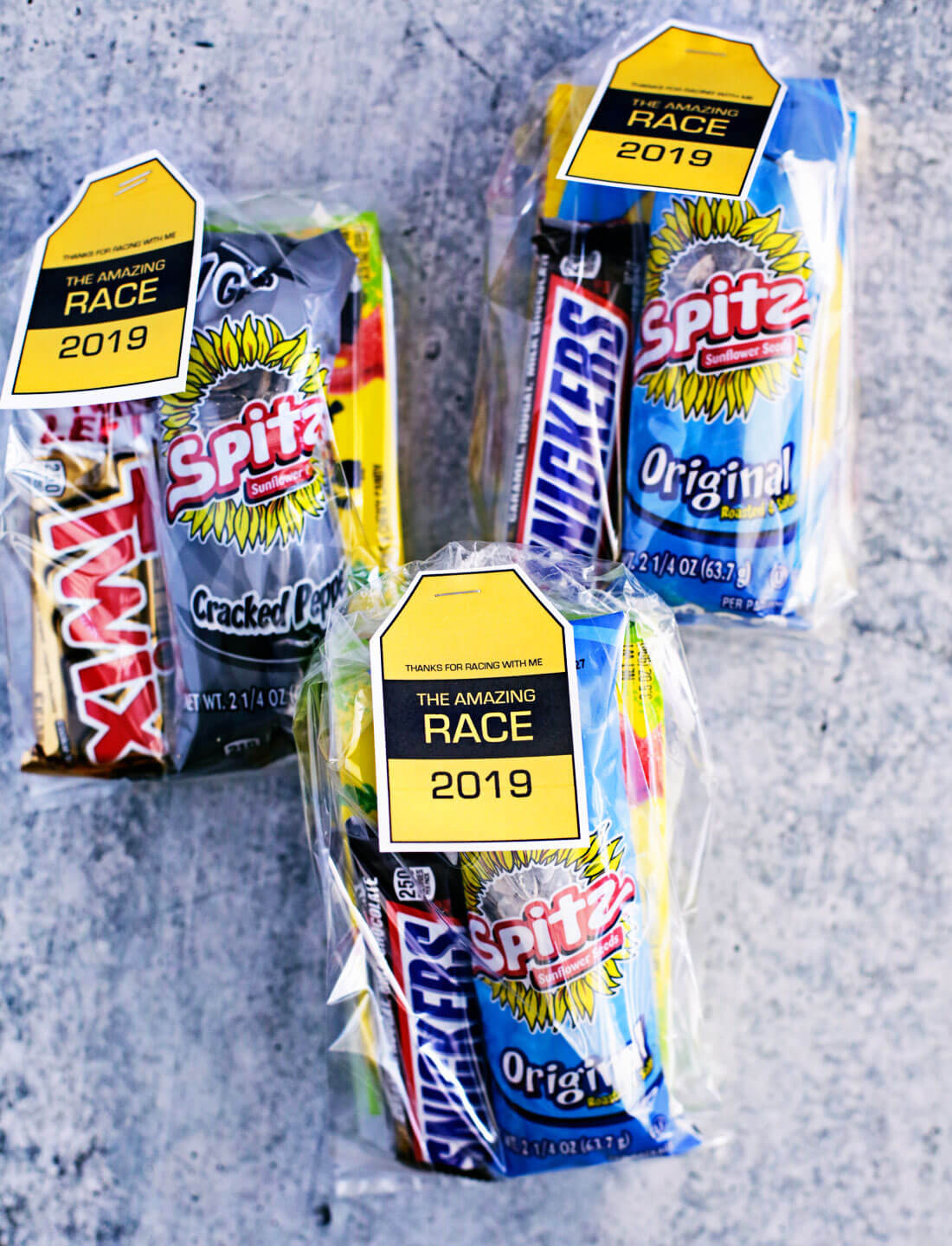 These were easily put together with clear cellophane bags from Target, favor tags included in the printables pack and attached with a staple. Done and done!
Teen Birthday Party Ideas
When I asked for party suggestions on Instagram, I got some great suggestions. Here's a list of teen birthday ideas that would be good for boys (and some girls):
Nerf Gun Battle
Flag Football Game
Skate Park
Ultimate Frisbee
Climbing Gym
Trampoline Park
Ax Throwing
American Ninja Warrior
Sports Tournament – Olympic Style
Minute to Win It
Backyard Movie Night
Top Golf
Other Party Ideas
If you liked this post, check out these posts too:
Of all of the teen birthday party ideas, I'm glad that Drew picked the Amazing Race. Even with all of the work, planning, and stress… it was well worth it!