Try this Baked Spaghetti Pie with a kick to it! You won't want to each spaghetti any other way.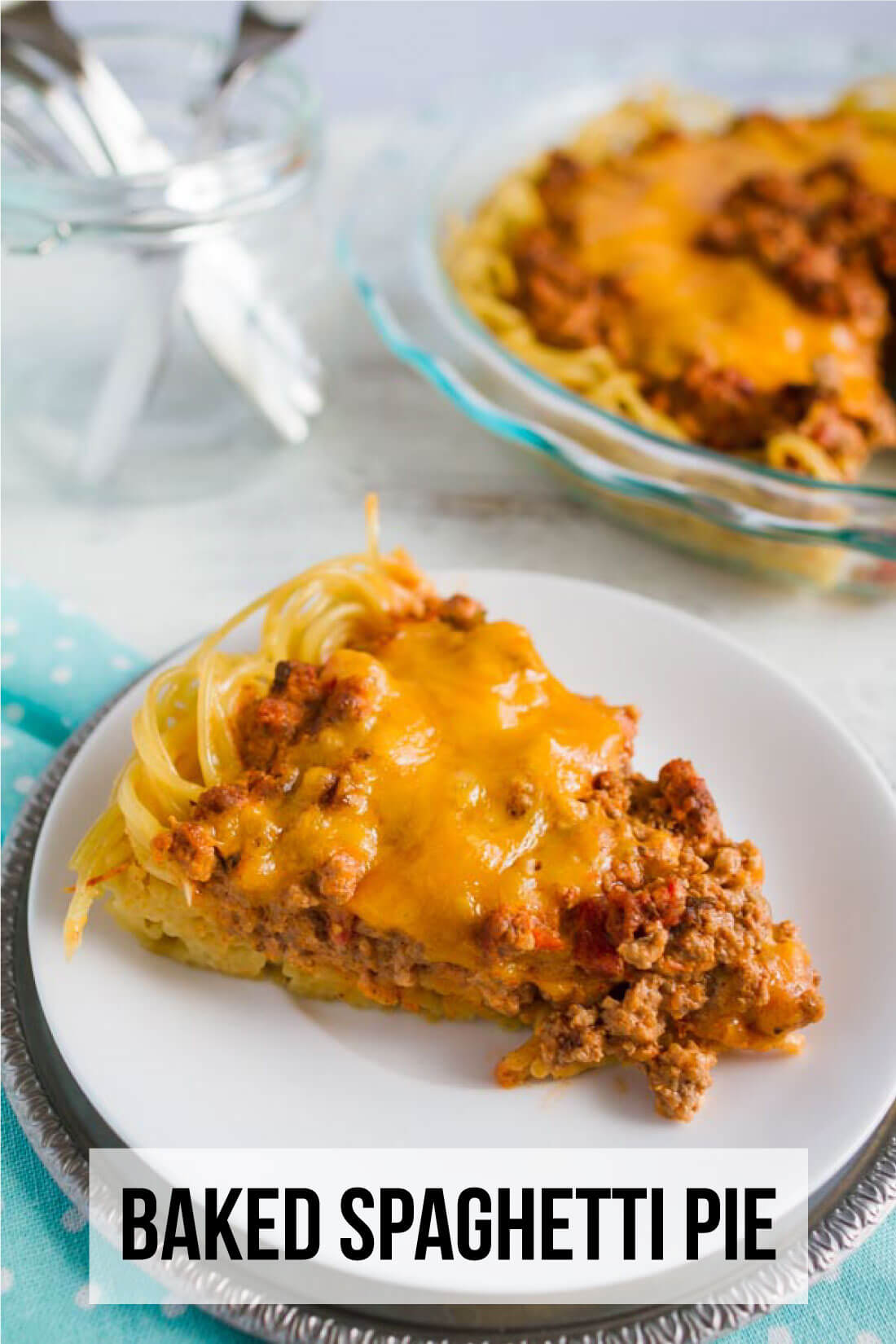 You might know my love for baked spaghetti already.  It's definitely the way that I prefer to eat my spaghetti.  This baked spaghetti recipe has a little kick to it.  More of a Mexican take on spaghetti… if that's at all possible.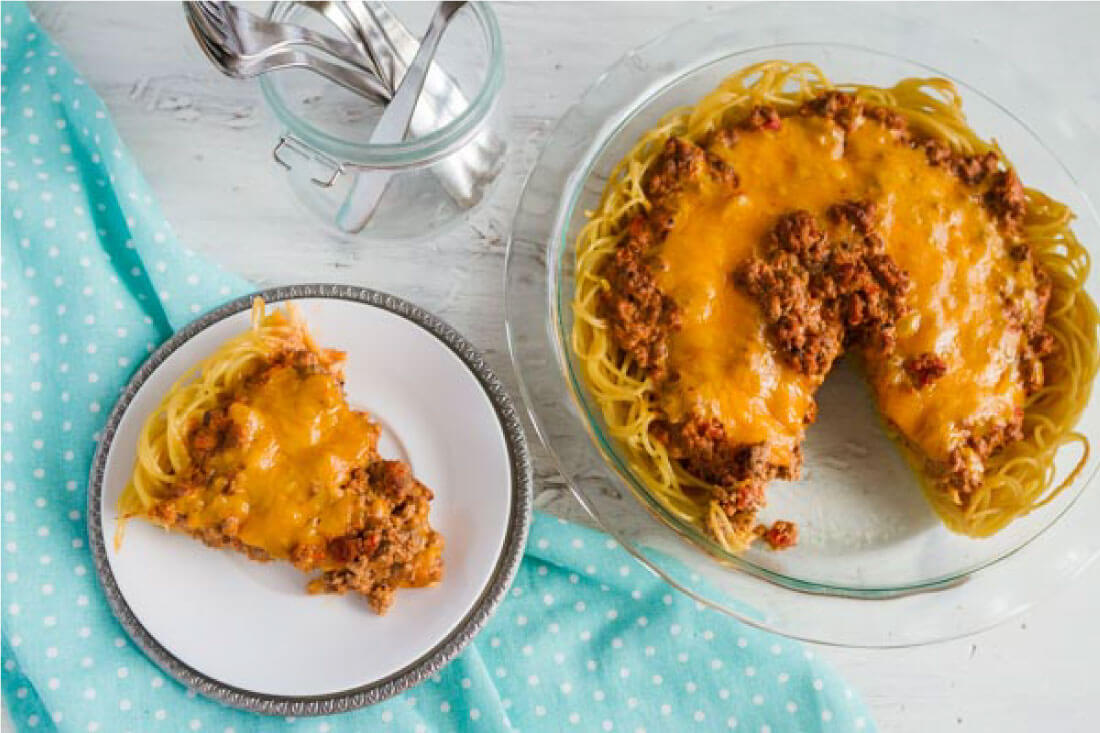 The best thing about a recipe like this is that it doesn't take much time and everyone loves it.  There's no complaining from the kids and everyone is full and happy.  And really, there's not much more that I can ask for after dinner.  Except maybe help with the dishes.

Baked Spaghetti Pie
Ingredients
7 ounces spaghetti, uncooked
1 egg
1 teaspoon salt
1¼ teaspoon garlic powder
1⅓ cup cheddar, shredded
1 pound lean ground beef
½ teaspoon ground cumin
10 ounces spaghetti sauce
¾ cup sour cream"
Instructions
Preheat oven to 350°F.
Cook pasta according to package directions and drain.
Whisk together egg, half the salt, ¼ tsp. garlic powder and ⅓ cup cheese.
Add pasta and toss. Arrange in 9 inch pie dish, pressing to form shell.
Heat large skillet over medium heat until hot.
Add ground beef and brown 4-5 minutes, breaking up into ¾ inch crumbles.
Pour off drippings.
Season with remaining salt and remaining garlic powder.
Add cumin and stir in tomatoes (I used spaghetti sauce here).
Bring to a boil and cook 3-5 minutes or until liquid is almost evaporated, stirring occasionally.
Reserve 2 Tbs. beef mixture for garnish.
Stir sour cream into remaining beef and spoon into pasta shell.
Place remaining cheese in center, leaving 2 inch border around edge.
Spoon reserved beef mixture onto center of cheese and bake 15 minutes or until heated through.
Add a simple garden salad and some garlic bread and you're good to go!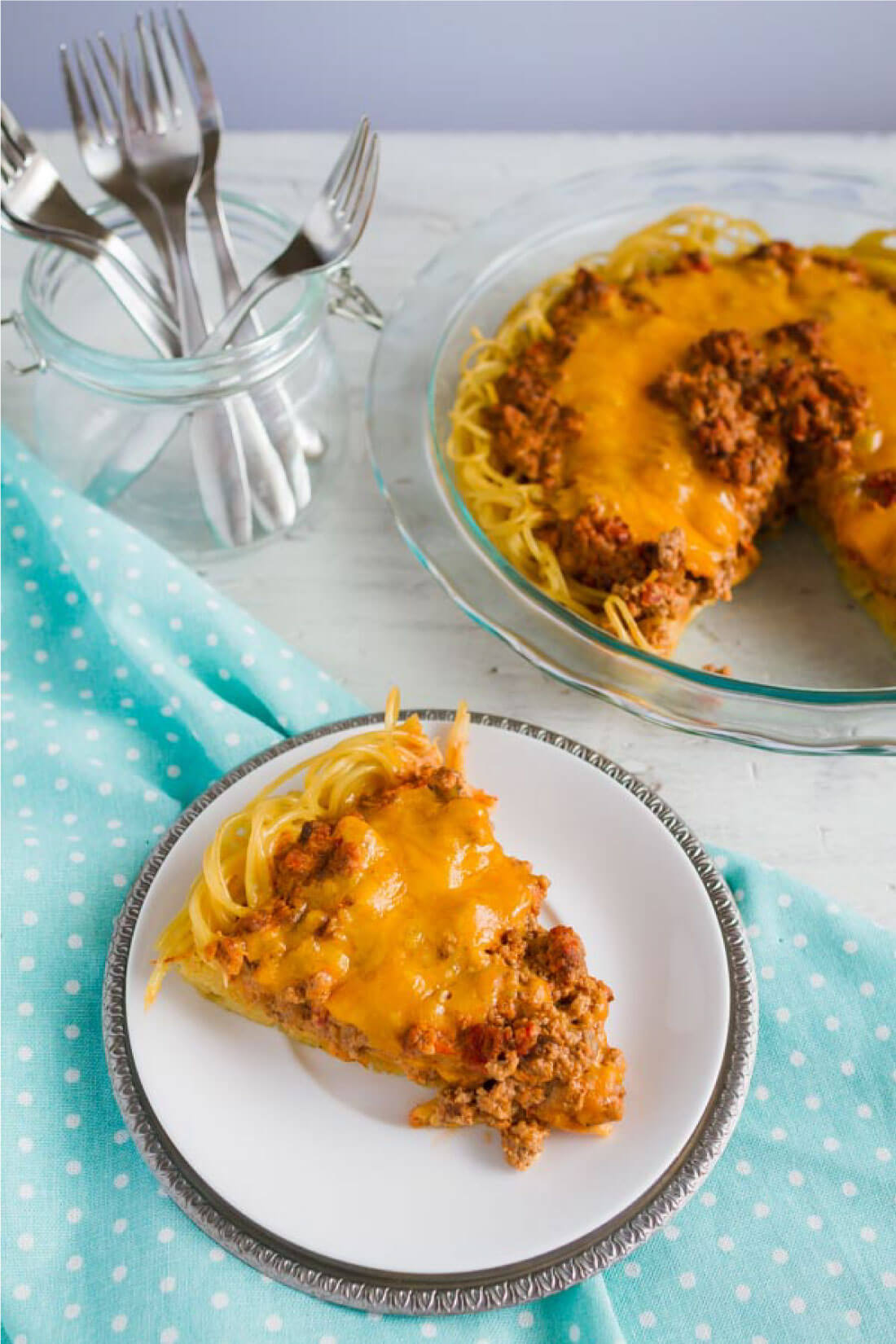 Food photography and styling courtesy of My Name is Snickerdoodle.
If you like this recipe, you'll like these too: