Looking for something simple and fresh to make for a side dish? This Baked Zucchini is perfect! You only need a couple of ingredients.

Baked Zucchini
When I was a kid I hated zucchini.  It was right up there with cauliflower.  Blech.  At some point I learned to love it and now it's my favorite side dish to serve with meals.  Luckily my kids really like zucchini and don't mind one bit when I serve it up.
There are lots of ways to make zucchini but for this version, we're going to bake it.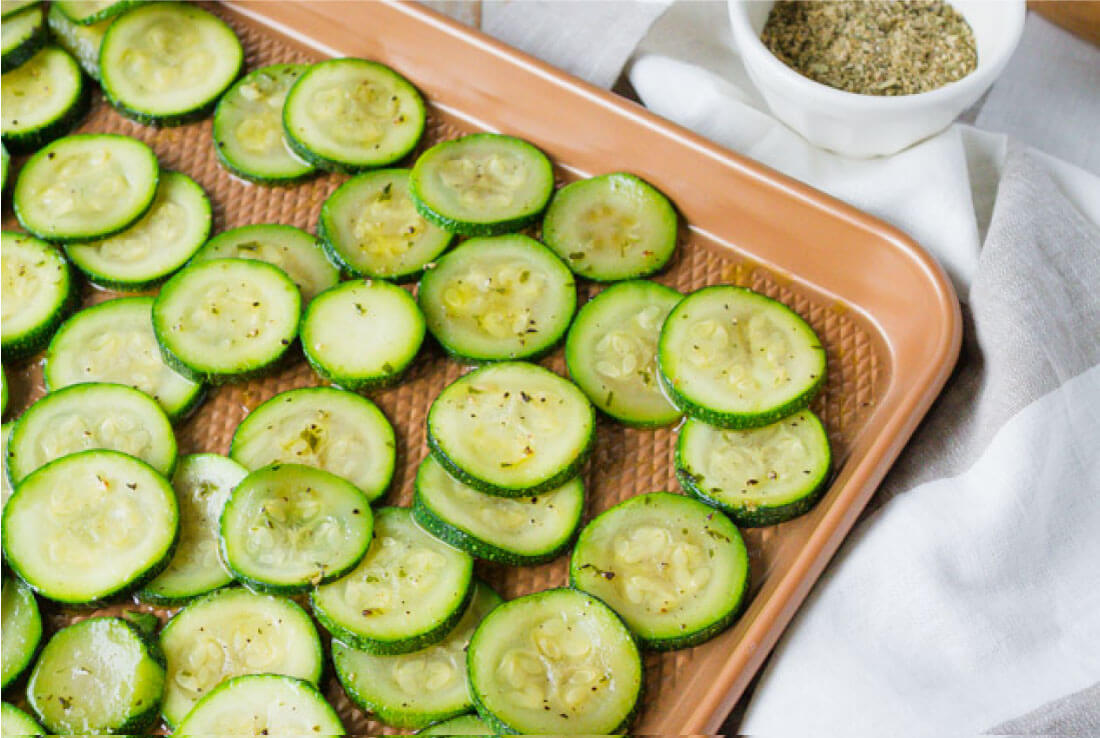 How to Cook Zucchini
You can roast, bake, grill, and add zucchini to all kinds of dishes in different ways. Another favorite way to make zucchini is in my air fryer.  Oh how I love my air fryer!  Use this air fryer cheat sheet for all kinds of vegetables, including zucchini.
To start, you'll want to find a firm and smooth zucchini.
Don't get too big of one because it could mean that it's bland.  Go for a nice medium sized vegetable.   Keep in mind that some recipes will call for you to peel the zucchini but it's safe to eat and doesn't change the flavor at all.
Before you do any kind of cooking, make sure to rinse off the zucchini and wipe it dry.
Recipes will give you cooking/baking/grilling times but keep in mind that the zucchini will be done based on the size of the pieces.  If you cut large pieces and bake it, it will take longer to cook all the way through.  If you cut smaller pieces, it will bake a lot quicker.
While this recipe calls for garlic salt, I really really love Flavor God seasonings.  My favorites are – Everything and Garlic Lovers.
Zucchini Recipes

There are so many great zucchini recipes to make! You can make it the star of the meal, or more of a supporting role.  Here are a few of our favorites:
And this post is great for all kinds of vegetables:  Easy Roasted Vegetables
Baked Zucchini Recipe
If you love this Baked Zucchini Recipe as much as I do, please write a five star review, and be sure to help me share on Facebook and Pinterest!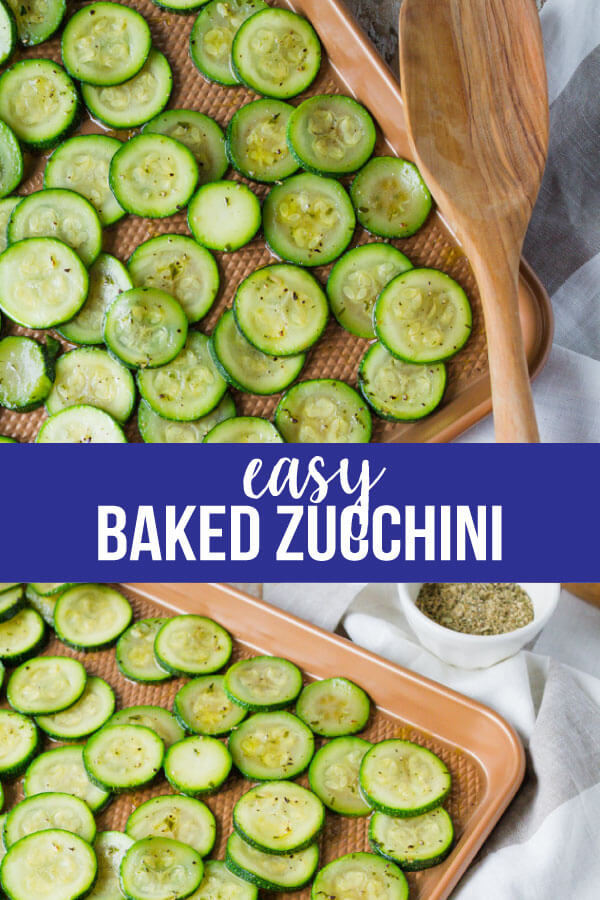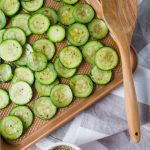 Baked Zucchini
Looking for something simple and fresh to make for a side dish? This Baked Zucchini is perfect! You only need a couple of ingredients.
Ingredients
2

zucchini

medium

1

TBSP

olive oil

1/2

tsp

garlic salt

I love using Flavor Gods

pepper

to taste
Instructions
Preheat oven to 425 degrees.


Slice zucchini into thin rounds, approximately 1/8".

In a bowl, sprinkle zucchini with olive oil and seasonings.

Spread out evenly on a foil lined baking sheet.

Bake for 8-10 minutes, turning half way through.
Recipe Notes
Baking time depends on how thinly you slice your zucchini - it is done when it starts to brown.
Nutrition Facts
Baked Zucchini
Amount Per Serving
Calories 47
Calories from Fat 27
% Daily Value*
Total Fat 3g 5%
Cholesterol 0mg 0%
Sodium 298mg 12%
Potassium 255mg 7%
Total Carbohydrates 3g 1%
Protein 1g 2%
* Percent Daily Values are based on a 2000 calorie diet.