Buckle in, it's going to be a long one.  But if you make it to the end, it'll be worth it.  Promise!!
I'm an all or nothing kind of girl.  I always have been.  That has it's advantages for sure but can also be a bad thing.  When I make up my mind on something I push myself until I get it done.  I like proving people wrong.  When I was given the opportunity to go to Fitness Ridge in St. George, Utah I knew I had to do it.  I knew that it would be way hard but that it was exactly what I needed to re-focus.
My week at Fitness Ridge was incredible.  I was pushed physically and emotionally to my limits.  We woke up before 6am to get a 2 hour hike in every morning, had 3-4 additional workout sessions, 3 meals, 2 lectures every day.  The schedule is set up *just right* – with food spread out, lectures to educate and inspire plus trainers that kicked our bums but encouraged us in the best possible way.  It felt like being away at camp and had the most amazing community feel.  It's the type of feeling that I strive for with running the Queen Bee Market.  In the beginning of the week I was amazed at how many people were returning guests but by the end of the week I completely understood why.
With my hiking group at Scout Cave.  Absolutely breathtaking. 
I actually learned to love hiking.  The beachy baseball mom who prefers to be indoors creating, learned to love hours of hiking and enjoying the beautiful surroundings.  I still can't believe they made a hiker out of me.
This is Emily from Favorite Family Recipes (love her!) and me at "Stop sign" – people at Fitness Ridge talk about it nonstop.  We both had injuries but wanted to make it to the top and we did on the last day.  It was awesome! 
One of the things that I've said over and over is that if I had a chef I would eat healthy easily.  And guess what?  At Fitness Ridge I did.  One of the things that I loved most was not having to think about food.  I sat down at every meal and was able to just eat.  No dishes to clean, to calories to count (because it was done for me), just enjoy.  For breakfast we had options every morning.  I tried most of them and liked them all.  For lunch and dinner it was pretty much set but you could ask for a substitution if you needed another option.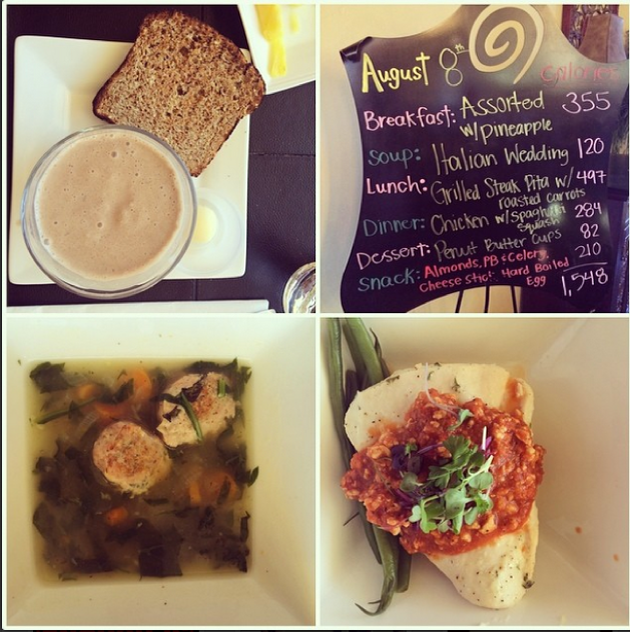 This is a sample of what we ate each day with the menu board and a break down of calories.
While I was there I learned a ton.  Their classes were outstanding.  I left each of them grateful for the information (and for the break from working out) and feeling inspired.   There were classes on planning, nutrition, emotions, and inspirational lectures.  I loved all of them.
Hyrum Smith taught about planning – yes, yes and yes.  He was motivational and has had so much experience in his life.   Sione Fa gave a few lectures on planning and inspiration – he is even cooler than he seemed on Season 7 of the Biggest Loser.  He's a trainer and was the funniest to work out with – kept us laughing the entire time and had fantastic music (I don't care what anyone else said Sione).  I got to meet his cute family and that was super fun too.  Jen, a life coach, talked about emotional eating and I loved it.  I got to meet one on one with her and not only is she funny but she is wise.
One of my favorites to listen to was Emily, the nutritionist – I was very intrigued by what she had to say and kind of hung on every word.  I think part of it is that I've never really taken the time to study nutrition.  I've spent my adult years on lots of different diets.  I'd lose weight then go back to eating "normal" (read here- not healthy and whatever I wanted).  Her classes changed my viewpoint and made me feel like I could eat healthy for the long term, not just until I got to my goal weight.  A few things that will always stick out to me:
a proper balanced plate consists of half vegetables (and some fruit), 1/4 whole grains, 1/4 lean protein
the importance of nutrient dense food
we need to use smaller, salad plates  – our portion sizes are way out of control – so I am now serving dinner on salad plates (pictured below)
potatoes get a bad wrap!
(which I LOVED hearing because I adore roasted red potatoes)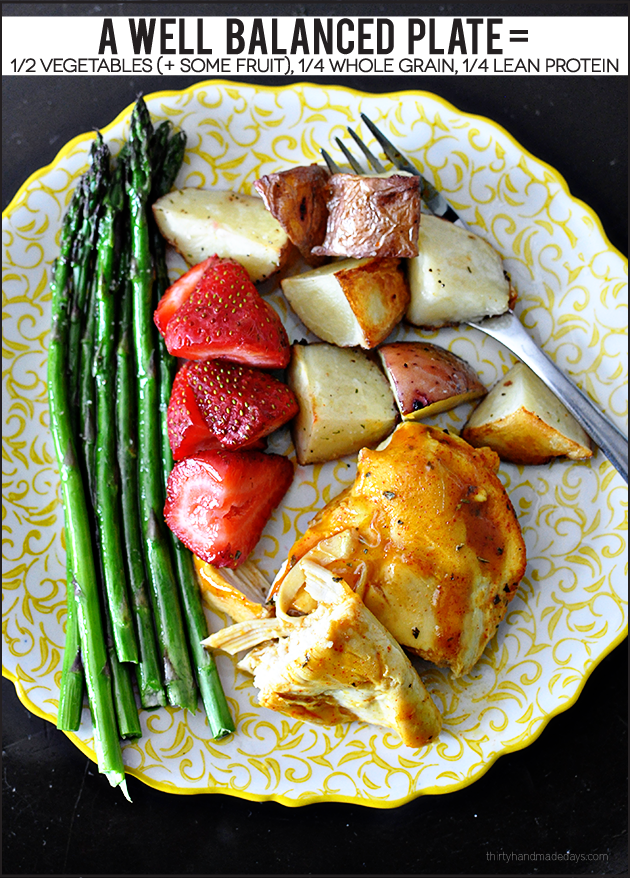 Note: I'm not trying to stir anything up.  I've heard so many ideas about what is healthy/what is not.  Lots of detoxes out there, lots of fads, all of kinds of diets.  But when I sat in class listening at FR, it just made sense.  And it seemed very doable in the long term.  This well balanced plate is what I will be striving for when I make food for my family from here on out.
My family hasn't ever been huge vegetable fans but we are turning that around.  I've learned some yummier ways to roast vegetables and they are all over them.  Drew (8 yrs old) recently said "MOM! I love this food – it's healthy and delicious!"  That is a big win in my book.

Here's how you can take 2 ingredients and add a vegetable to make amazing roasted vegetables with every meal!
Easy Roasted Vegetables
Ingredients
vegetables of your choice
olive oil
kosher salt
pepper
- garlic salt can be substituted for kosher salt
Instructions
Preheat oven to 400.
Wash, cut, prepare vegetable and arrange on baking sheet.
Drizzle olive oil over prepared vegetable.
Sprinkle with kosher salt and pepper.
Roll vegetable in oil, salt and pepper until well coated.
Bake for 15-20 minutes- at the halfway mark, flip and stir vegetables to ensure even roasting.
Red Potatoes- pretty much my all time favorite side dish.  If I could eat this for every meal, I would.
I chop mine up into quarters.
Zucchini -our new favorite way to eat zucchini.  Josh is sold on this.
My favorite way is to cut each zucchini in half, then in half again until you have zucchini "spears" – they get the perfect roast every time.
Asparagus -my favorite vegetable as an adult. I want to marry it.
Break the woody stems off and arrange on the baking sheet.
Cauliflower- one I hated as a kid but have grown to love.  If it's cooked right, it is divine.
Chop up a head of cauliflower and get your roast on.
NOTE: You can add other things to these vegetables to kick it up a notch but we are trying to keep it simple around here.  Suggestions- fresh garlic, rosemary, garlic salt, parmesan cheese.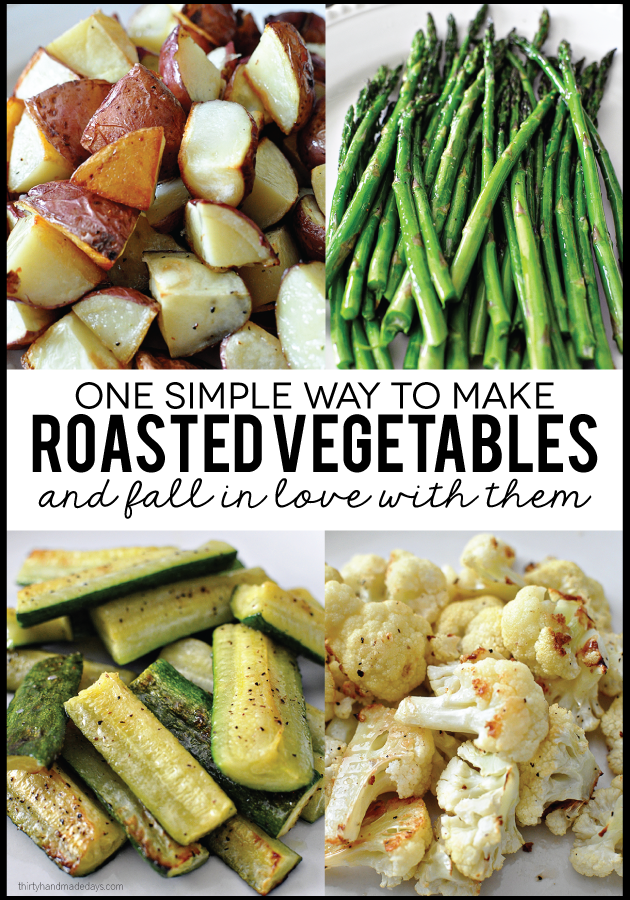 This way of roasting would work for pretty much most vegetables.  Prepping ahead of time is also a lifesaver.   Learn more about meal prep here.
By the end of my week at Fitness Ridge I had lost almost 4 lbs, lots of inches and gained new friends, information and confidence.  It wasn't just about losing weight for me (though I was hoping that would happen).  It was about finding myself again.   Mission accomplished.  People go there in all different shapes and sizes- there are people who are very fit and those that are on a mission to shed over a hundred pounds.  Thank you to Cam, Michelle and the entire staff at Fitness Ridge for helping me get back to me.
Meet my new best blogging friends and what they had to say about their week away too:
Disclosure:  Fitness Ridge provided me with a week at the ranch but did not require me to write this post.  No additional compensation was provided.  I appreciate the opportunity to share my experiences here.  All opinions are 1 million percent my own.