The easiest way to get some healthy greens into your systems and actually enjoy them – make these easy oven roasted vegetables!

Oven Roasted Vegetables
My family hasn't ever been huge vegetable fans (especially my husband – wah!) but we are turning that around.  I've learned some yummier ways to roast vegetables and they are all over them.  Drew recently said "MOM! I love this food – it's healthy and delicious!"  That is a big win in my book.  You only need to know a few simple things and you are good to go.  That's what I'm here to help you with.  Let's do this –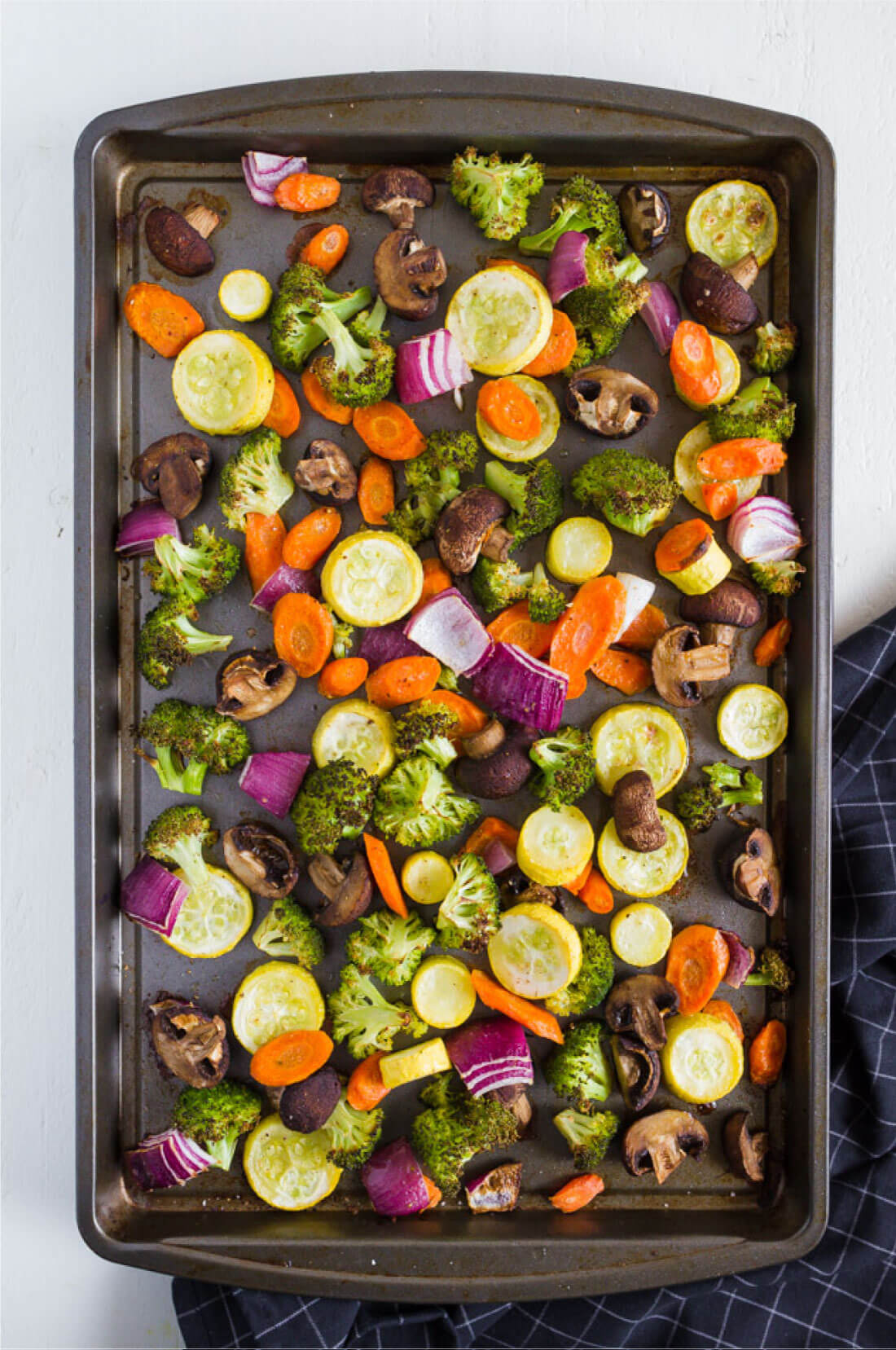 How to Roast Vegetables
This is one of those simple, must know ways of cooking vegetables.  Once you know how to do it, you will do it all of the time.  Trust me!  You can cook one vegetable at a time – like a sheet pan full of asparagus.  Or you can mix them all up, together.  It's your call!
Here are some notes on what we especially like to make:
Red Potatoes- pretty much my all time favorite side dish.  If I could eat this for every meal, I would.
I chop mine up into quarters.
Zucchini -our new favorite way to eat zucchini.  Josh is sold on this.
My favorite way is to cut each zucchini in half, then in half again until you have zucchini "spears" – they get the perfect roast every time.
Asparagus -my favorite vegetable as an adult. I want to marry it.
Break the woody stems off and arrange on the baking sheet.
Cauliflower- one I hated as a kid but have grown to love.  If it's cooked right, it is divine.
Chop up a head of cauliflower and get your roast on.
NOTE: You can add other things to these vegetables to kick it up a notch but we are trying to keep it simple around here.  Suggestions- fresh garlic, rosemary, garlic salt, parmesan cheese.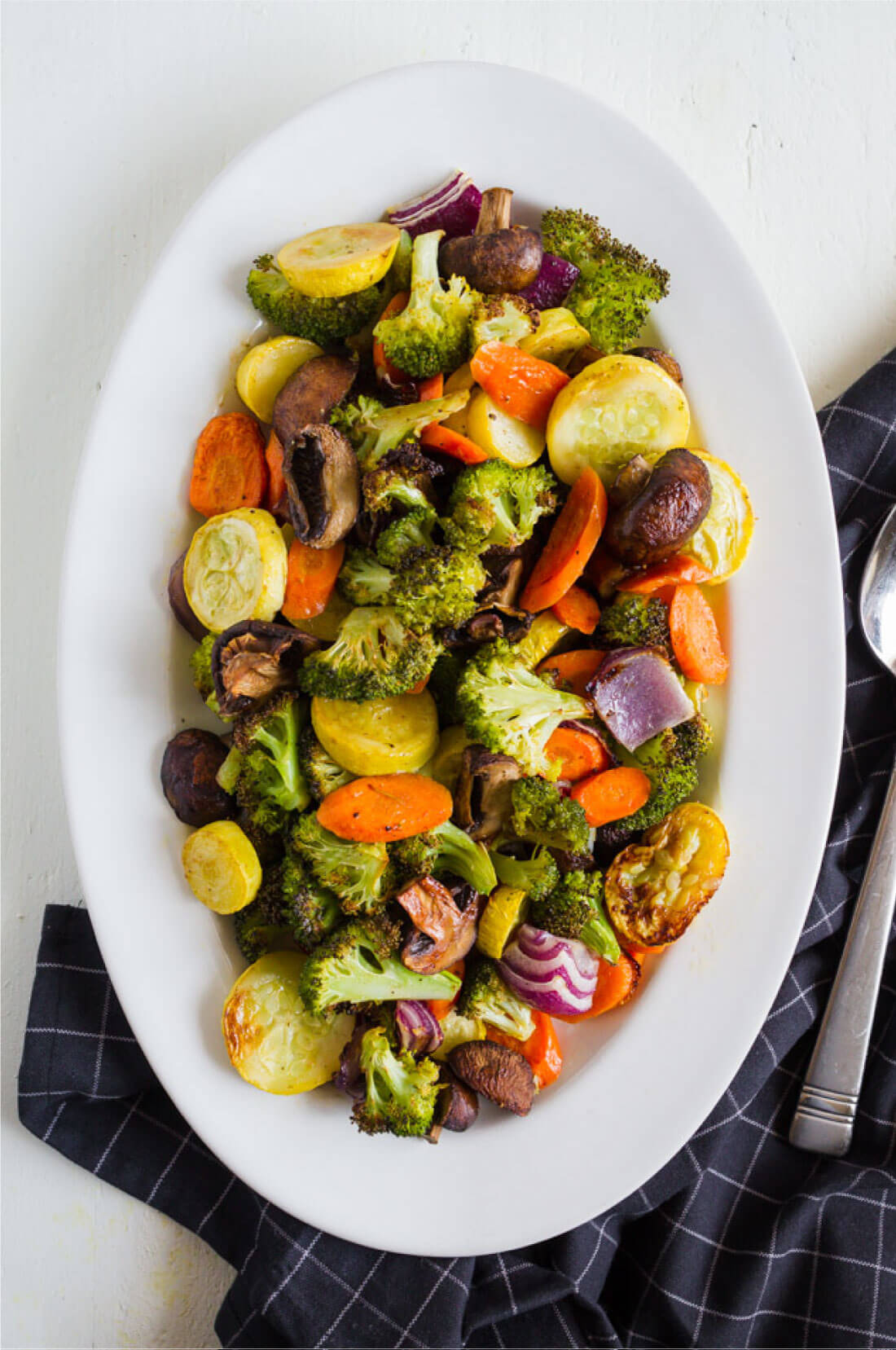 Other Vegetable Recipes
Love this easy Roasted Vegetables recipe?  You're going to love these other vegetable recipes. Please click each link below to find the easy, printable recipe!
Roasted Vegetables Recipe
If you love this Roasted Vegetables Recipe as much as I do, please write a five star review, and be sure to help me share on Facebook and Pinterest!
CONNECT WITH 30days! 
Be sure to follow me on my social media, so you never miss a post! Facebook, Pinterest, Instagram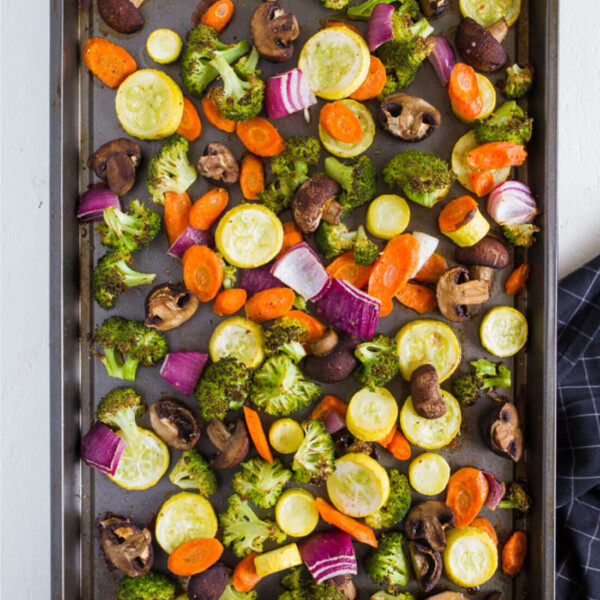 Print Recipe
Easy Roasted Vegetables
If you're looking for an easy and extremely delicious way to add more vegetables to your meals, you must try these Easy Roasted Vegetables - even my kids love them!
Ingredients
Vegetables of your choice

Olive oil

Kosher salt

garlic salt can be used instead

Pepper
Instructions
Preheat oven to 400.

Wash, cut, prepare vegetable and arrange on baking sheet.

Drizzle olive oil over prepared vegetable.

Sprinkle with kosher salt and pepper.

Roll vegetable in oil, salt and pepper until well coated.

Bake for 15-20 minutes - at the halfway mark, flip and stir vegetables to ensure even roasting.
Notes
Nutrition info will vary depending on amount and type of vegetable as well as amount of olive oil, salt and pepper.
While this is a loose recipe because there aren't measurements, here are some basic guidelines for a full sheet pan:
1-2 TBSP of olive oil
Kosher salt and pepper are awesome but I also love to add Garlic Salt or Flavor God Garlic Lovers Seasoning
I usually just sprinkle until it "looks good."
This way of roasting would work for pretty much most vegetables.  Prepping ahead of time is also a lifesaver.   Learn more about meal prep here.