This is one of those – don't knock it until you try it – recipes.  Zucchini Lasagna.  It tastes so great and is much healthier than a traditional lasagna.  You'll definitely want to add this to your healthy recipes list!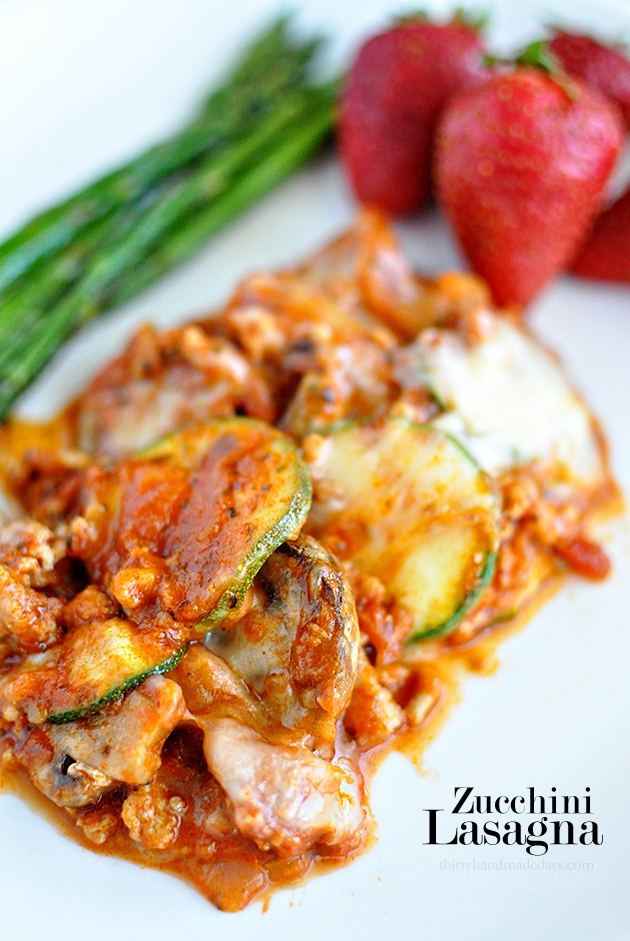 Earlier this year I made some changes with diet and exercise.  I was extremely dedicated for several months.  And then summer hit.  It all went downhill.  I still haven't had my beloved Dr. Pepper or Cherry Coke since I gave up soda in February.  It's a miracle!  But my exercise and eating habits had seriously gone downhill.  My sister asked me if I wanted to be a part of a challenge and I knew it was the kick in the pants I needed to get back on track.  One of my big hang ups with changing my diet is finding healthy recipes that my whole family will love.  It's not all about me. Anyone else have this issue? Please tell me I'm not alone.
When I started eating Paleo, I found a Zucchini Lasagna Recipe from Primal Palate.  Would my family really like it?  Is it possible to have lasagna without the actual noodles?  Guess what?  They ate it and loved it.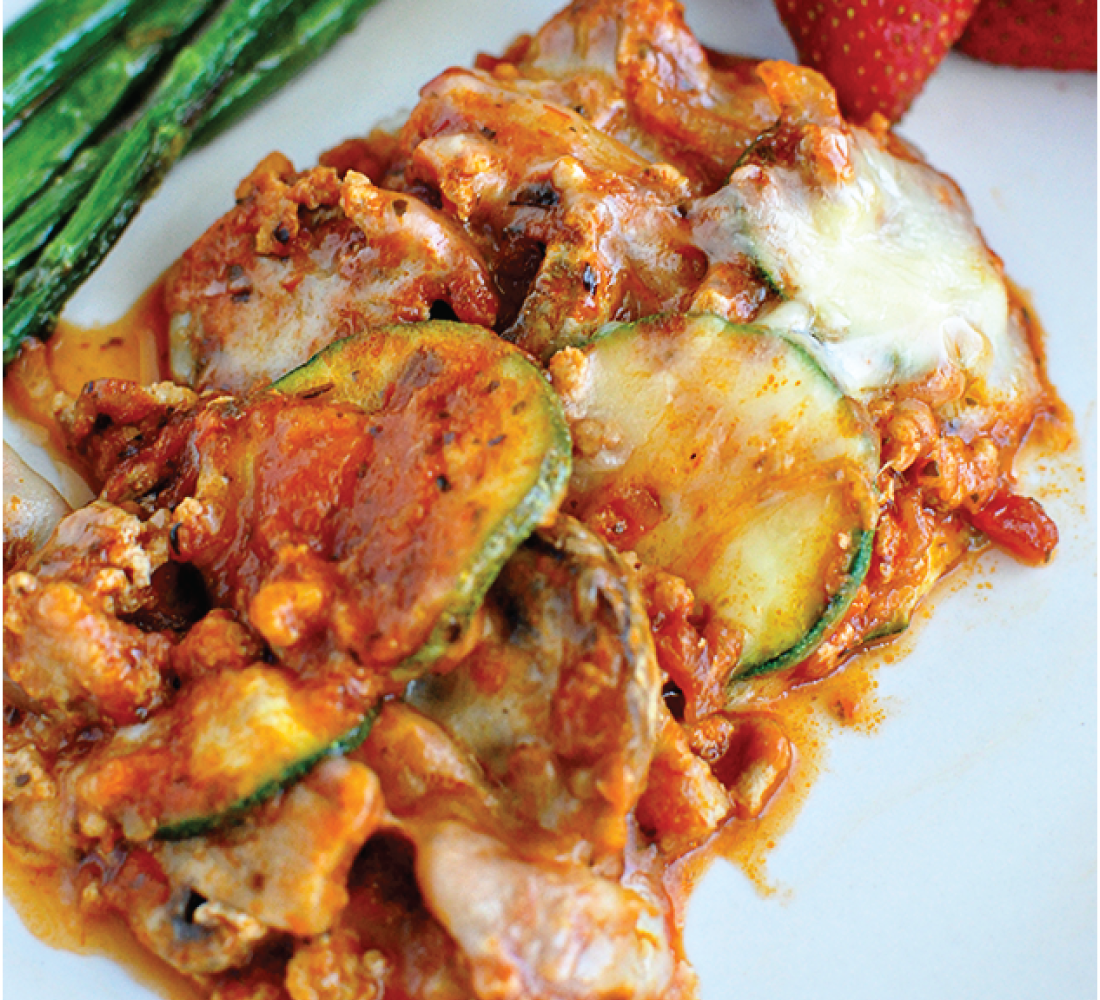 I have since altered the way I'm eating yet again (it's a work in progress friends!) and am not straight up Paleo.  So I've altered the recipe a bit but it's still way way way healthier than standard lasagna.  For all you saying in your mind, 'My family will not touch that' or 'My husband would rather die than eat vegetable substituted lasagna,' I hear you.  I get it.  My man doesn't consider anything a meal without meat.  This recipe does have meat, but you could easily remove it.   BUT try it.  Just once.  See if your family likes it.  And then never look back.
This recipe has a lot of flavor and you don't even miss the regular filling and noodles that accompany traditional lasagna. At least we don't.  I've tried variations with different vegetables and been pleased every time.
Healthy Recipes
Zucchini Lasagna
Ingredients
1 lb Ground Beef (grass fed or lean meat) or ground turkey
1 cup Green Bell Peppers, chopped
1 cup Onion, chopped
1 Zucchini, sliced thinly
1 box of mushrooms, sliced (more or less to your liking)
1 (24 oz) jar of marinara sauce - I use Rao's or Trader Joe's
½ c. fresh shredded Parmesan cheese (optional)
1 c. lowfat mozzarella cheese (optional) - can add more to have a cheesier recipe!
3 cloves Garlic, minced
Salt and Pepper, to taste
Instructions
Preheat oven to 325 degrees.
Brown the ground beef or ground turkey in a large pot over medium heat, stirring frequently.
Add in garlic, onion and green pepper, and continue to sauté for 5 minutes.
Stir in marinara sauce.
Bring sauce to a light boil, then remove from heat.
Add ¼ c. Parmesan cheese and stir. Set the rest aside.
Place a thin layer of the sauce in the baking dish.
Layer zucchini and mushrooms over sauce, then mozzarella cheese.
Repeat, alternating layering of sauce, then zucchini and mushrooms.
Finish with layer of mozzarella cheese on top and sprinkle with remaining Parmesan cheese.
Bake lasagna at 325°F for 15 minutes, covered with foil.
After 15 minutes, remove foil, increase temperature to 350°F, and bake for an additional 15 minutes.
A few notes: in this recipe I use marinara sauce to make it simpler.  Lots of marinara sauces have junk in them so make sure that the one you buy does not.  I found Rao's at Target the other day (YAY!!!) – it's much more expensive than any other sauce out there but it's straight up good and healthy.  I like the Trader Joe's version too.  Also, I have added cheese to this.  I only used a cup but you can add more if you want a cheesier version.  If you are dairy free, or eating Paleo, omit it.  It'll still taste great.  One more thing- zucchini and mushrooms release water while baking.  The sauce should be thick when you layer to account for that.
Looking for other delicious main dishes?  Most of these aren't "healthy" but they sure are good.
Over a month's worth of easy & fast dinners
Do you have any healthy recipes to share? Any tricks/tips for healthier eating?