You know how you hear the people say "eating me out of house and home?" That must've started from a mom of teenage boys. Today I've rounded up some lunch ideas for teens to keep them full and happy. I've also included a few healthy snacks for teens.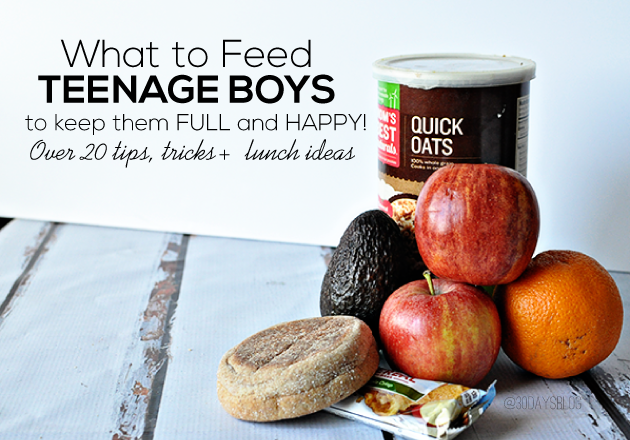 Here's how it came about- I was lamenting on Instagram about the note JJ's teacher sent home saying that he had eaten his entire lunch when he got to school first thing in the morning (and I'm not sure how that happened if they were keeping an eye on him and he had eaten a full breakfast before he got on the bus……but I regress). His school has a strict no nut policy and that has been a huge challenge for us. His favorite and go-to is peanut butter and jelly. J is very particular about what he eats. He sniffs everything and has some sensory issues. At home we can force encourage him to try new things but at school I have no idea how much they push him to eat what he is given. He isn't conversational so I send things with him to school hoping that he'll eat them and not having the ability to ask him "Hey what'd you think about lunch today?" It's a challenge. So I sent out an SOS and asked people for suggestions on IG. There were 40 comments of suggestions! Apparently I'm not the only one going broke with a growing teenage boy. While I know Jonathan won't eat most of the ideas given because he is so picky, I hope that rounding up the ideas here will help some families looking for ideas to keep their boys properly fed.
Healthy Snacks for Teens
Here are some of our favorites that I make at home:
A few tips from that IG post to keep teenagers full longer:
"Eat a breakfast with lots of fiber and protein. It will keep him full longer than cereal or breads which break down quickly and leave you feeling empty faster." -Seth
"With breakfast give a Carnation Instant Breakfast to help him fill up." -Rebecca
"Fiber is key to staying full, so use lots of that in the mornings. Popcorn is high in fiber and can fill you up as a snack food, plus it's pennies. Smoothies can be loaded with excellent stuff for a quick and filling breakfast. Protein is overrated as a filler.. It's necessary, but it isn't the key! Fiber and lots of beans/rice. Wraps are my family's favorite for delicious, nutritious, healthy, and cheap!" – Nikita
Specific food suggestions from the post:
Use alternative butter instead of peanut (to keep in line with the no nut policy)- specifically sun and wow
Tortillas with string cheese and meat rolled up
Mozzarella cheese sticks with pepperoni
Bagels and cream cheese saved in the freezer until ready to put in lunch
Taco meat in a thermos with separate tortillas and cheese
Turkey bites (by the jerky and pizza pepperoni)
Homemade pizza rolls
Several people suggested Subway's $4 footlongs! (I checked and in January, any regular footlong is $5!)
Here are some other ideas I found online:
I've found several "cutesy" small lunch ideas, but that won't cut it for my big boy. These teen lunch ideas pack a punch.
Items to buy to help make school lunches:
Some of these were also suggested on Instagram.
This article from the Washington Post was recommended to me and it's awesome: How to feed a teen boy, nutritiously and inexpensively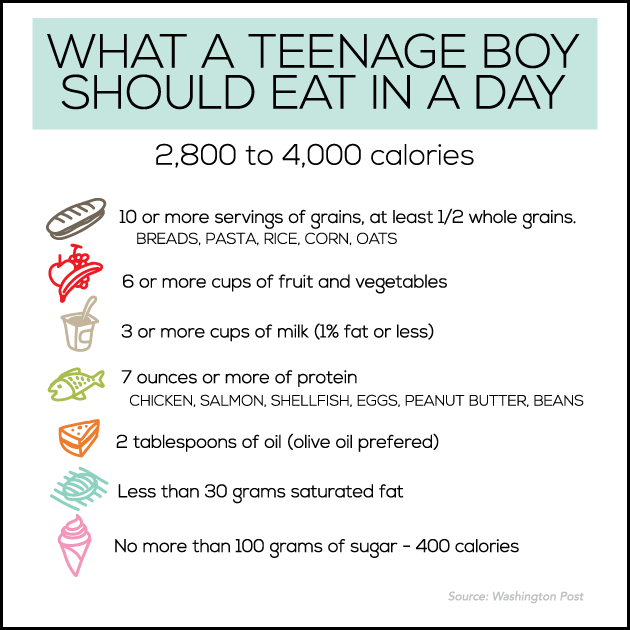 Download this What Teenage Boys Should Eat in a Day sheet as a guideline.
Do you have a teenager in your life who is eating you out of house and home? I'd love to hear what you do to keep them full and happy. Leave me a comment with your suggestions.
If you like this post, you'll like these too: