I wanted a stress free Easter morning. We had church at 9am. 5 people ready and out the door by 8:45am on Easter was feat. To make it run a little smoother, I made this Overnight Breakfast Casserole on Saturday night. Success!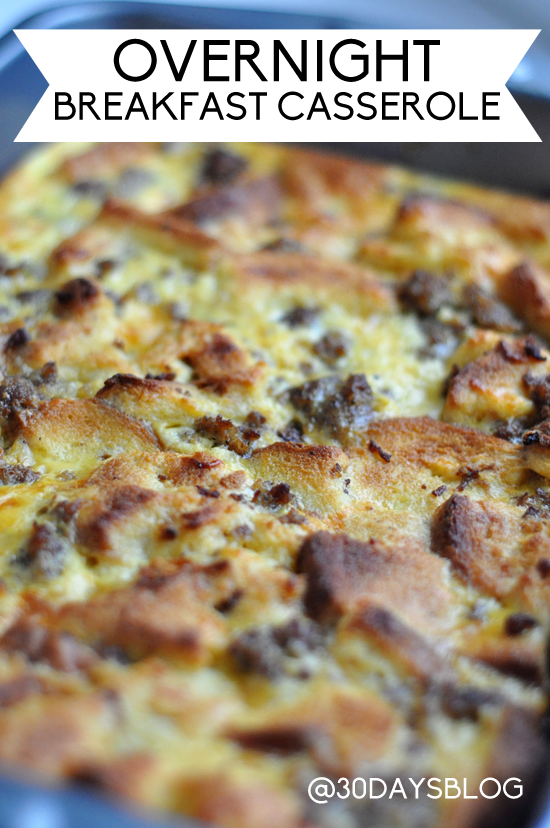 Another simple one but it was a crowd pleaser too! I loved that I was able whip it up ahead of time. Then on Sunday I just had to stick it in the oven. A couple family members added some syrup to the casserole to make it a little sweet!

Overnight Breakfast Casserole
Ingredients
1 pound breakfast sausage
6 slices cubed bread
6 eggs
1 and ½ Silk Soy milk (regular cow's milk works good too!)
1 cup finely shredded cheddar cheese
1 teaspoon dry mustard
Salt & pepper
Instructions
Fry sausage, chopping into small pieces; drain.
Cube bread and add to a 9 x 13 inch pan.
Mix in fried sausage.
In a separate bowl, lightly beat eggs then mix in soy milk, cheese, dry mustard; season lightly with salt and pepper.
Pour egg mixture over sausage and bread; lightly fold until all the bread is moist.
Cover tightly and refrigerate overnight.
In the morning, put pan into a cold oven and set temperature for 350 degrees for 45 minutes.
The standard ingredients in this recipe include milk. But I wanted to experiment with something else to see if my family noticed. I substituted traditional cow's milk for Silk Original Soymilk. The new Silk Soymilk has 50% more calcium than dairy milk. We've been trying to eat way healthier around here. I've been limiting the
extra stuff.
More vegetables and fruits. More fresh cooking. Less recipes with 100302939320 ingredients none of which I can pronounce. I like that Silk soymilk doesn't have artificial flavors or high fructose corn syrup.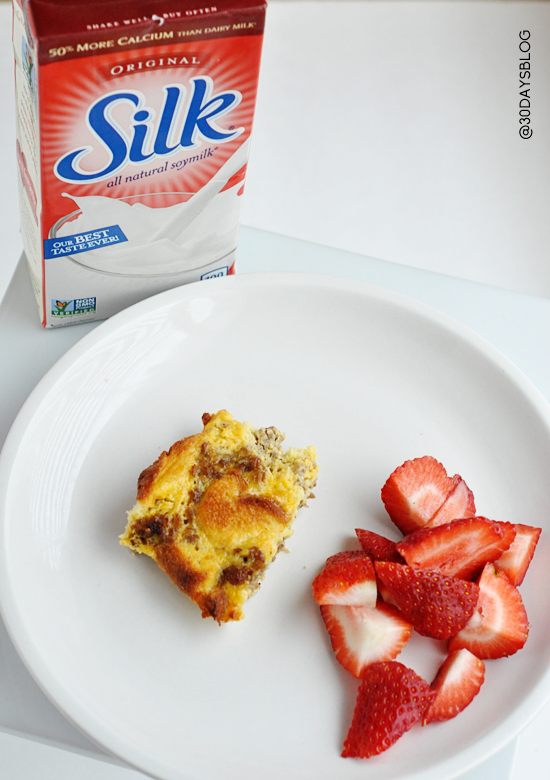 Nobody could tell the difference. I didn't mention anything until after they were all done eating. I wasn't trying to
trick
them necessarily. I just wanted to see their reaction to a recipe substituted with soy milk.
This is a sponsored conversation written by me on behalf of Silk. The opinions and text are all mine.