I love cute, simple gifts like this Reindeer Hot Chocolate.  You can whip up a whole bunch and make them for family and friends!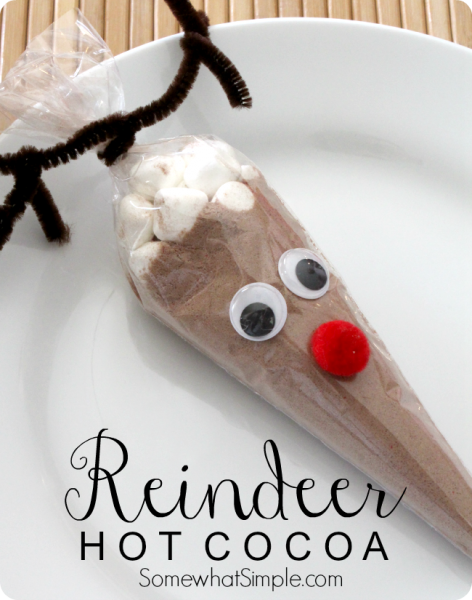 Hot Chocolate
This post was originally shared by Stephanie of Somewhat Simple for my Bake Craft Sew Series.
While there are tons of ways to make hot chocolate, these reindeer hot cocoa packets are so simple to put together.  They make great holiday gifts for neighbors, teachers and friends! Here is how you make them….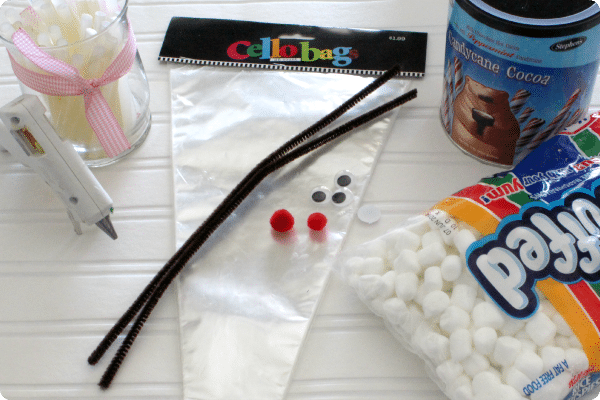 How to make this Reindeer Hot Chocolate
You only need a handful of things to put together these Christmas treats.  Your friends and family will love receiving something so cute!
Materials Needed:
Plastic Bag*
Hot Cocoa Mix
Mini Marshmallows
Hot Glue Gun & Glue Sticks
Googly Eyes
Brown Pipe Cleaner
Red Pom Poms
*I happened to have triangle-shaped bags for this project, but regular Ziploc bags work well for this too if you arrange the hot cocoa mix to one corner of the bag.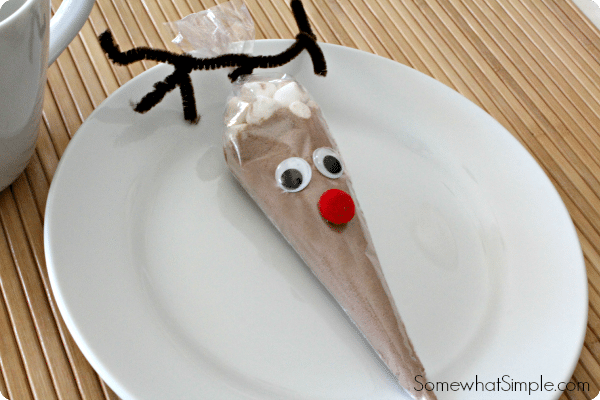 Directions:
1. Measure your desired serving size of hot cocoa mix into a plastic bag. For the image above, I used several servings because my bag was so big. I made sure I included a tag telling the recipient how many spoonfuls to use per cup and how many serving sizes were in the bag.
2. Add some mini marshmallows to the top of the mix and seal off the bag by adding a brown pipe cleaner to the top.
3. Cut another pipe cleaner and twist around the mid-section of the pipe cleaner that is holding the bag shut to make antlers.
4. Hot glue the eyes and nose to the front of the bag to make the face.
And you're done!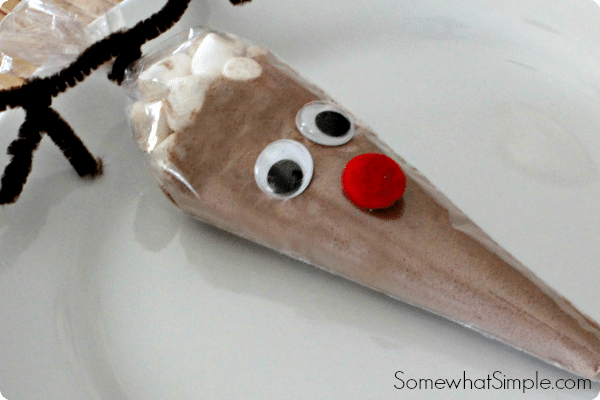 Other Hot Chocolate Ideas:
If you love this Reindeer Hot Chocolate, you're going to love these other hot cocoa and reindeer ideas. Please click each link below to find the idea!