Just because it's frozen, don't count it out. Learn how to make crispy, evenly roasted frozen broccoli.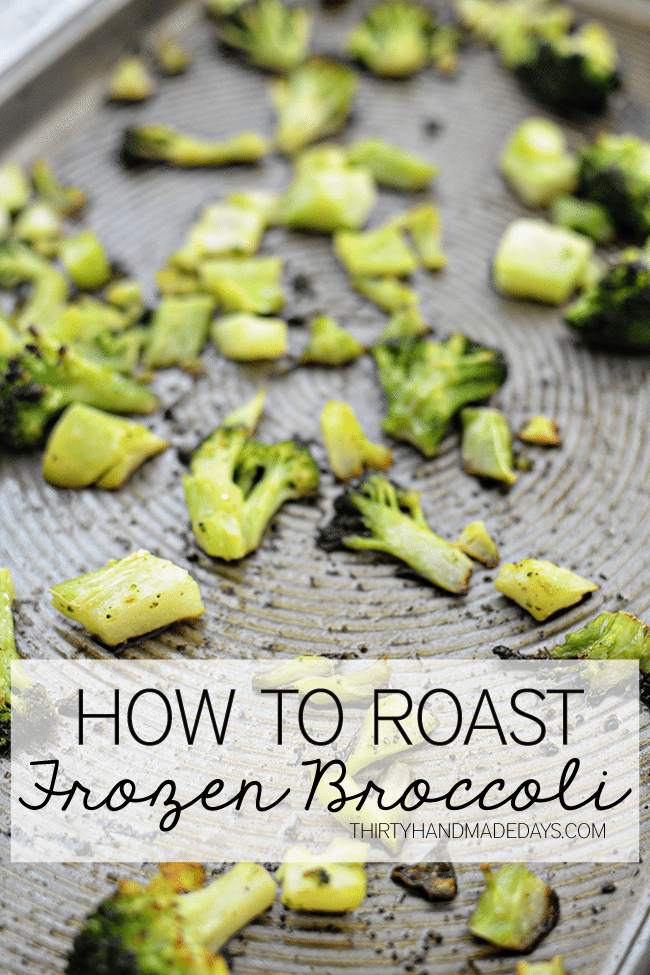 My youngest loves being the kitchen. Recently he asked if we could make dinner together. Ok! He wasn't loving my suggestions, especially when I mentioned frozen broccoli. But I told him that I could teach him a simple way to roast it and it would taste great. He wanted to learn how so he went along with it a little reluctantly. In the end, he loved it. And it was a win/win.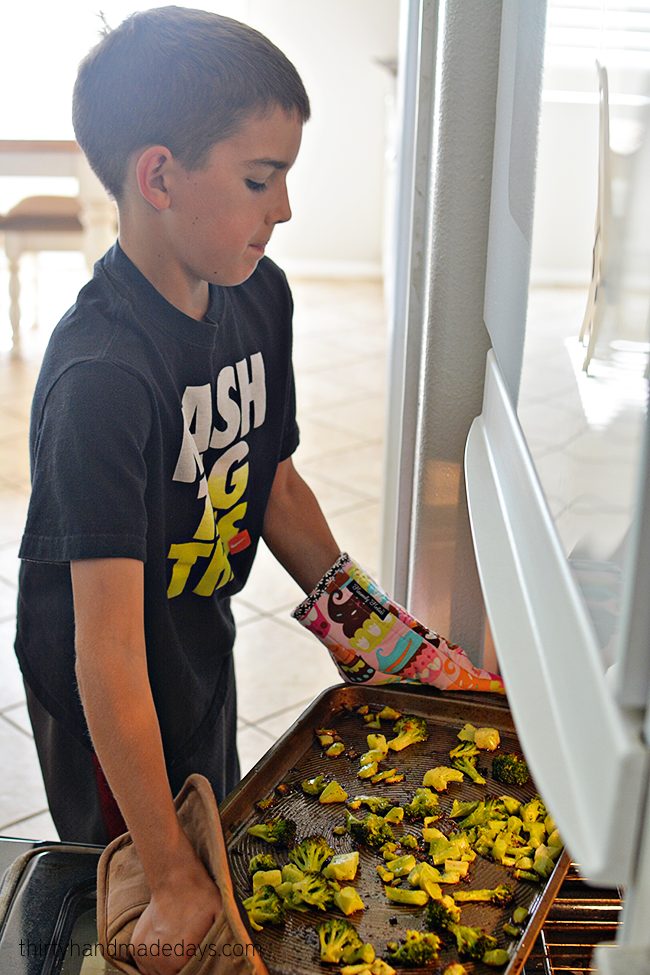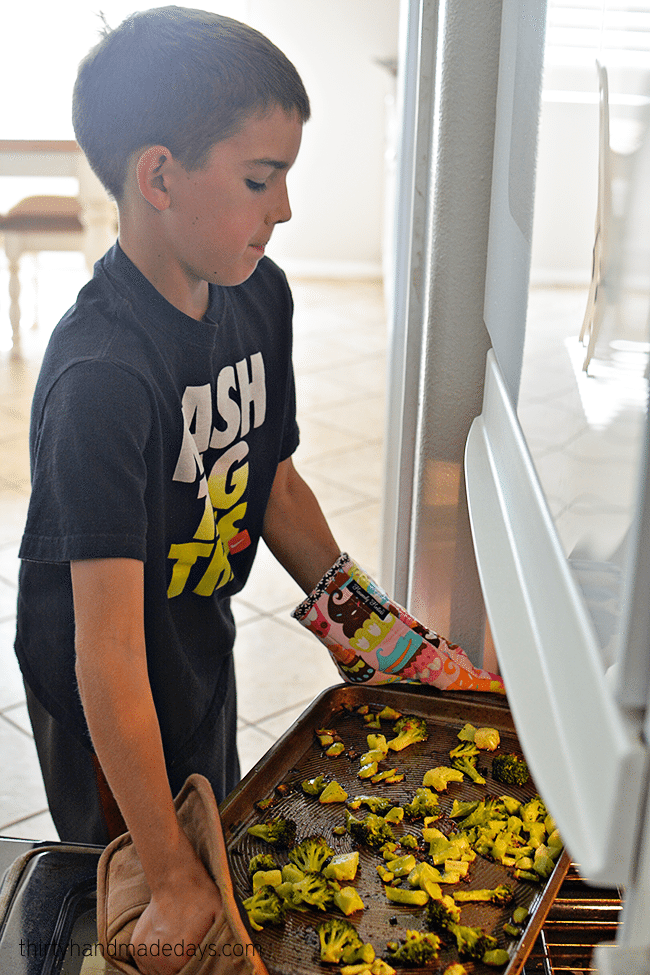 I'll be talking more about how to encourage kids in the kitchen soon but for now I wanted to share this super duper simple way to roast frozen vegetables. Drew has been telling everyone that he knows how to roast broccoli and how good it is. (love that kid!) Keep in mind- this isn't only great for broccoli but can be used for all kinds of other frozen vegetables that you're wanting to use up.
How to Roast Frozen Broccoli
A few things that make all of the difference:
High heat – making sure that broccoli doesn't end up soggy is the hardest part of roasting it frozen. Crank up the heat and it will make it crispy.
All about the spices – you can add parmesan cheese or garlic salt, pepper or a squeeze of lemon. The possibilities are endless but I prefer garlic salt or Flavor God Everything Garlic.
I had Drew spread the vegetables out and then roll them in the olive oil after he drizzled it on to make sure that it was evenly coated. With regular roasted vegetables I normally flip them about halfway through but with frozen I just let it roast. They came out perfect. A little crispy, sort of carmelized-ish. Yes I made that word up.
Other vegetable recipes
I have tons of other recipes for vegetables. Some are super easy, some take a little time, ALL are worth it. Check these out:
Roasted Frozen Broccoli
If you love this Roasted Frozen Recipe as much as I do, please write a five star review, and be sure to help me share on Facebook and Pinterest!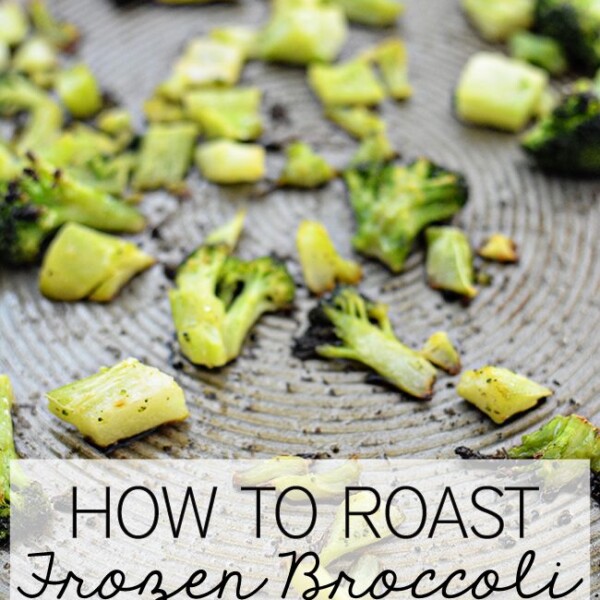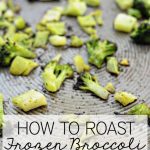 Print Recipe
Roasted Frozen Broccoli
Roasted Frozen Broccoli is a simple way to take frozen vegetables and roast them into a delicious side dish. Yum!
Ingredients
1

bag frozen broccoli

Olive oil

Salt

Pepper

Garlic salt

Cooking spray
Instructions
Preheat the oven to 425 degrees.

Use a baking sheet with a lip around it to avoid olive oil spilling out.

Spray with cooking spray so that it won't stick to the pan.

Spread frozen broccoli on the baking sheet.

Drizzle with olive oil (about 1 tbsp).

Sprinkle with salt, pepper and garlic salt.

Roast for 20-25 minutes.

Enjoy!
Nutrition
Calories:
82
kcal
|
Carbohydrates:
10
g
|
Protein:
4
g
|
Fat:
4
g
|
Saturated Fat:
0
g
|
Cholesterol:
0
mg
|
Sodium:
340
mg
|
Potassium:
480
mg
|
Fiber:
3
g
|
Sugar:
2
g
|
Vitamin A:
945
IU
|
Vitamin C:
135.5
mg
|
Calcium:
71
mg
|
Iron:
1.1
mg