It's that time of year again – time to get the best deals for school supplies! I've gathered all of the important information for you to use to get the most bang for your buck.

School Supplies
For as long as I can remember, I've always loved school supplies. In the middle of the summer when the stores start bringing them out, I could walk the aisles forever. Am I weird? Maybe. I don't know why a new pen, some Sharpies and fresh paper makes me so happy.. but they do!
Some schools go back after Labor Day, but there are a lot of schools that go back mid July, which is right around the corner. Now is the time to search those sales and stock up on these deals.
School Supplies List
To help you with your back to school shopping, I created this cheat sheet with comparisons to different stores. This is the new updated 2019 edition: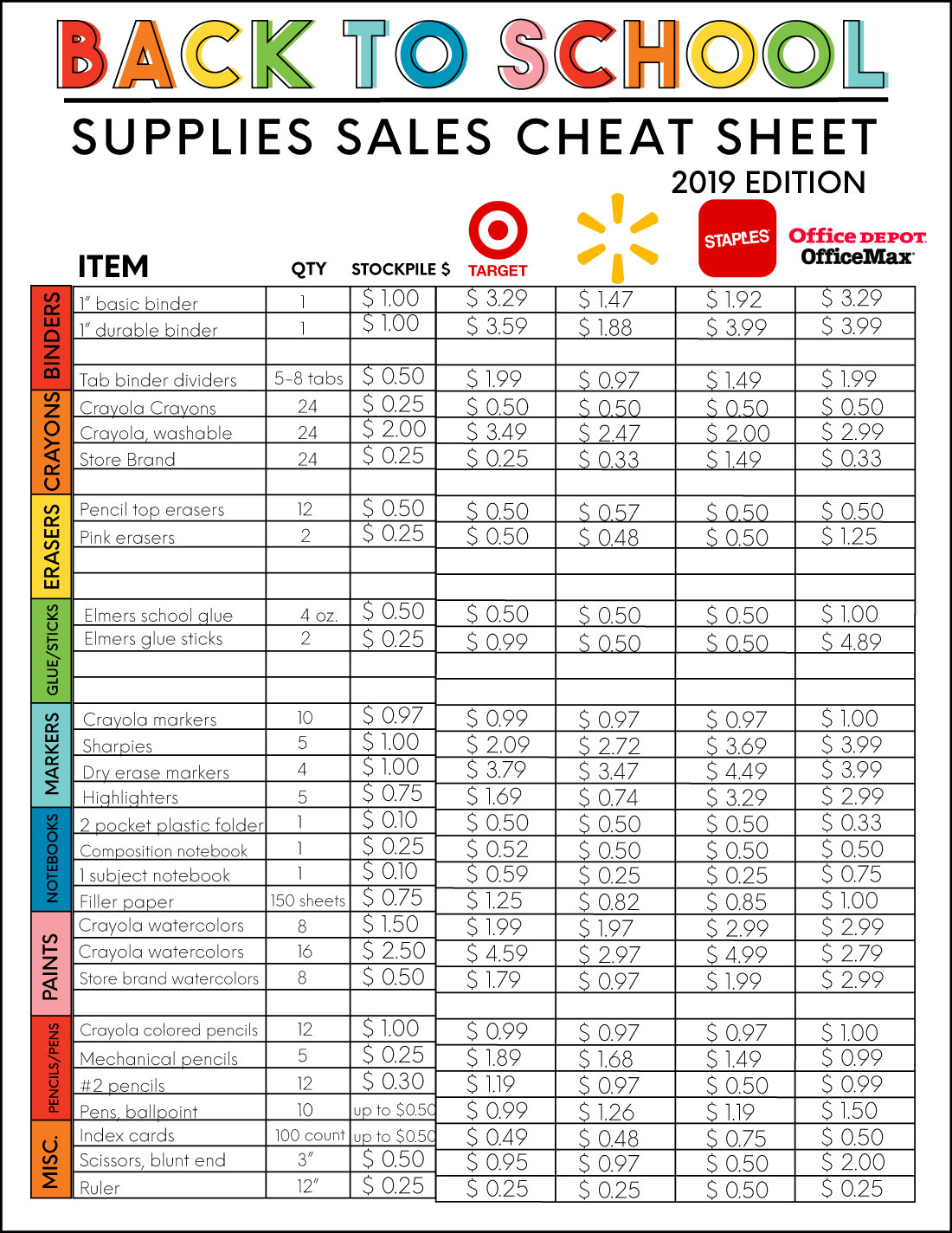 I tried to spell everything out and make this printable as clear as possible. You can look at the stockpile amount so that you know if you ever see anything at that price to stock up! It's also good to know what each store typically sells each item at.
Download this printable school supplies sales. For personal use only.
If you like this post, you'll like these back to school posts too:
Walmart School Supplies
Walmart has the best deals in general as far as back to school is concerned. As you can see from the cheat sheet, they beat pretty much every other store in most categories.
Some things that I really love getting at Walmart
Sharpies – they have all kinds of different varieties
Crayola crayons – in years past Walmart has had a Crayola end cap with different packs that are inexpensive
Target School Supplies
Target is the store that I shop at most often. While Walmart has the better deals, I can usually find the cutest stuff at Target.
Here are the few things that Target beats Walmart on price:
Highlighters
Dry erase markers
Filler paper
Construction Paper
Flashcards of all kinds
Note: I also look at Amazon every day for the Deals of the Day. They have a lot of cool stuff majorly marked down. Since I know the average price of these items, I can tell if they are a good deal or not.
I recently got a 24 pack of fine Sharpies (Ultra Fine are usually on sale but fine are harder to find on sale!) for $10.
I also have seen my favorite laminator for an amazing deal. So keep an eye out over there for additional deals!