In the winter I make Peppermint Homemade Oreos so I thought it would be fun to make a heart shaped version –  strawberry Valentine cookies.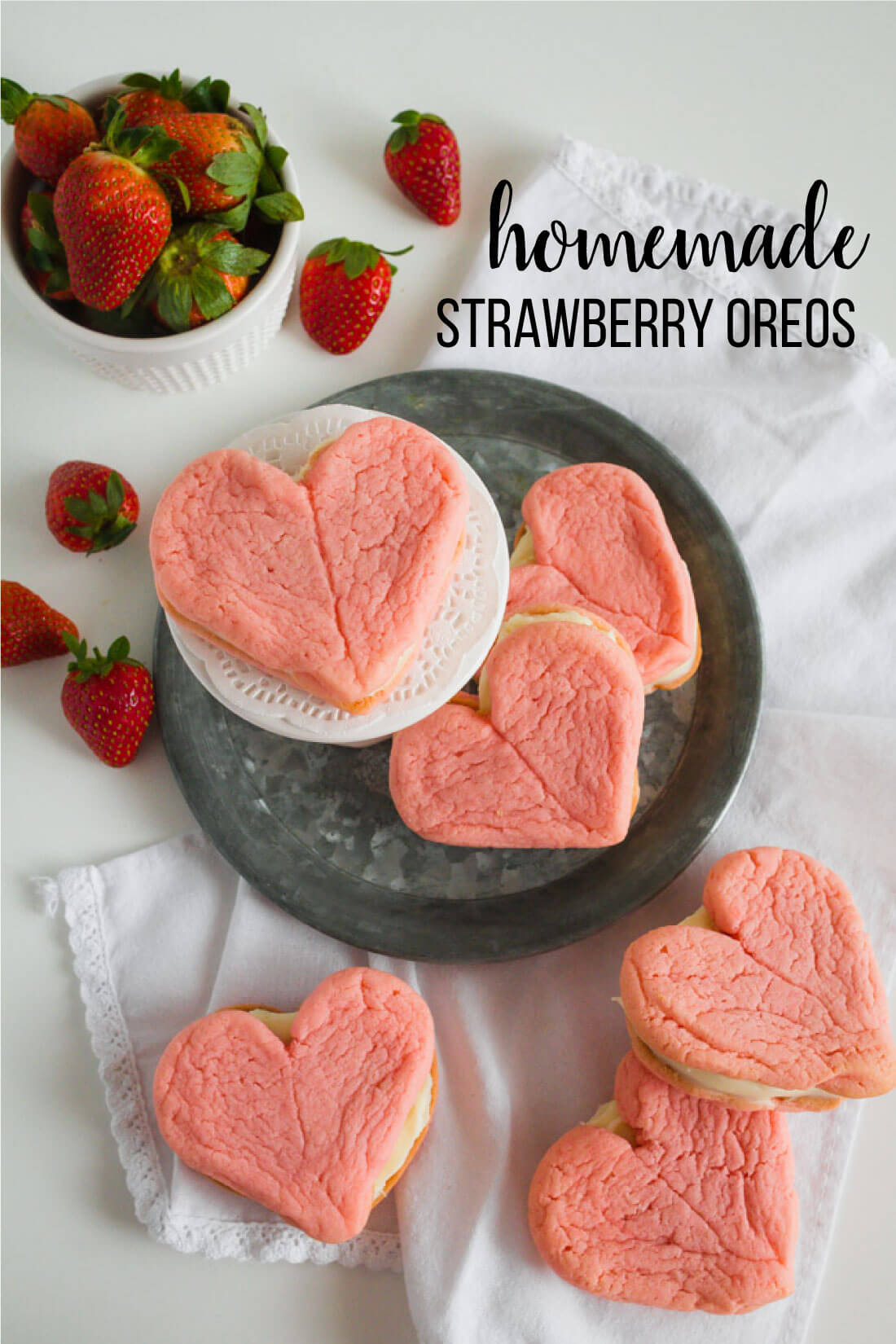 My kids loved making these cookies with me.  They were fun to make and so easy to do! Having them join me in the kitchen is super important.  I want them to learn how to cook and bake.  When I ask Drew his favorite recipe he still talks about these cookies (which we first made 6 years ago!)…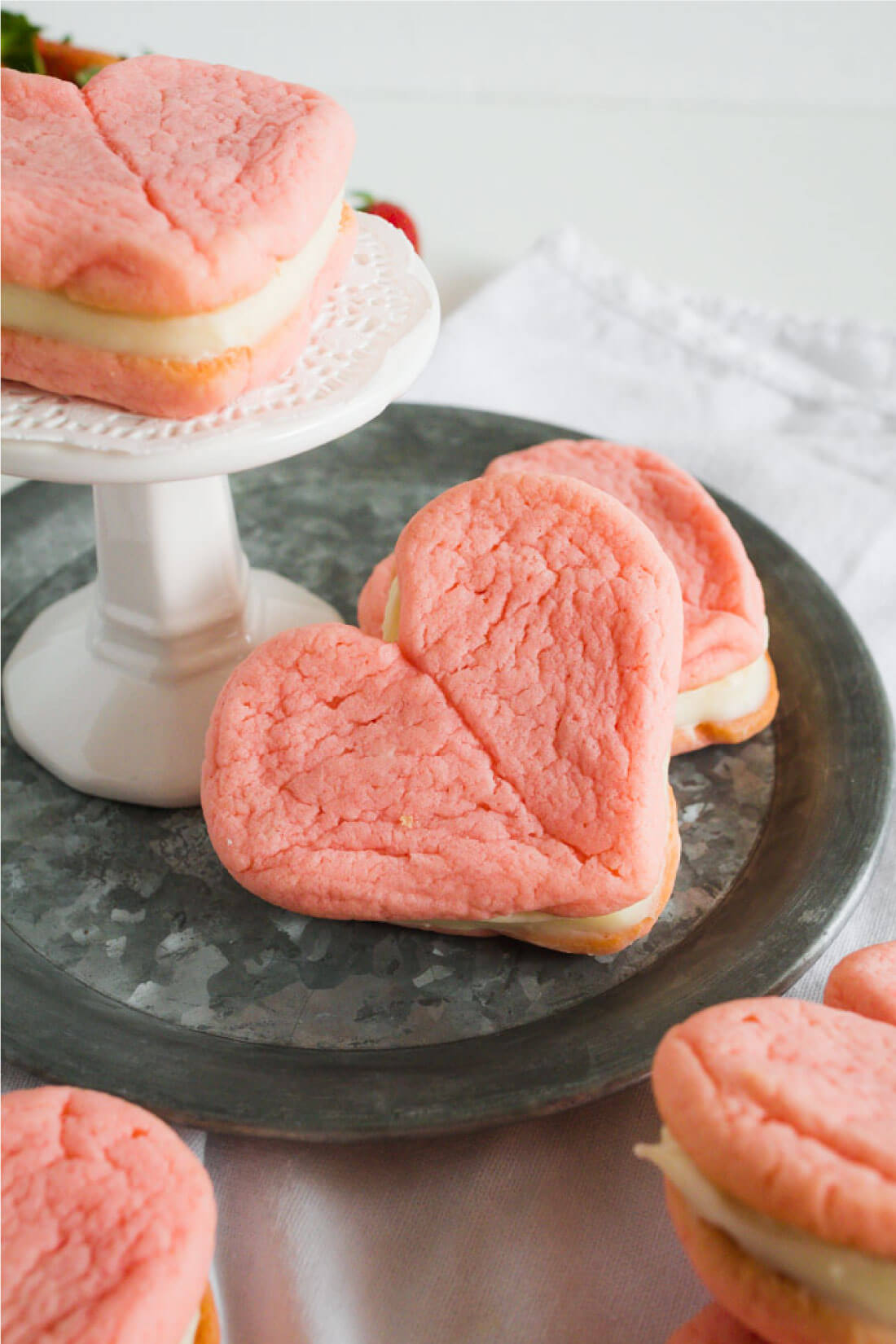 Valentine Cookies
Strawberry Heart Oreo Valentine Cookies
Ingredients
1 package of strawberry cake mix
2 eggs
¾ cup of shortening
Frosting:
8 oz. cream cheese
½ stick of butter, softened
2 tsp. vanilla
4 c. powdered sugar
Instructions
For the cookie:
Mix together.
The dough will be pretty stiff-
it's supposed to be that way. ;)
Roll into balls.
Place two next to each other.
Pinch the bottom to create a heart.
Bake at 350 degrees for 8 minutes.
Immediately transfer to a cooling rack.
When cookies are cool, frost them and then
sandwich them like an Oreo.
This will only make about 12-15 cookies total
depending on how big you make them.
For the frosting:
Mix cream cheese and ½ stick of softened butter. Add vanilla. Then slowly add in one cup of powered sugar at a time until creamy.
Spread onto cool cookies.
Sandwich together.
Updated to add: I've gotten some comments about using margarine in this recipe- if you use margarine instead of shortening, the batter won't be the right consistency.  Also some people have used extra moist or pudding added cake mixes- that seems to make the batter runny.  Sitck to regular ol' strawberry cake mix for best results.
I thought these Valentine Cookies would make a fun treat to give to friends for Valentine's day so I created a bag topper.  Just print out, cut and staple or double stick tape it onto your bags.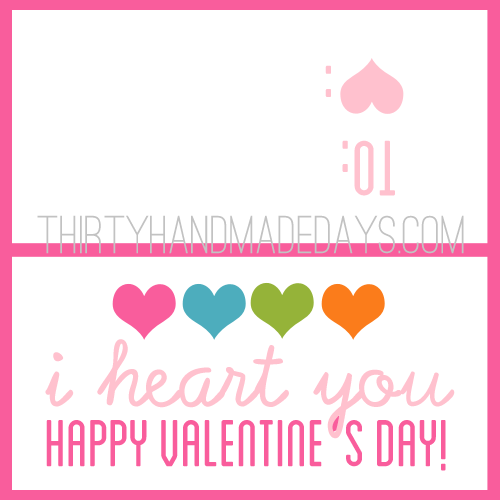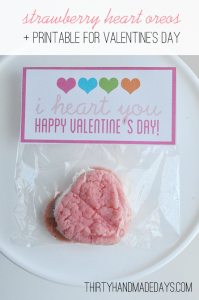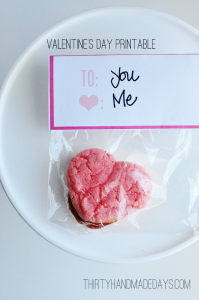 Download I heart you Valentine bag toppers.