For Christmas I make Peppermint Homemade Oreos so I thought it would be fun to make heart shaped strawberry Valentine cookies.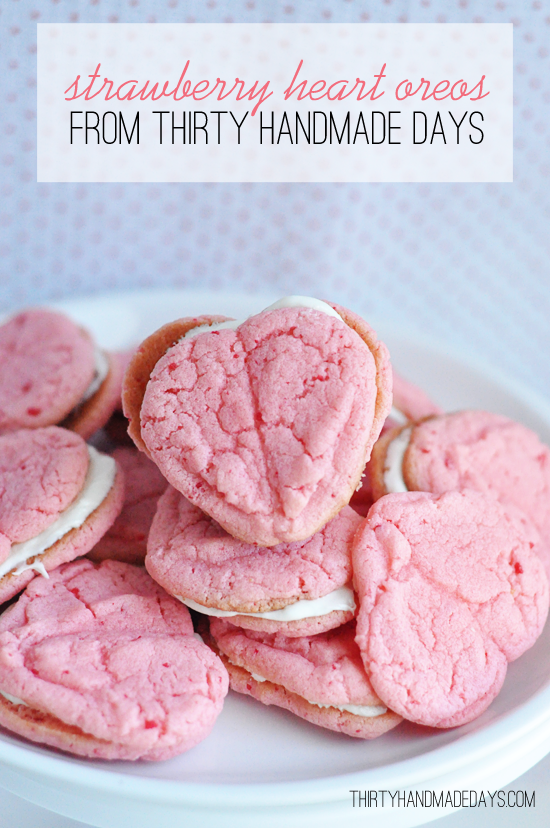 Want to make some? You know you do!
Valentine Cookies
Strawberry Heart Oreo Valentine Cookies
Ingredients
1 package of strawberry cake mix
2 eggs
¾ cup of shortening
Frosting:
8 oz. cream cheese
½ stick of butter, softened
2 tsp. vanilla
4 c. powdered sugar
Instructions
For the cookie:
Mix together.
The dough will be pretty stiff-
it's supposed to be that way. ;)
Roll into balls.
Place two next to each other.
Pinch the bottom to create a heart.
Bake at 350 degrees for 8 minutes.
Immediately transfer to a cooling rack.
When cookies are cool, frost them and then
sandwich them like an Oreo.
This will only make about 12-15 cookies total
depending on how big you make them.
For the frosting:
Mix cream cheese and ½ stick of softened butter. Add vanilla. Then slowly add in one cup of powered sugar at a time until creamy.
Spread onto cool cookies.
Sandwich together.
Updated to add: I've gotten some comments about using margarine in this recipe- if you use margarine instead of shortening, the batter won't be the right consistency.  Also some people have used extra moist or pudding added cake mixes- that seems to make the batter runny.  Sitck to regular ol' strawberry cake mix for best results.
Here is what they look like before going into the oven: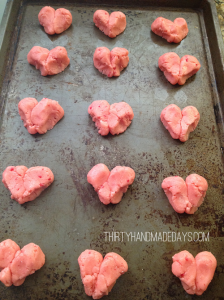 And when they came out of the oven my kids were
debating which cookie was the best looking heart.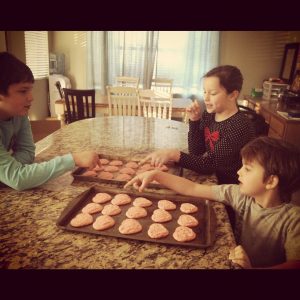 I thought these Valentine Cookies would make a fun treat to give to friends for Valentine's day so I created a bag topper.  Just print out, cut and staple or double stick tape it onto your bags.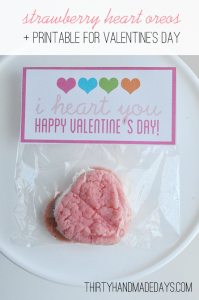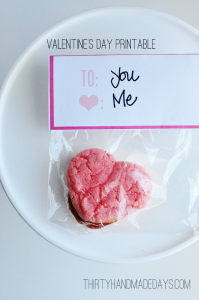 Front and back view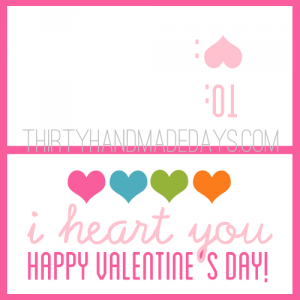 Download I heart you Valentine bag toppers.
For 30days followers and personal use only. Thank you!