Last week's switching-things-up with your Pinterest accounts was so much fun.  Not only did I enjoy visiting your accounts, but I loved reading your comments about people you follow.  I think we're on to something here.  And that makes me sooo happy!  Let's keep this good "linky party" thing going and continue connecting.
Some Pinterest accounts that jumped off my page and am now following:
Banner Boutique
Urban Farm Girl
Crafty Scrappy Happy
This week I'm asking you to link up your Instagram accounts.
The rules are simple:
Link up your Instagram account in the linky. This is what I'd put: http://instagram.com/30daysblog/. And then leave a comment for one or more of your very favorite people you follow on Instagram.


Here are some awesome posts with tips for Instagram:

Instagram Tips and Tricks from Her New Leaf
Top 10 Instagram Photo Apps from Whipperberry
How to Take Better Instagram Photos from Refinery 29
Fonts on Instagram from Rhonna Farrer (her Insta Kits are hands down my favorites and use them daily)
It's pretty easy to tell who I admire on Instagram using a cool online tool,  Statigram. Have you heard of it before? It shows you everything you want to know about your IG account. What filters you use most, who you follow and if it's reciprocated, your most liked pictures, most commented on, etc. You can also order prints from there. All around awesome.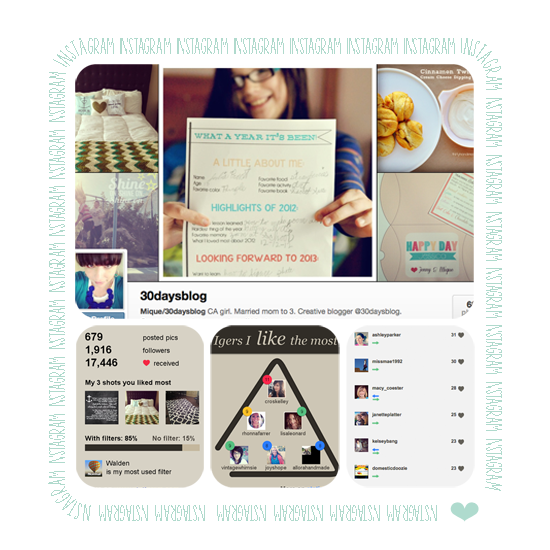 Do you have an Instagram account?  Link up.  Visit your neighbors.  If your account is private, no worries.  Still leave a comment with the IG accounts you love following and why.
—–> Up next week:  YOUR FAVORITE POST OF ALL TIME.  It could be anything.  Something funny, personal, crafty, a tutorial that took 249292 hours to create.  It's the one post that if you shut down your blog today, you'd want to be remembered by.   Start thinking now.