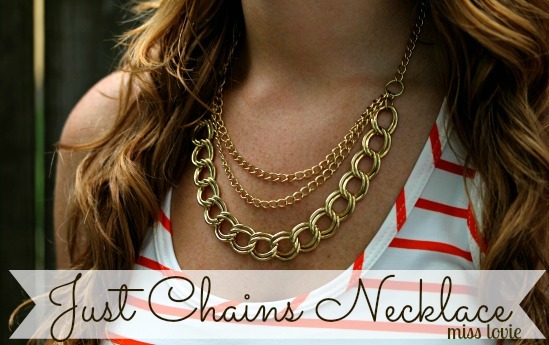 Hello, 30 Days Readers! It's Allie again from Miss Lovie. I'm back with another great jewelry tutorial! I am LOVING this Just Chains Necklace I made for today's post. I can see myself wearing it constantly. Oh, wait, I've already worn it twice this week.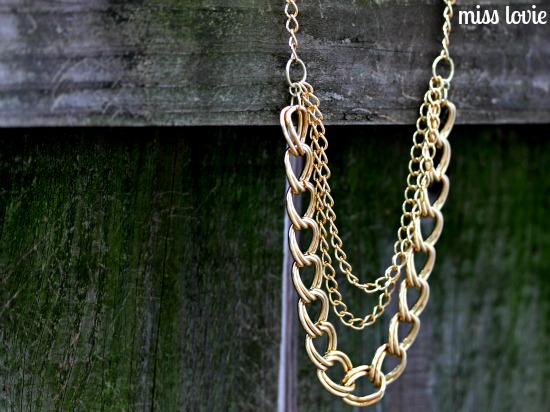 I have been looking for some chunky gold chain and when I saw this at my JoAnn's (superstore) last week I knew I had to make something with it immediately. And guess what. This tutorial is CRAZY easy. That makes this necklace 10 times better, right? It did for me anyway!
Let's do this.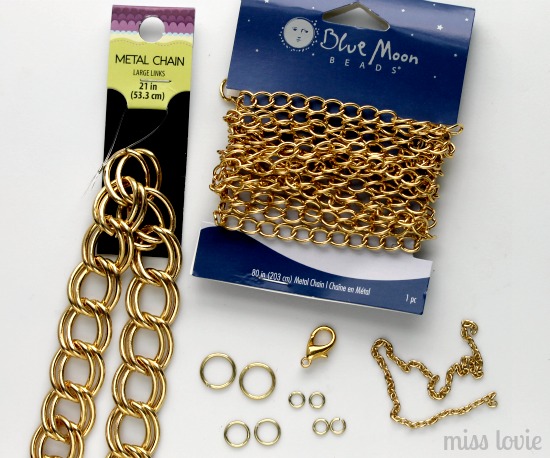 For this necklace you need: (clockwise from left)
large chunky cable chain, medium cable chain, tiny chain (optional), 2 large jump rings, 2 medium jump rings, and 4 tiny jump rings, and 1 lobster clasp.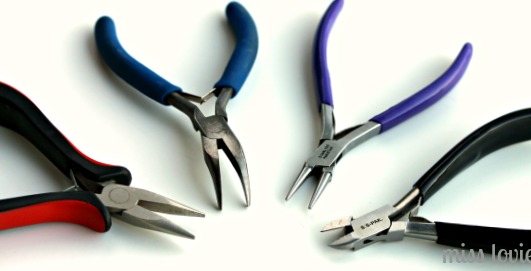 You'll also need the above jewelry tools: flat nose pliers, bent nose pliers, needle nose pliers, wire cutters.
During this entire project be sure your cable chain is laying flat and is untangled. See picture below that shows the a tangled and an untangled chain if you're not sure what I'm talking about.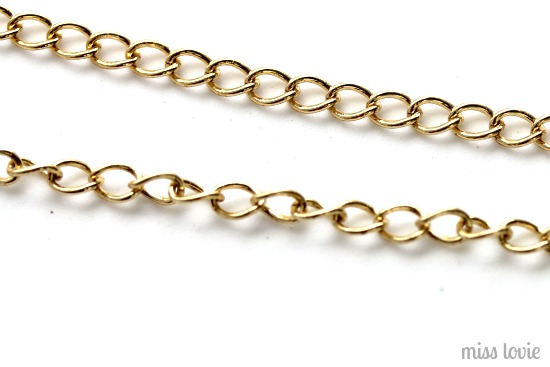 As you can see above, the top chain is laying flat, but the bottom chain is twisted on itself.  There is no getting away from the chain turning on itself  a little once it's made, but if you are sure to lay the chain flat while creating it, the entire necklace will lay much better and look professional.
First, cut your chain.
Cut one piece of large cable chain at 9 inches, one piece of medium cable chain at 8 inches, one piece of medium chain at 7 inches. These will be for the bottom portion of your necklace. Then cut two pieces of medium chain at 5 inches and one piece of tiny chain (optional if you want to make this necklace adjustable) at 2 inches. This will be for the top part of your necklace.
Next, let's make the bottom part of the necklace.

Twist open a medium jump ring and attach the large cable chain and a tiny jump ring and close the medium jump ring. Twist open the Tiny jump ring and attach a large jump ring, then close it again. Twist open  the large jump ring and slide on the two lengths of medium chain-long (8 inch) one first then the short one (7 inch)-and then close the jump ring.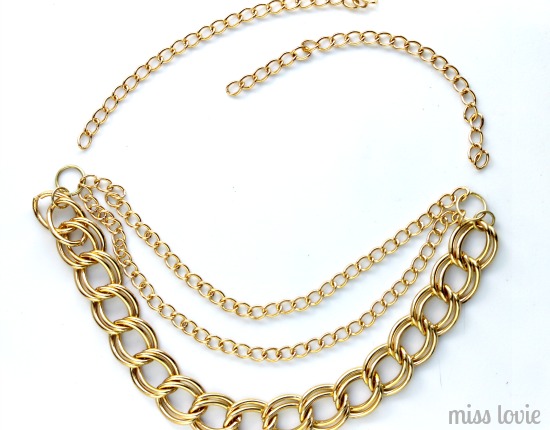 After all chains are connected, lay chains out flat, and then carefully repeat the process above keeping the chains in order. It should look like the above picture when finished (bottom portion of the necklace complete and 2 lengths of chain left over  (both 5 inches) for the top portion.
(**the picture above shows an incorrect number of jump rings connecting the bottom portion of the necklace. I added more to make it lay better after taking this picture. Follow the tutorial-not this picture!**)
Now let's create the top portion of the necklace
Twist open one of the large jump rings and slide on one piece of the medium chain, close the jump ring. Do the same on the other side.
Finally, let's add the clasp.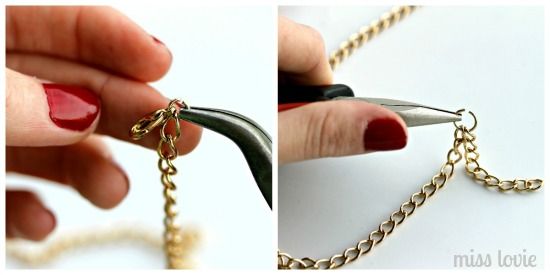 To finish off the necklace, open a tiny jump ring and slide on one end of the chain and the lobster clasp and close it back. On the other end attach the other tiny jump ring and another tiny section of chain (the tiny link chain) if you want to make it adjustable.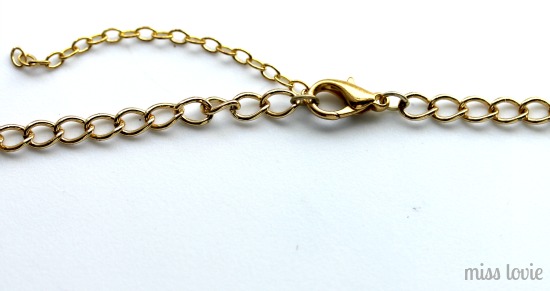 Now you should have a clasp and a finished necklace!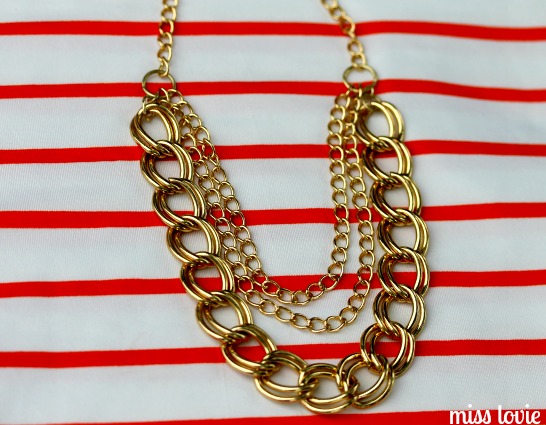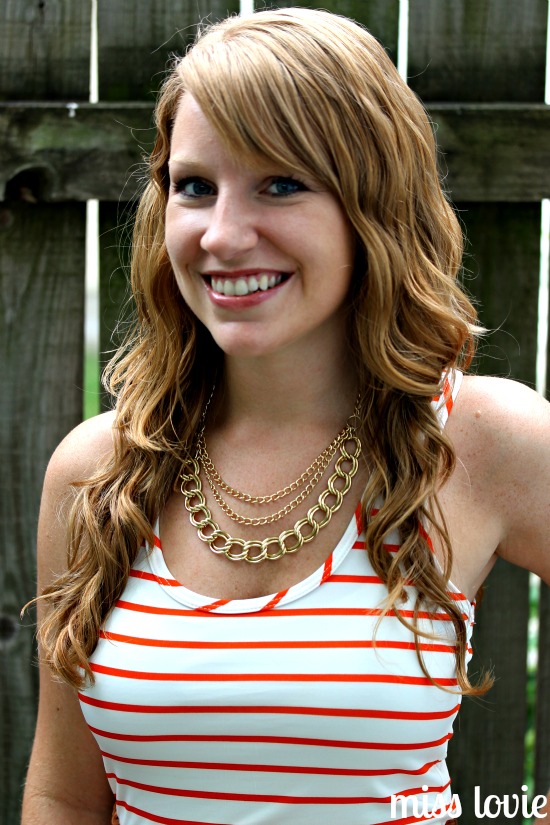 I hope you enjoyed this tutorial! Thanks so much for reading. I'd love it if you stopped by and checked out more jewelry tutorials on my blog or checked out my other projects on 30 Days! See you next time!