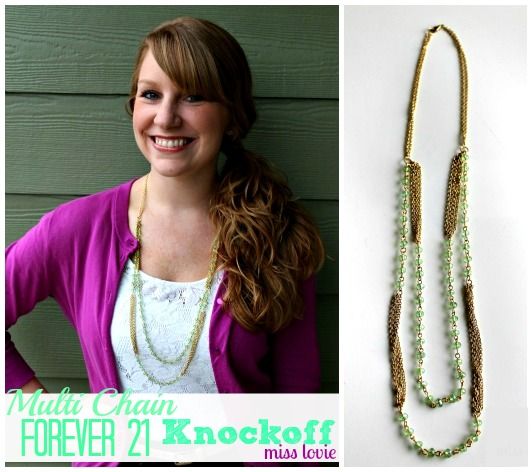 Hello 30 Days readers! I'm Allie from Miss Lovie and I'm back with a new necklace tutorial: my multi chain Forever 21 Knockoff! Forever 21 is one of my favorite places to go for jewelry inspiration. Most of the time I'll change the necklace some, but I loved this one so much I decided to not change much at all!  It's not super bold or chunky, but the multiple chains make this necklace  really fun.
 I, of course, love that mint color, too! And it's a perfect accessory for the upcoming St. Patrick's holiday!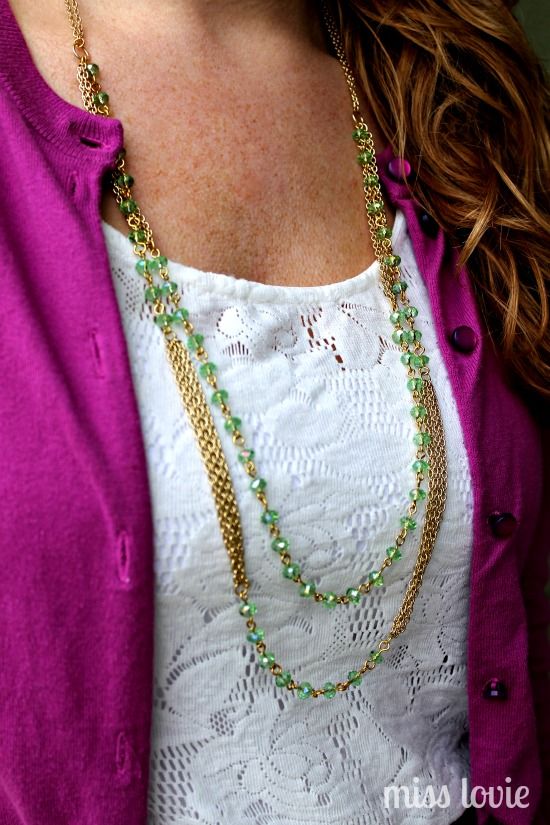 I love how it pops against that white.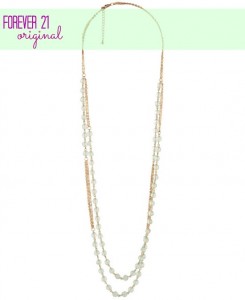 Here is the inspiration: Forever 21 Beaded Chain Swag Necklace. I did not see this necklace in person, so I don't know the actual quality of it. Sometimes necklaces from this store are so inexpensive (this one is only $6.80!) that at first, you may think, "Why should I make this when I can buy it for cheaper?" However, if it is a necklace that you think you might want to wear more than a few times, it might be worth your while to make it with chain you know won't turn colors after a couple wears. :)
Here's how to make it if you want one! Just a warning. This necklace has multiple steps, but it is not too difficult! Just follow the steps closely and you can do it! Let me know if something is not clear!
Gather Materials:
(Clockwise from left) Fine cable chain
mint green faceted beads (these are pretty small, but you could make it with bigger ones if you think you'd like that look better.)
eye pins (like head pins but with a loop instead of a flat head)
several small jump rings
a few medium jump rings
First, create the beaded chain.
To create a beaded chain, create simple loops around each bead. Slide the bead onto the eye pin. Use bent nose pliers to bend the wire at a 90 degree angle over top the bead.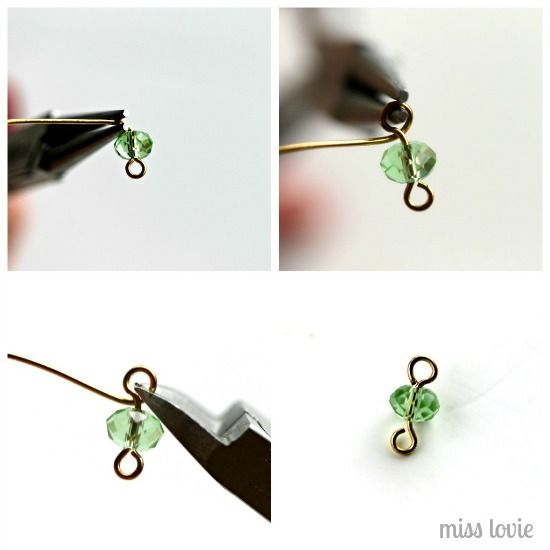 Position your needle nose pliers in the bend of the wire and use your hand to bend the wire over and around the end of the needle nose plier. Reposition the needle nose plier so that you can wrap the wire all the way around it to create a full loop. Use your wire cutters to cut off the excess right where the wire meets itself. Then you have simple loops on both sides of the bead. Continue to make LOTS of these. You can kind of lay them end to end as you go to see how many you may need.
Create the beaded chain by reopening the loops above the beads and connecting them to another bead. Close the simple loop by squeezing it shut with the bent nose pliers. Keep doing this to create several beaded chains. You will need to create the following beaded chains:
1     11 inch beaded chain (for Strand 1)
2     4 1/2 inch beaded chains (for Strand 2)
1      3 1/2 inch beaded chain (for Strand 2)
Create the multi-chain sections. 
To create the lengths of multi chain between the beaded chain, you must cut 4 lengths of chain for each portion. Be sure the chains are exactly the same length or they will not lay correctly. After all four lengths are cut, place the ends of all four in a jump ring. (Open and close jump rings with flat nose and bent nose pliers.) Then attach the other ends of those chains to another jump ring in the same order as they were attached on the previous jump ring. (See picture for clarification.) You will need to create the following multi chain sections:
2      3 inch multi chain sections (for Strand 1)
2     3 1/2 inch multi chain sections (for Strand 2)
To attach the beaded chain to  a section of multi chain, open a loop above the bead at the end of the beaded chain and insert it into the jump ring at the end of the multi chain. Squeeze loop shut with bent nose pliers. Strand 1 (the shorter part of the bottom part of the necklace) is shown on the right above. Create this with 2 lengths of multi chain(3 inches long each) and one long length of beaded chain (11 inches long) which goes between the 2 multi chain sections. Attach beaded chain to multi chain as explained above on both ends.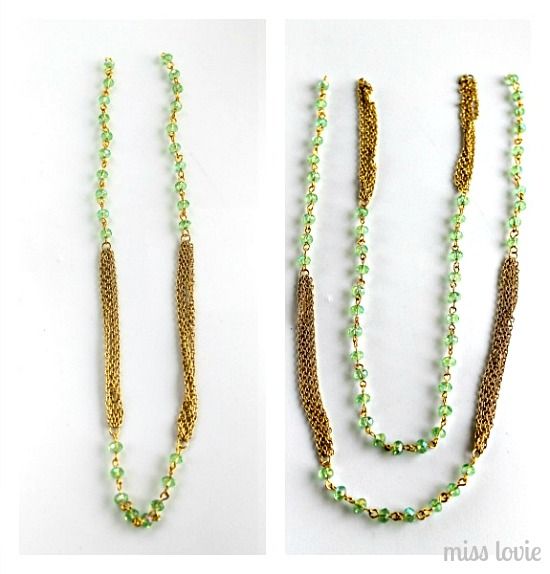 Strand 2 is shown above on the left. Create this by attaching the 4 1/2 inch beaded chain to the 3 1/2 inch multi strand section. Then attach that portion to the 3 1/2 inch beaded chain to the other 3 1/2 inch multi strand section. Finally attach that section to the last 4 1/2 inch beaded chain. Now you have both Strand 1 and Strand 2 complete.
Create the double chain sections for the top part of the necklace.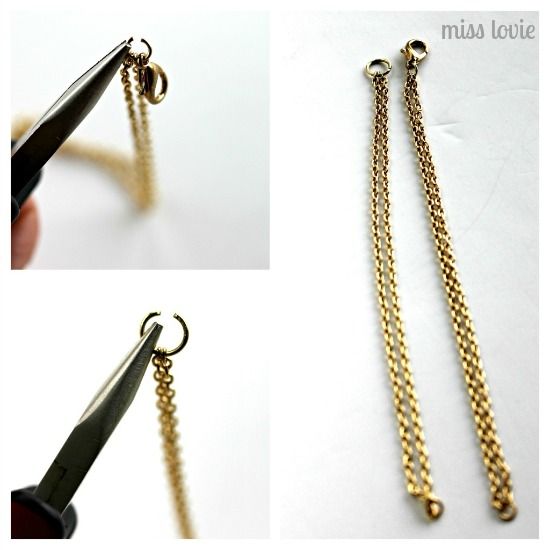 Now create the "double chain" lengths for the top portion of the necklace which will go around the neck. Cut 4 sections of chain 6 inches long each.  Attach two chains to the lobster clasp with a small jump ring as shown above. Then, attach the other two chains to a large jump ring by simply opening the large jump ring and sliding the chains on and re closing the jump ring with pliers as shown above. Then attach a small jump ring to the ends of both sections of "double chain" . Close jump rings with pliers.
Arrange sections of necklace how you want them. Connect them together. 
In the picture above you can see Strand 1 and Strand 2 laid out on the bottom and the top connecting "double chains on top. Go ahead and clasp the lobster clasp to the large jump ring to reduce the number of pieces you have to work with. The gray circle in the photo above  shows what sections you will be connecting together with the jump ring.
Open the jump ring and slide on one end of both Strand 1, Strand 2, and then one end of the the top "double chain".
Do the same for the other side of the necklace, making sure you add them in the correct order insuring the necklace lay flat. And you're done!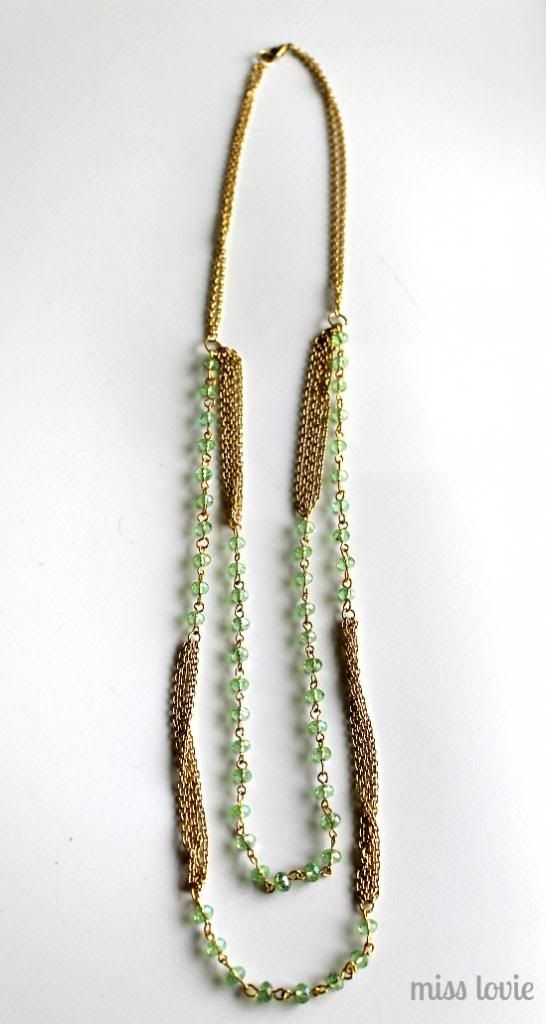 Woo hoo! You did it!!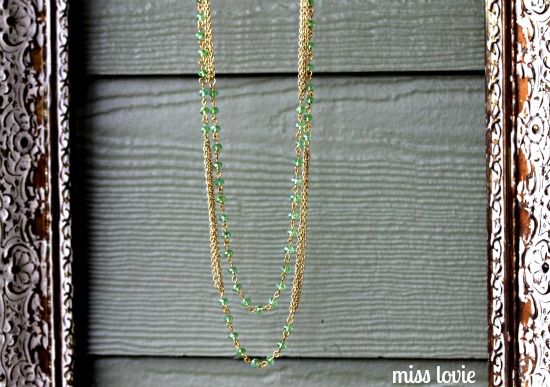 Yes. This will take significantly more time than it would to just buy this necklace for $6.80, but just look at what you can do! You should be proud of yourself. :) And you can use this multi chain and beaded design and switch it up. You could create multiple strands and make it shorter (or keep it long!). You could add in more colors, change the size of the beads. Possibilities are endless!
I hope you liked this tutorial on my Multi Chain Forever 21 Knockoff! I'd love to hear what you think. Check out  my other jewelry tutorials on 30 days here or head over to my blog!
See you next time!