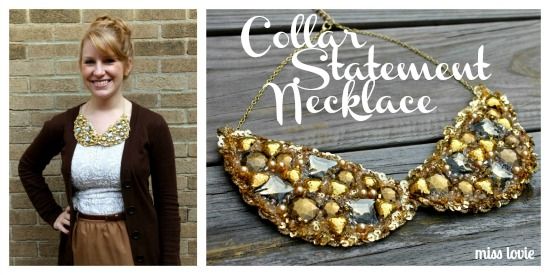 Hello 30 Days Readers! I'm Allie from Miss Lovie! I'm back again with a new jewelry tutorial. Today I will be showing you how to make this super trendy piece, the collar statement necklace. These necklaces are perfect to pair with a dress to fancy it up for a night out or even just with a tshirt for a trendy day-time look. 
 I made this necklace originally in silver as an accessory to go with my Halloween costume as the tooth fairy. I literally threw it together last minute and had no intentions of actually using it in the future and then I put it on and thought, "Huh. That's actually cute." Since I'm more drawn to gold usually, I made the one for this tutorial in gold instead.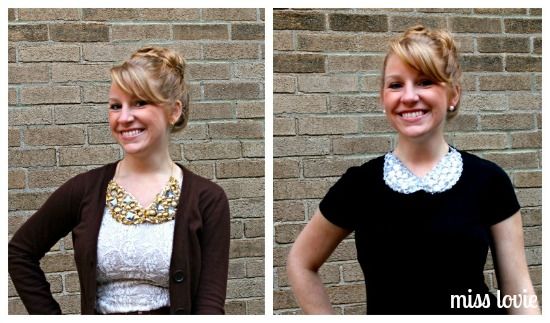 If you make the chain adjustable you can make the "collar" fit any neckline you like. This trend is something I thought I would never want to be a part of, but after I had it on, I kind of loved it. It just goes to show that it pays to take risks sometimes!
Let's make one!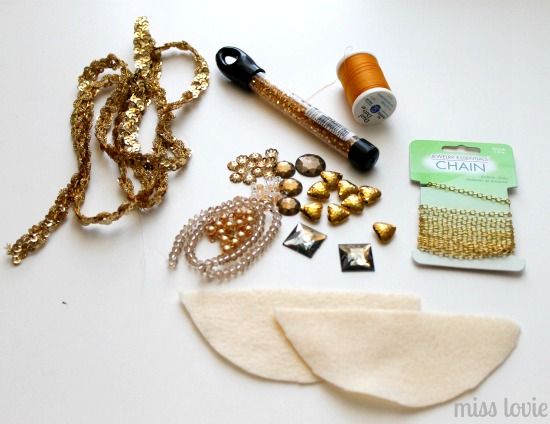 Materials Needed:
(clockwise from left) about 1 yard of trim (mine is a scalloped trim with gold sequins),various sizes of beads/buttons/gems, large and small. (The large ones should be relatively flat. I found mine in JoAnn's buttons section. Some are sew-on gems.), coordinating thread, chain, about a 1/4 yard of felt, lobster clasp (not shown), jump rings (not shown), a glue gun (not pictured) and jewelry tools (seen below). I just made my own template. It's just a half circle shape. You can make it however wide or narrow you like. Play around with the size and hold it up to your shirt in the mirror to test it out.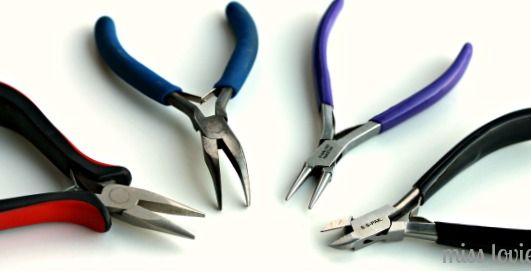 First, let's create the collar backing from felt. Make a template on paper, and trace it onto felt, twice, and then cut out both pieces.  
Arrange cut pieces onto another large piece of felt how you want them to look in the formation of a collar and pin. Overlap the two pieces in the center just enough so the point of the collar isn't too thin.

Sew the collar pieces onto the new piece of felt and then cut out the collar again. This just creates a strong backing.

Pin the trim around the collar with (lots of) pins. Pin in a figure 8 type formation. It laid very nicely when I did it this way. 

Sew the trim on, taking out the pins as you go. Be sure to go along with the sequins not against them.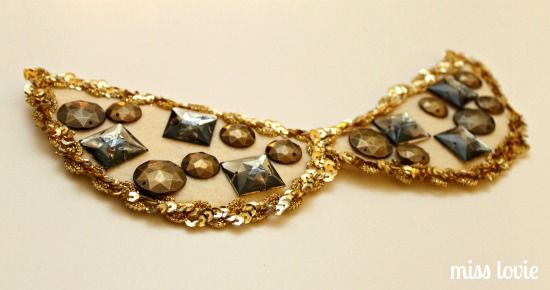 Then use your glue gun to add on the larger gems/buttons/beads. For large and medium beads, put a dot of hot glue on the actual bead or button and place it where you want.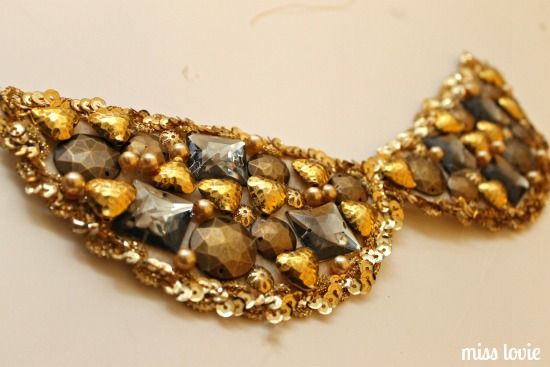 Add on the medium ones and fill in most gaps. (I got all my materials in the button section and jewelry section at our JoAnn's Superstore.)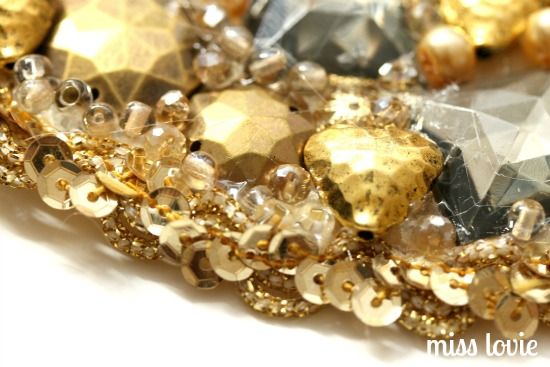 If there are any small gaps left, us the hot glue gun to glue in some tiny beads. For the tiny beads, make a pool of glue in the space left to fill and press as many small beads into it as you can, making sure to cover all the glue.
The front is finished!

Next, let's add the chain.  Turn your collar over. Cut a length of chain however long or short you want. Measure around your neck where you want the collar to be most of the time and then cut it accordingly. Cut that length of chain in half so you have two pieces of chain. Glue each piece of chain to the outside points of your collar. Place a triangle piece of felt over top to conceal the chain and glue and to hold the chain firmly in place. 

To finish off the closure of the necklace, use your flat nose pliers and bent nose pliers to open up a jump ring. Slide on one chain and a lobster clasp and close. On the other side, open up a jump ring and slide on the chain and also a small length of additional chain and close. The additional chain can be used to adjust the necklace up and down. 
And finished! Super easy. 
I hope you like them! I'd love to hear what you think! Go check out my other jewelry tutorial posts at 30Days: DIY Turquoise Pendant Necklace and Color Block Chunky Necklace! And you can find even more jewelry tutorials, and other great projects on my blog. I'd love for you to come visit soon! 
If you don't want to miss anything, make sure to follow me via RSS feed, on Pinterest, on Facebook and Twitter! 
Thanks for reading!