Having good, functional pantry organization can make or break how your kitchen functions. We recently had to redo our pantry and I'm here to share my tips with you!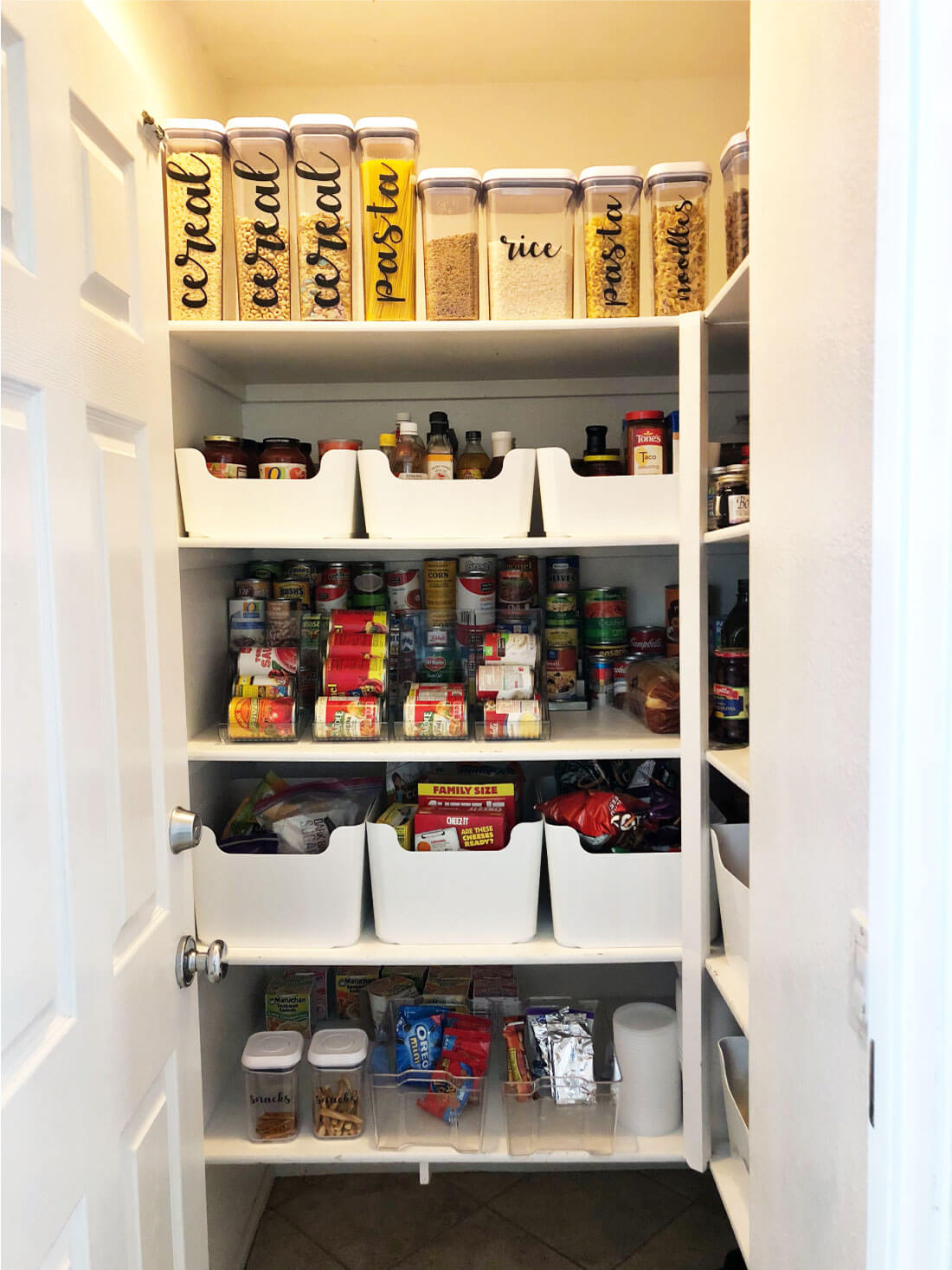 Pantry Organization
This isn't my first go round with trying to whip our pantry into shape. The before of our pantry looks pretty similar to the last time we needed to majorly clean it. Ok maybe not THAT bad. This time we were forced to clean it all out because we got invaded by pantry moths. Ya I know. Disgusting. They were about as gross as they sound. We didn't have a choice but to work on our pantry organization. Check out this post on 5 Steps to an Organized Pantry.
How to get rid of pantry moths
Because we live in a desert-y part of Southern California, bugs aren't uncommon. It's something I found out quickly when we moved here 19 years ago. We have invested in a monthly pest control service but somehow we still got pantry moths. We tried for awhile to get rid of them with no luck. Josh called our pest control company and asked them how to get rid of them for good. The process was NOT fun but they did go away.
Here's how you do it:
Take everything out of our pantry.
Throw away all open dry goods boxes. (cry a little for all of the money that you have lost)
Vacuum the shelves to get rid of all moths as well as eggs.
Wipe everything down with hot, soapy water.
Use a mix of 50/50 water and vinegar and spray it all over the entire pantry.
Place bay leaves around the pantry as moths don't like the smell.
Invest in air tight storage containers. They are expensive but worth every penny if you never have to experience this again.
The hard thing about moths is that once they lay eggs, they are really hard to get rid of. That's why it's really important to toss ALL opened dry good boxes.
I realized once I posted about our pantry moth issue on Instagram how common it is (especially in CA). I was embarrassed to talk about it but found out that there's a good chance that eggs were brought home from the grocery store in our dry goods. Yuck!
Pantry Organization Ideas
Now that the bugs have been addressed, it's time to invest in all of the fun pantry stuff. There are so many cool products out there but they add up quickly. I shopped at places like Marshalls, Home Goods, TJMaxx and Amazon.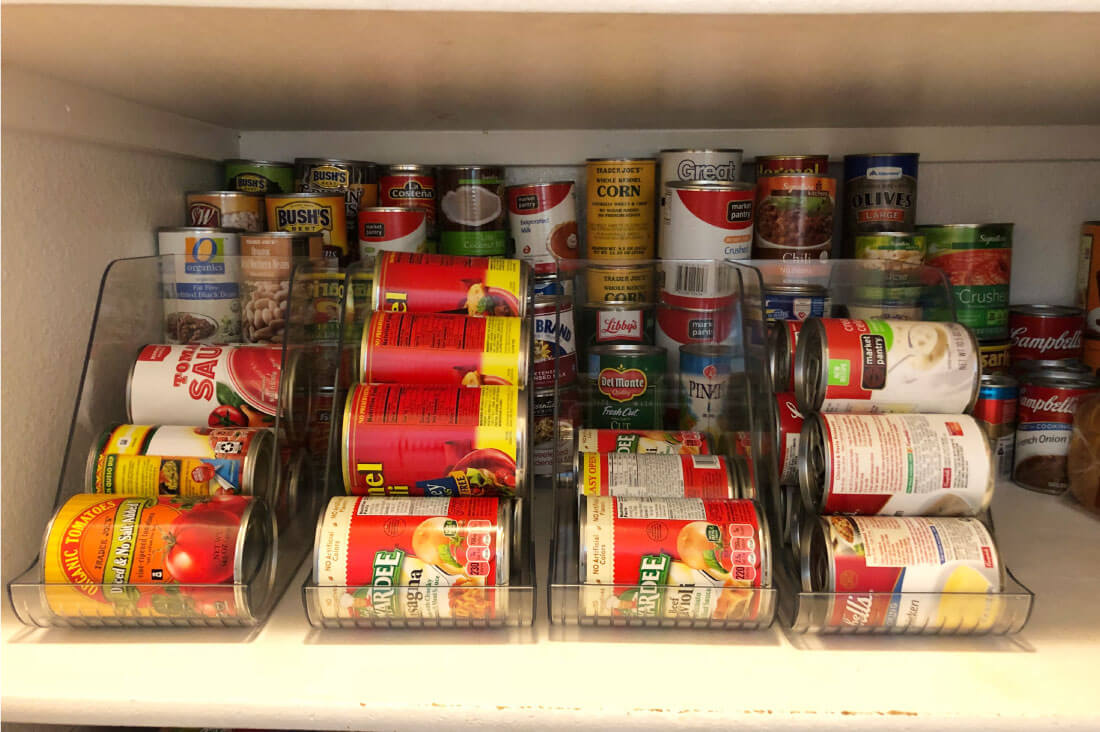 Some of my favorite organization products that I'm still liking after living with them for a bit:
OXO Pop Containers – these are the most expensive thing I bought because I needed so many of them but I LOVE them so so much.
There is currently a really good deal at Costco for a set of these so if you have a membership, grab them while you can.
IKEA – big white bins, still working on these and if I should label them or not
Canned Food Storage Containers – I have wanted something functional for our cans for awhile and these definitely fit the bill.
I also had fun making the container labels. I love how they turned out! Learn how to make labels.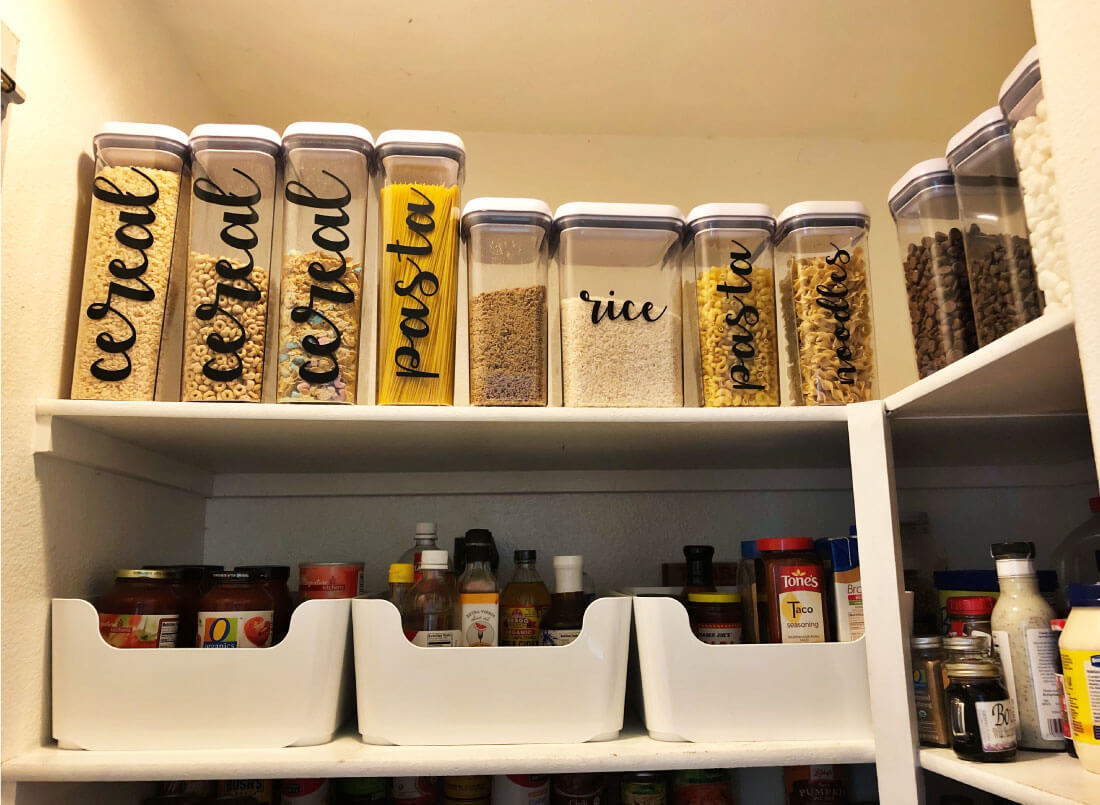 What should you have on hand in your pantry?
Each family is different but there are some items that you should have on hand at all times. Here's a basic list:
Whole grains
Beans
Pasta
Sauces
Soups and broth
Canned fruits and vegetables
Baking basics – flour, sugar
Peanut butter
Crackers
Nuts
Trail mix
Granola bars
Check out this Emergency Home Quarantine Shopping List printable.
Other organizing posts
If you like this post, you'll like these as well: