If you're planning a trip to Waco, Texas, I've got some tips for Magnolia Market, the Silos and more!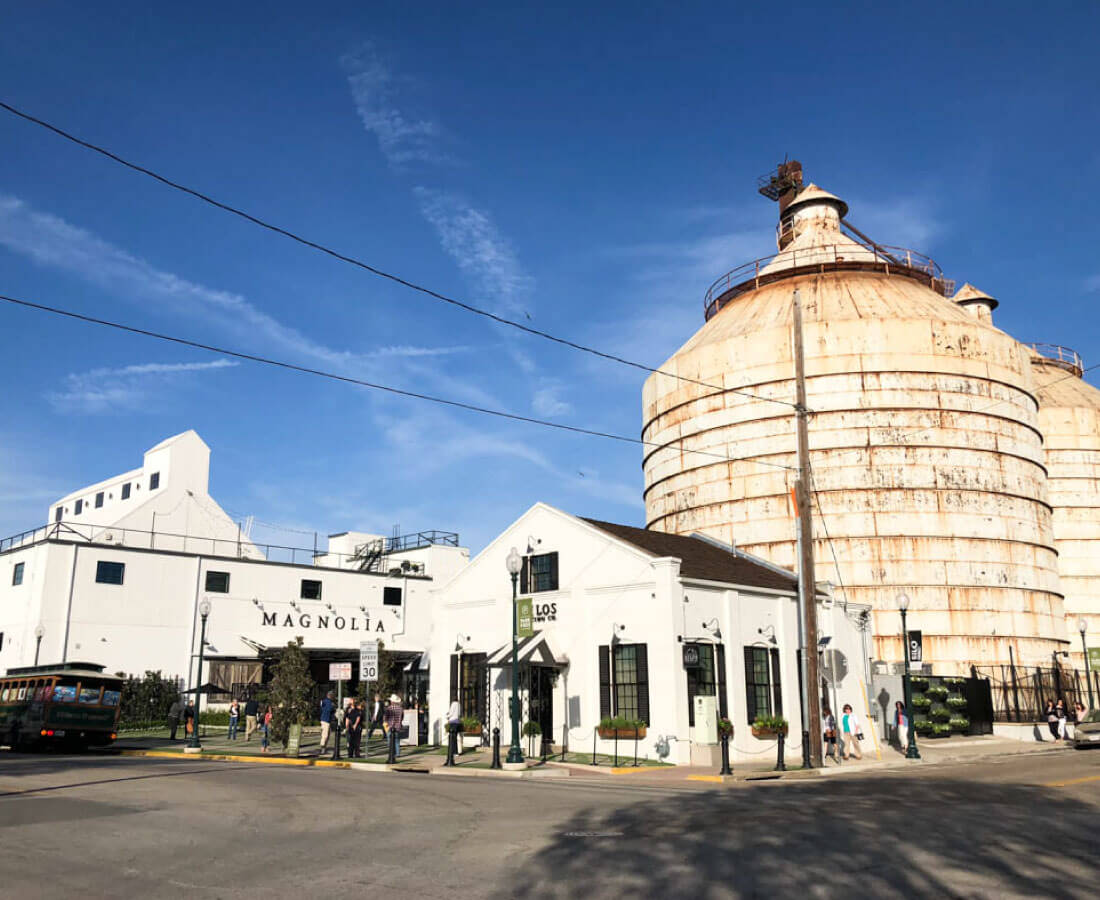 I went to Austin, Texas for a blog conference and since we were already within driving distance to Waco, we decided to go for it! A group of friends and I headed out to experience all that Magnolia Market has to offer. If you ever have the chance, do it! It was a fun day and we got to see it all.
Magnolia Market
We happened to go right when Magnolia Table was opening. The timing was perfect. And I'm so glad we had the chance to try it out because the food there was worth the 1 1/2 hour drive in from Austin.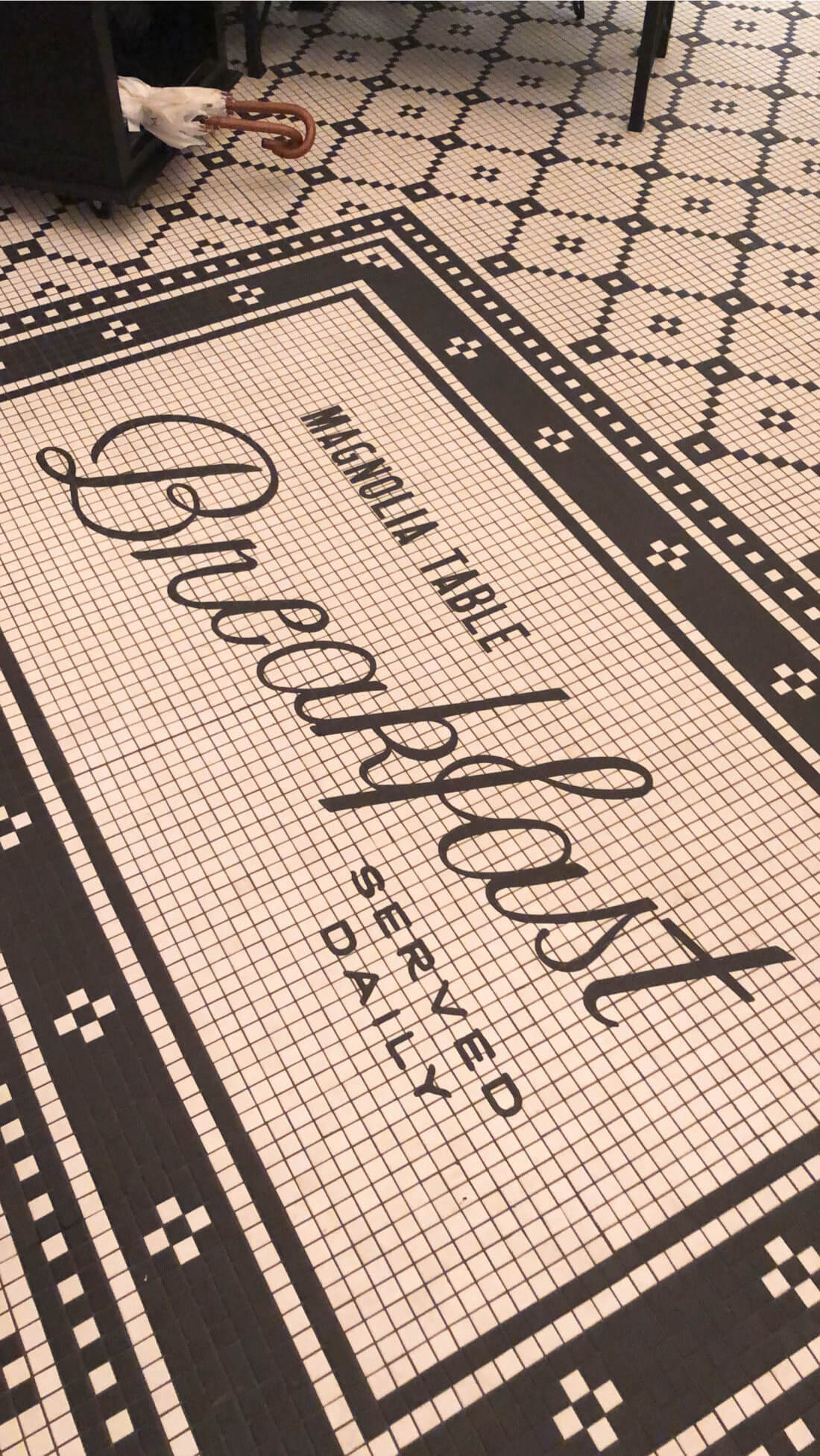 We knew that it would be busy, even during the soft opening, so we got up early to get a table. There was a big group of us and they put us in this awesome space: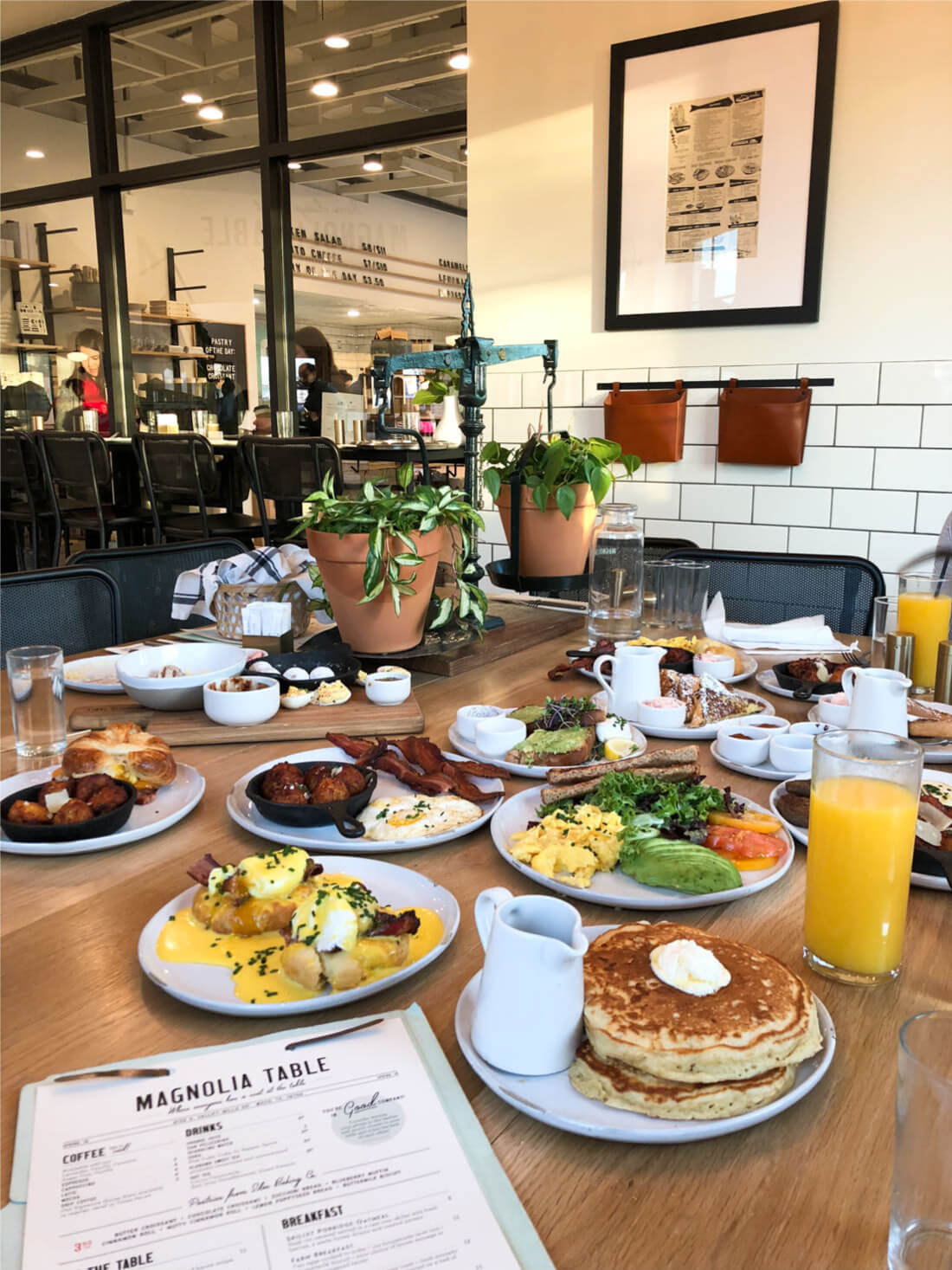 We decided to try one of everything, literally. That was the best decision EVER!! The food was incredible. The staff was awesome. Every detail there, perfect. I dream of the biscuits. Do yourself a favor and get the Magnolia Table Cookbook just so you can make those! YUM.
Magnolia Table
Tips for Magnolia Table:
Go early!! It's worth getting there first thing in the morning. We got there before the sun rose. We didn't have to wait long but have heard that if you go later, the wait is hours. It's worth the wait, but I think I would even give up if I had to sit around for that long.
Order one of everything. There wasn't anything that I had that I didn't love. It was all sooooo good.
Explore – I know this sounds kind of stalkerish but it is decorated so cute. The bathroom, the signs, the hallways, everything! Be ready with your phone/camera because you won't be able to help yourself.
Save some money for "Take Away" – go shop over there and pick out something fun for your kitchen.
Other Travel Posts:
If you love this Magnolia Market post, you're going to love these other travel posts. Please click each link below to find post:
(plan some more trips!)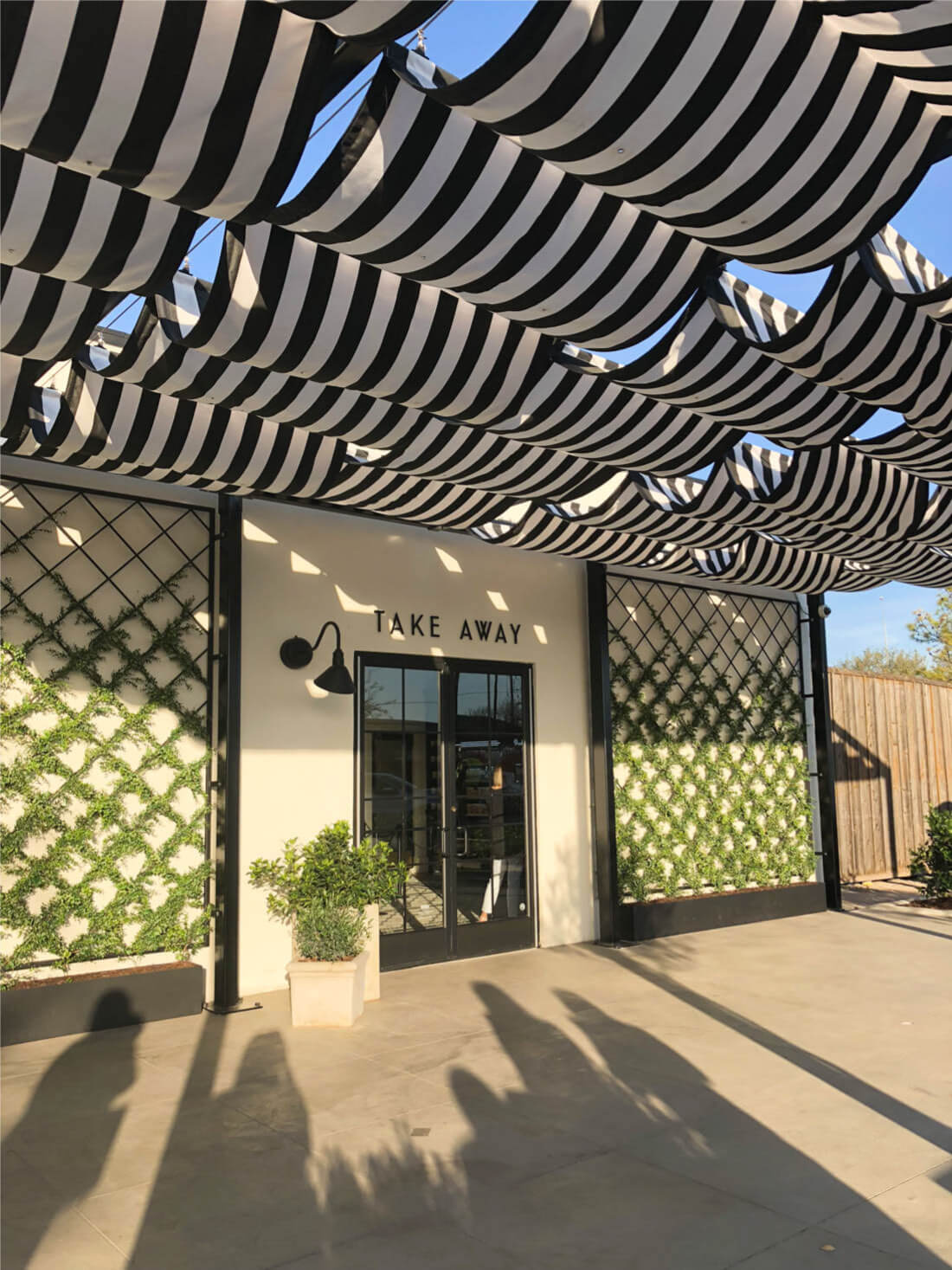 They also have this cute Take Away spot where you can order to go and has a spot to shop in it. Even that was impeccable. I wish I could get one of every single thing there. I walked away with a shirt and dish towels (no, I didn't need either…but when in Waco..!).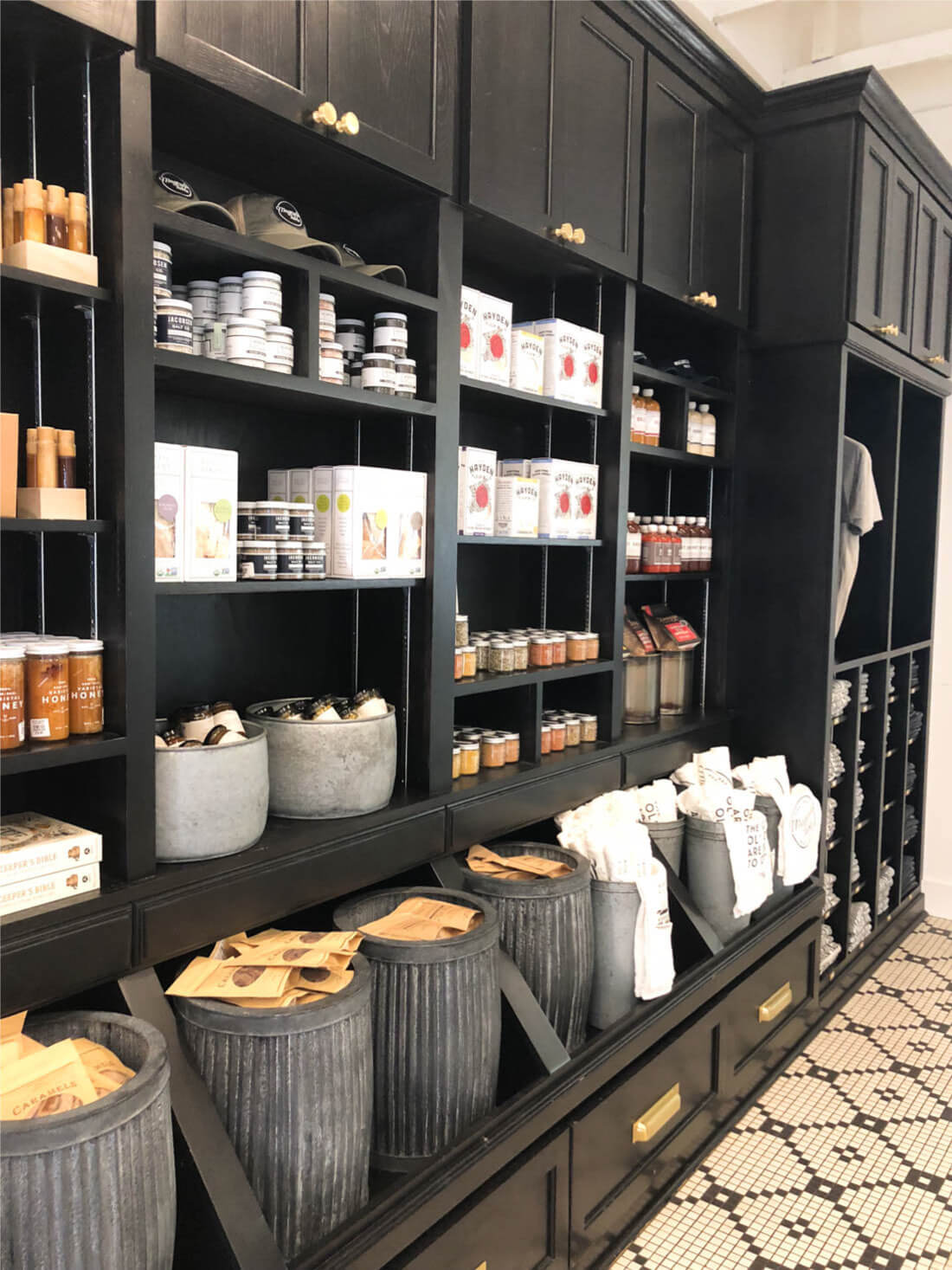 After eating breakfast it was time to head to the Silos. I have wanted to go to the Silos since they first started talking about it on Fixer Upper. It kind of felt surreal pulling up to it.
Magnolia Silos
Tips for the Silos:
Get there early – if you're there when it first opens (normally 9am), you will have an easier time parking and it won't be as crowded. Try to avoid Saturday because it's ridiculously packed. And it's not open on Sunday.
If you want to get a cupcake or anything sweet, go to the bakery first. The line gets ridiculously long. It's better to start there and then shop after. They are good so it's worth it! The bakery opens at 7:30am! So if you really want to do it right – get up early, go to Magnolia Table, then the bakery at 7:30am and then you'll be there at 9am for the Silos.
Ship! They offer shipping (so smart!) so that if you buy some big stuff, you don't have to try to find a way to bring it home.
BUT note that there are some things that you can order on their site with a better deal for shipping.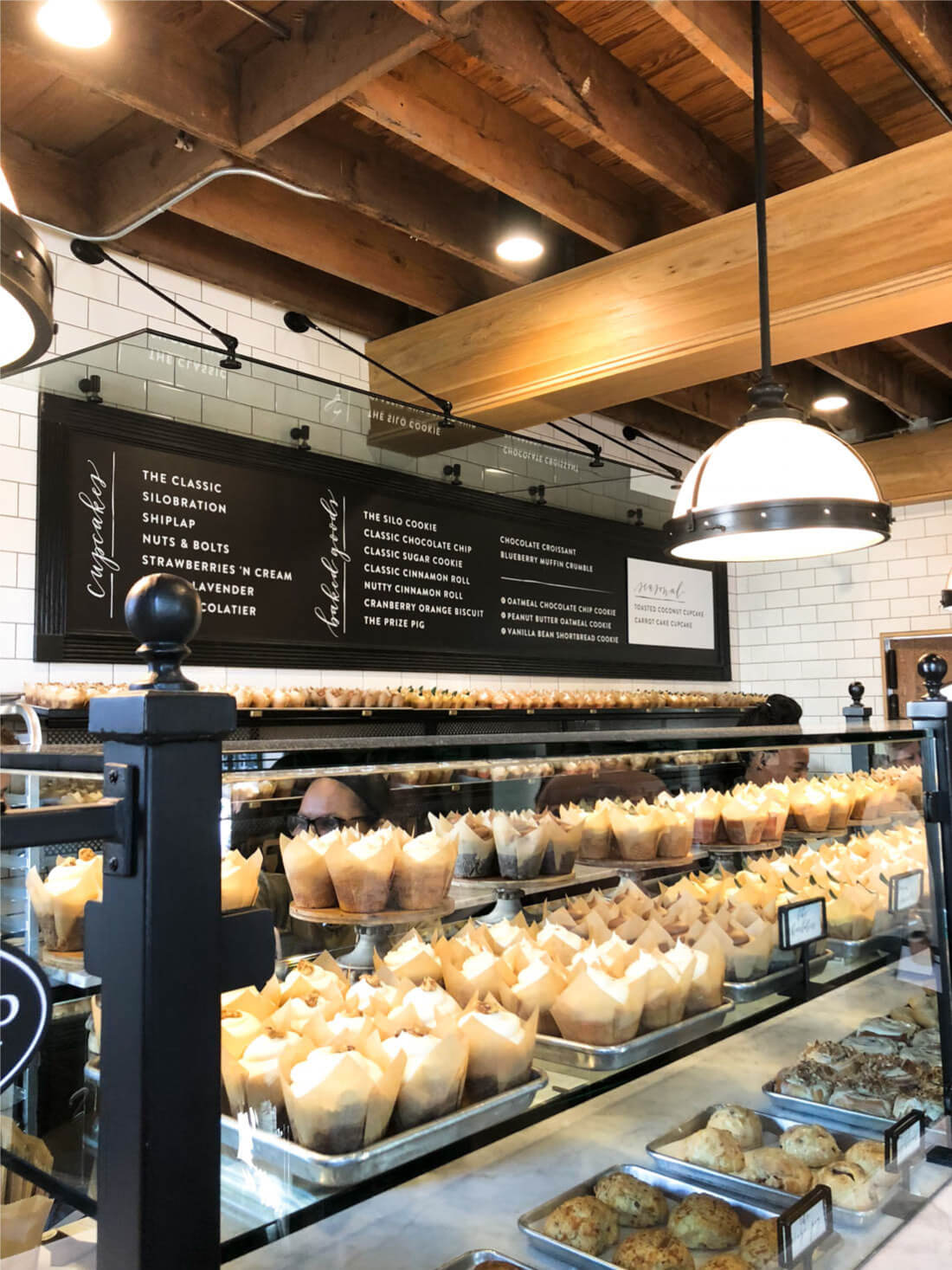 There are photo opportunities everywhere you look! It's hard to limit the number of pictures to take because it's all so beautiful.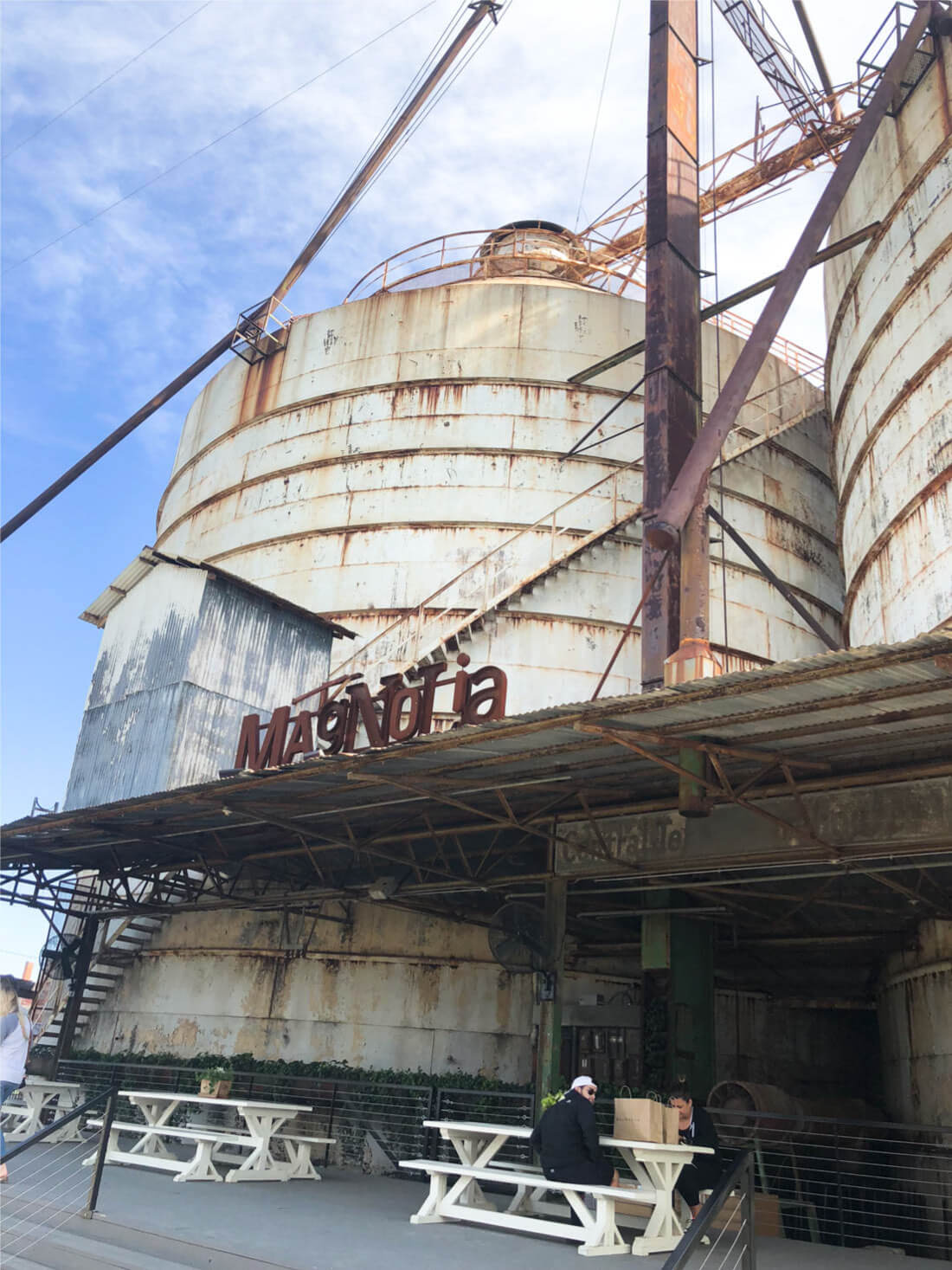 This spot was perfect to take pics with friends: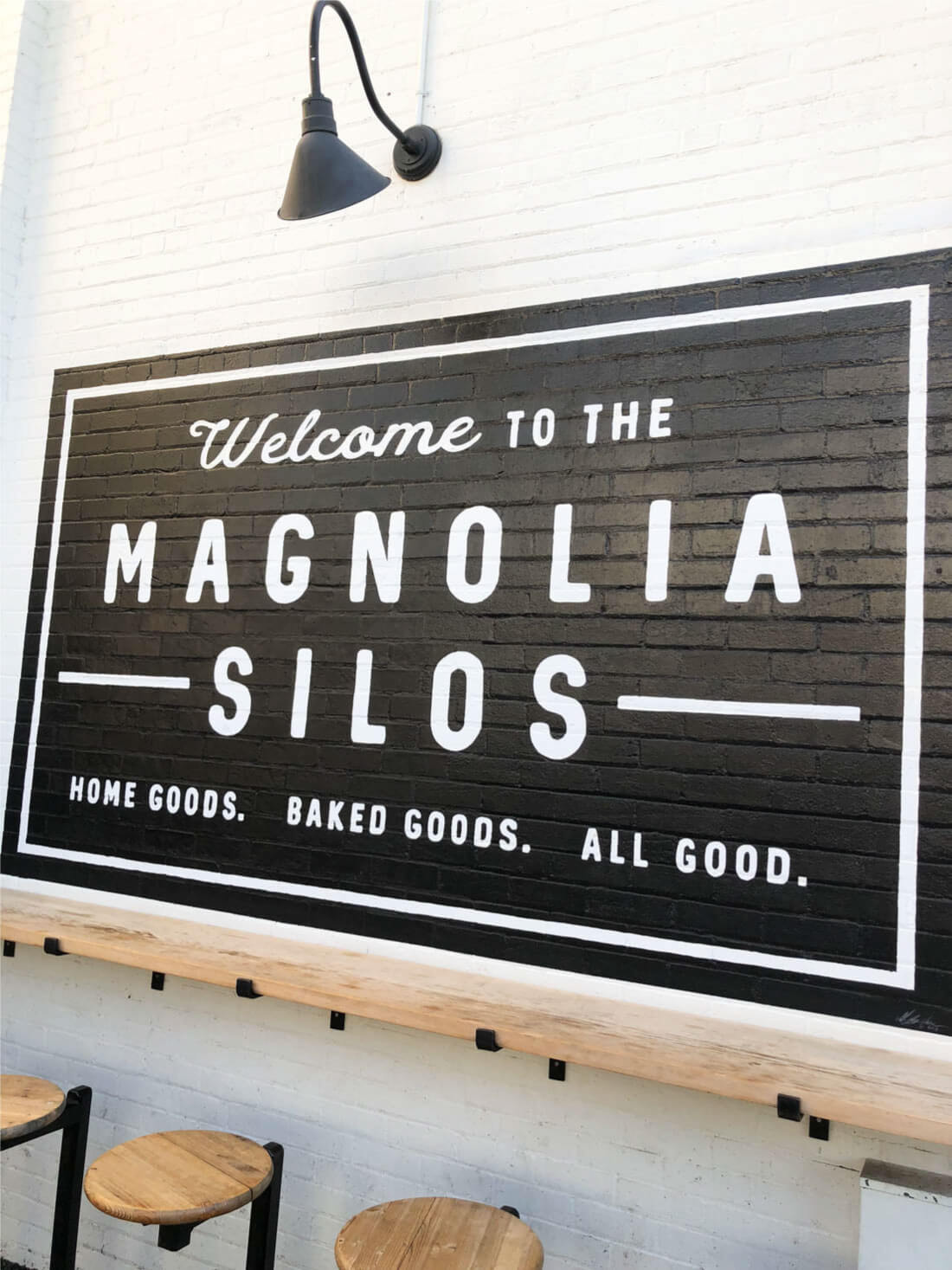 I loved walking in to this spot that had tons of kitchen items: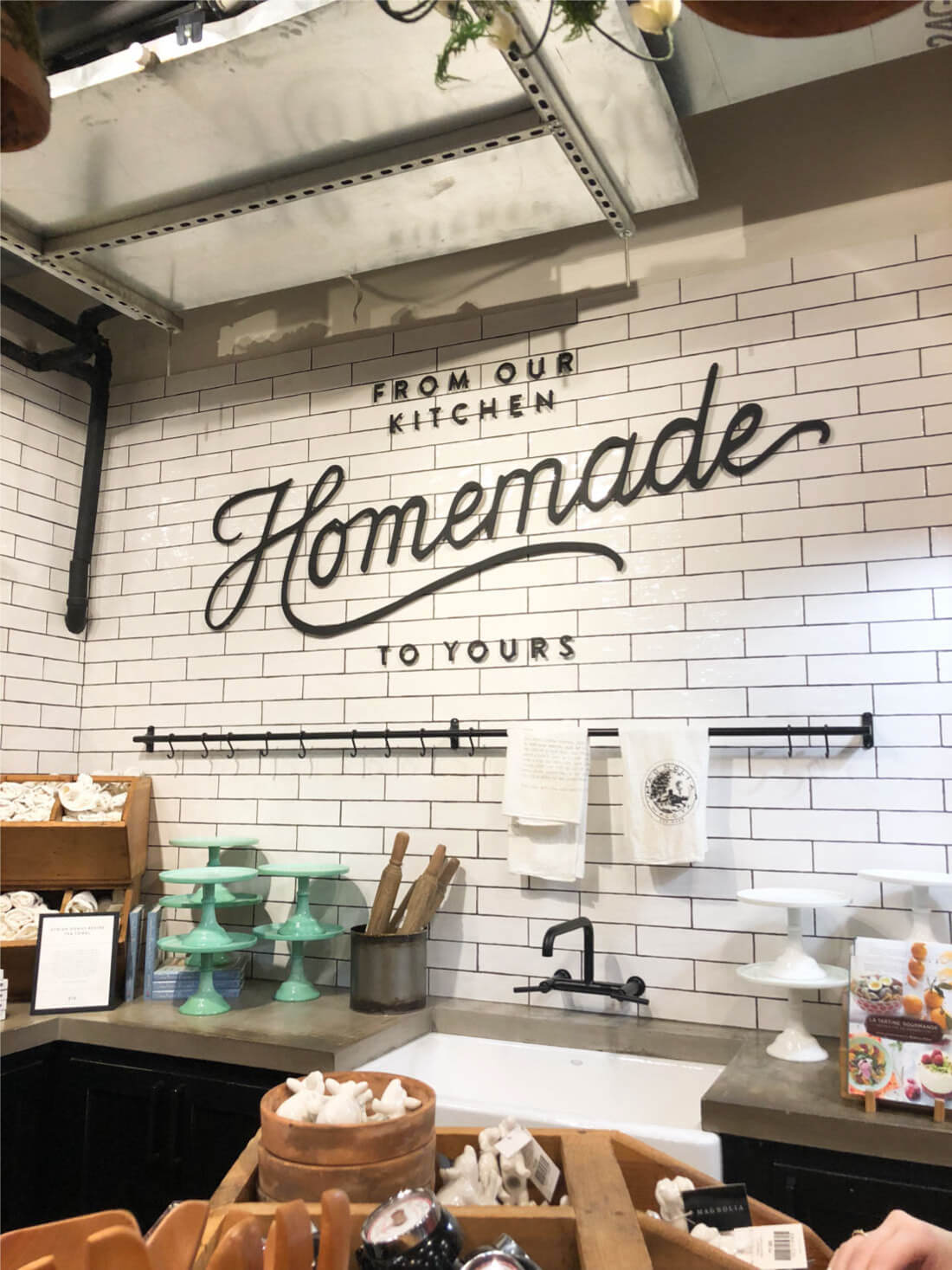 I've loved Jadeite for years so it was fun to see so much of it at the Silos. (the green cake stand in this pic)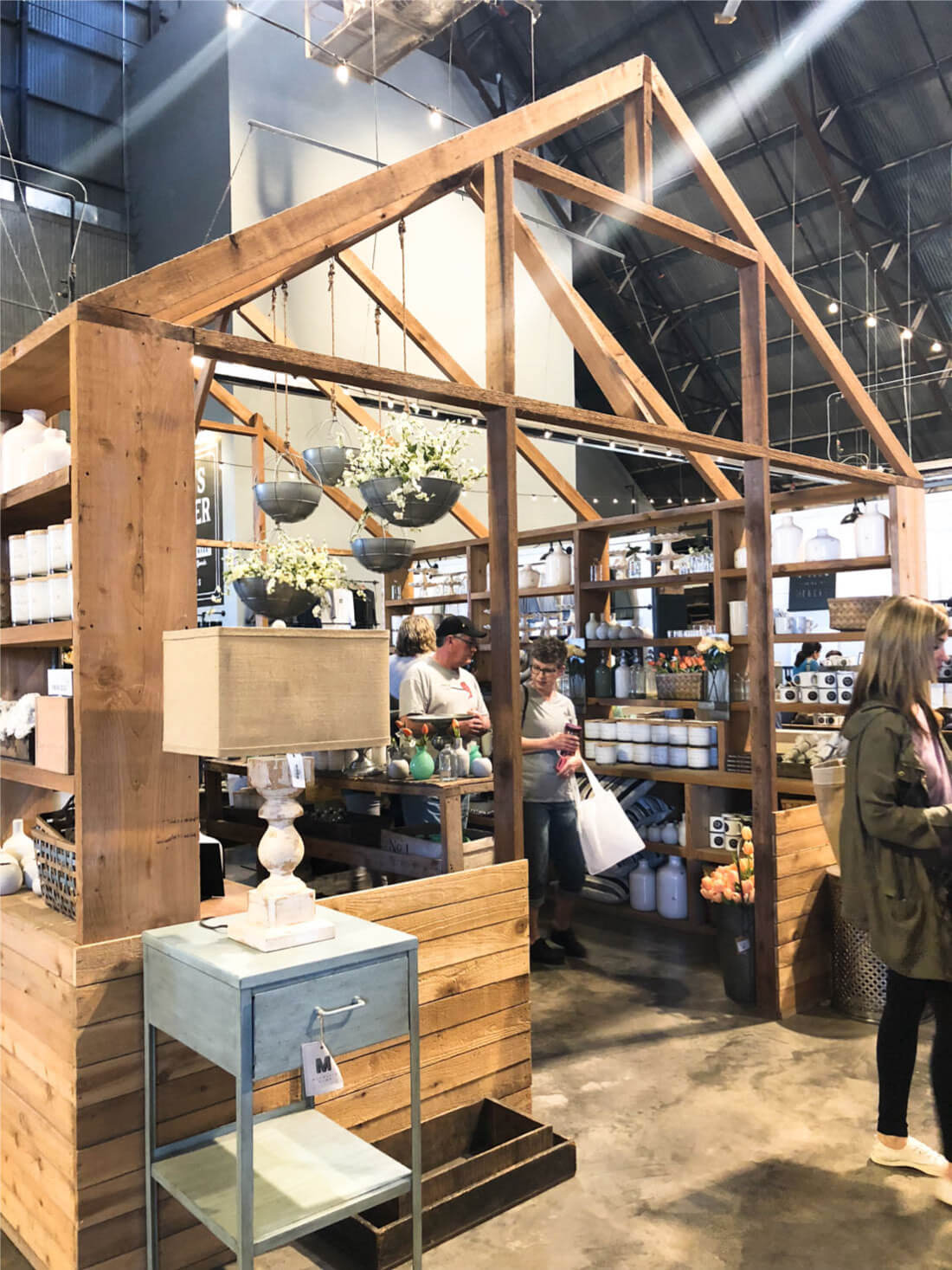 There is so much to take in, that it was overwhelming. It was like there was so much stuff that I didn't get any of it. Weird. I got a sweatshirt and some keychains. But if money and shipping were no object, I would've come home with a whole lot more.
Harp Design Co
We lucked out and stopped at Harp Design Co to visit with Clint and Kelly. They were sweet as can be and I loved, loved, loved their shop too. A definite must stop while you are in Waco.