There are about 19139203492 things to do in New York.  I could write several posts and still not hit them all.  But I'm going to give it my best to break it all down for anyone considering a trip to the Big Apple!  Buckle in because it's going to be a long one…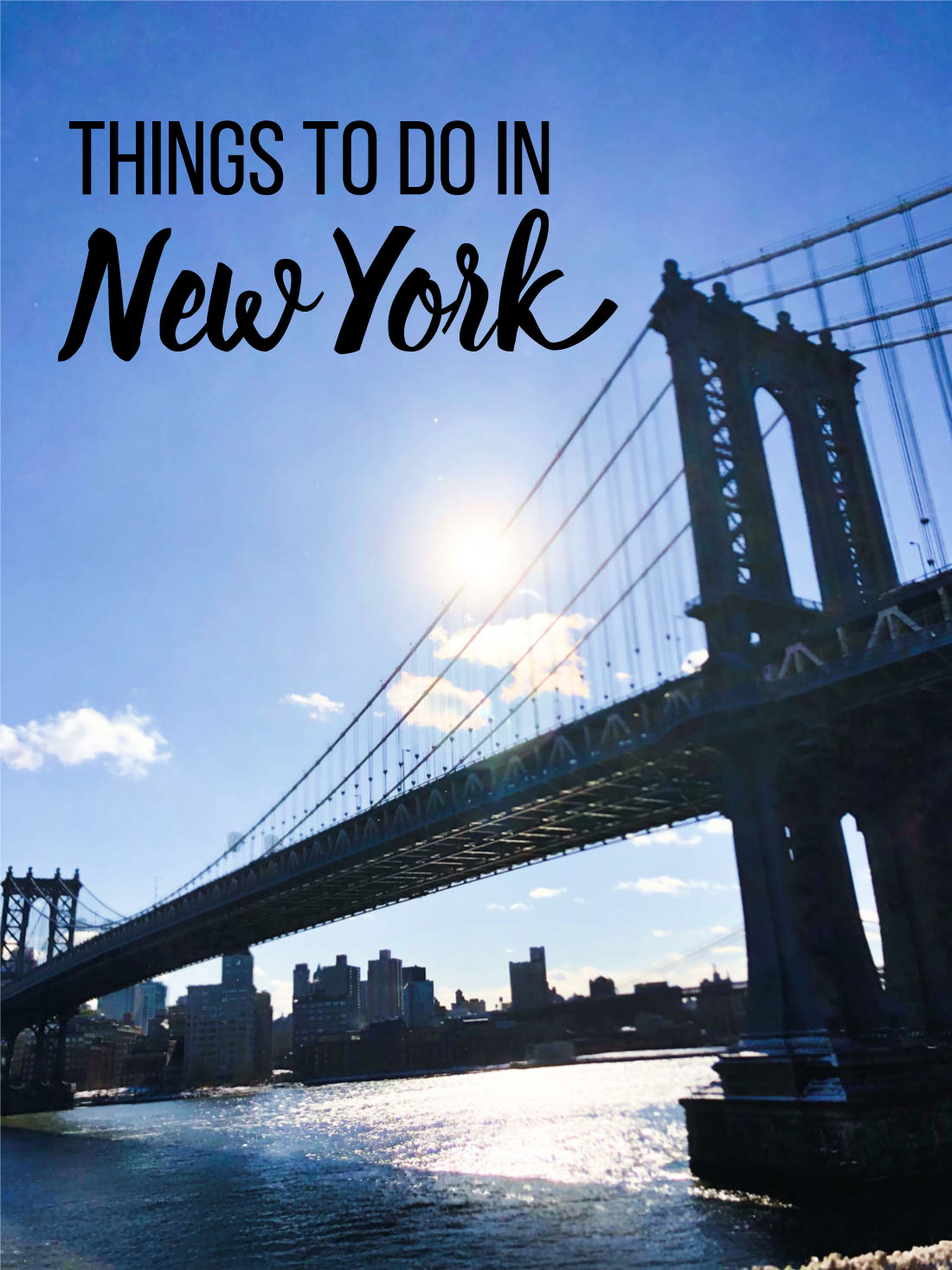 The family that I grew up in mainly visited tropical places.  We experienced some big cities but nothing quite like New York (of course there was the crazy driving in Madrid, Spain that trumps all crazy driving in every country…).  I didn't get to visit it until I traveled to New York 2 years ago.
My daughter has talked about visiting New York for years and in an attempt to make her 16th birthday extra special, we decided to take her and our youngest son.  To say it was memorable was an understatement.  I wanted to share some of things we did, places we went, spots to eat and more with you!
Things to Do in New York City
We had a short trip planned so we hit the ground running.  We stayed at the Marriott Marquis right in the middle of Times Square.  It was recommended by several people to stay there and we ended up in a large corner room with an awesome view.  We liked that it was in the middle of everything and that we could hop outside and go anywhere from there.  It did get noisy at night but we were all so tired that it didn't seem to affect anyone falling asleep.

TIMES SQUARE 
Even if you don't stay at the Marquis, Time Square should be on your list to visit.  It's big and noisy and screams New York to me.  It's also very touristy so you don't need to spend a lot time there.  Going at night is fun because of all of the lights!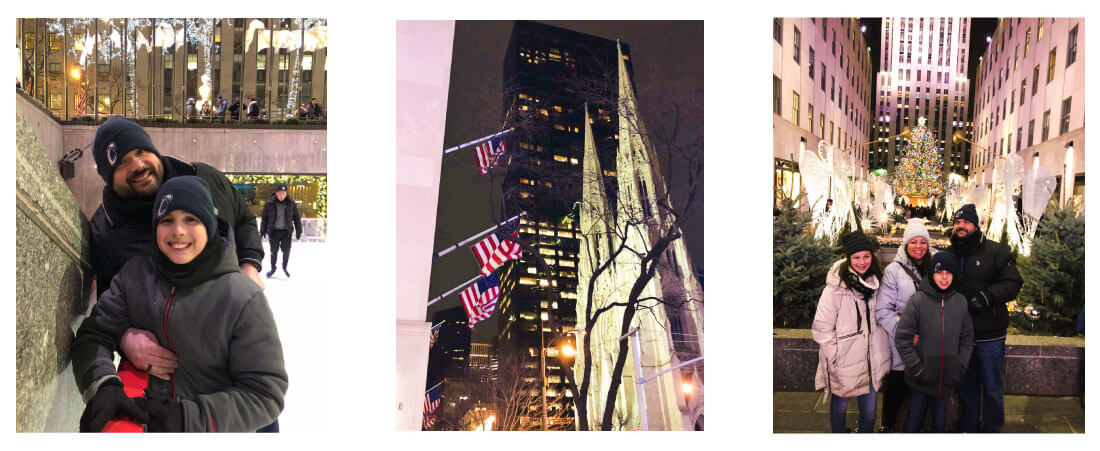 ROCKEFELLER PLAZA
We also went to Rockefeller Plaza on the first night.  We had reserved tickets to go ice skating at "starlight" which is from 10:30pm – midnight.  It was a cool experience but it was also really crowded and kind of a mad house.  I love that we did it together but don't think I'd do it again.  A few friends suggested ice skating at the Standard (in the Meat Packing District) or at Bryant Park Village.  While we were at Rockefeller we were able to see the Christmas decorations, the huge tree and the lights on Saks.  I loved it!! Such a cool time of year (both literally and figuratively)  to go to the city.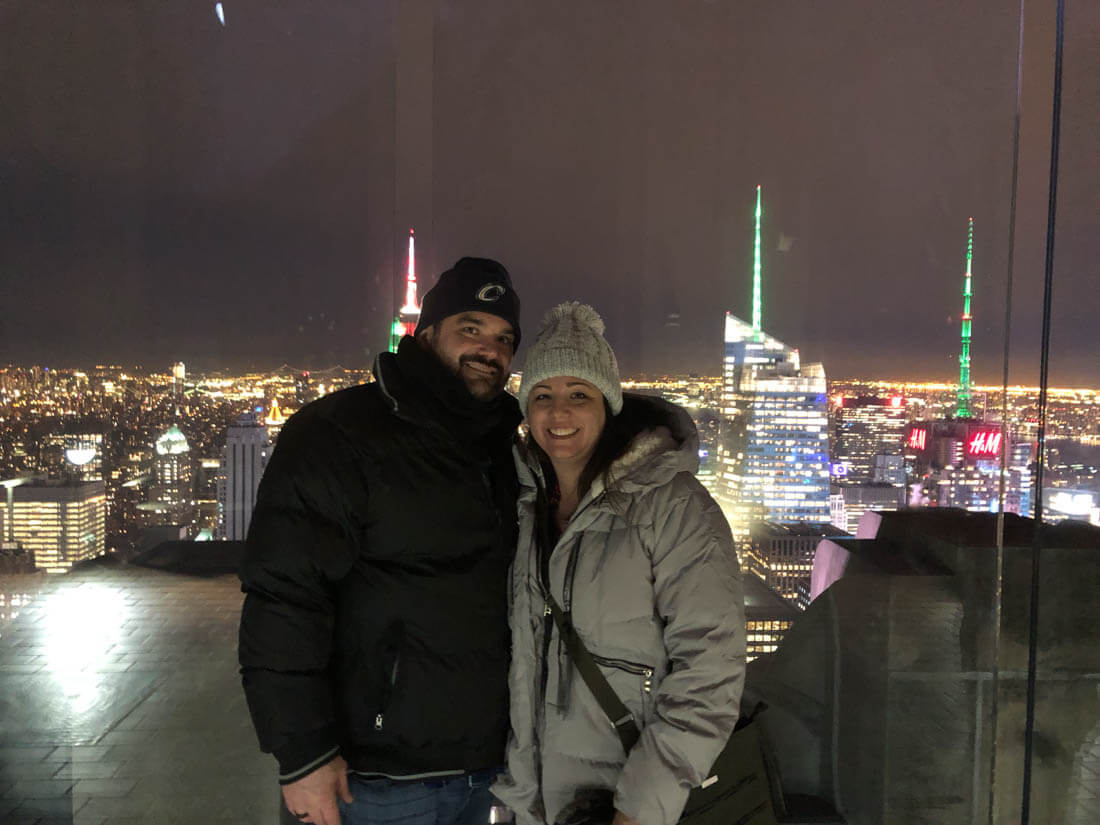 TOP OF THE ROCK 
We went to the Top of the Rock at night.  It was really pretty but also expensive.  One of our kids wasn't a fan of the heights.  So it was a lot of money to be there for a really short time.
GO TO A SHOW
This was the main reason that we decided to go to NYC for Julia's 16th birthday.  She loves music.  She loves theater.  And for the past year she has loved Dear Evan Hansen.  It was a no brainer.  There are SO many musicals/shows/theaters in NYC that you could spend weeks going to different ones.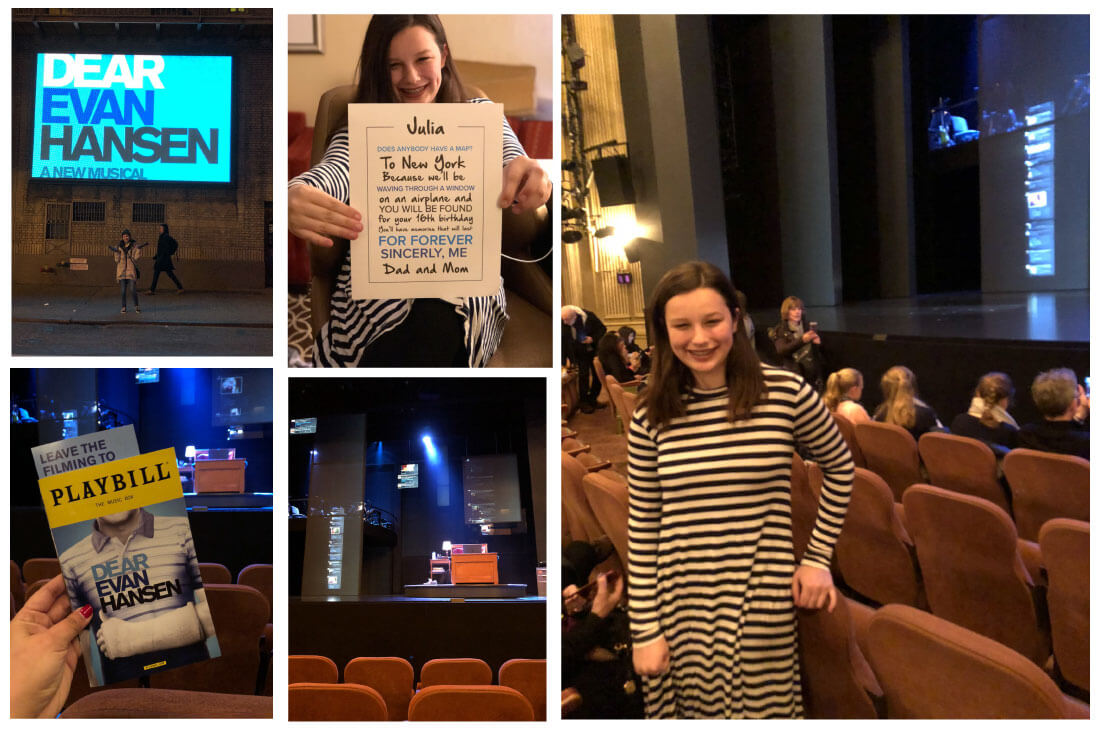 Dear Evan Hansen was fantastic.  The hardest part was not being able to sing along because both Julia and I knew all the words.  The music was incredible, acting awesome, with a sad storyline.  I wouldn't recommend taking anyone younger than a teenager.  And even then, it has some language (including the F word several times).
Next at the top of my list to see are: Waitress, Hamilton and Come From Away.  I'm dying that we didn't get to see Waitress or Hamilton.  And I had never heard of Come From Away but while we were at the theater everyone was talking about it.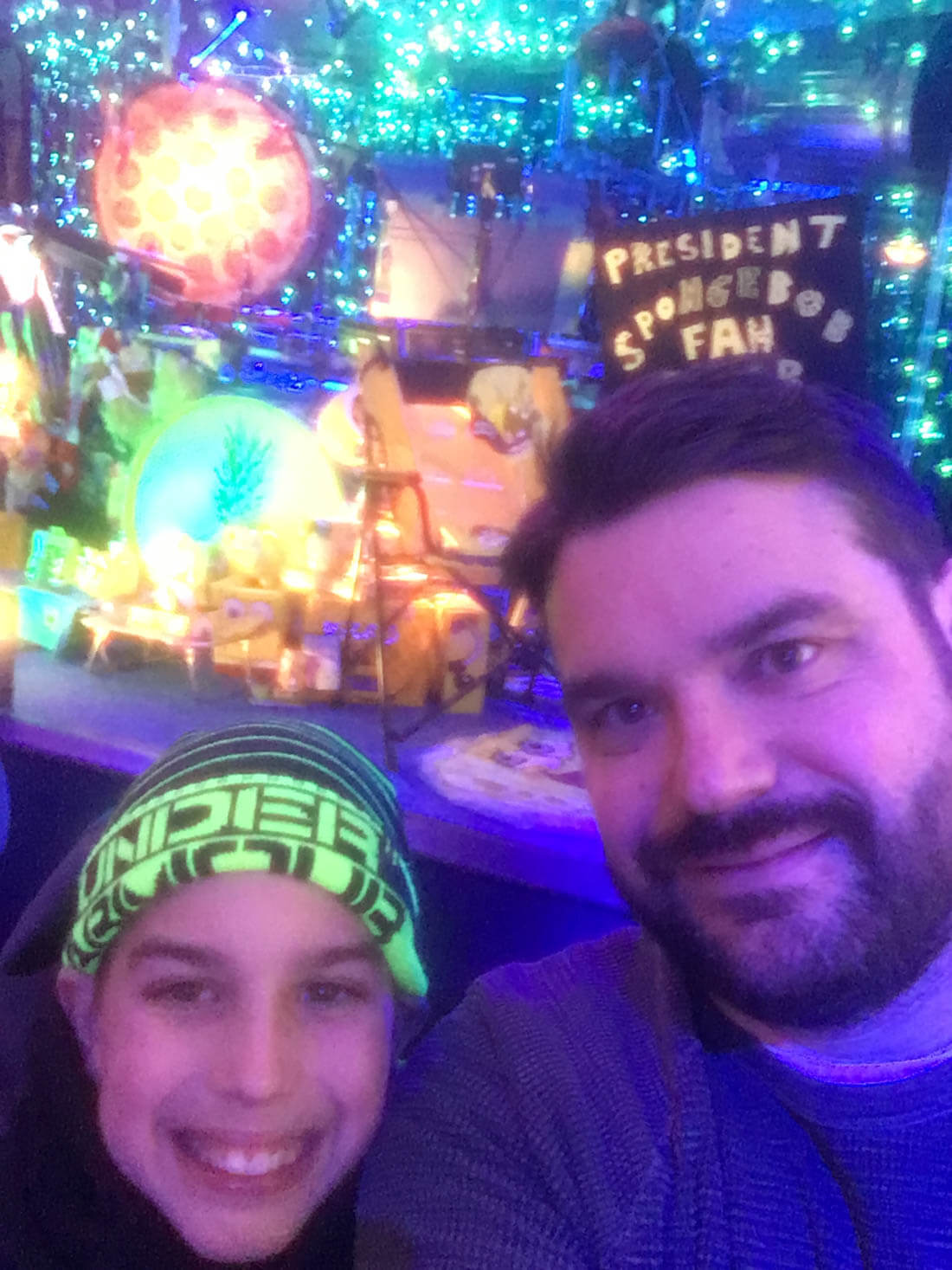 While Julia and I were seeing Dear Evan Hansen, Josh and Drew went to see Spongebob the Musical.  They absolutely LOVED it.  I was so surprised.  When I asked Drew what his favorite thing was, he said this musical.  And Josh kept going on and on about it.
MY TIPS FOR GETTING THEATER TICKETS:
If you can avoid buying tickets ahead of time, do it.  We had 3 days that we knew we could see Dear Evan Hansen so we waited until the night before to buy tickets and got them for half what face value was, 4 rows from the stage, in the center.   They were the best seats I have ever had.  We felt like we could reach out and grab the actors.  It was amazing.  We were looking for seats on Seat Geek, Vivid and Cheap Tickets.  The later you try to purchase, the lower the price will be.
Note: Each of these are independent people that list their tickets.  There are fees associated with them (sometimes up to $70 additional PER ticket) – so keep that in mind.
You can also go to the TKTS line at Time Square to purchase tickets on the day of a show.
Another option is to stand in line outside and wait to see if there are any last minute cancellations.  If there are, they will take people in line (first come, first served) and let you purchase for face value.  That's how we tried to get into Hamilton (it was freeeeezing) but it didn't work out.  Since it was right next to our hotel it was worth a shot but someday I'll see it!
Obviously this won't always work – if you're doing it for a gift or are only in town for a day or something.  BUT if you can swing it, do it this way.
GRAND CENTRAL STATION
It was definitely grand! A little overwhelming.  But we knew we wanted to take a subway at some point and experience this with our kids.  Everyone there was super helpful as we were trying to find our way around.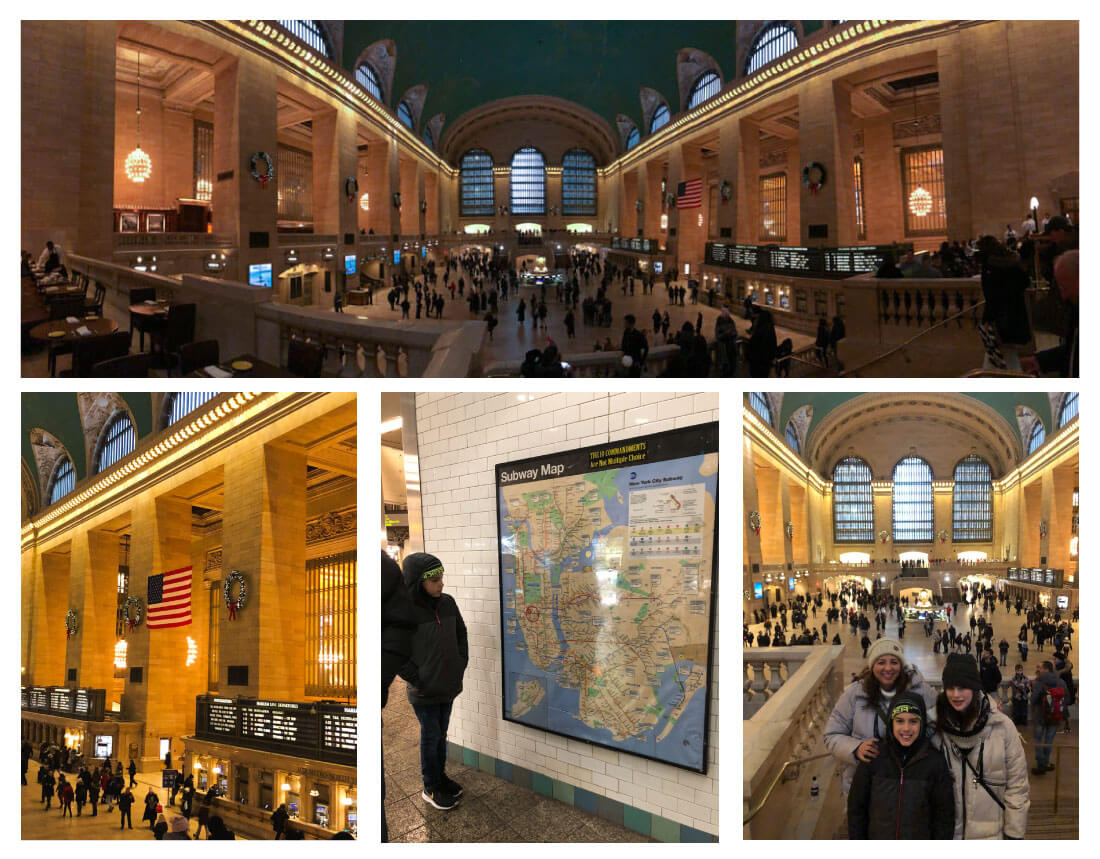 This was one of the few things that was still running on Thursday when the snow hit and the rest of the city was shut down.  It was so awesome to see it in person.
We took the subway to the Natural History Museum – one of the things Josh really wanted to see.
NATURAL HISTORY MUSEUM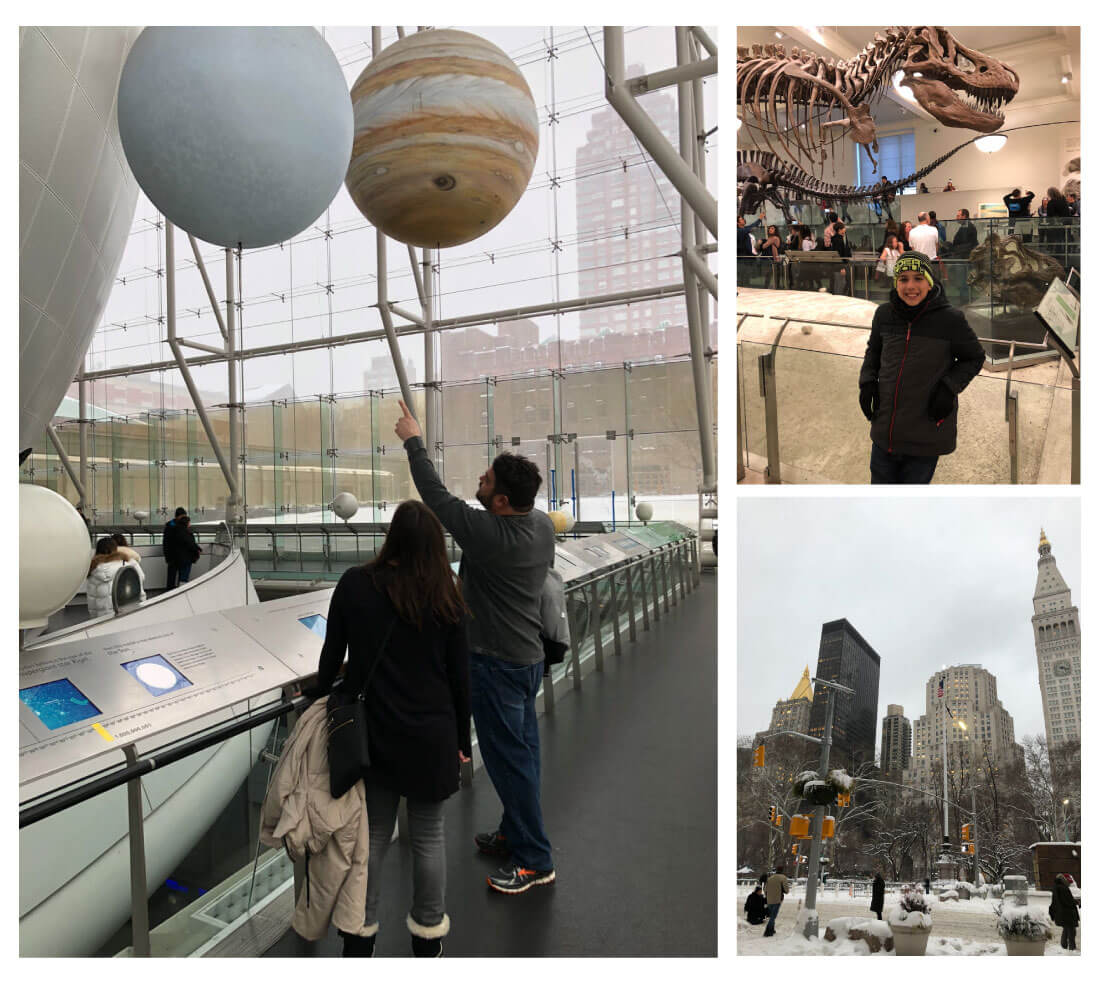 Josh really wanted to go because of Night at the Museum.  It was a huge museum.  And everyone else had the same idea as us because most of the city was shut down from the storm on the day we went.  I don't think the other 3 of us are the best museum goers.  We didn't last nearly as long as Josh would've liked.
STATUE OF LIBERTY/ELLIS ISLAND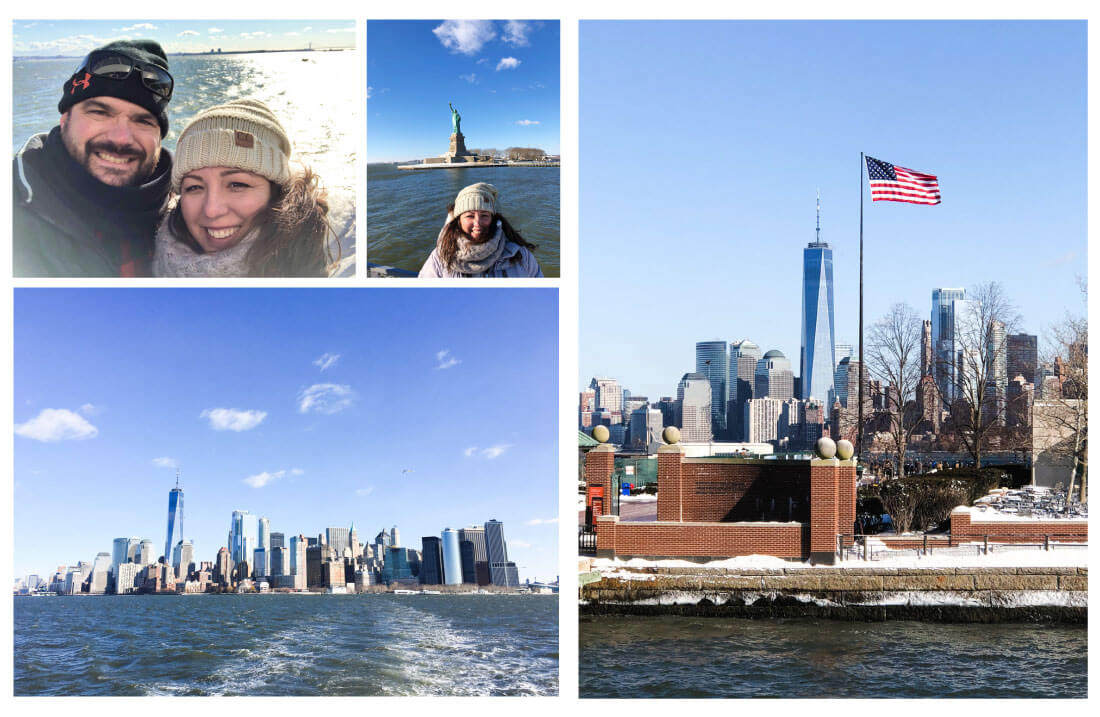 This is one of those things you just have to do.  We happened to go on the coldest day EVER.  We were freezing.  Our kids were crying waiting in line (yes, it really was that cold).  We were so cold that we didn't even get off of the ferry to walk around.  We just couldn't bring ourselves to do it.  We turned right back around and headed back.  For as cold as it was, it was beautiful and sunny.  It was the perfect spot to take pictures, just not to walk around in 10 degrees.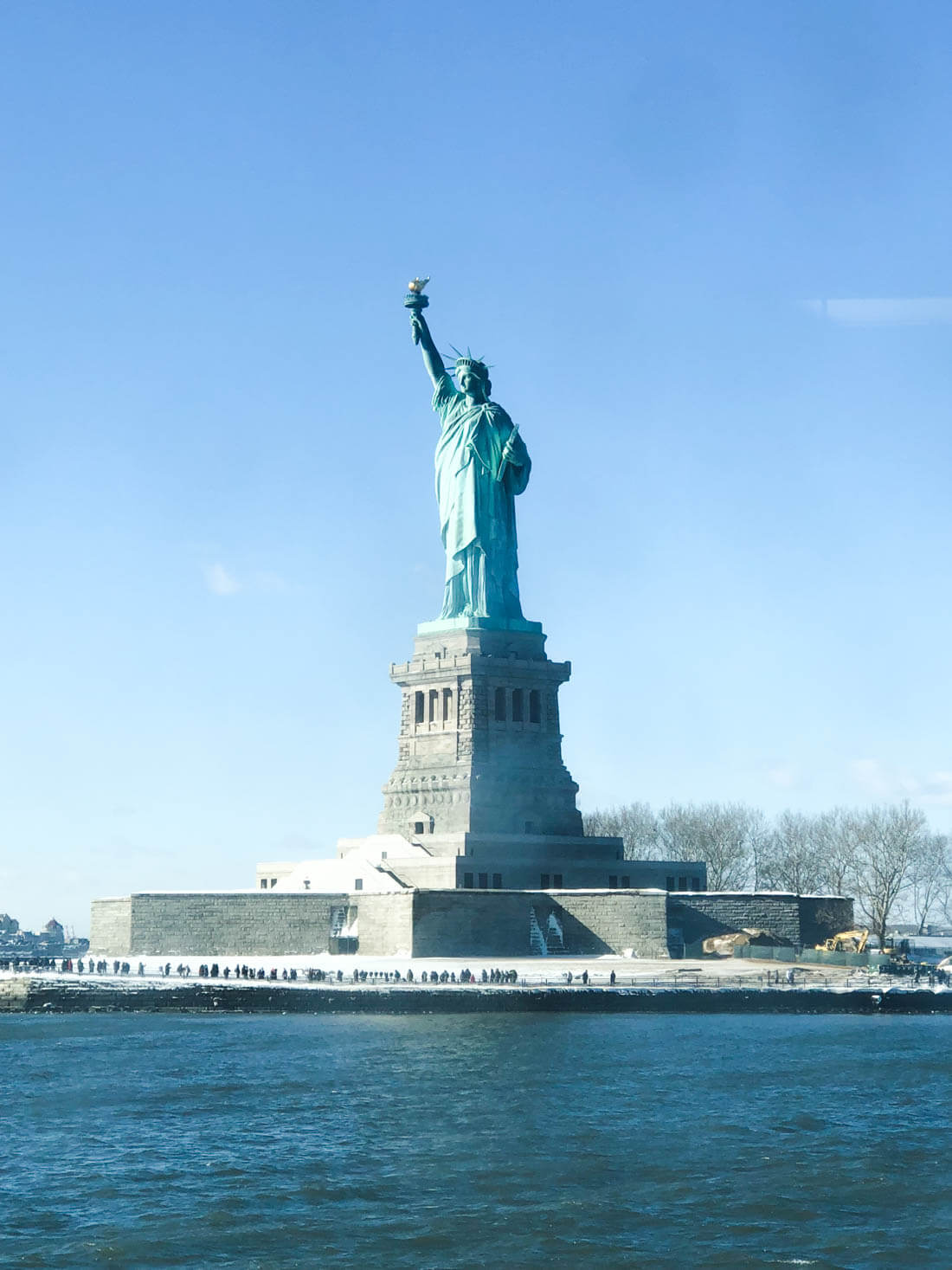 CHELSEA MARKET 
On Saturday my family humored me by letting me check off some places I really wanted to go.  Chelsea Market was so great!! I loved the feel of it, the shops, everything.  I wish I had more time there.  I was able to get a cute charm bracelet from Brooklyn Charm that I had NYC stamped on it.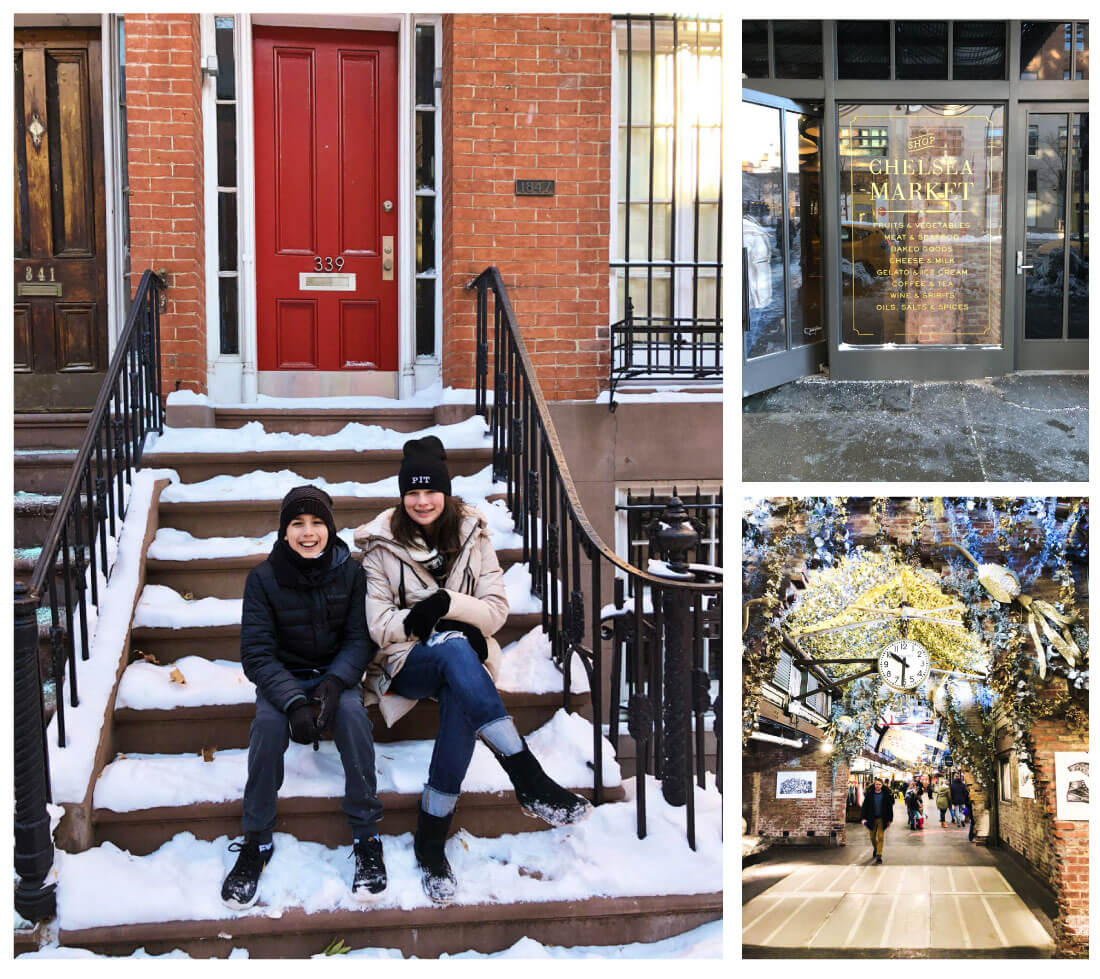 NY PUBLIC LIBRARY
We almost skipped this because we were running out of time but I'm so glad we didn't.  It was absolutely beautiful.  So huge and gorgeous.  The staircases, the rooms, the paintings, everything.  So pretty!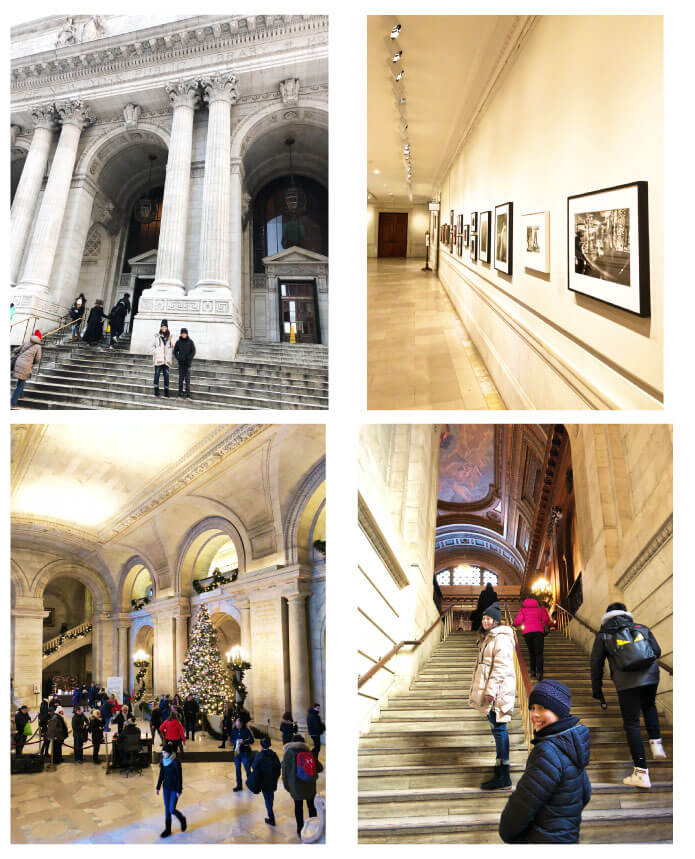 We also drove past the Brooklyn Bridge, Bryant Park, and Central Park.  Because of the snow, we weren't able to walk through all of these the way we would've liked.  (I visited them all on my last trip but sadly my family didn't get to experience any of them)
We went to the NFL Experience – Drew's one request- and while it was cool, it (again) cost a lot and would only really be exciting for a kid who loves football.
I plan on doing a whole post on places to eat in NYC.  One of my favorite things to do while traveling is try all kinds of new foods and restaurants.  Love it!!  These are some of my favorites: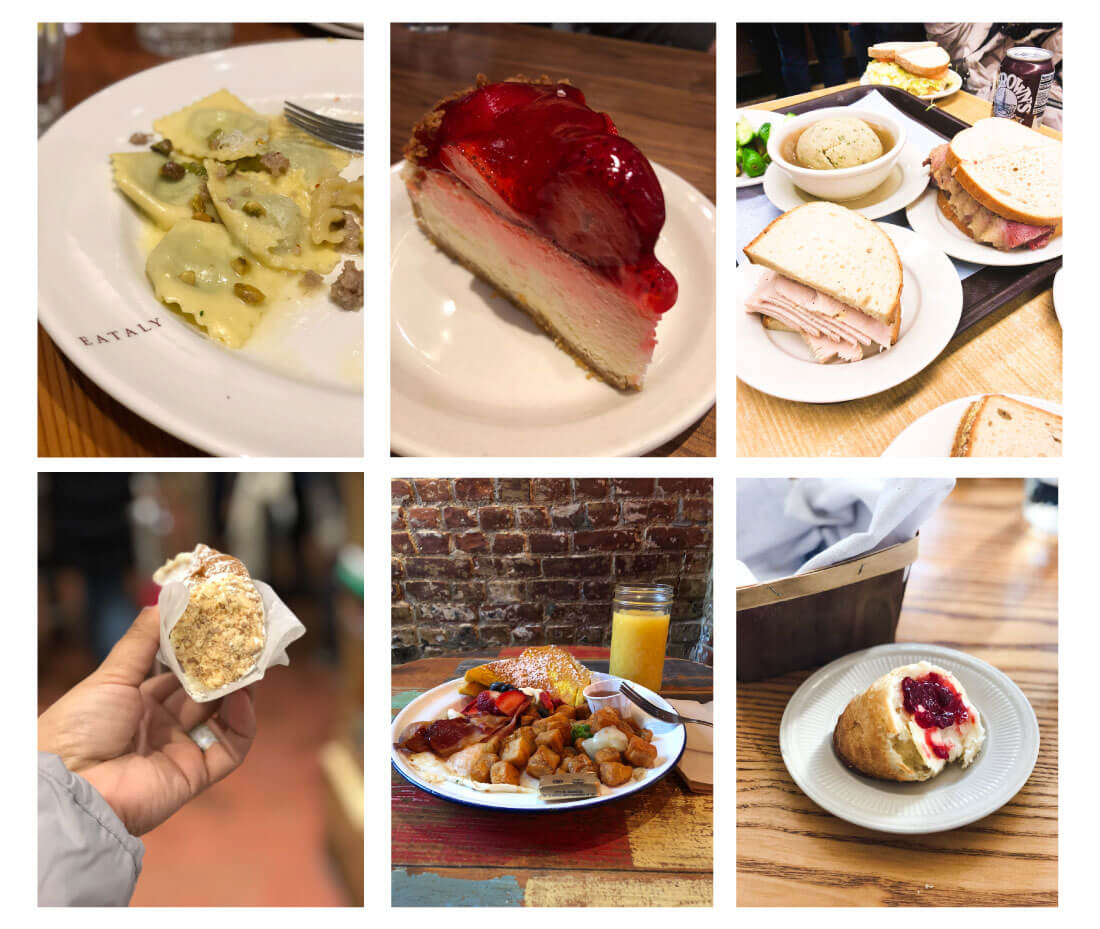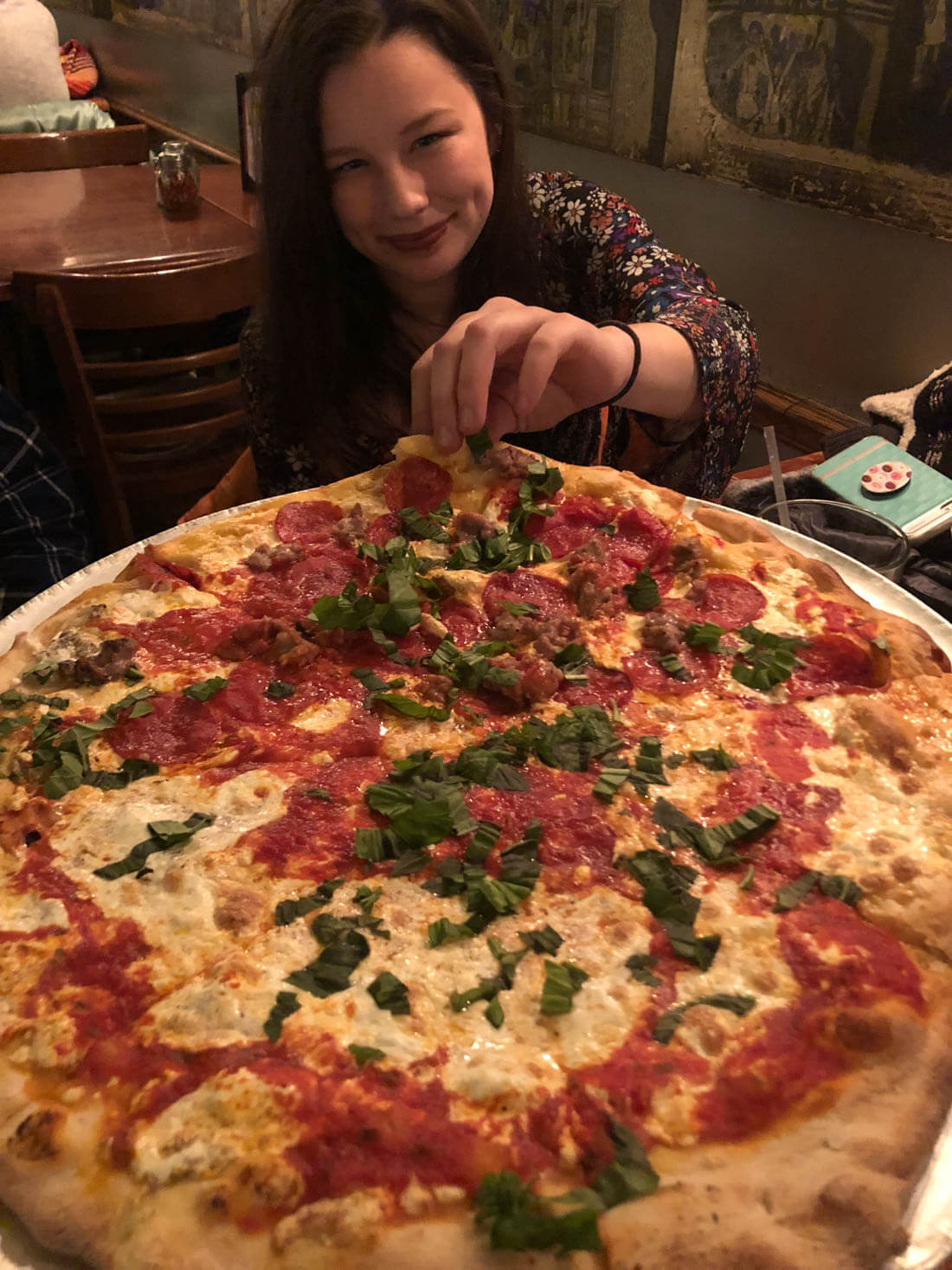 Going to New York in January was pretty risky.  We knew that going in.  But our kids had their third week of winter break and Julia's birthday is in January.  So we went for it.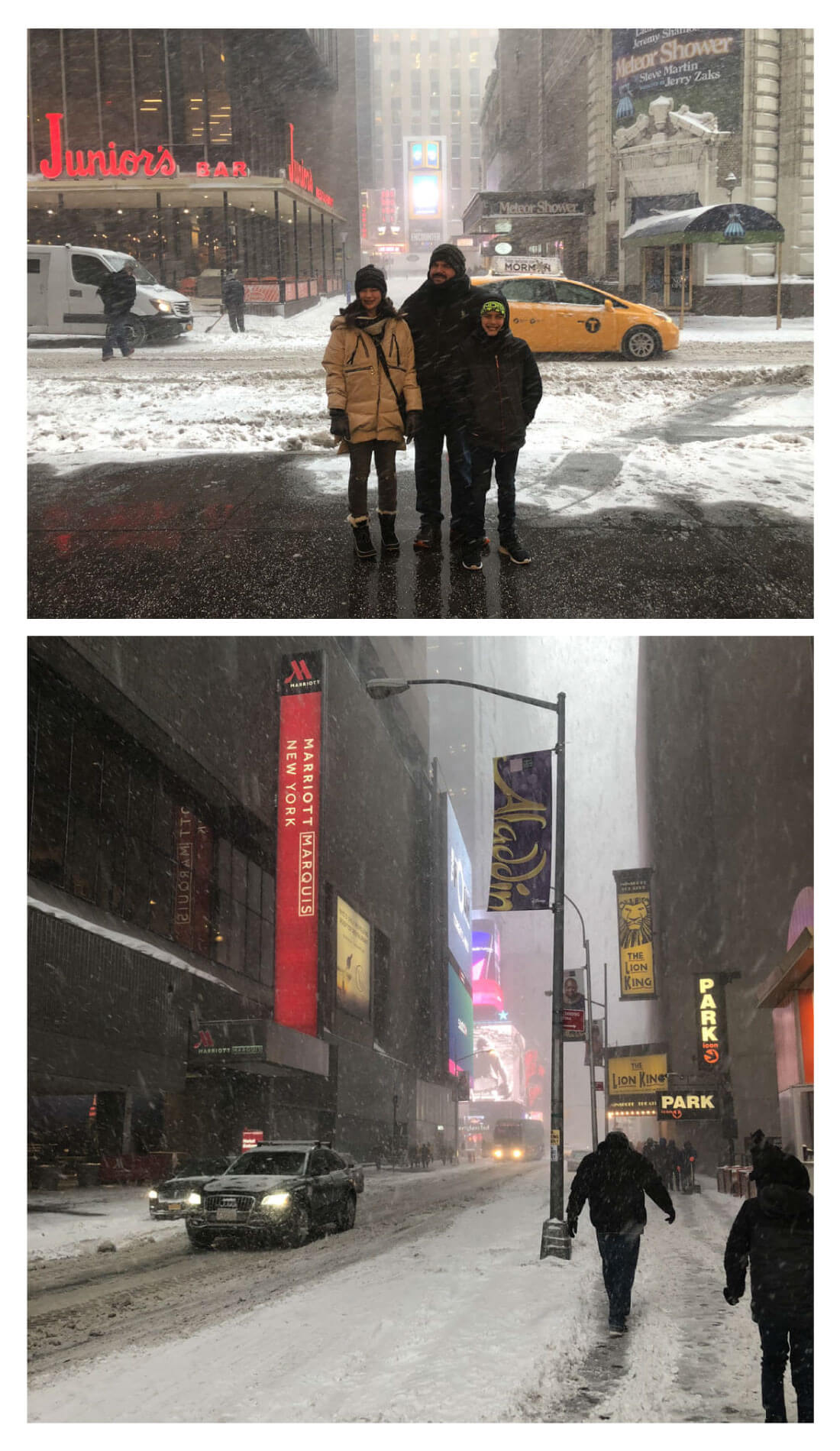 It ended up being extremely cold.  The low on one of the days was ONE degree.  Add in the windchill and it was below.  One of my friends said there is a "sweet spot" for weather in NY – in the summer it's blazing hot, in the winter it's freezing.  Seems like spring and fall are the best times to go.  We made lots of memories going during a big storm!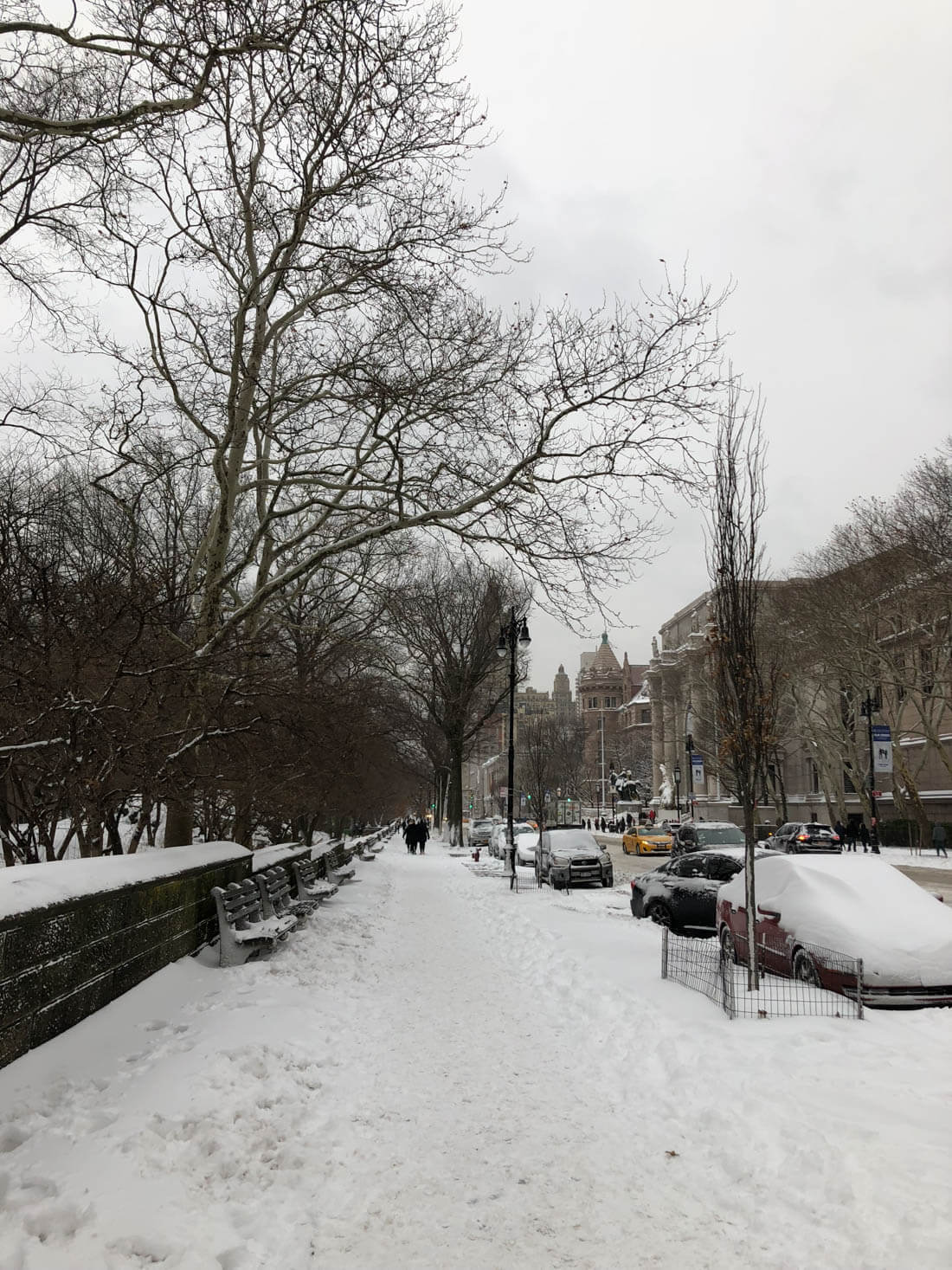 Things to note:
—-> New York is expensive!! I'm sure this comes as no surprise to anyone.  But every meal was at least $50 for the 4 of us, most of the time $75 or more (yes including breakfast).  We only had water and didn't order huge elaborate meals.  It's just all very pricey.  The food, the shopping, the experiences, everything.  It adds up fast.
—-> There are lots of ways to get around – walking, taxis, Uber or Lyft, subway.  We ended up doing a mix of all of these because of the weather.  Had it been warmer, we might have used the subway more.  But we were freezing and it was convenient (and less cold) to take a taxi.  Our kids got really good a hailing a cab!
Things we didn't get to that we'll have to do next time:
911 Museum
SOHO
Museum of Modern Art
the Met
the High Line
Empire State Building
Yankee Stadium Tour
Joe's Pizza
Black Tap
Ellen's Stardust Diner
Have you been to the city? What were your favorite things to do in New York?
If you like to travel, check out some of my other travel posts:
Things to Do in Kauai
Things to Do In Park City, Utah
What's It Really Like to Go on an Alaskan Cruise?
Travel to Iceland