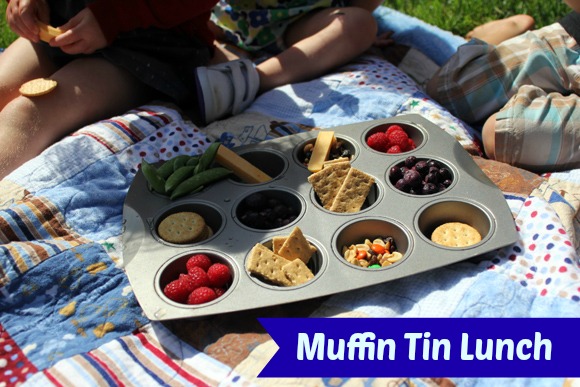 Summertime is this mix of crazy, non-stop go go go and purposely seeking out simplicity.
Trips to the lake, fun activities, and art projects must be tempered with everyday, easy, simple traditions or else this mama isn't going to make it through the months long "vacation".
For us, that means spending as much time as possible outside, soaking up the warm sunshine, playing in the sprinklers, jumping in the trampoline, and our new favorite: Muffin Tin Lunch.
MTL for short.
From a mom perspective, MTL is simple and easy. Take a muffin tin and then raid your cabinets, pantry, cookie jars, and fridge for all manner of finger foods.
The true brilliance behind this is that nothing has to "go together"…it's just a smorgasbord of variety. I often slice up lunch meat, chop up chicken nuggets, or even make a couple of PB&J sandwiches and just cut them into strips. Or, you know, whatever you have on hand because you REALLY need to get to the grocery store and just haven't gotten to it yet. Ahem.
The MTL pictured above was more of a snack version since the kids had eaten a late breakfast. (In case you are wondering about the lack of true protein.)
In our home, MTL must be eaten outside. MUST.
On a quilt.
It's pretty much the law.
From a kid perspective, there's something fun about getting to pick at random foods…build cracker and cheese sandwiches…chomp on berries…and do it all together in the sunshine. On a quilt. (Don't forget the quilt!)
Every single time I pull out the muffin tin my kids cheer. CHEER.
I'm not sure I understand why it's so exciting, but I can tell you that they love it and it's crazy easy.
Plus, there's only one dirty dish.
So that's a plus.
Try it!
You'll be surprised at how excited your kids will be!
If you do it, tag me @jeannettg on Instagram! It's so fun to see MTL with other families!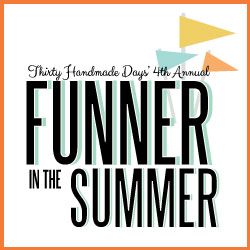 Make sure to visit Life Rearranged and say hi to Jeannett.
Thanks so much for this fun idea J!