If you haven't visited 30days live (as in …not from a "reader") in the past week or so…you are missing out! The fabulous Dana from Wonder Forest gave me a sparkly new look for the new year.  So click click click if you haven't already!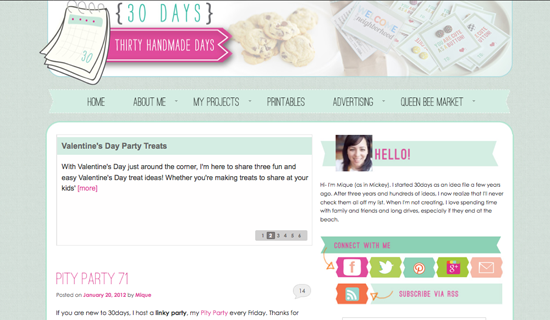 Which brings me to my next point- the www is all abuzz about how Google is taking away Google Friend Connect from all non – blogger blogs.  Hint- ME.  Google is encouraging people to make Google+ pages (similar to Facebook pages).  I set one up but am still sort of confused and wondering if I need one.more.thing to keep track of.  Do you have one? Have any tips? I'm all ears!
I've had several people email asking where my GFC badge went or why I don't have one on my sidebar anymore.  The answer is – I would rather encourage everyone to end up on 30days other ways if GFC will be taken away in a couple months.  SO if you read through GFC, pretty please add me to your reader, get it delivered to your email or there are all kinds of other options. Dana made it really easy on my sidebar to do so.  Just click that "subscribe via RSS" button (as seen below) and then you are given the option of how you want to subscribe. Pssst…..If you use a reader, do you know about the NEXT button?  It will change your blog reader life.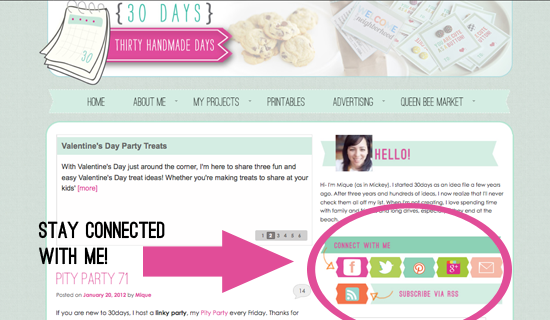 Speaking of staying connected…do you ever click on the other icons over there? Pinterest, Facebook, Twitter?  I am super close to 5,000 "likes" on Facebook and am working on a celebration when that 5,000th like comes in.
Is your head spinning from all this blog/social media lingo? Mine too.  I think I should stop right about now…..but Dana has some awesome blog tips if you feel like exploring more.