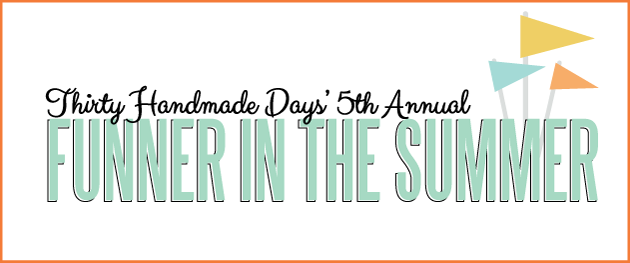 Next up for Funner in the Summer–  Ashlee from I'm Topsy Turvy. Ashlee is the queen of amazing cakes and food.  They are absolutely beautiful and taste great too.  She now has a class she's teaching on Atly.  So cool!  We are both autism moms and connect on that a lot too.  You can also find party ideas, printables, crafts and more on her site.  Definitely go visit and say hi!
Hi 30 Day's fans! I'm Ashlee from
I'm Topsy Turvy
and I'm SO excited to be here for Funner in the Summer! I love sweets, like love love LOVE sweets. BUT when it's 100+ degrees outside it's nice to have something COLD to enjoy! This Frozen "ice cream" pie is easy to make AND can be changed up to make a ton of different flavor options!
Caramel Toffee Ice Cream Pie
Graham cracker pie crust (homemade or store bought)
Caramel topping (homemade or store bought)
1 1/2 C milk
4 oz vanilla pudding
8 oz stabilized whipped cream (or cool whip)
8 oz toffee bits (with or without chocolate)
If your making your crust from scratch I have an EASY and tasty graham cracker pie crust recipe on the blog today! Make sure it's cooled completely before you start working on this pie.
Pour the caramel into the bottom of the graham cracker crust, making sure it covers the bottom but it isn't too thick. Just a thin layer, if it's too thick it will be too hard to cut through later!
Now Mix the Whipped cream, milk and pudding…
Add about 3/4 – 1 C of the toffee bits, making sure to leave some for adding to the top of the pie later. Mix…
Then pour it into the crust. Pour slowly so it stays on top of the caramel and doesn't push the caramel around or off to one side.
Now place it in your freezer overnight or for 8 hours.
To finish off I sprinkle the rest of the toffee bits across the top then add more of the caramel! You want to give it 10-15 mins to sit out before you try to cut it, otherwise the frozen caramel at the bottom will be too hard to cut through and make a HUGE mess!
You can see that the toffee bits inside the pie went down to the bottom? I'll sometimes leave out the toffee pouring the filling into the pie crust and then after about 10 mins in the freezer sprinkle half on top, letting them fall, then after another 10 mins sprinkle more on top. That way the toffee freezes in the middle, BUT sometimes I forget and then no toffee is inside so most of the time I simply mix it in and let it fall, still tastes amazing!
I love to do this same recipe with my hot fudge sauce, pistachio pudding and mini chocolate chips. Or a chocolate crust with my Peanut butter sauce with chocolate pudding and peanut butter chips. Mmmmm And it's easy enough that my kids love to help (for them I usually buy the crust and cool whip, the sauces I ALWAYS have around).
What would be your favorite sauce/pudding/candy combination?
I've been blogging for 7 years, and while I consider myself a food blogger I blog about more than recipes. I have 5 kids on the autistic spectrum so my favorite things to blog about are the birthday parties I throw them and cakes I make them. As a professional cake decorator I love sharing cake tutorials and I even have free crochet and knit patterns! Here are some of my favorites!