Remember how Julia declared her birthday week the best week ever? The Secret of Arrietty had a big role in that- the screening and the Bridgit Mendler interview.  While she was at school I had the chance to talk to Bridgit Mendler's dad from the movie, Will Arnett.
You may recognize him from:
In our house he is known from:
Despicable Me is right up there with Tangled as my favorite animated movie ever. I even watch it when my kids aren't around.  That says something, right?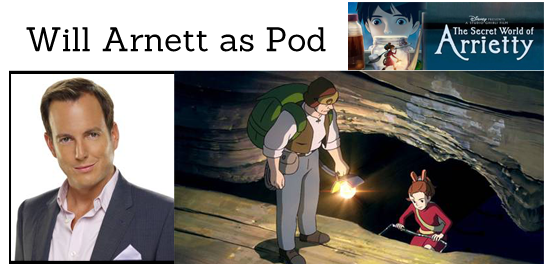 Taking a detour from his usual hilarious characters, Will Arnett plays Pod, Arrietty's calm, serious dad on the Secret World of Arrietty.
I jumped at the chance to ask Will a question in a phone interview with other bloggers.  (my brother may not have forgiven me had I not.  He is a huge Arrested Development fan.  Anyone else?)
It was fun to hear Will's take on playing Pod.  He talked about how he was flattered that Disney saw him as the right fit for the role of Pod even though he is best known for his comedy. 
I loved hearing him talk about how his perspective has changed since becoming a dad.  Will said, "I don't think I would have been able to play this with the same perspective had I not been a parent – it definitely had an impact on me being a parent. Pod is very protective of his family and he takes it very seriously."   
Though he recorded his part of Pod on his own, without his fellow co-stars, he got to discuss his role with his wife, Amy Poehler, who plays Arriety's mom in the movie.
Someone beat me to asking a question about the validity to rumors of an Arrested Development movie.  And AD fans everywhere (my brother included) will be happy to know they are indeed working on a mini series and film. 
Towards the end of the interview I had my chance to ask a question:
Me: You mentioned that you've done lots of different voiceovers over the past few years.  And some of them have been our family favorites: Ratatouille, Despicable Me, and now Arrietty.  I was just wondering if you have a favorite of the voice overs that you've done?
Will Arnett:
Right now it's Arrietty.
Me: That's a nice politically correct answer. 
Will: It's so hard to play favorites in that way. They each have their own thing about that I really really love.
I know that sounds kind of  like a cop out answer.  But it's actually true.   Because if I said, "I like this the most I feel like I would be kind of short changing  others…then you could say well did you not like that one and then I'd feel kind of bad about that.
In fairness to Will, it kind of wasn't a very nice question to ask….of course all of the movies he has been a part are his favorites. It would be someone asking me who my favorite kid is…..(depending on the day, I might tell ya ;)).
The Secret of Arrietty comes out tomorrow!! My ten year old declared it her favorite new movie.  I think it's a movie perfect for a tweenager.  So tell me- do you have plans to see it?