Be prepared in case of a home quarantine with this printable shopping list!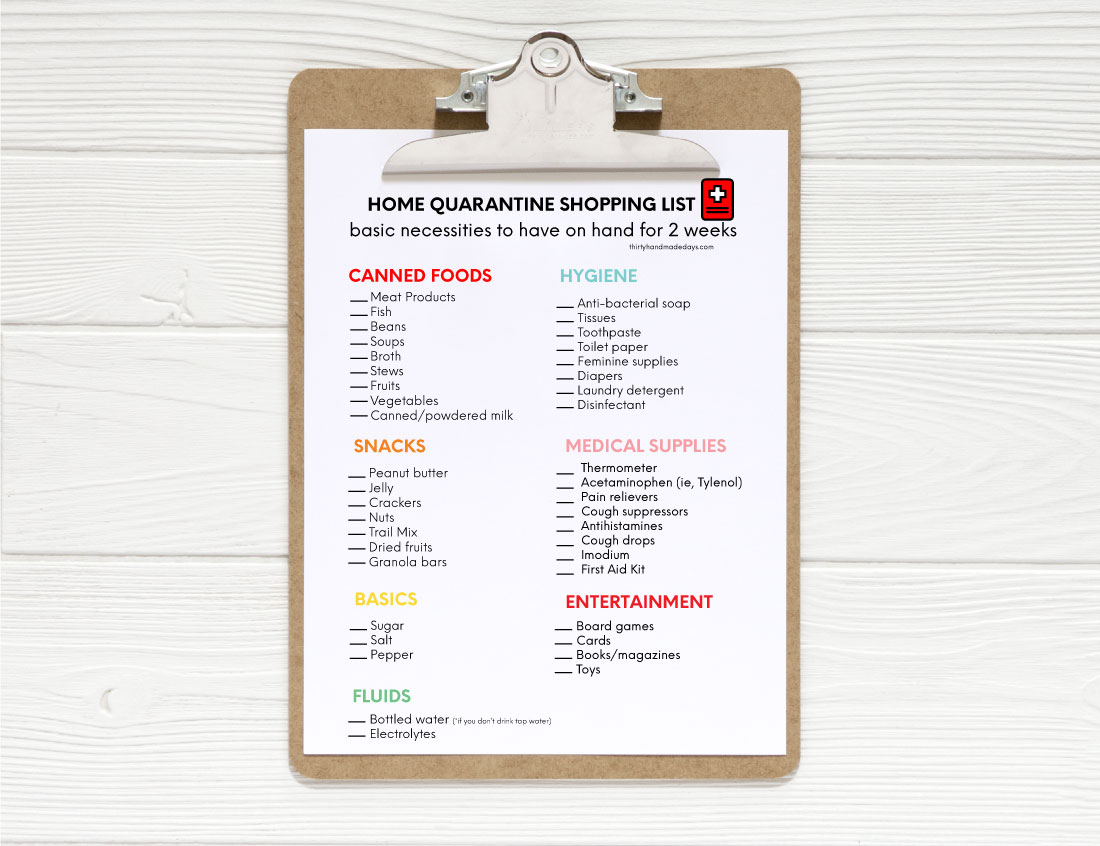 With all of the talk about Corona Virus, there is a lot of worry about the possibility of being quarantined. As I visited my local bulk supply store today, I found out just how nervous people are. Cart after cart were full of toilet paper, bottled water and SPAM. Yes, SPAM. I took to my Instagram community as I was surprised by the weird items in people's carts. There were A LOT or responses.
Check out my Indoor Activities for Kids post for ideas of what to do while you are at home!
What do you need during a quarantine?
While I was shopping there was complete chaos around me. I understand that people are concerned, we are advised not to over buy. There could be shortage in supplies and I'm definitely not saying to go without toilet paper. However, I don't think that you need to have enough stock for several years based on this situation. Here are the basics of what you need:
CANNED FOOD
Although ideally we would be able to eat fresh and/or frozen foods, we need to be prepared in case we will have limited ability to cook. Canned foods make that easy:
Meat Products
Fish
Beans
Soups
Broth
Stews
Fruits
Vegetables
Canned/powdered milk
Don't forget a good can opener! Having lots of canned food without an opener doesn't help.
SNACKS
The following snacks last for a long time and have lots of protein:
Peanut butter
Jelly
Crackers
Nuts
Trail Mix
Dried fruits
Granola bars
BASICS
FLUIDS
Bottled water (*if you don't drink tap water) – we drink from our tap and don't require bottled water. I was floored at how many cases people were buying at the store!
Electrolytes
HYGIENE
Note: I use Amazon Subscribe and Save to get a lot of these supplies. I don't have to go on the hunt to find toilet paper, paper towels, etc and it gets delivered to my home. It's the best thing ever!!
Anti-bacterial soap
Tissues
Toothpaste
Feminine supplies
Diapers
Laundry detergent
Disinfectant
Paper Towels
MEDICAL SUPPLIES
Thermometer
Acetaminophen (ie, Tylenol)
Pain relievers
Cough suppressors
Antihistamines
Cough drops
Imodium
First Aid Kit
ENTERTAINMENT
Because if you are at home for an extended amount of time, you will need some distractions for sure.
Board games- check out some of our favorites!
Cards
Books/magazines
Toys
*Note: this information was gathered from research found via Oregon Live and USA Today.
This isn't my first time talking about emergencies. In our church, we are taught to be prepared. Emergency preparedness is something we have heard about a lot over the years.
Download this printable checklist to use for preparation. For personal use only.