Help get electronics under control with these cute screen time for kids tickets! Download, print and use with your family after discussing the importance.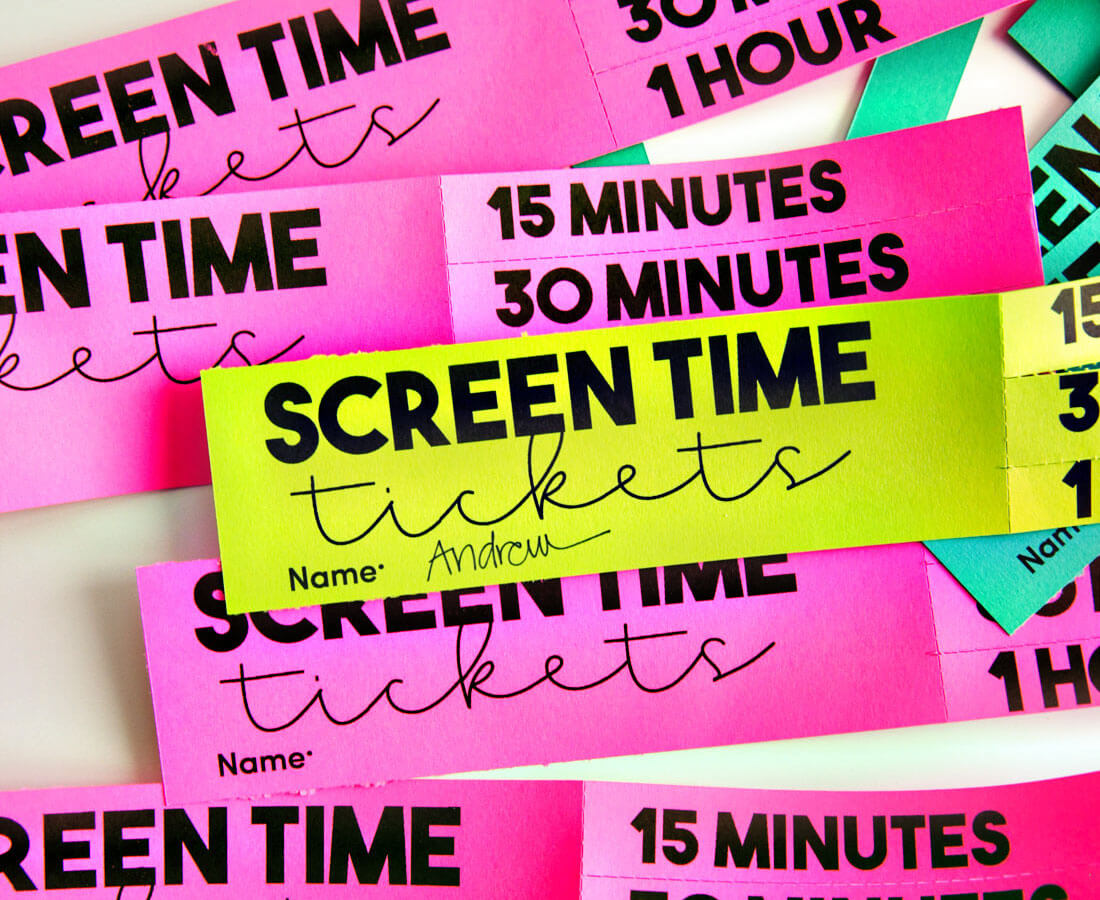 This is a sponsored conversation written by me on behalf of Cricut. The opinions and text are all mine.
Screen Time for Kids
Screen Time. It's a hot topic these days. Everyone has an opinion about it because it's never been as big of an issue as it is now. Kids today have electronics like never before. While I'm not here to tell you what you should do for your family (that's something every family needs to decide for themselves!) – I'm here to provide a simple solution.
These screen time tickets can be earned by each child. It can be from doing chores, extra chores, caught being good or whatever you decide as a family.
Check out these other posts that go along with this one: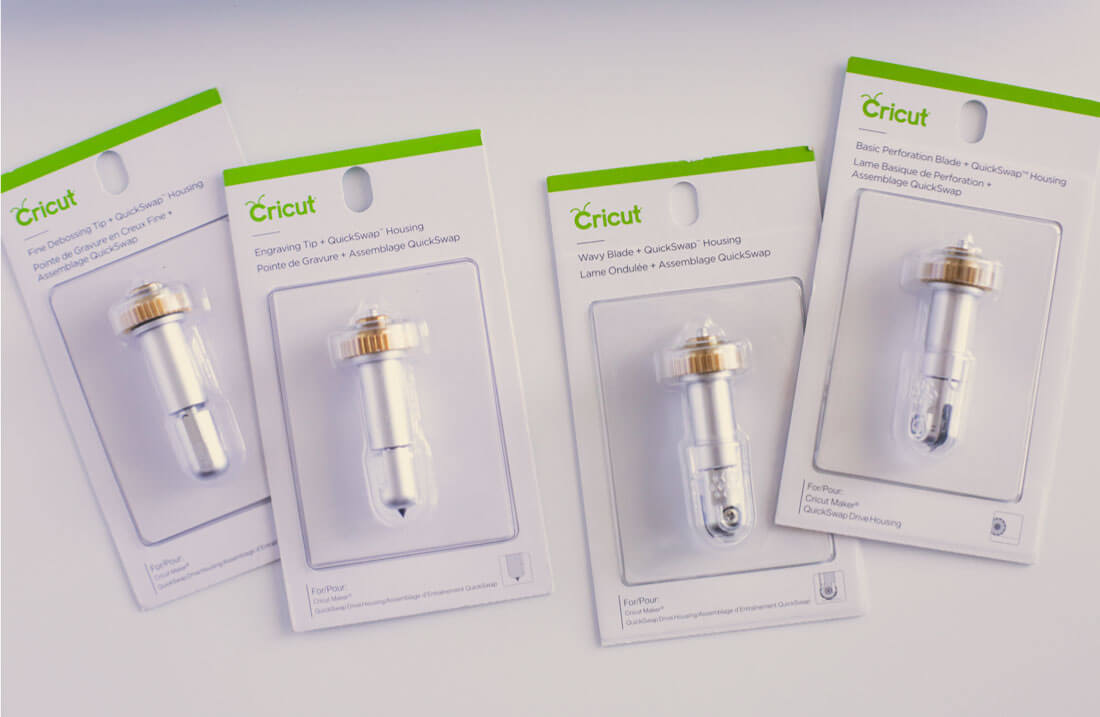 Cricut Tools
To make these screen time tickets, I used one of the new Cricut tools for the Maker – the perforation blade. Before I show you how I did it and how easy it is use, I wanted to explain the new tools and some ways to use them.
One of the things I love about these tools in particular is that they are part of the Maker's QuickSwap suite. That means that you can easily swap them out for whatever you're making.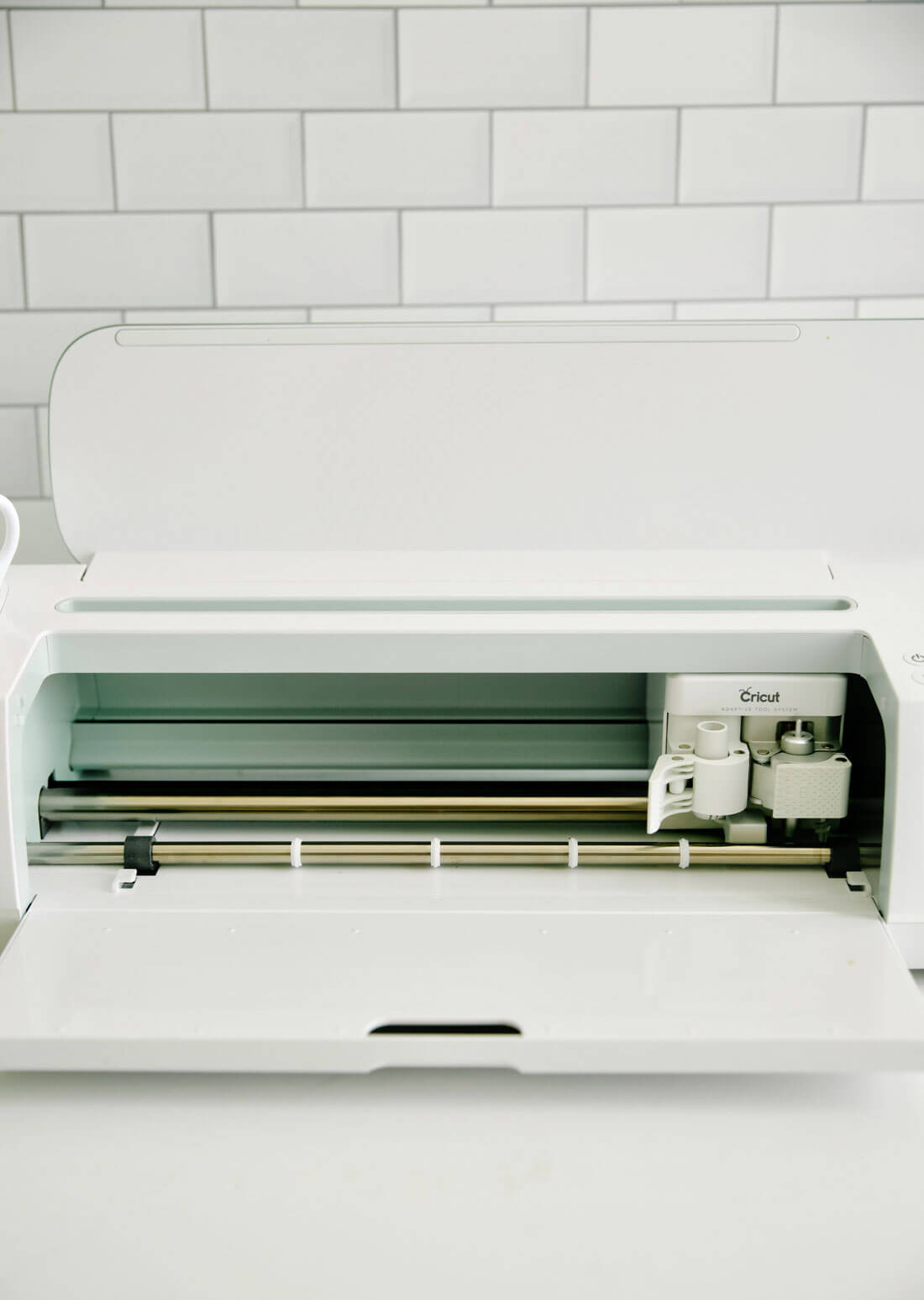 What you need to make Screen Time Tickets
Since I created the printable, you don't need much to make these tickets for your kids:
(New!) Perforation Blade
Screen Time printable (available below) + Screen Time Lines to use with the Maker
Mat – I like using the standard grip mat
Cardstock (8.5×11″) – use different colors for each child if you want
Printer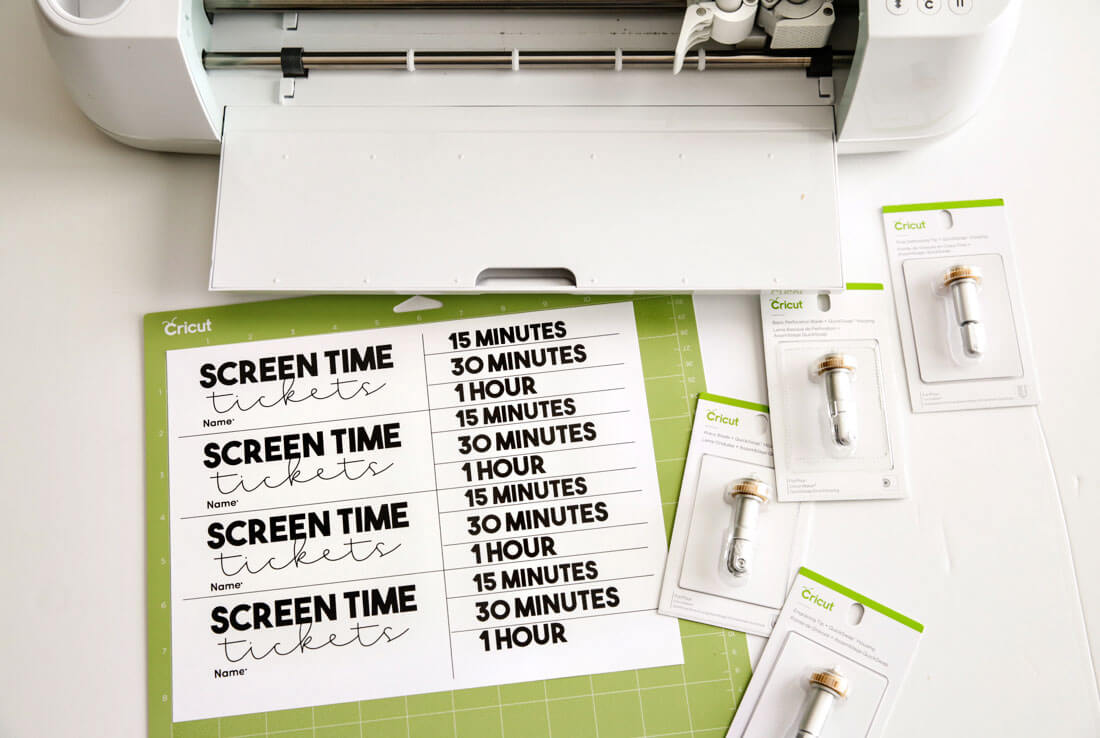 How to make Screen Time Tickets
Follow these simple directions for completing your screen time tickets.
Download and print the screen time ticket printable. For personal use only.
Open Design Space and upload Screen Time lines
Load 8.5×11″ paper onto Cricut mat, horizontally.
Follow directions on screen – medium cardstock, perforation wheel and then standard blade.
Unload mat and use a pen to add a name.
Note: if you don't have a Cricut Maker (you should get one!), you can use a paper cutter.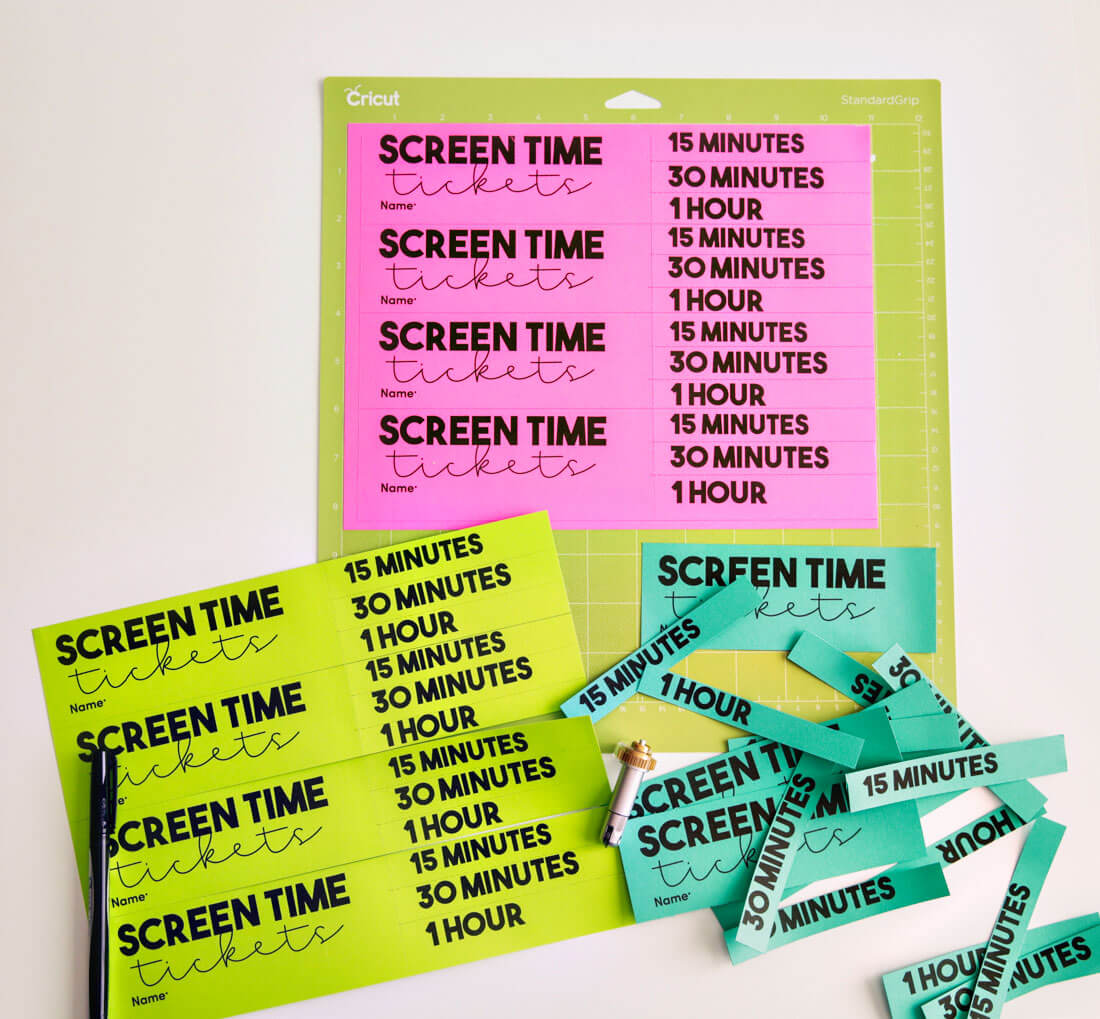 Neon and bright colors are popular these days so I chose some bright cardstock to finish the tickets that I made. It's easy to see how there are cut lines and perforation lines in the different stages of the tickets.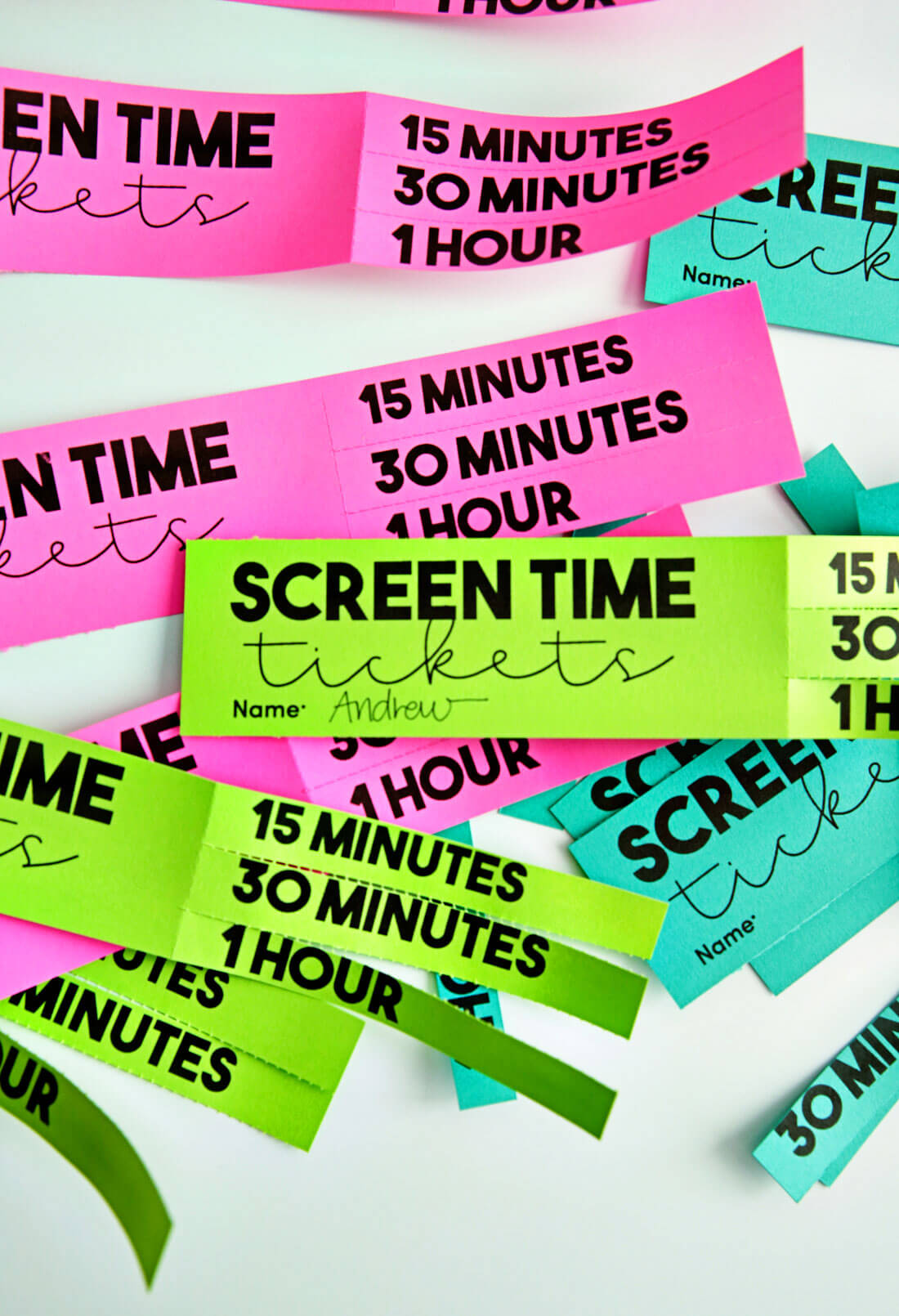 How would you use these tickets in your home?
Other Cricut Posts
Have a Cricut? Want a Cricut? You might like these posts too: