Some greens, apples for crunch, and pasta- this Tortellini Salad will be one of your new favorites!

This recipe was originally shared from Somewhat Simple for my Funner in the Summer series. 
Tortellini Salad
I love a good salad.  Especially one that isn't the typical recipe.  This salad recipe is a little bit different than other salads that I've made. It has some fruit in it – apples and mandarin oranges.  It has pasta in it – yum! And it has a homemade dressing.  I love homemade dressings so much! Why do they always taste so much better than store bought?  And they aren't hard to make.
If you like this recipe, you'll like these too: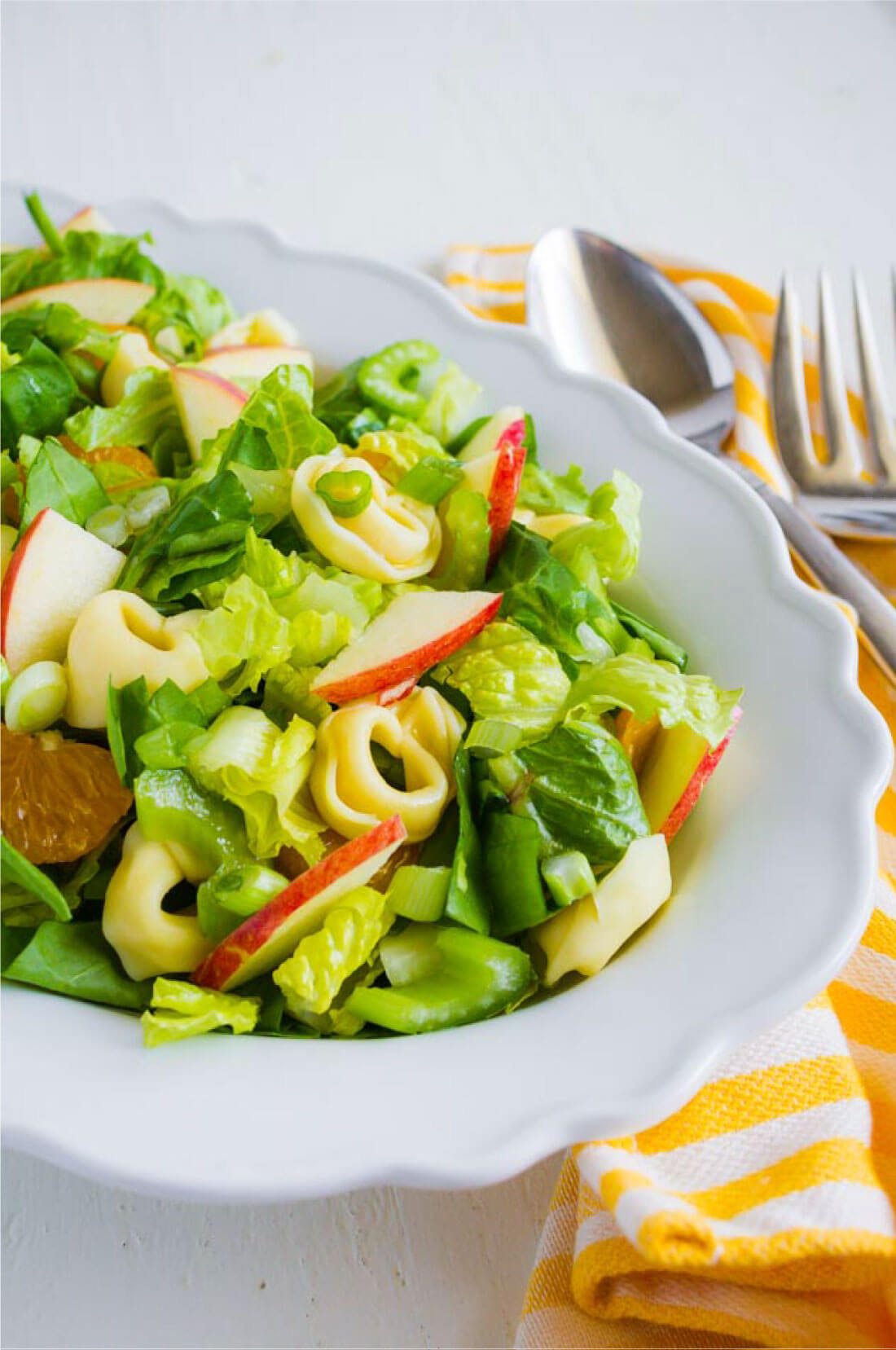 This salad in particular is refreshing and would be perfect for summer.  It would be great to take to a potluck.  Not your typical potluck food!
Tortellini Recipes
Here are some other tortellini recipes to try:
Tortellini Salad
Ingredients
3 Tbs. concentrated apple juice (can be frozen)
3 Tbs. light corn syrup
1 tsp. cider vinegar
2 tsp. firmly packed brown sugar
⅛ tsp. garlic salt
Dash pepper
1 pkg. refrigerated cheese tortellini (9 oz.)
2 C. chopped apples
2 C. shredded salad greens
1 C. of mandarin orange slices or strawberries when accessible
½ C. thin sliced celery
¼ C. sliced green onions
2 Tbs. pine nuts
Instructions
Combine apple juice concentrate, corn syrup, vinegar, sugar, garlic salt and pepper.
Cover and refrigerate. Set aside.
Cook the cheese tortellini according to package directions.
Drain and cool thoroughly.
In large mixing bowl combine tortellini and remaining ingredients.
Toss gently with apple juice dressing and serve immediately.