Using your air fryer to make baked potatoes is the ultimate – it makes the skin on the outside crispy and the inside perfect. They also take less time to bake than in the oven. Bonus!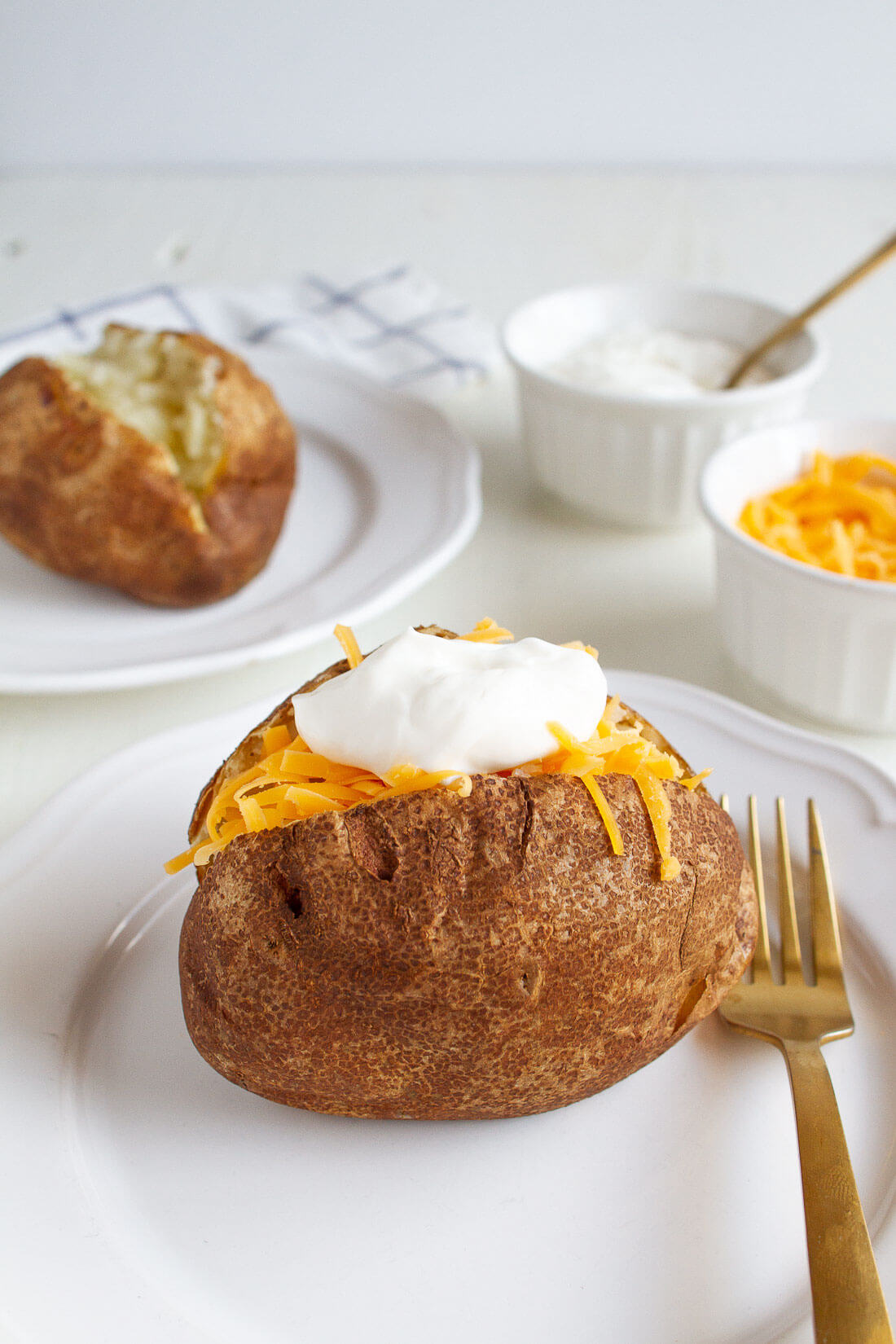 Baked Potatoes
The only thing I ate from my sophomore year of college and on was either bow tie pasta or baked potatoes. Hmmm…. I can't imagine why I gained some weight. Potatoes became my go to meal. I loved how easy they were to make and how I could add whatever I wanted to change the taste. Then I discovered that I could make them in my air fryer. Even better! Air Fryer French Fries are awesome too!!
How to make baked potato in air fryer
There are several ways to make potatoes. You can bake them in the oven, use the microwave (the least favorable way), bake them on a grill or my personal favorite – in my air fryer. They all do the same thing – heat up the potato – but each method takes different amounts of time. No matter which method you use, the preparation for them is the same. Here's what you need to do:
Wash potatoes under cold water with a stiff brush.
Dry potatoes with a kitchen towel.
Poke holes using a fork around the potato.
This allows moisture to escape during the cooking process.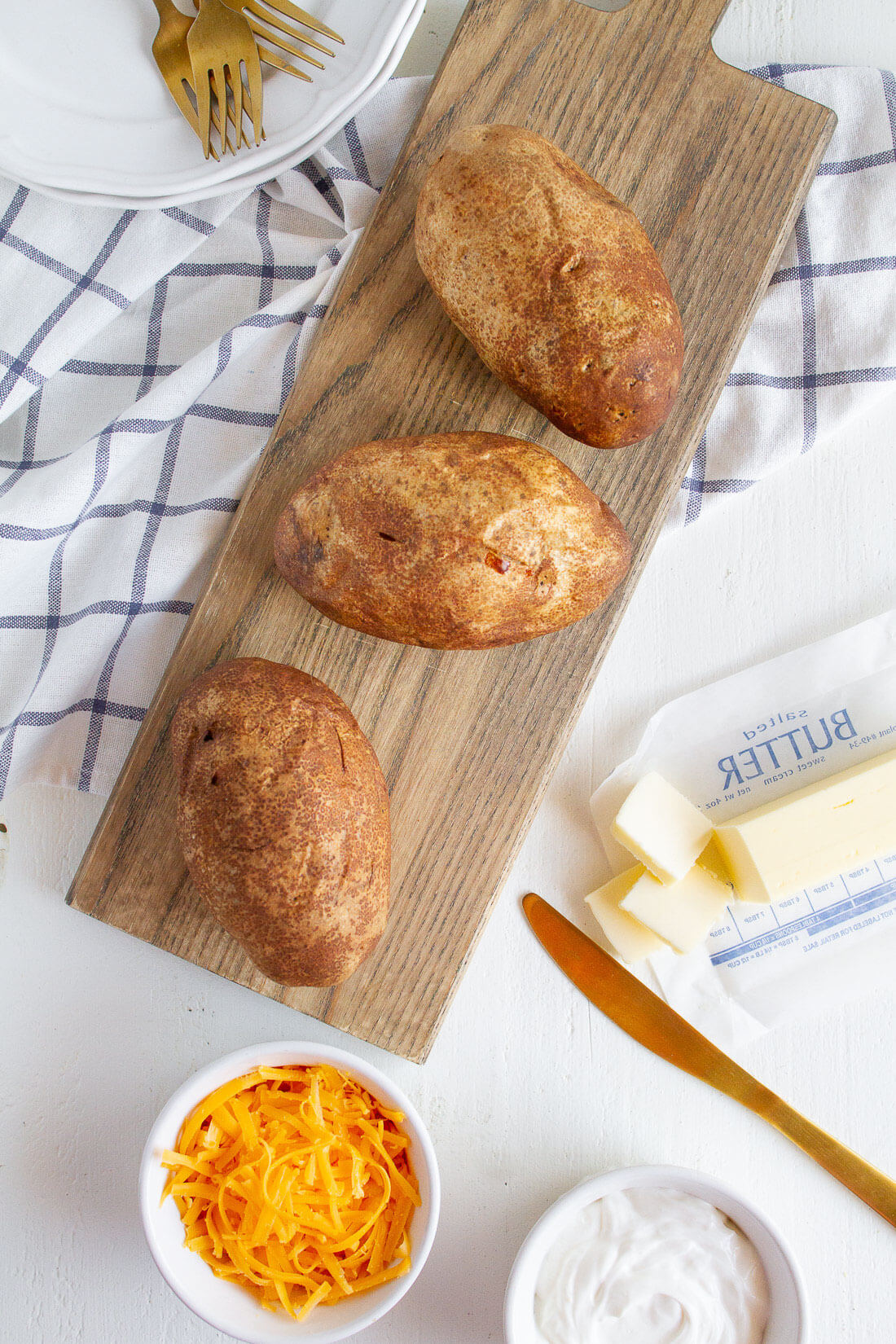 Best toppings for baked potatoes
The possibilities for toppings for potatoes are literally endless. I've been to restaurants where they've served Alfredo sauce with chicken in a baked potato. That combination had never crossed my mind. Anything you want, can be stuffed inside! Here are some popular ideas to try:
butter
sour cream
shredded cheddar cheese
nacho cheese
salsa
chives
chili
bacon bits
salsa
If you don't have an air fryer yet, here are my suggestions:
I'm asked a lot what kind of air fryer to get. I love the one that I got but really my biggest pieces of advice are:
Much like an IP, get one that has as a big basket. The bigger the basket, the more you can make.
Get one that is digital NOT a dial one.
The one I have is awesome but I don't necessarily have a favorite brand. This is one I have: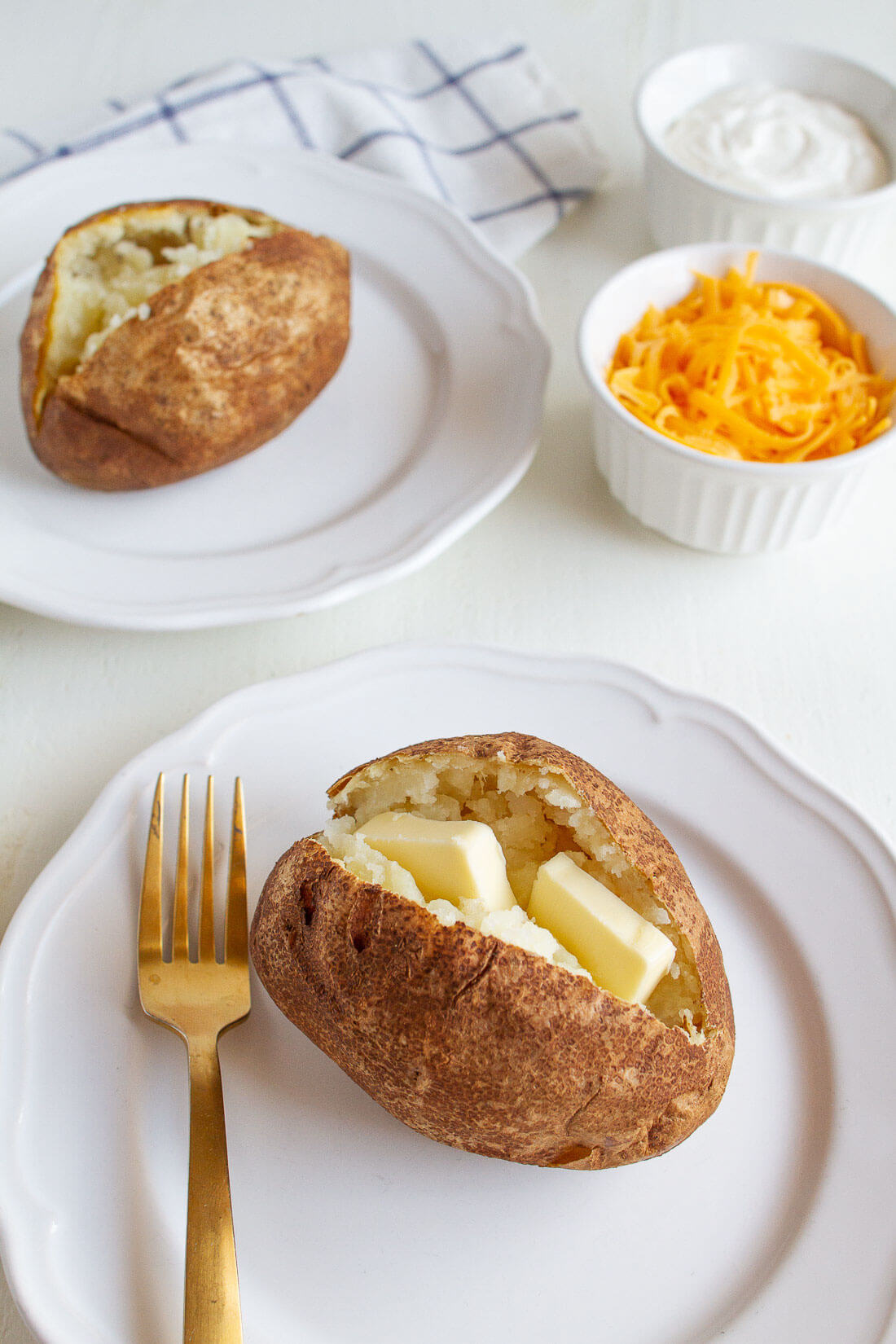 For more air fryer posts check out:
Have an air fryer or want to get one? I have a ton of resources:
Air Fryer Baked Potato Recipe
If you love this Air Fryer Baked Potato Recipe as much as I do, please write a five star review, and be sure to help me share on Facebook and Pinterest!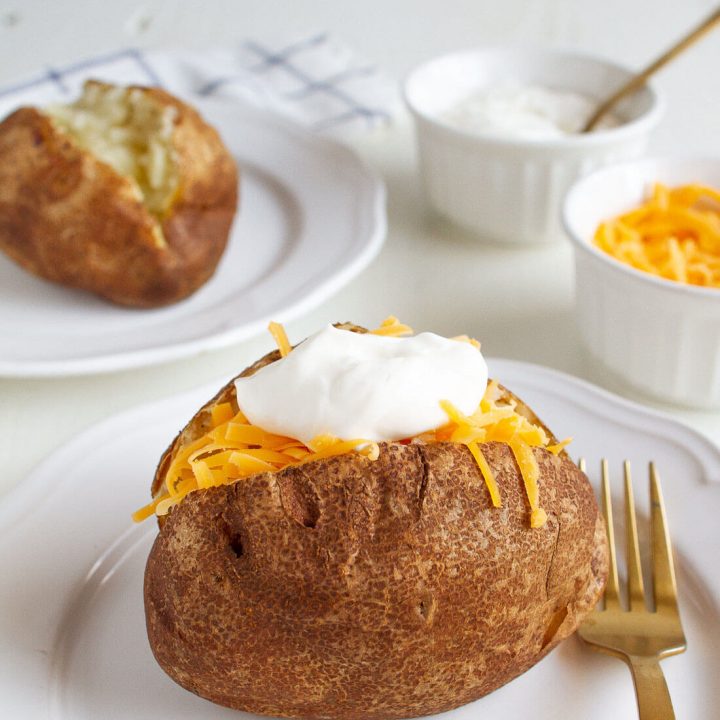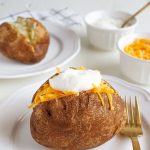 Print Recipe
Air Fryer Baked Potatoes
Air Fryer Baked Potatoes are the ultimate - the air fryer makes the skin on the outside crispy and the inside perfect. They also take less time to bake than in the oven. Bonus!
Ingredients
3

russet potatoes

washed and scrubbed

2

tsp

olive oil

1

tsp

kosher salt
Instructions
After washing and drying potatoes, poke holes into them with a fork.

Rub potatoes with olive oil and sprinkle salt over the top.


Place into the basket of your air fryer, making sure that there is enough space for the air to circulate. DON'T OVERCROWD.

Set your air fryer to 390 degrees and 30 minutes.



Cooking time depends on the size of your potatoes so at 30 minutes, open the air fryer basket and press to see if it has baked enough. If it is firm, continue to bake for 10 minutes.


When done, cut open, top with butter, cheese, sour cream, etc.
Nutrition
Calories:
194
kcal
|
Carbohydrates:
38
g
|
Protein:
4
g
|
Fat:
3
g
|
Saturated Fat:
0
g
|
Cholesterol:
0
mg
|
Sodium:
785
mg
|
Potassium:
888
mg
|
Fiber:
2
g
|
Sugar:
1
g
|
Vitamin C:
12.1
mg
|
Calcium:
28
mg
|
Iron:
1.8
mg