Getting your kids ready for college? Here are the top things to bring for college dorm essentials!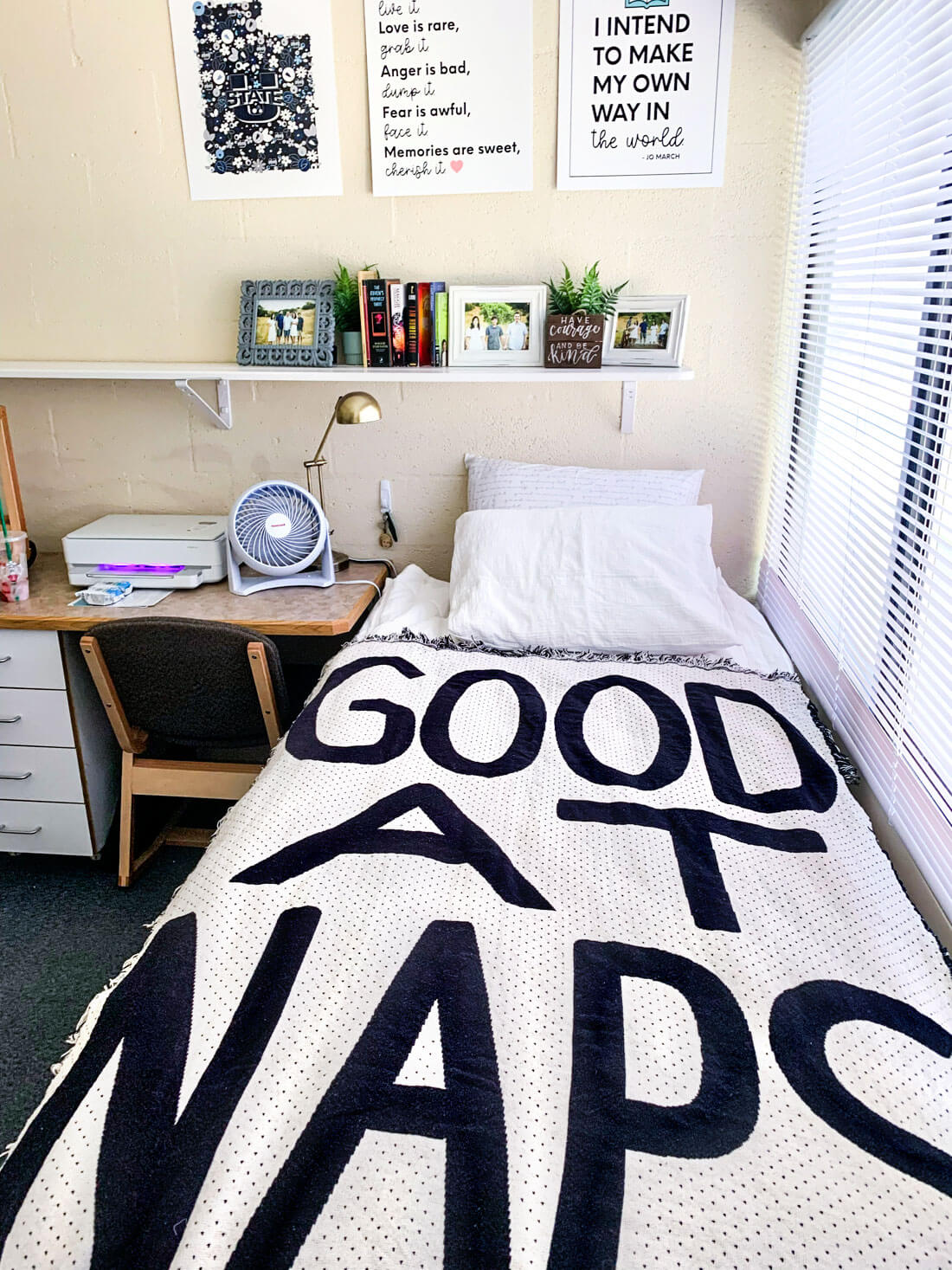 It feels like just yesterday that I was getting ready to head to college.  But now I have a daughter that is entering her freshman year! It doesn't seem possible.  And yet, we took her up and got her settled in in her dorm room.  Since it was our first time, I wasn't exactly sure how to get her ready but jumped in and got everything I thought she could possibly need.
College Dorm Checklist
While there are all different types of dorm rooms – some are like apartments, some are just the room, some have bathrooms, some do not- this list covers all of them.  Take what your child for his or her specific dorm type.
tv
fan
rug
chair
side table
bed risers
duvet- we prefer Beddy's! More info below.
mattress pad – got our Twin XL one here
foam topper
blanket – her "Good at Naps" blanket is awesome!
pillow
trash can
lamp – took awhile to figure out which one but Julia picked this one
towels
washcloth
shower caddy
flip flops
makeup
comb
brush
blow dryer – this is our favorite blow dryer
straightener
toothbrush
toothpaste
deodorant
body wash/soap
razor
hair ties
Clorox wipes
paper towels
trash bags
air freshener
laundry detergent
fabric softener
stain remover
toilet cleaner
cork board
command strips
bins + baskets
hangers
laundry hamper
mirror
pictures from home
computer
printer
cell phone charger
computer cords
surge protector
extension cords
headphones
duct tape
tools
batteries
flashlight
suitcase
medicines – basic first aid kit + any medicines needed
school supplies
games
Get a printable version of this checklist from my dorm room ideas post.
To get Julia's room all set up, we knew we wanted to get Beddy's for her.   She had a Beddy on her bed at home, our master bedroom has one (read about my great sheet debate here), one of my son's has a Beddy.  We are big time fans.  Plus it is easy to wash and take care of – perfect for her first time on her own.   The top and bottom zip together, making it super easy to make her bed every day.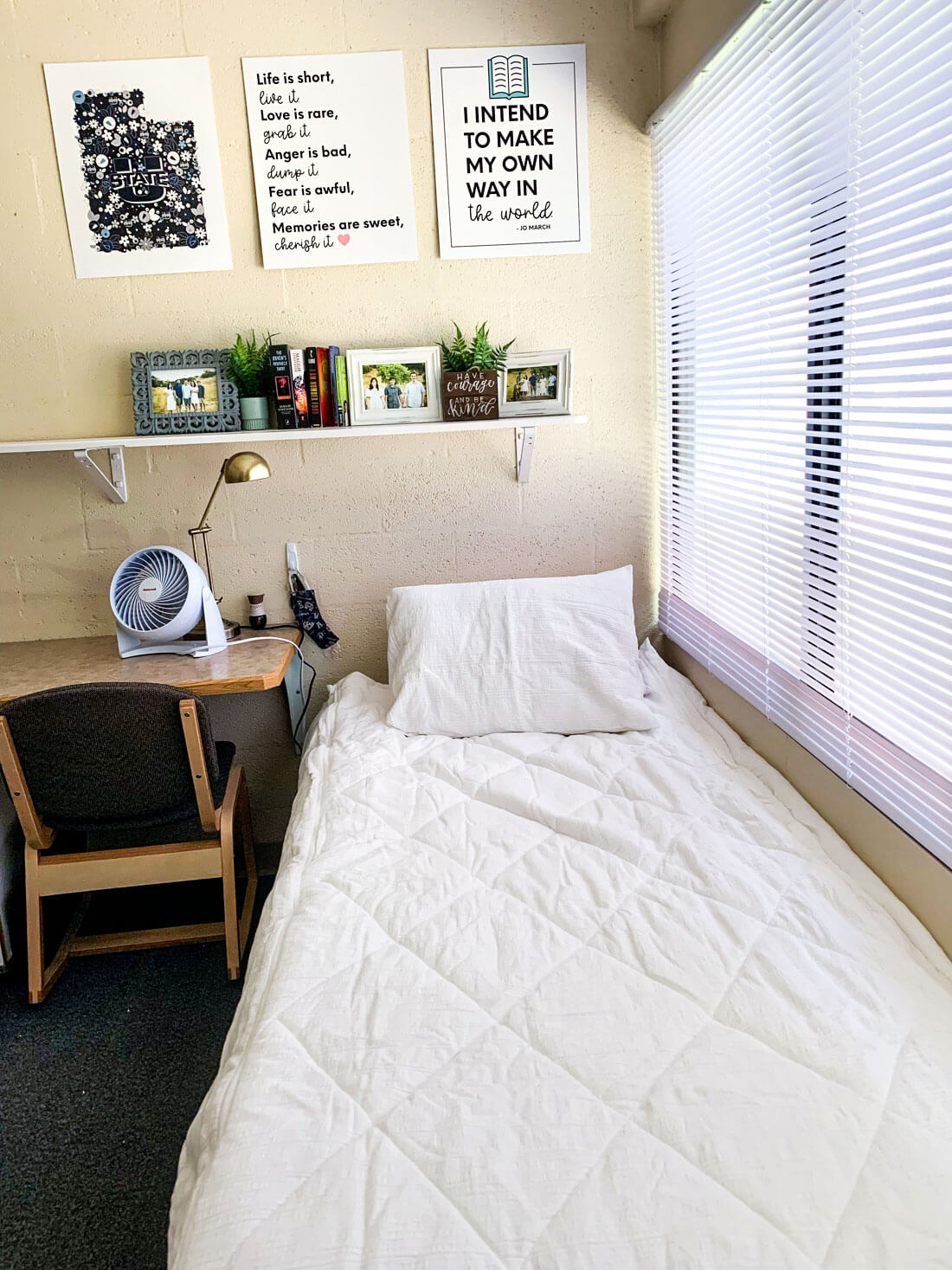 The great thing is, they have Twin XL sets, that work with dorm rooms.  Julia got the Love at First White set.  It's lined with minky to keep her warm in the winter and has the cutest details, including a pillow case that says "good morning" and "good night" on it.  She will love having it for her bedding in college!
One of my favorite "tricks" is to create posters in Illustrator and have them printed as board prints at Walgreens.  Walgreens always has a coupon and it's a really inexpensive way to create some fun art.  I asked Julia for some input and created the three signs on her wall and had some recent family pictures printed there as well.  Learn how to make board prints and get some wall art quotes here.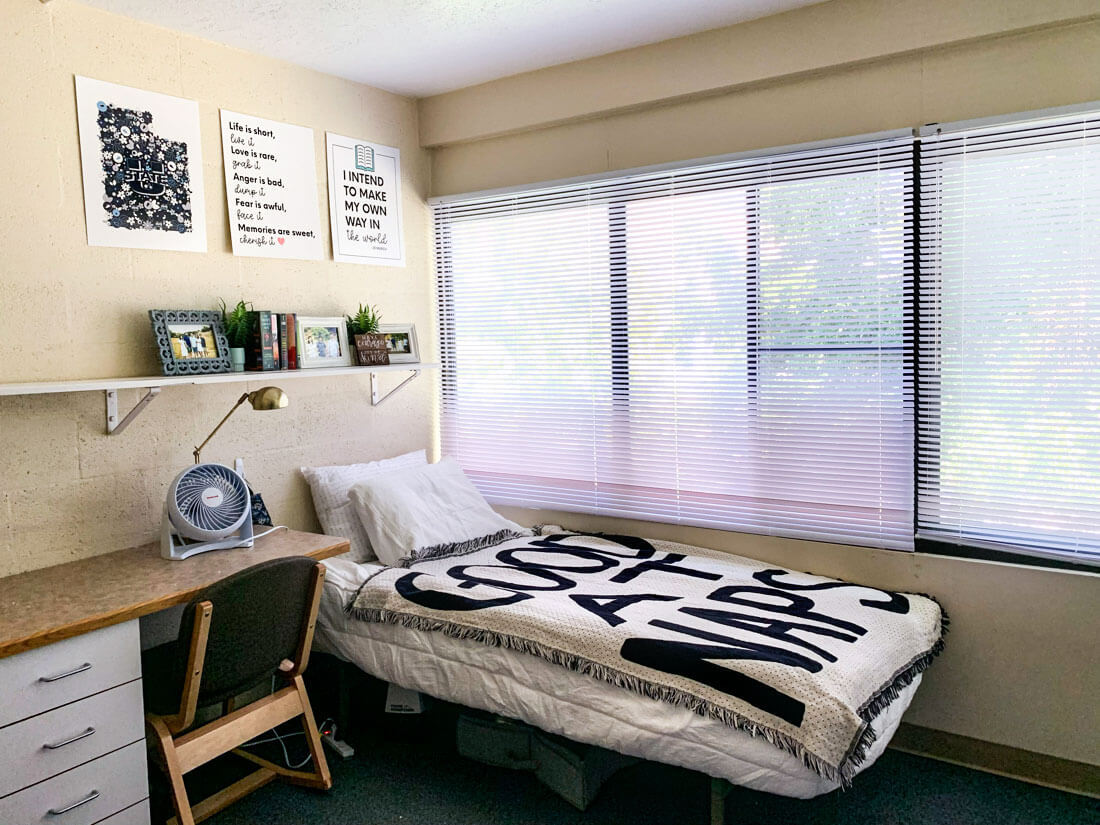 My biggest advice is to be as organized as possible.  Although I don't have pictures to show (yet), I created bins for a medical kit, school supplies and hardware as well with labels on them.  We used command strips to have her keys and mask next to her bed.  I also hung a command strip next to her closet for her to hang up her towel after a shower.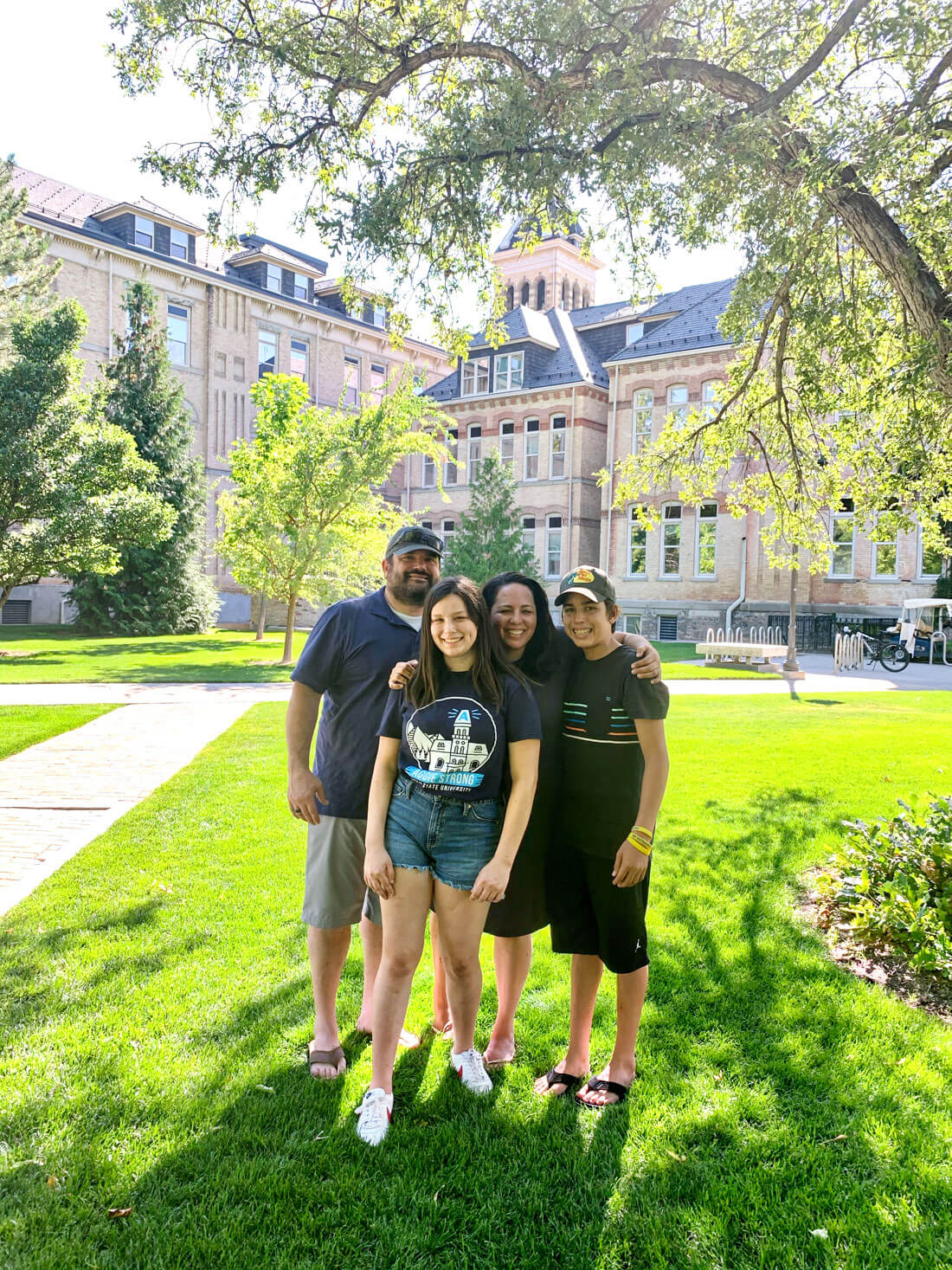 Wishing my favorite girl the best year in college EVER!! It was so hard to say goodbye but I know she will do amazing things.
Other College Posts