Best San Diego Restaurants – the spots that you can't miss if you are ever visiting San Diego! Mostly in North County, these restaurants are worth the trip.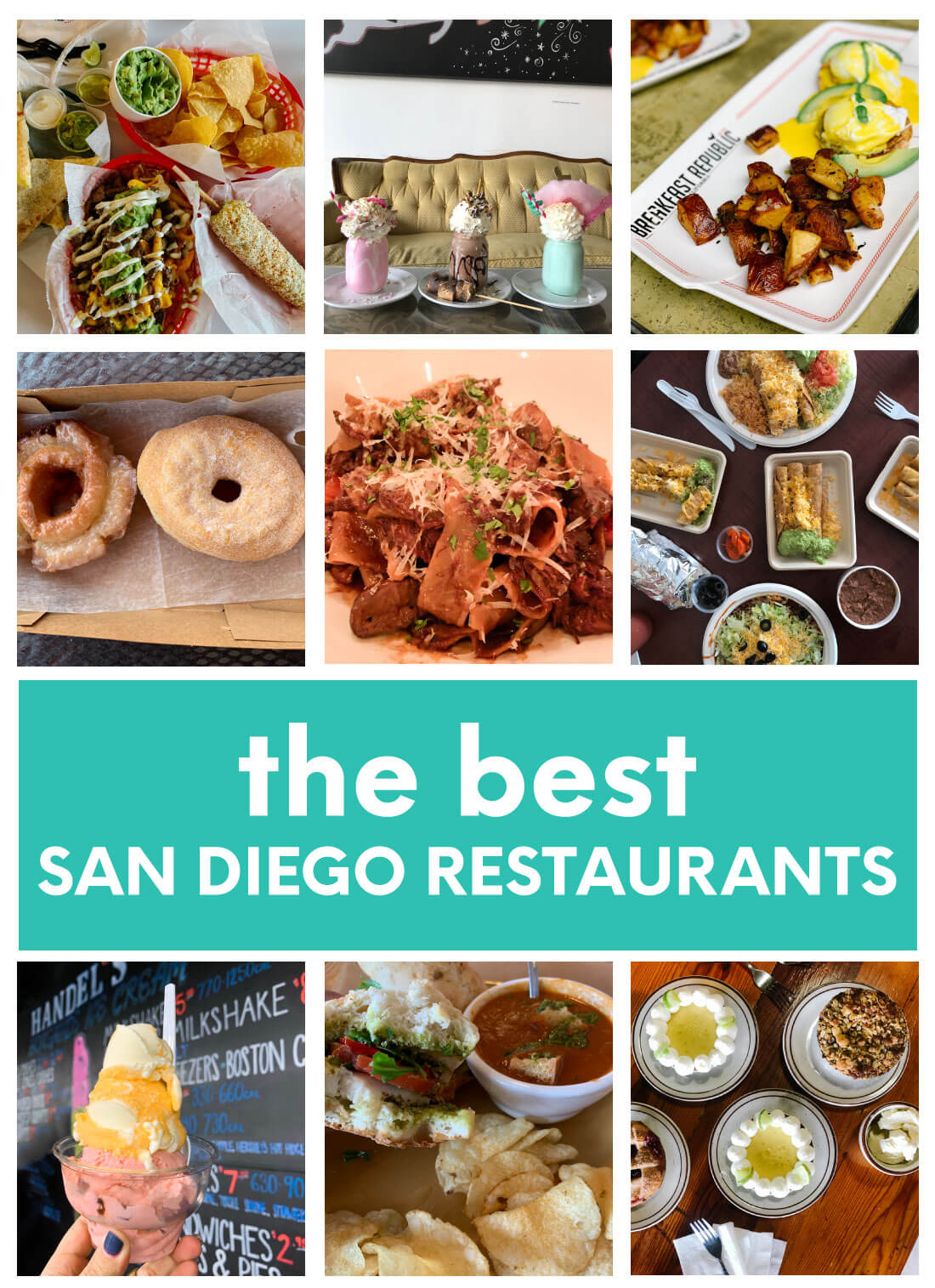 Best Restaurants in San Diego
I grew up in the San Diego area and it is home to me. Recently I had the chance to play tourist guide with some blog friends who came for a work trip in my hometown. We worked, played and ate A LOT. Most of the places we went to were restaurants I hadn't been to before since it's changed so much since I lived there. But they were all recommended to me from my sister, mom or others who had been.
Before I share these favorites, I need to warn you that all but one are in North County. San Diego is a bit city that covers a lot of mileage. While there are TONS of amazing restaurants all throughout the area, these are favorites up north. This post is just skimming the surface! I hope to do a follow up post with more suggestions in the future.
Breakfast Republic
There are several locations for Breakfast Republic (including one up north in Encinitas). We went to the one in Liberty Market after picking up friends from the airport. After reading some Yelp reviews, I ordered Eggs Benedict and house potatoes.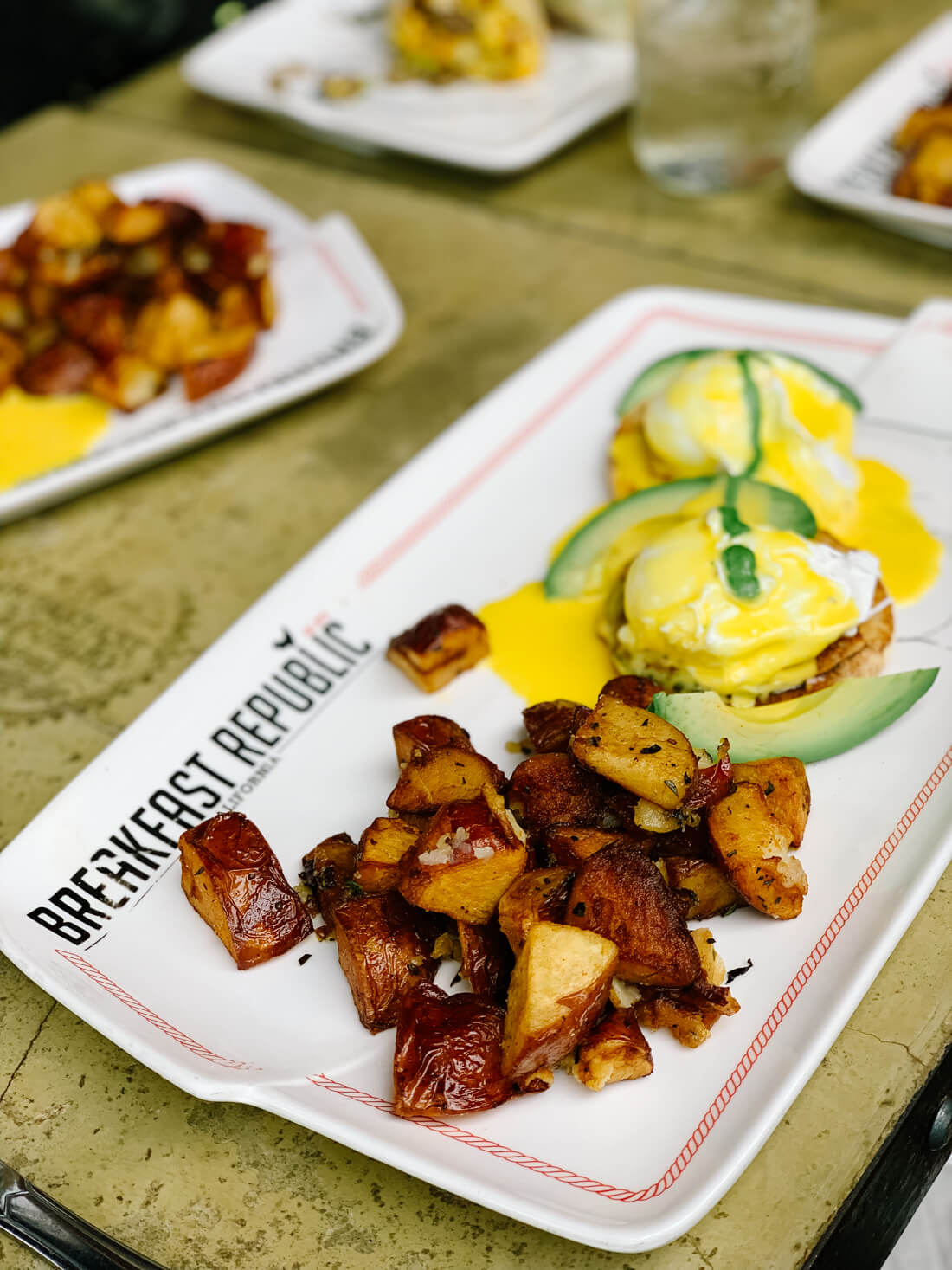 It was so good! I had never been to this restaurant but we had heard that it was now one of the go to places. They are known to have a wait typically but we lucked out and got seated right away.
The Breakfast Republic : 2865 Sims Rd #106, San Diego, CA 92106 (619) 693-5434
Parking can be a little bit tricky right next to Liberty Market. We found a parking lot down the street.
Check out their other locations .
Taco Stand
San Diego is most known for the beach and Mexican food. There are all types of restaurants – sit down, hole in the walls, walk ups, and more. The Taco Stand is another newer spot to me but I kept hearing about it over and over. It's right on Hwy 101 and can be hard to find parking but such a cool spot. We got almost one of everything.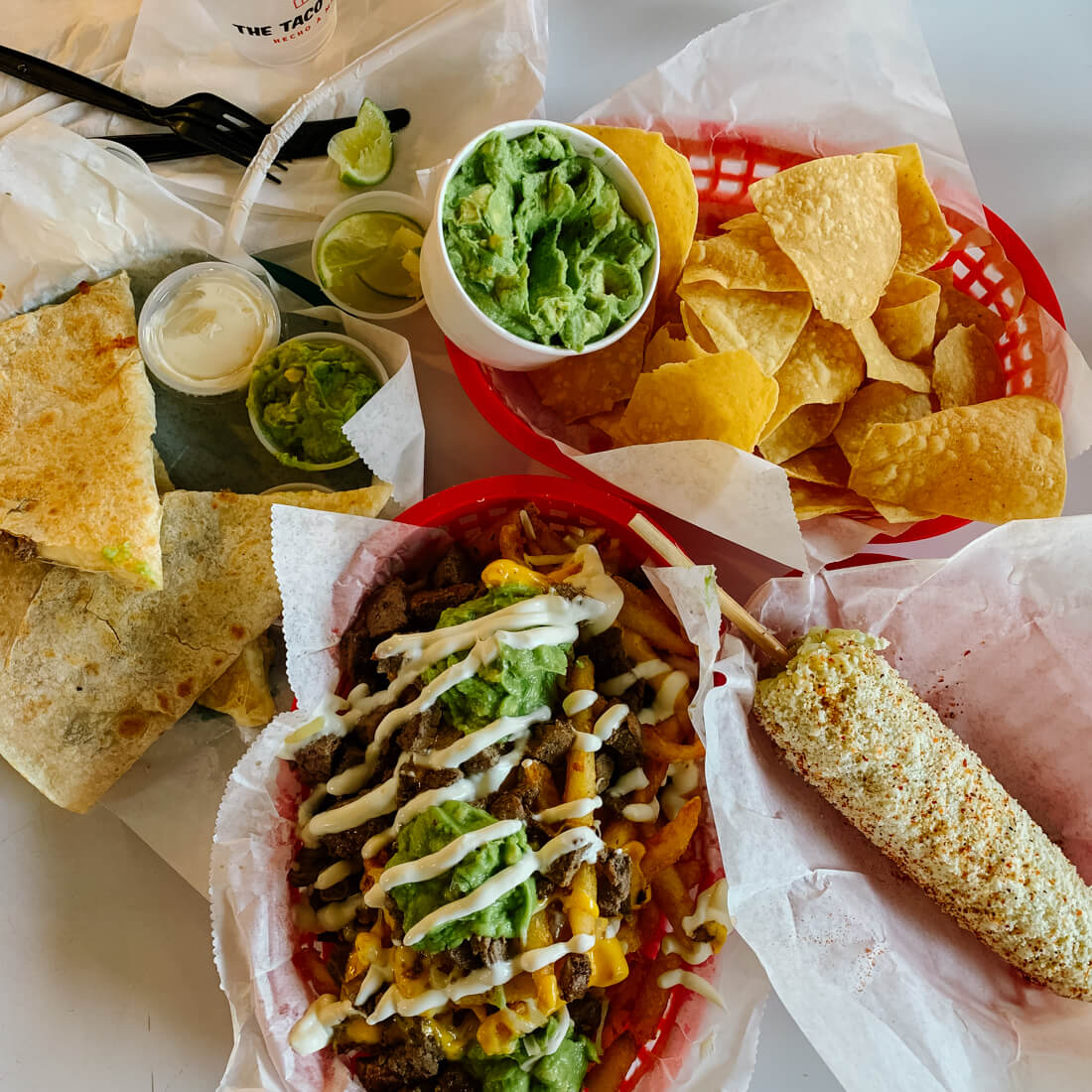 Chips and guacamole, carne asada fries (YUM!), corn on the cob, al pastor quesadillas, fish tacos – it was all great! Warning – there is normally a long line. That's a good sign that the food is excellent but be prepared to wait. We went early and thankfully avoided a long wait.
The Taco Stand : 642 S Coast Hwy 101, Encinitas, CA 92024 (760) 230-2061
*There are other locations in San Diego and other parts of the US. Check them out!
–> While I'm talking about Mexican food I have to give a little shout out to my personal favorite –Rico's Taco Shop. It's where I went all though high school and have to visit when I'm "home." I get rolled tacos with guacamole and a bean and cheese burrito. Mmmm mmmm.
Cucina Enoteca
Don't judge this restaurant by the picture I got. It's a dimly lit spot but oh my goodness is it good! My sister highly recommended it to me and I was so grateful she did. Not only does it have a cool vibe, but the food was incredible. I got the Pappardelle with short ribs. Heavenly!
Cucina Enoteca: Flower Hill Promenade 2730 Via de la Valle, Del Mar, CA 92014 (858) 704-4500
This is a part of a group of restaurants in Southern California that all have great recommendations.
Urban Plates
Urban Plates is one of my favorite, newer spots. They pride themselves on made from scratch food with a walk up, more casual setting. It all tastes very fresh and filling. I like to get Tomato Basil soup and Caprese Sandwich but have tried other things and loved them as well.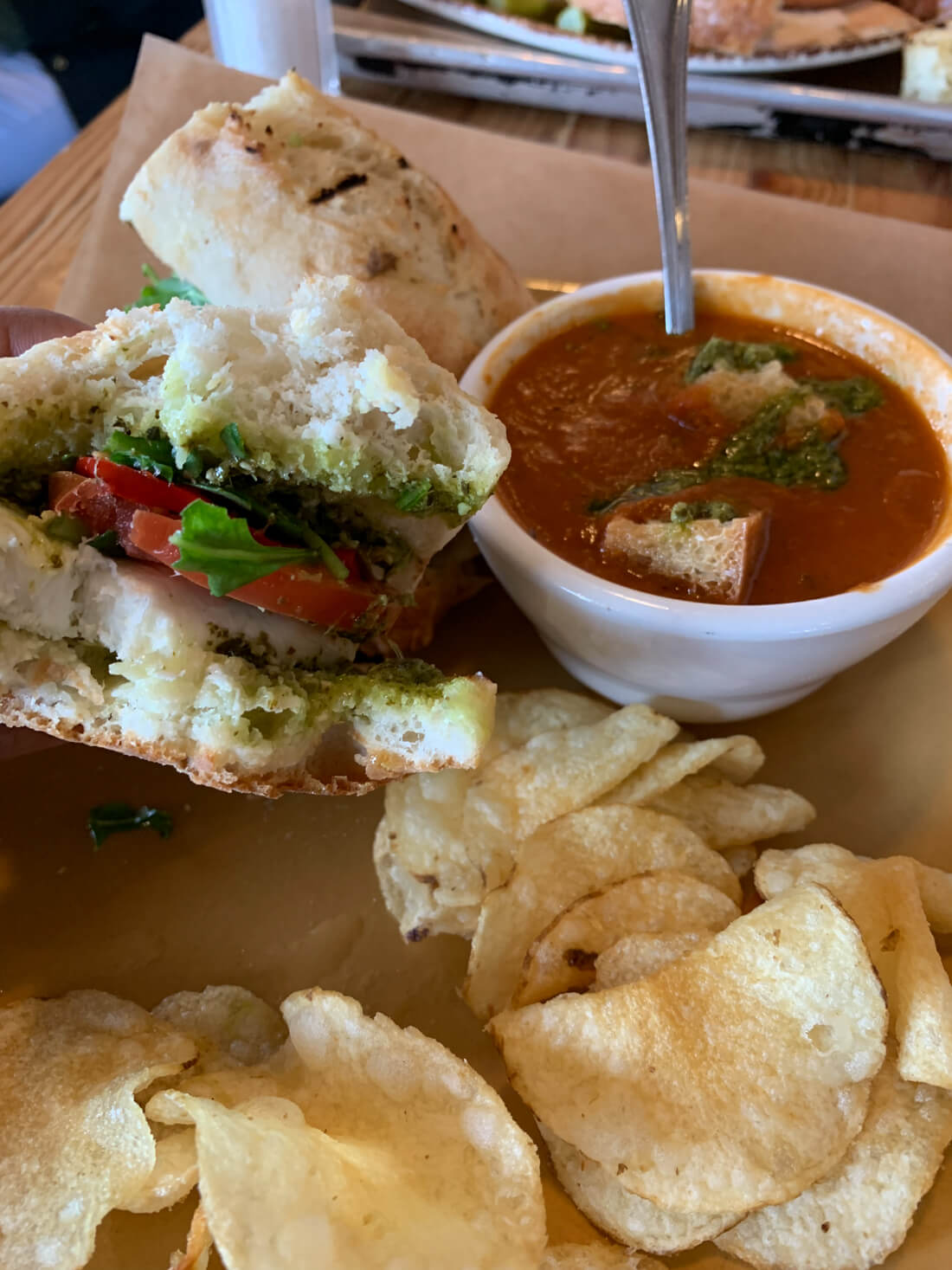 Urban Plates : At the Forum Carlsbad 1923 Calle Barcelona #148, Carlsbad, CA 92009
The Forum is an awesome place to shop too!
They have started to expand and now can be found in several cities in California.
Handel's Ice Cream
Handel's Ice Cream seems to be the "it" ice cream right now. I had heard about it from several people and every time we drove past, there's been a line. Again, a good sign. (any restaurant with a line means good food!) Even though it was raining when we went, there was still a line!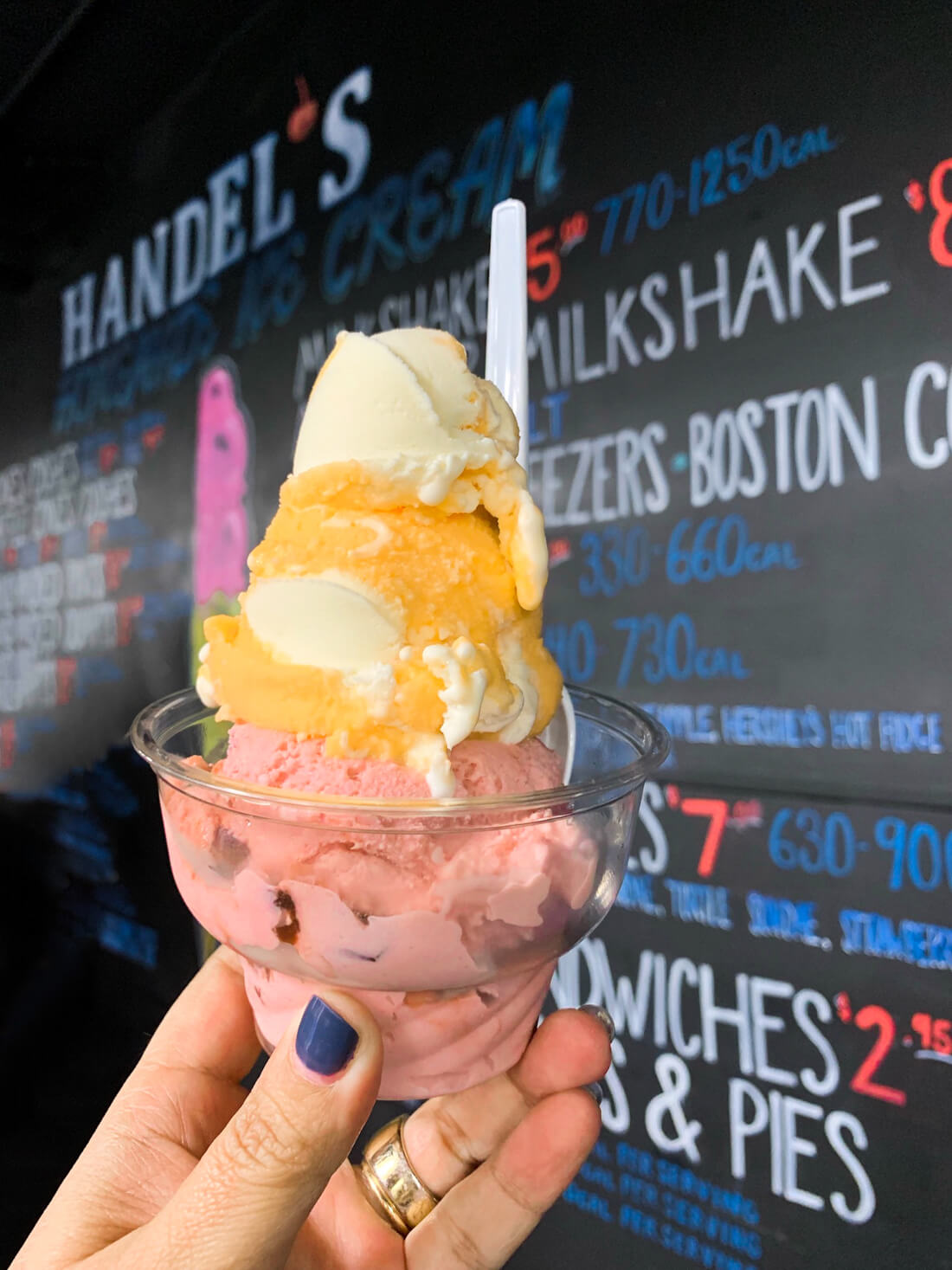 Each Handel's is individually owned so the flavors vary from place to place. I couldn't resist getting black cherry and a flavor that tasted like orange creamsicle. It was absolutely delicious. I can't wait to go back and get some more next time I'm in town. Yummmm!
Handels: 90 North Highway 101 Encinitas, California, 92024 (760) 230-6948
There are Handel's all over the US. I can't wait to visit other locations as they have different flavors at each one.
Creme and Sugar
When I asked my sister for a fun bakery suggestion that we could take cute pictures in, she suggested Creme and Sugar. It ended up being not only a cute place but had amazing flavor combinations. The Mermaid Shake that I ordered was dreamy! It was a piña colada ice cream with cotton candy, a tail and everything.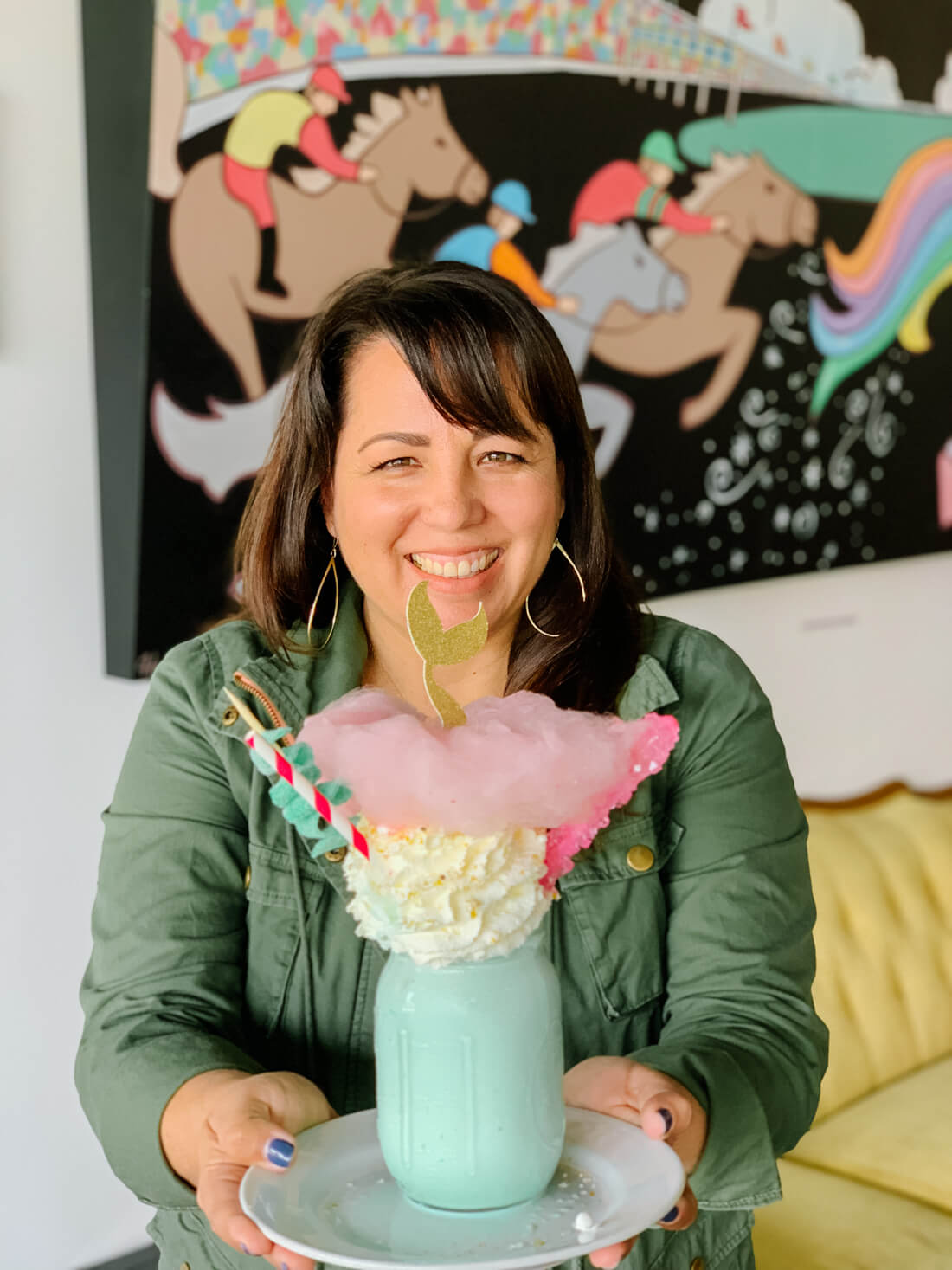 Creme and Sugar : 2646 Del Mar Heights Rd, Del Mar, CA 92014 (858) 925-7868
Not only is it great for ice cream but the shakes are amazing and so much fun!
VG Bakery
VG's has been around for years and years. It's always been our go-to donut shop. Right by the beach and the yummiest donuts and bakery. What could be better? I even ordered my parents 50th surprise birthday cake from them. We decided to go because we were close by and just happened to have old fashioned donuts coming right out of the oven. They were amazing!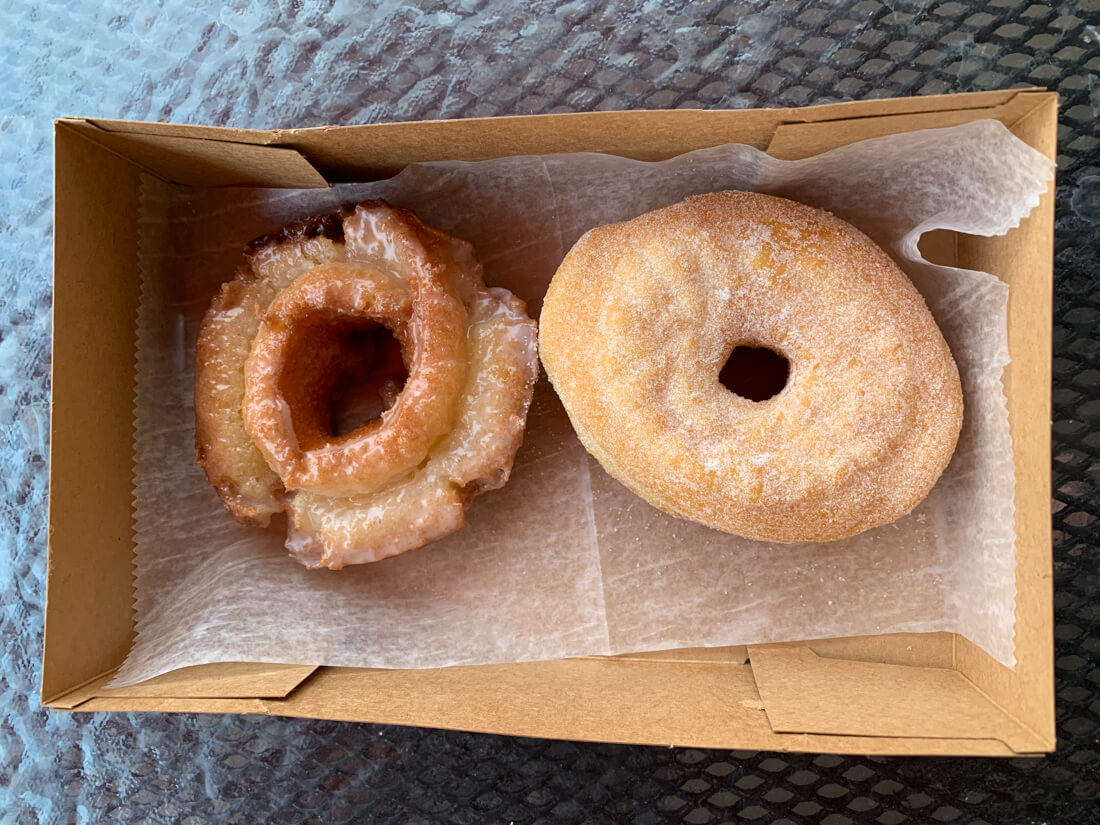 VG's : 106 Aberdeen Dr, Cardiff, CA 92007 (760) 753-2400
My personal favorite are the glazed donuts – I'm a simple girl. But I don't think you can really go wrong here. They are about as solid as they come.
Betty's Pie Whole
This was another new spot for me- which is ironic since it's down the street from my parents last home. I didn't even know it was there but a few people suggested we stop while visiting and it was another good call. We had a little bit of everything – a berry pie, key lime pie and strawberry rhubarb. I normally don't like rhubarb because it's too tart but I actually liked this one a lot!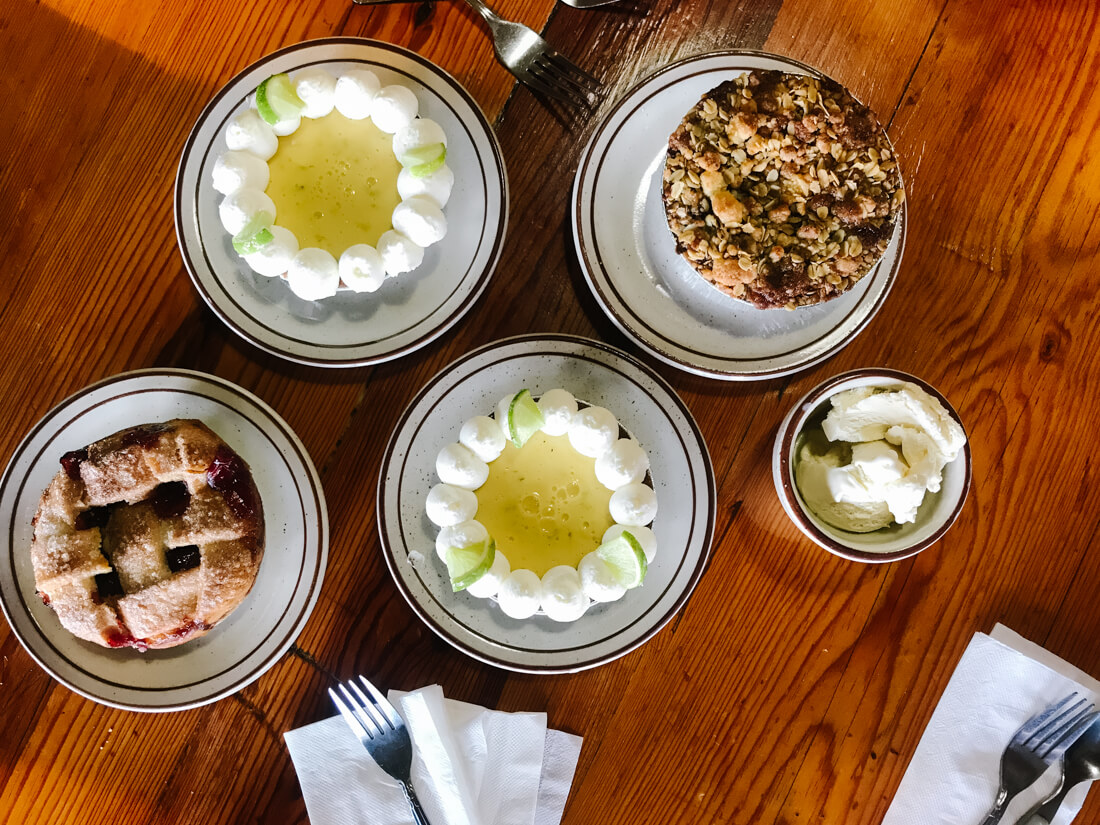 Betty's Pie Whole : 155 Quail Gardens Dr, Encinitas, CA 92024 (760) 230-6781
Don't be afraid to try the savory pies too. We got a breakfast quiche for the next morning and it was good too. You'll find some cute shops and other fun things to explore where Betty's Pie Whole is located. And the San Diego Botanical Gardens is just across the street too.
Can you believe we covered all of these places over two and a half days?! I was waddling by the end of the last day. There was so much food! But I can't wait to go back and explore other places when we go home to visit family.
Other travel posts to check out
If you like to travel, these posts are perfect for you: